Classic CNC cutting iron and wrought iron awnings, iron canopy - The latest trend of artistic iron in 2020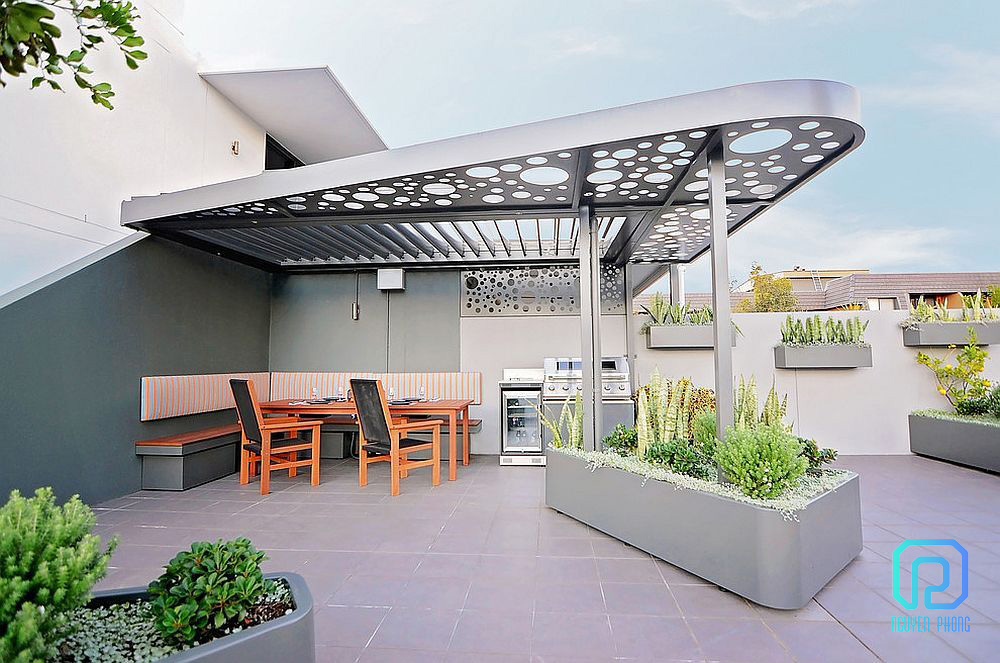 1. What is the awning, Canopy?
An awning which is a part of the architecture of buildings and houses and the overhang on the porch covers the entrance area and living space under the porch and in front of the house.
An awning was often solidly built, supported by concrete pillars, and had roof tiles which were similar to the roof.
In general, the function of awning is to shade household items and space below the roof and in front of the porch.
Besides, if the methodical designer knows how to take advantage of awning, it's also considered as a decorative part showing the personality and care of the homeowner for your house or building.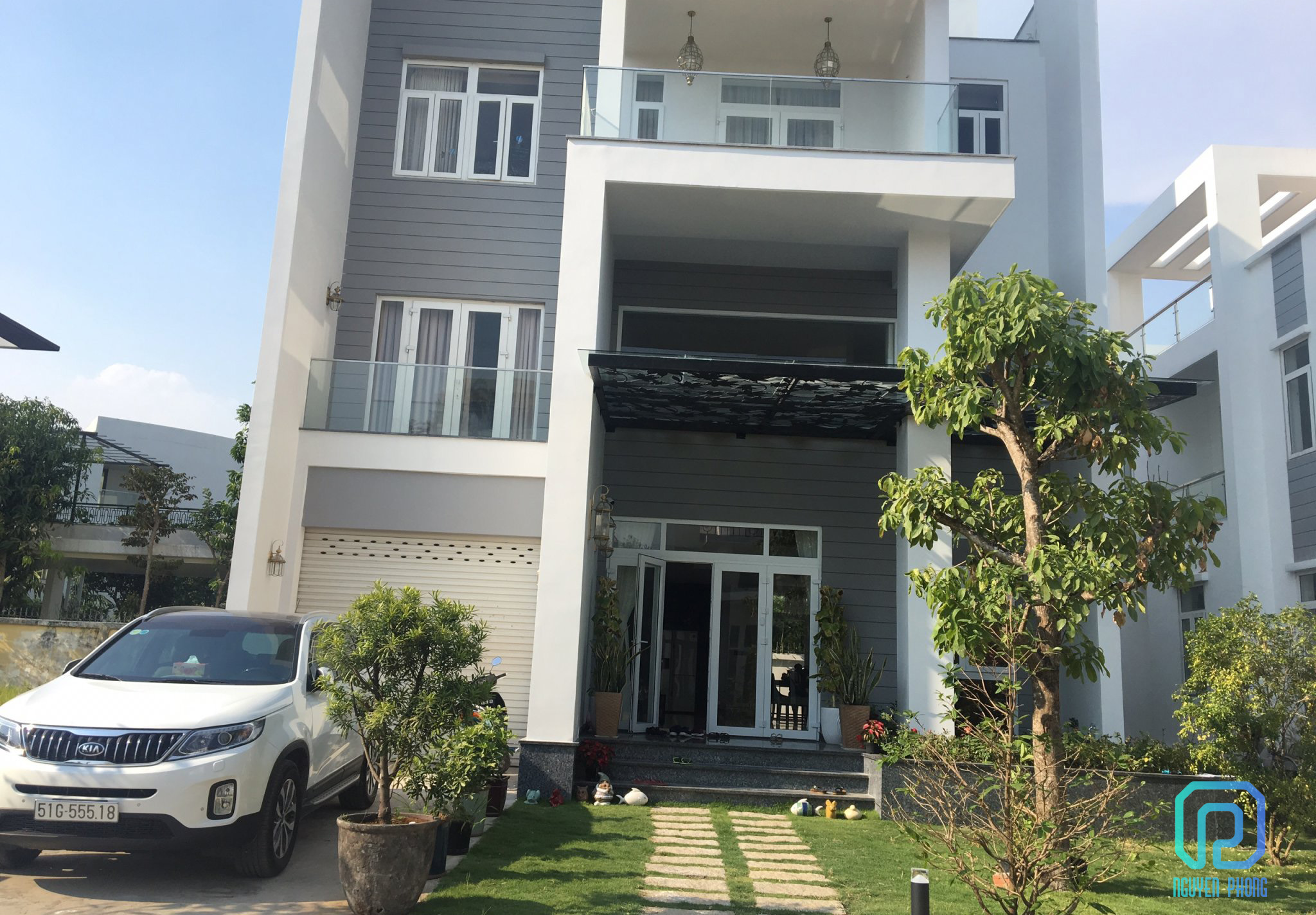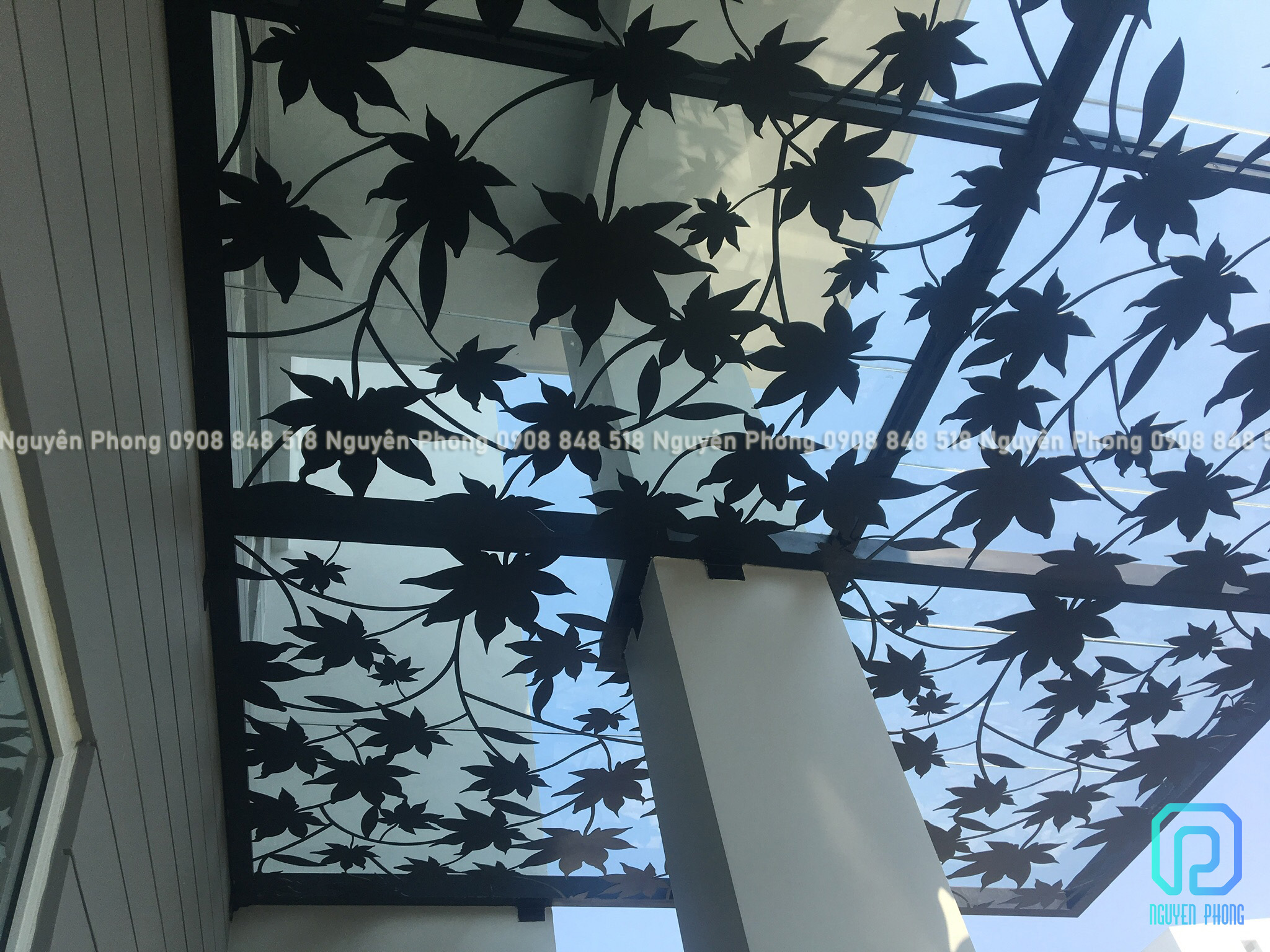 2. Artistic iron awning (patterned CNC cutting and wrought iron).
The application of artistic iron for awnings is currently popular in Vietnam.
Patterned CNC cutting iron in interior decoration, doors, gates, and railings have been used for a long time. Therefore, the majority of architects prefer to use it in order to make many choosy homeowners satisfied.
There are two main applications, they are:
The awning which is covered by iron plates with artistic CNC cutting patterns and tempered glass is often used for modern architecture.
Besides, artistic wrought iron frame is also used in classical and neoclassical buildings.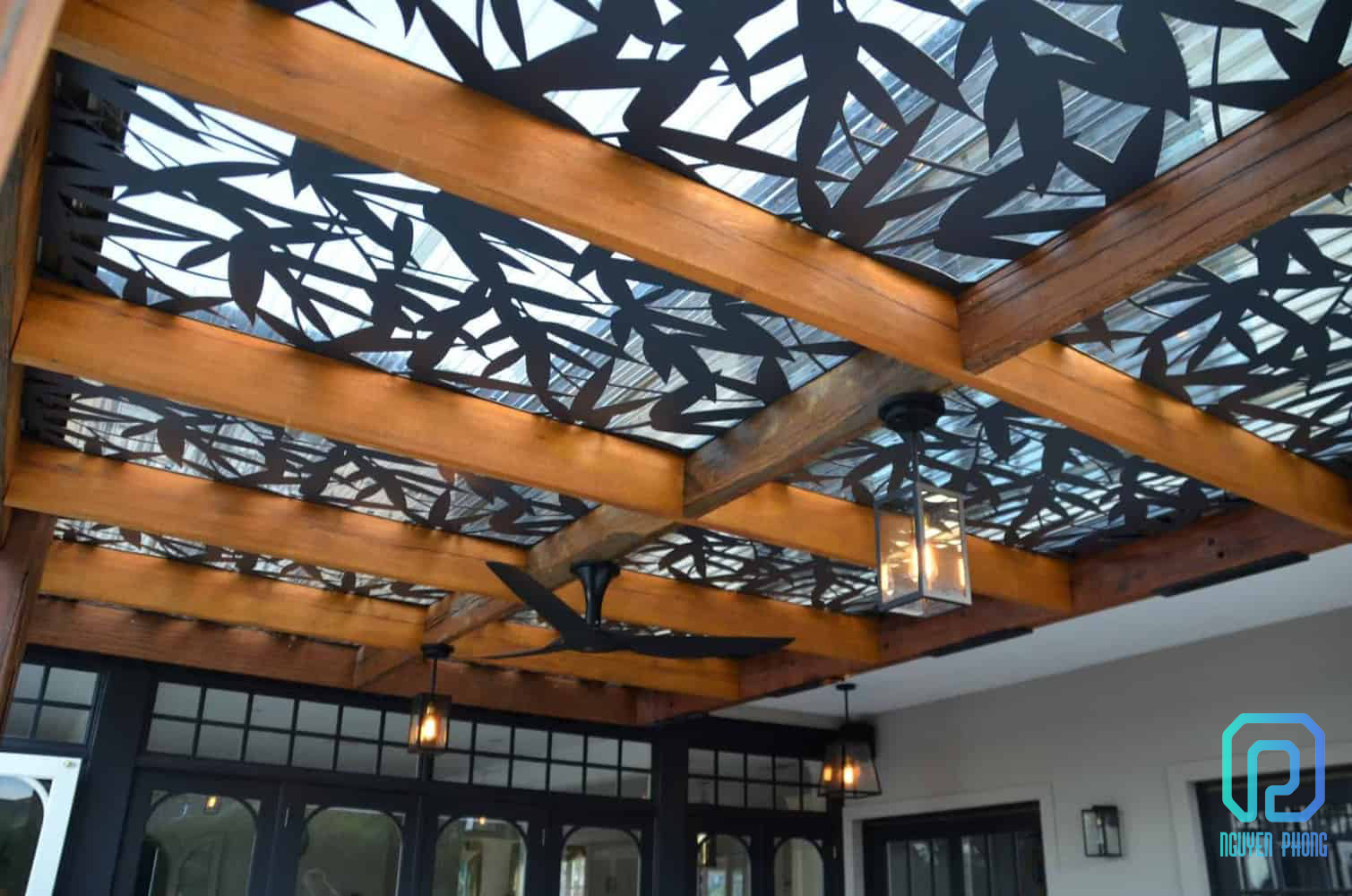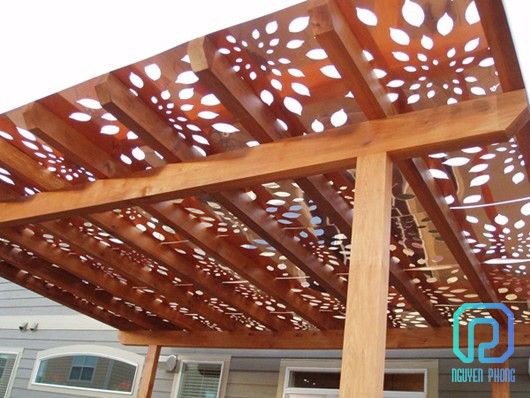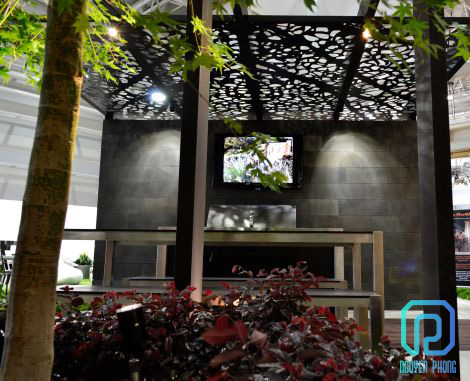 Instead of building an awning made of the solid concrete ceiling with bulky pillars, people use artistic CNC cutting or wrought iron.
2.1 Patterned CNC cutting iron awning
Applying patterned CNC cutting iron to the top of awning and using natural light create light effects through unique patterns, which makes CNC cutting technology become different and unique.
As a result, a lot of  domestic and foreign architects like using CNC cutting iron awning in modern house design. 
CNC cutting awning is often covered with tempered glass or clear poly sheets on the upper part of it to shelter from rain and increase the lifetime of the frame and pattern panels.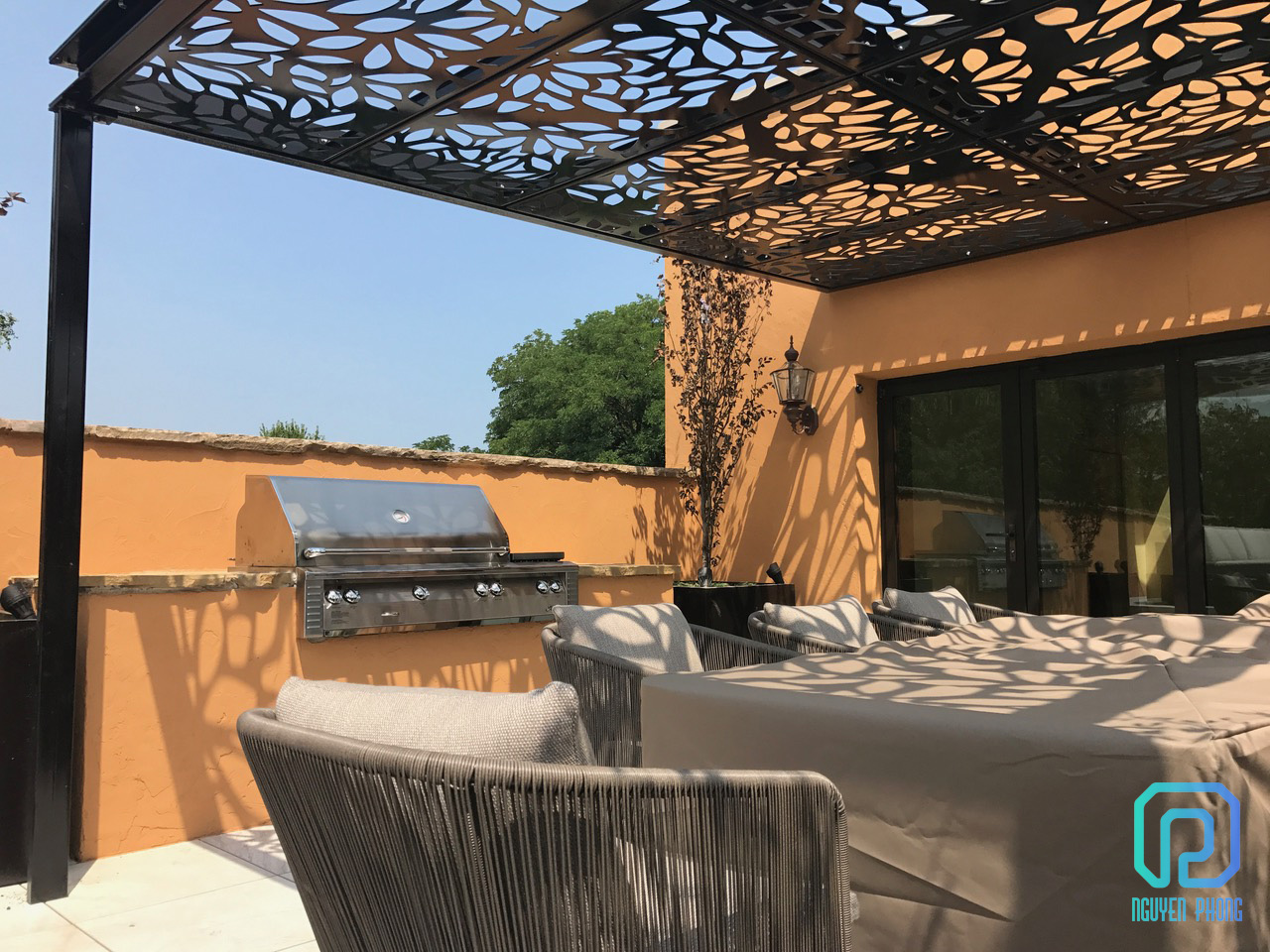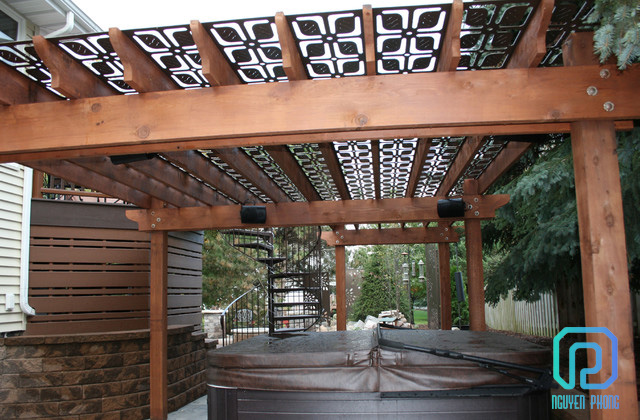 2.2 Artistic wrought iron awning
There is a difference between wrought iron and CNC cutting one. In particular, wrought iron is only used for the supporting frame system but the top panel to create light-effects like CNC cutting iron.
Nowadays, the wrought iron awning is widely used not only in classical Western architecture but also in large projects such as restaurants, hotels, theaters, conferences, and other public ones.
The upper part of awning can be covered with many different materials, such as transparent poly sheet, colored poly.
3. What is the difference between the construction structure of the artistic iron awning and that of other awnings?
The CNC cutting iron awning has many combinations, especially it can both be combined with wooden frames and be welded to iron box frame to increase rigidity and make the pattern panel not echo.
Meanwhile, the wrought iron awning has iron which is only shaped on both sides of awning to decorate, then is welded to the simple box iron frame.
Unlike the previous awning section, the awning has many different construction methods. In order not to use supporting pillars, construction units often use the gusset plates to catch directly on the concrete wall to support the bottom and the upper cable car to support.
 The construction unit will calculate the traction and support so that the awning will become stiffer and have no shaking which ensures the safety when using. We have to make sure that glass is machined regularly and beautifully, and not leak rainwater down.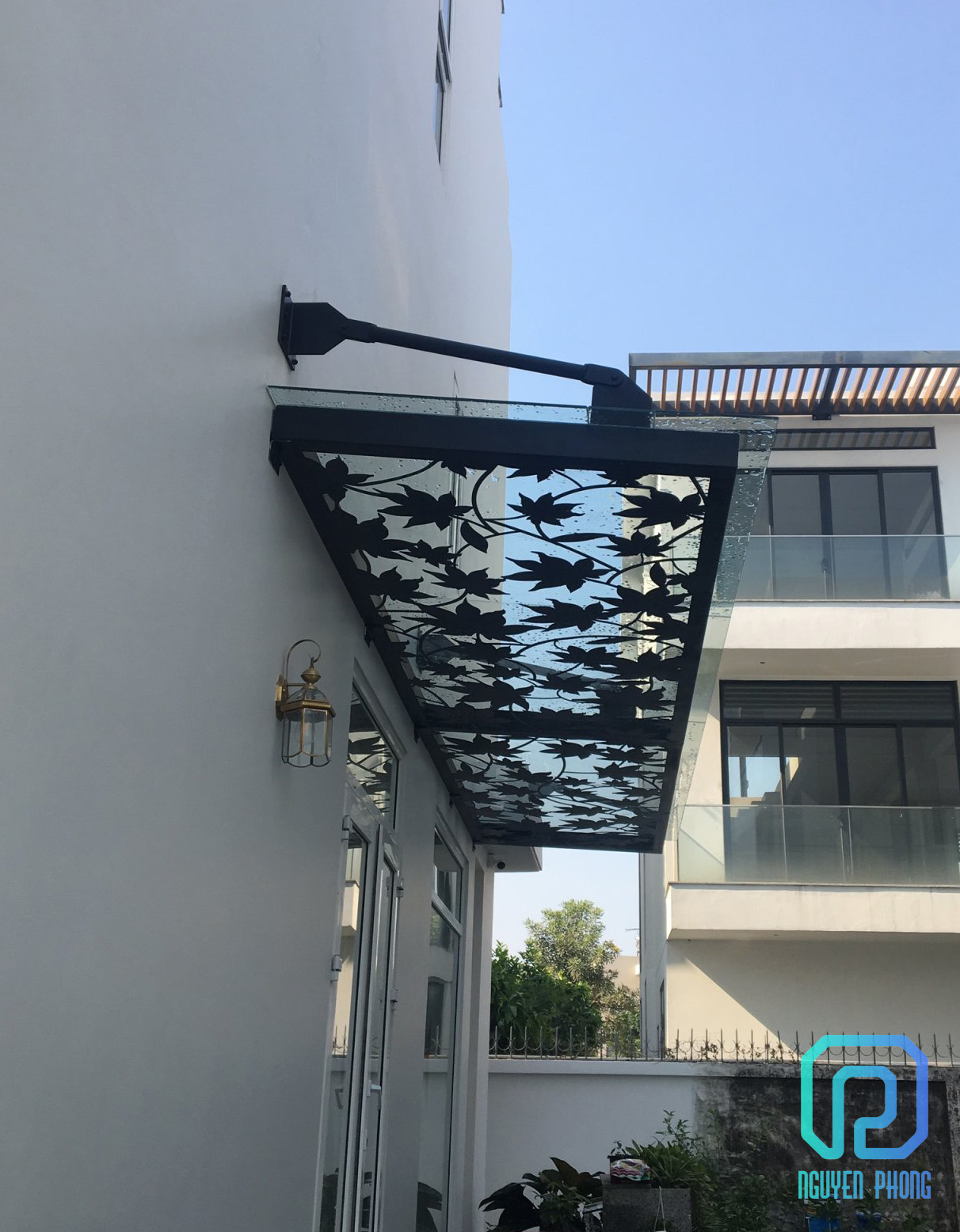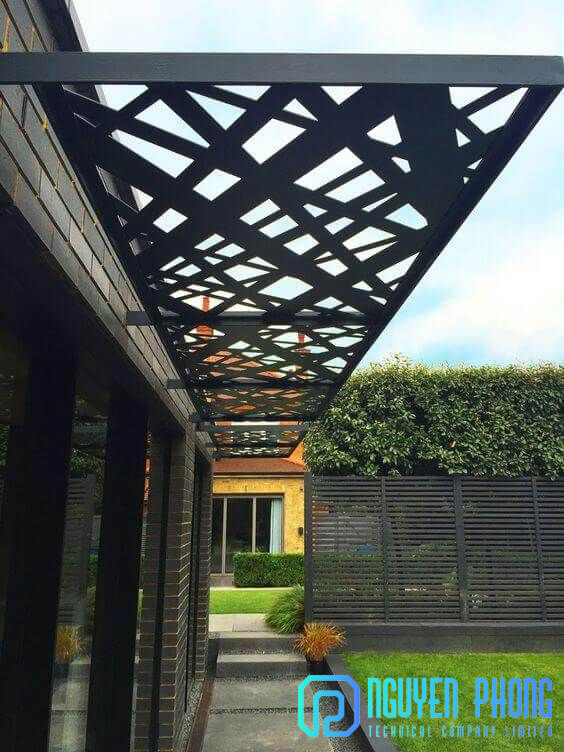 In addition, it is very necessary to use additional steel pillars to support the large awning . 
4. The application of artistic iron awning
CNC cutting iron awning is commonly used for most constructions, such as:
House

Villa

Shopping mall

Wedding reception 

Restaurant and hotel

Resort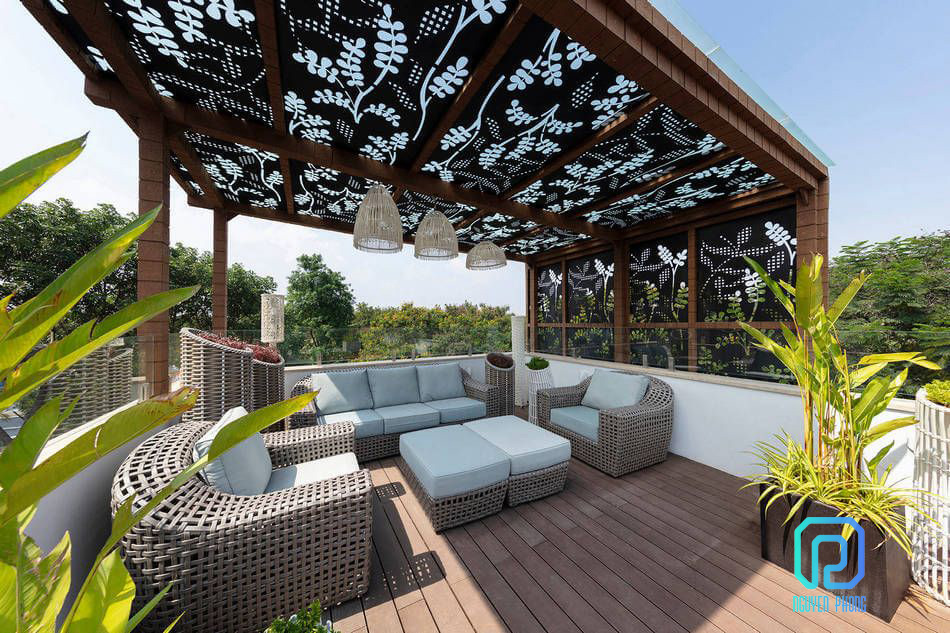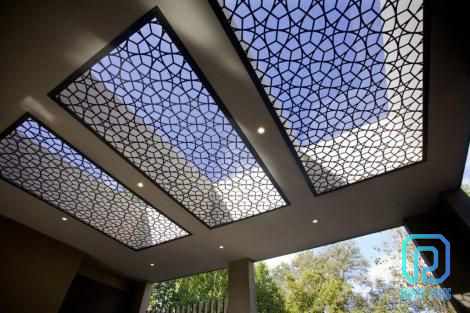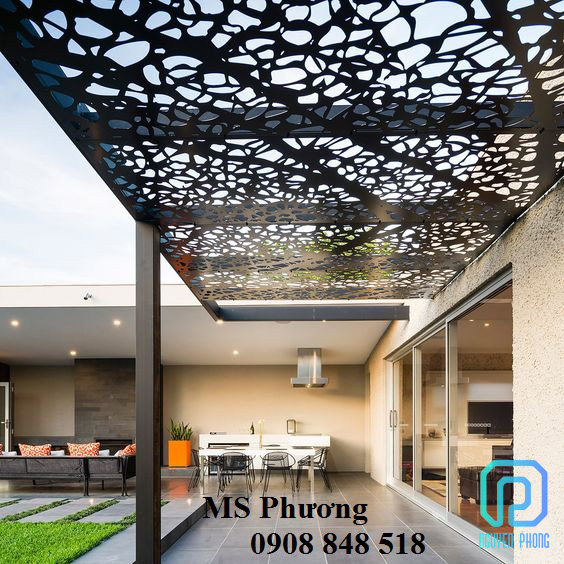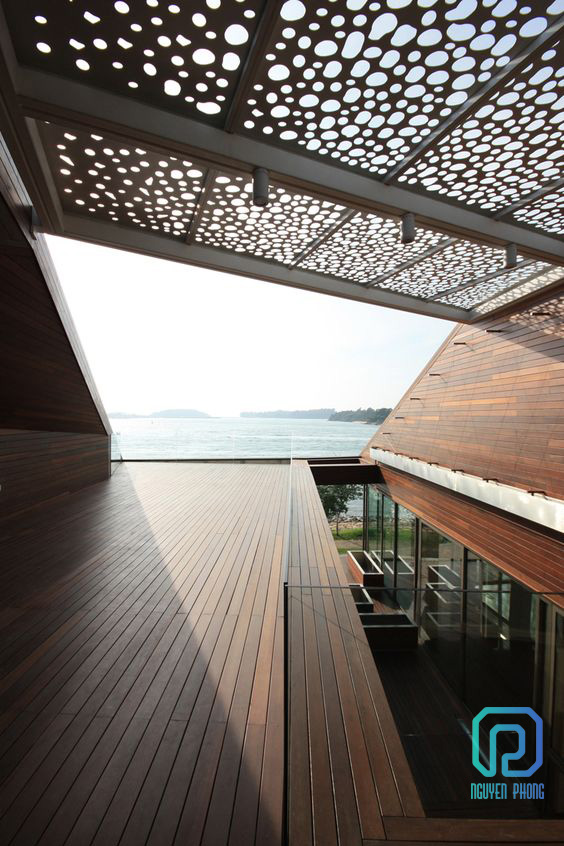 The patterned CNC cutting and wrought iron awning are frequently used for both business and public services to increase the luxury and originality and to make a good impression on customers. Depending on the need for use and decoration, and funding, the design and construction of the awning will have many different forms with different construction plans.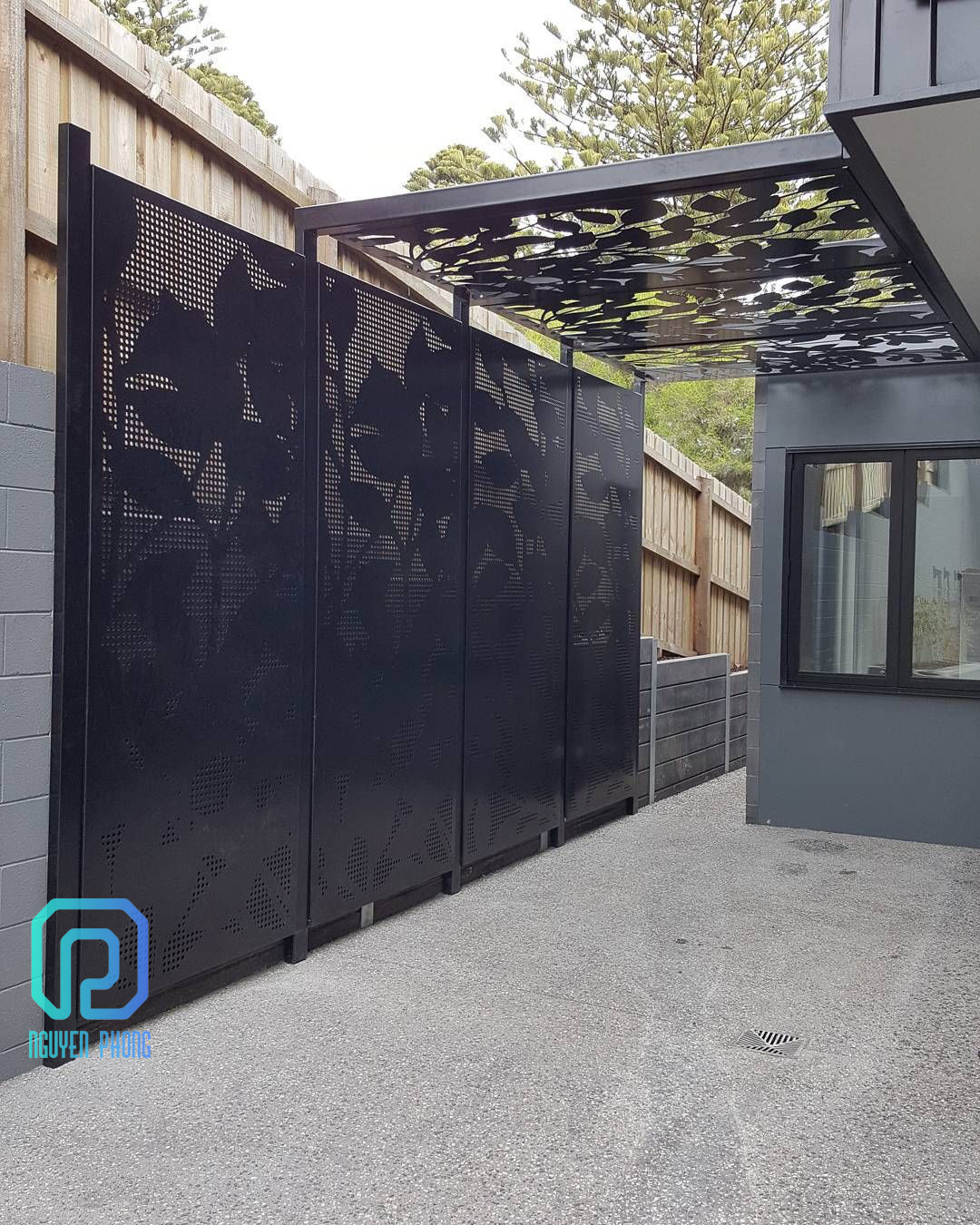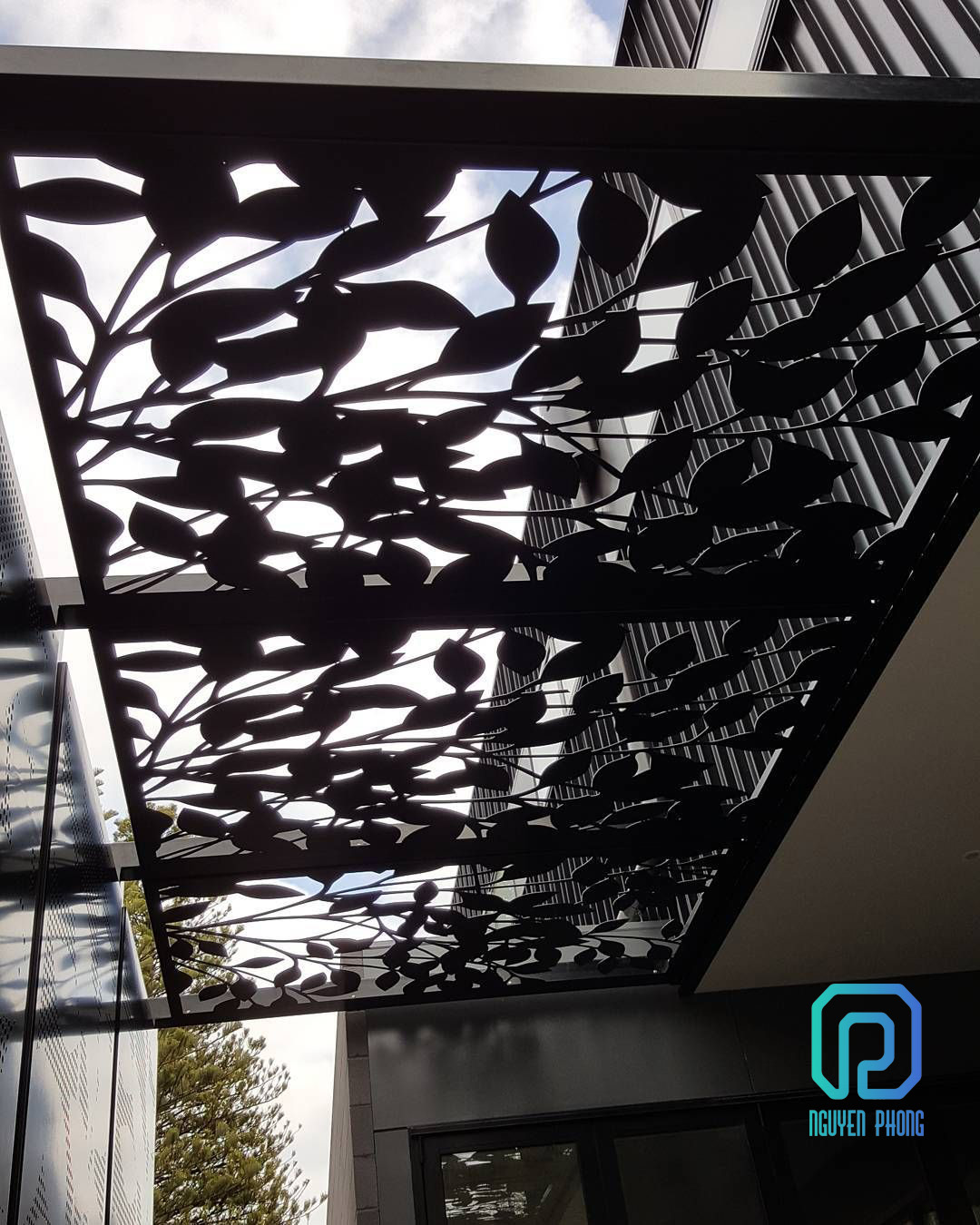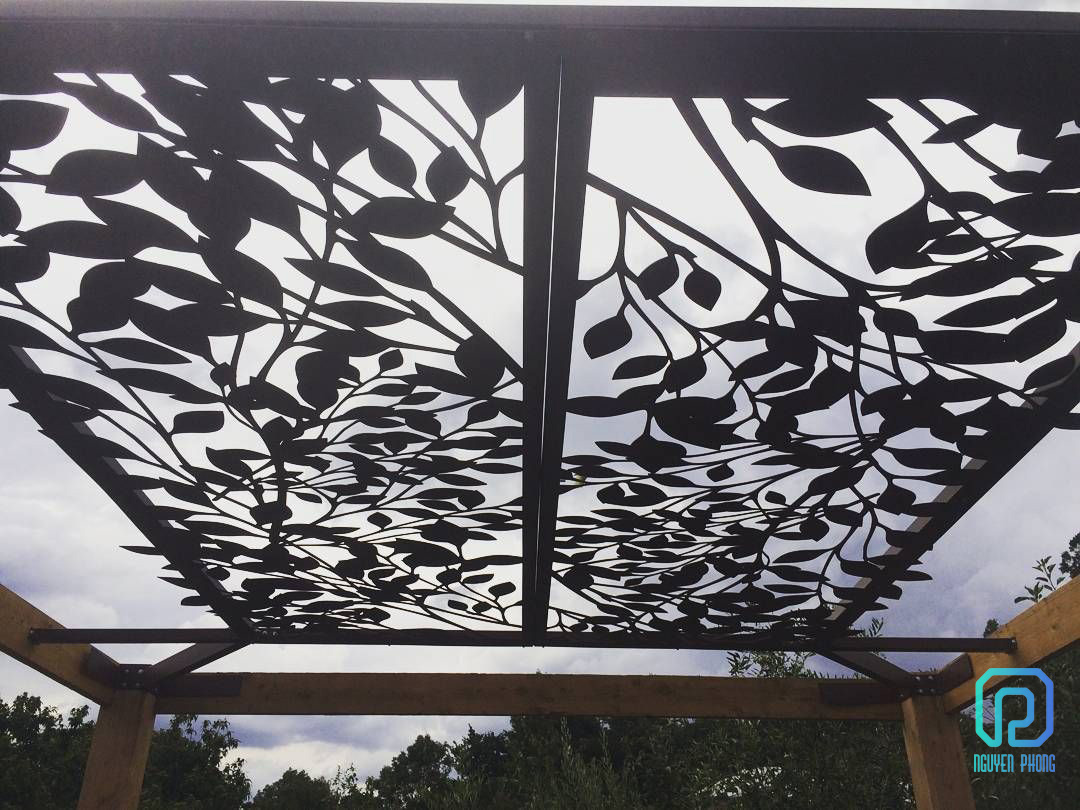 5. Notes when selecting and machining artistic iron awnings 
Design, choose the appreciate installation location.  

Choose the pattern: you should choose the pattern which is suitable for the overall style of the house. If the awning is used for traveling or standing up, you should choose a thick and strong pattern and thick tempered glass. If it is only used for decoration, you can choose any pattern
Choose glass and roof: if the the awning is only used for decoration, you can use glass or not. It's necessary to use clear tempered glass for CNC cutting iron awning so that you can show off all CNC patterns under the sunlight. Similarly,  glass or poly sheet can be also used for a wrought iron awning. The dome should use a bendable poly sheet.
Choose paint color and material: you should choose good weather-resistant paint because the awning is used outdoors with strong sun and rain.

Choose a construction unit: you should choose reputable and reliable all-in machining and processing units.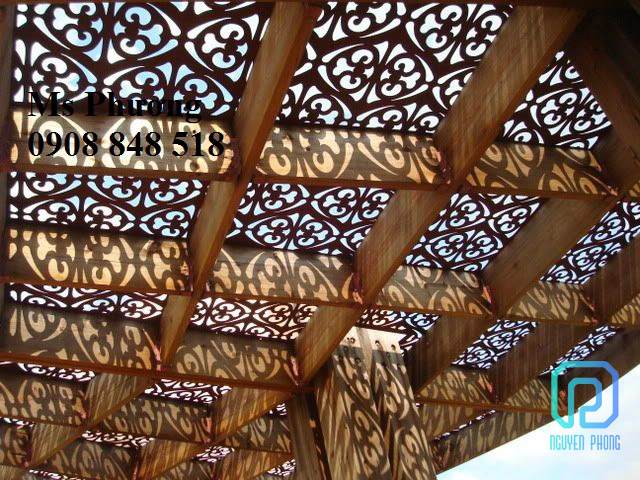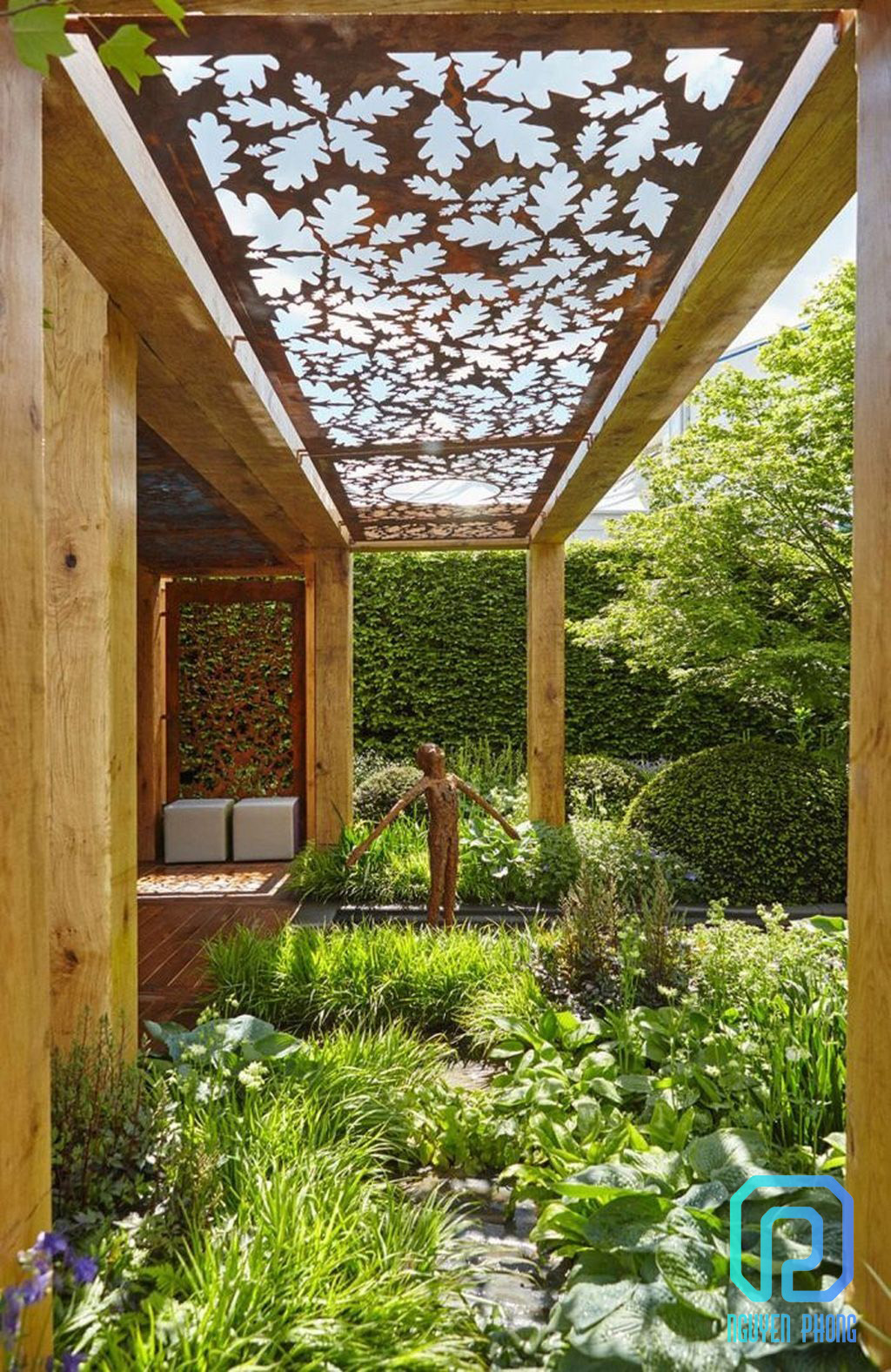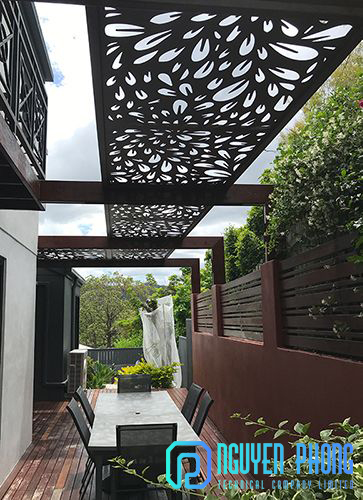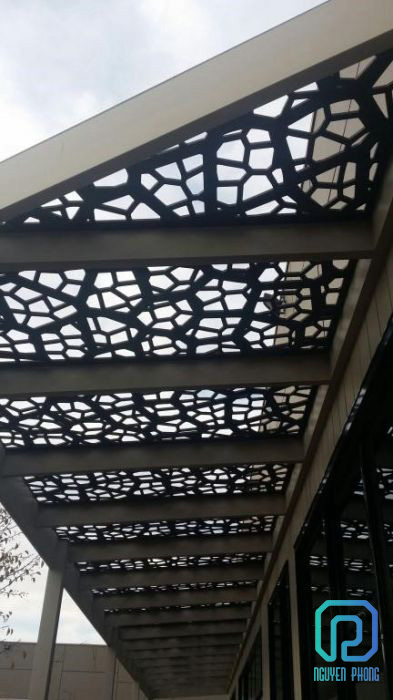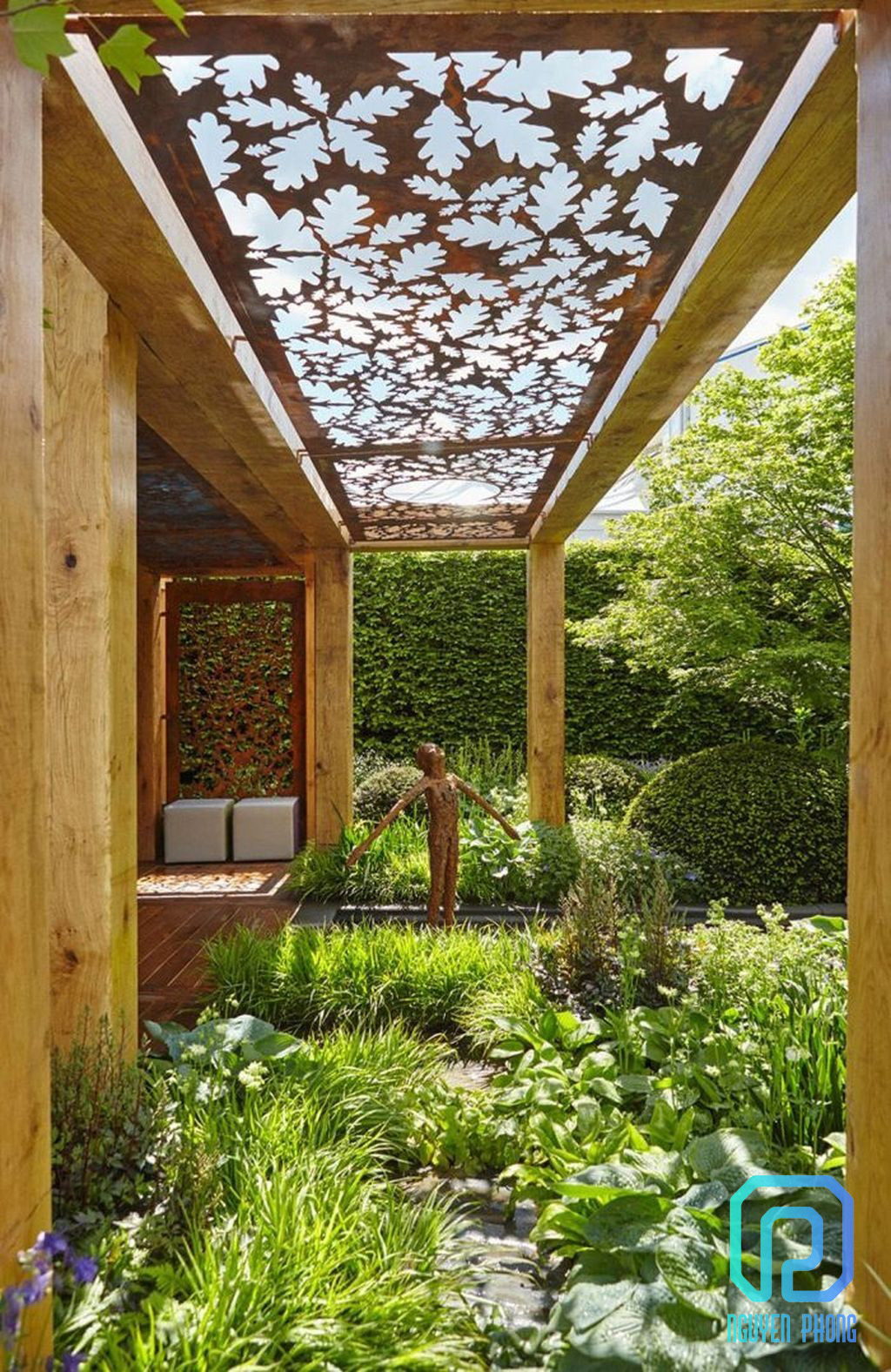 Nguyen Phong is always proud to bring the most impressive artistic iron products with the best price for the project to customers. Besides, Nguyen Phong is also a prestigious unit specializing in designing, machining, and constructing artistic iron awning in Ho Chi Minh City.
We often tell our customers that: "Give Nguyen Phong your TRUST, and We are proud to bring the best QUALITY artistic iron products to you."
NGUYEN PHONG TECHNICAL CO. LTD
TRUST AND QUALITY!
HOTLINE: 0908 848 518
See more article categories:
- CNC cutting skylights protective frame
- CNC cutting iron panels for exterior decoration.
- The elements of Feng Shui for artistic iron gates.