WROUGHT IRON PERGOLA - 101 APPLICATIONS FOR VILLA
1. What is a wrought iron Pergola/wing?
Usually attached as part of the structure of a villa or a house, an art iron glass pergola can be installed at the entrance or the main hall (restaurant, wedding restaurant, conference center, hotel, building ...)
To begin with, a wrought iron pergola can be placed above entrances or windows according to the architectural designs and the customer's ideas. Besides that, the glass iron pergola is used not only to protect the building from inclement weather but also to enhance the aesthetics of the entire space with classic and sophisticated design details.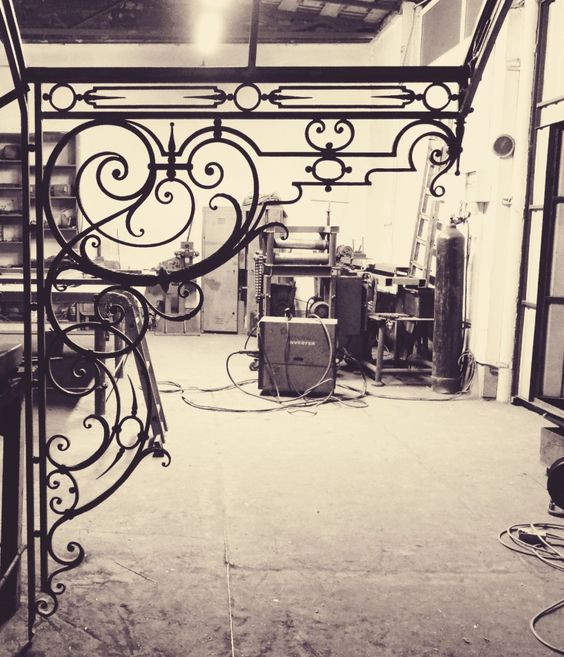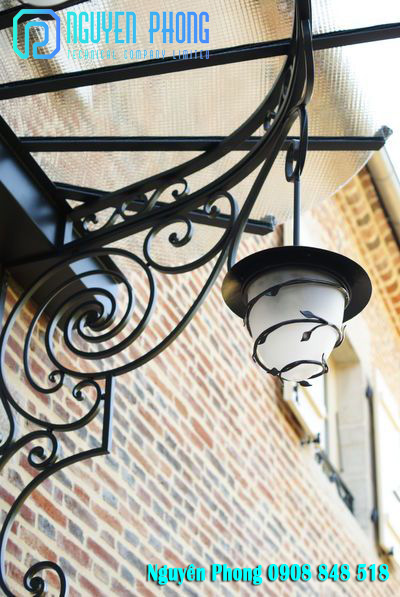 Next, we provide some general information about art iron glass pergola as well as attractive art iron glass awning samples. To be more specific, these designs, ranging from simple to complex, will give you many choices and ideas for residential areas and villas. If you need more ideas, you can call Nguyen Phong's Hotline at 0908 848 518 - We focus on the quality of every detail in a separate way, which helps suit your requirements. Moreover, this also gives customers more perspective and options in installing or replacing wrought iron glass awning.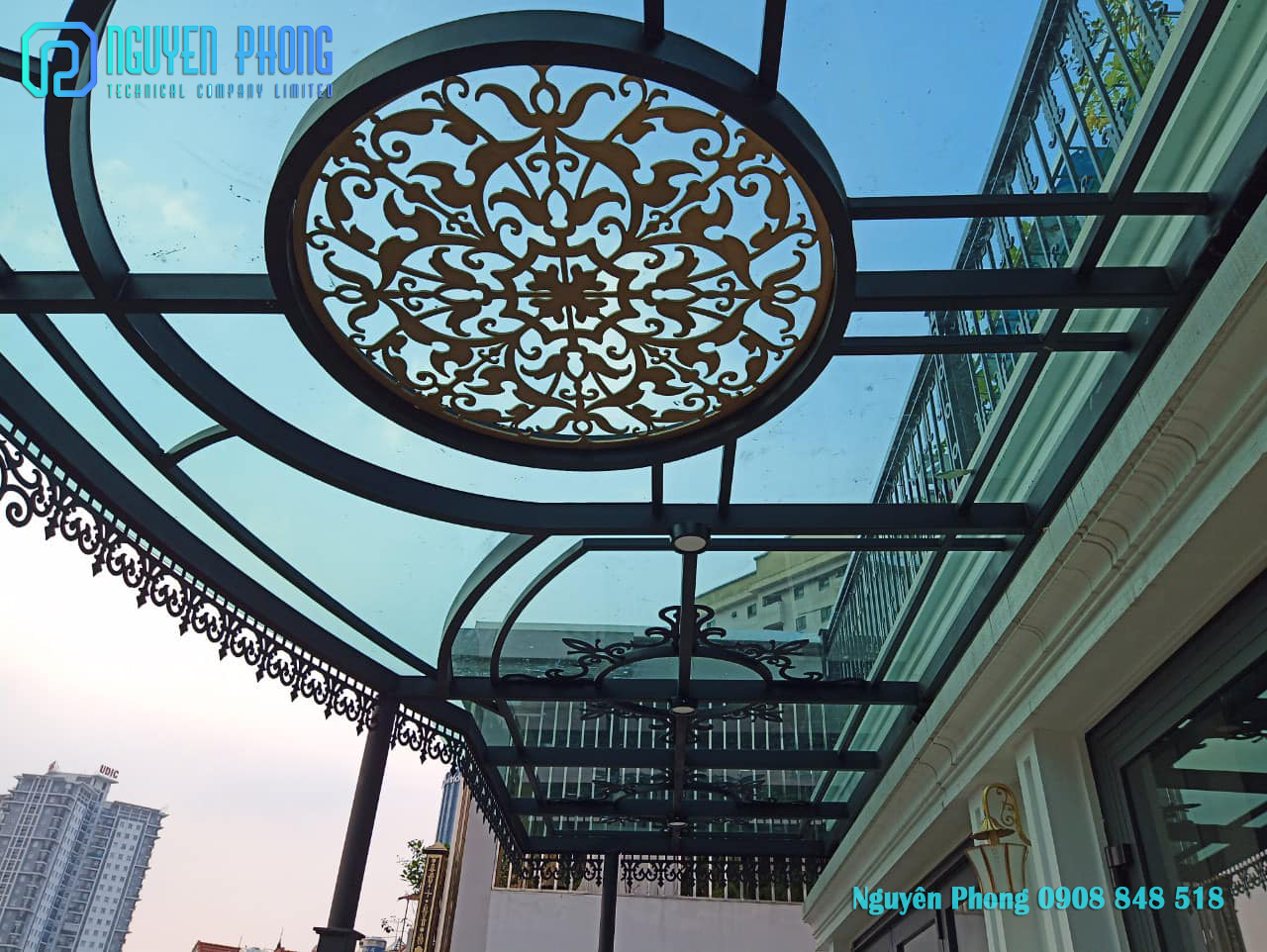 2. Structure.
Wrought iron glass pergola generally includes 2 parts:
Wrought iron frame: acts as fixed support, which is considered the "backbone", creating the whole style and shape of the glass awning. In fact, people often use artistic iron to form pergola frames because they always ensure good glass support, and the reason is that artistic iron has high corrosion resistance and is not easily rusty ( at NP, they have been hot-dip zinc). In conclusion, the Wrought iron Pergola/ wrought iron awning not only meets the basic requirements of the main function of the product but also brings high aesthetics and sophistication that are difficult to replace.

Glass: it covers the upper space. The materials that customers can "take note" of include: tempered glass, Low-E glass, and laminated safety glass. They have a safety shield against external forces and low heat transfer, which helps keep the area under the iron glass pergola cooler in increasingly harsh and unpredictable weather. To be more specific, when the impact is too strong, the tempered glass will be destroyed into large blocks, and these broken glasses will not explode to endanger the user. Besides that, laminated safety glass will consist of 2 or more glass panels joined together by the effect of force and adhesion of PVB film. Therefore, when these glass panels are broken, fragments will stick to the film, not to the outside, which will help ensure the safety of users. In short, laminated safety glass is recommended to protect family safety. Moreover, glass is a translucent material, so it can be applied in several areas outside the house to make the space functional and cozy, which is suitable for various purposes of the customers.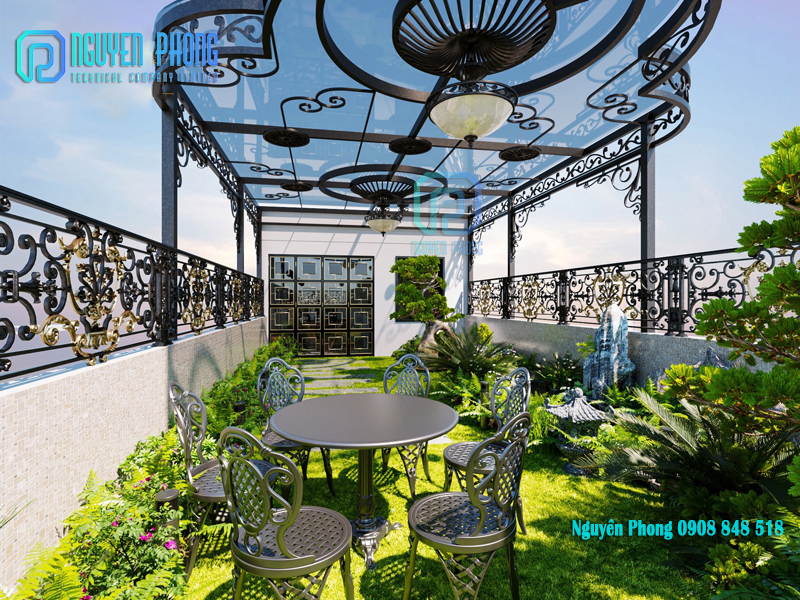 3. Application of wrought iron Pergola
Nguyen Phong understands the needs and desires of customers, so we have researched and invested in diversifying the library of iron glass awning samples, processing, and installing them in the most thoughtful way. It does not rule out finding cost-effective, modern, and attractive ways to use the available space.
We found that an elegant and simple solution is to install an artistic iron glass awning in your home. We use modern design machinery combined with traditional manual handcraft processing to ensure the perfect harmony between the details, patterns, and textures of the wrought iron Pergola/ awing. Through many practical experiences, we listen to customers, learn from experience, and find ways to make our products perfect. And after that journey, Nguyen Phong is proud to be able to do the best in: (1) bending and processing techniques; (2) paint color quality; and (3) customer care.
The wrought iron pergola is installed for villas.
The villas are designed in classical, neoclassical, or modern architectural styles. When combined with the iron glass awning , they enhance their value and harmony.
Customers will use an artistic iron glass awning , or even a combination of both CNC iron and art wrought  iron to create awning models that are unique, beautiful, and appropriate for each villa, depending on their aesthetic style, wishes, and needs.
The artistic iron glass Pergola  is installed on the rooftop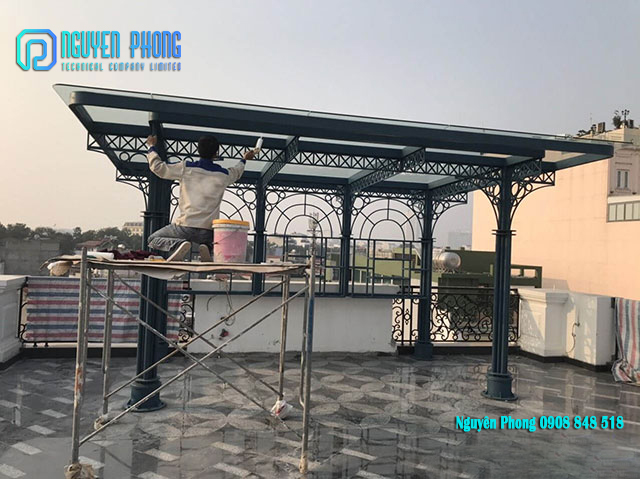 It can be seen that modern life is becoming busier, so many of us tend to "escape" from the suffocating atmosphere with terraces, where we can grow plants and flowers. Specifically, they want to have garden space to breathe, read, relax, drink tea, and chill every weekend. That is why the installation of artistic iron and glass canopies for the rooftop is not too strange; they help protect homeowners from unpredictable weather without losing natural light and air.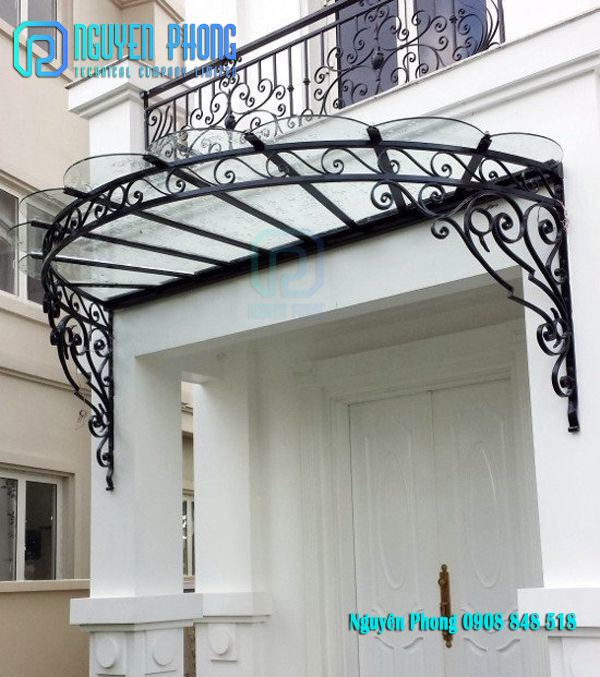 The wrought iron glass Pergola front of the house
One of the popular applications of iron glass awning is that they create awning/ pergola products for restaurants, wedding restaurants, conference centers, hotels, buildings...
The artistic iron glass awning not only helps to get natural light, reduce glare, and prevent harmful light, but also increases the aesthetics with its luxurious design and increased class, especially for events held there.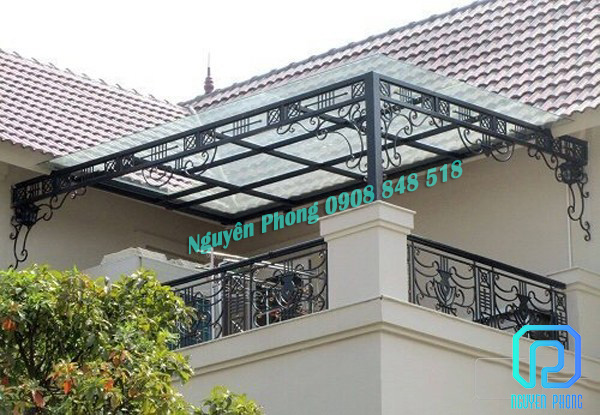 The artistic iron glass pergola/ awning that used to decorate the porch.
The wrought iron pergola above the main door in front of the house is quite a popular design part for classical villa & castle architecture.
- Pergola roof models are usually about 2000mm long and about 700-1000mm wide. They are handcrafted from wrought iron, often using tempered glass or polycarbonate sheet on top.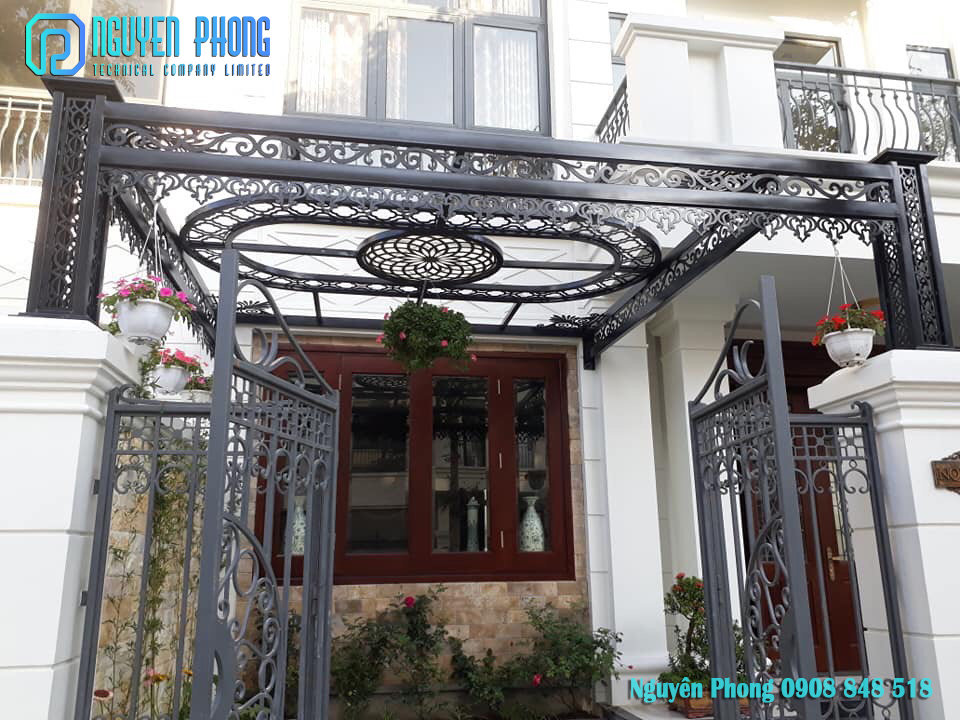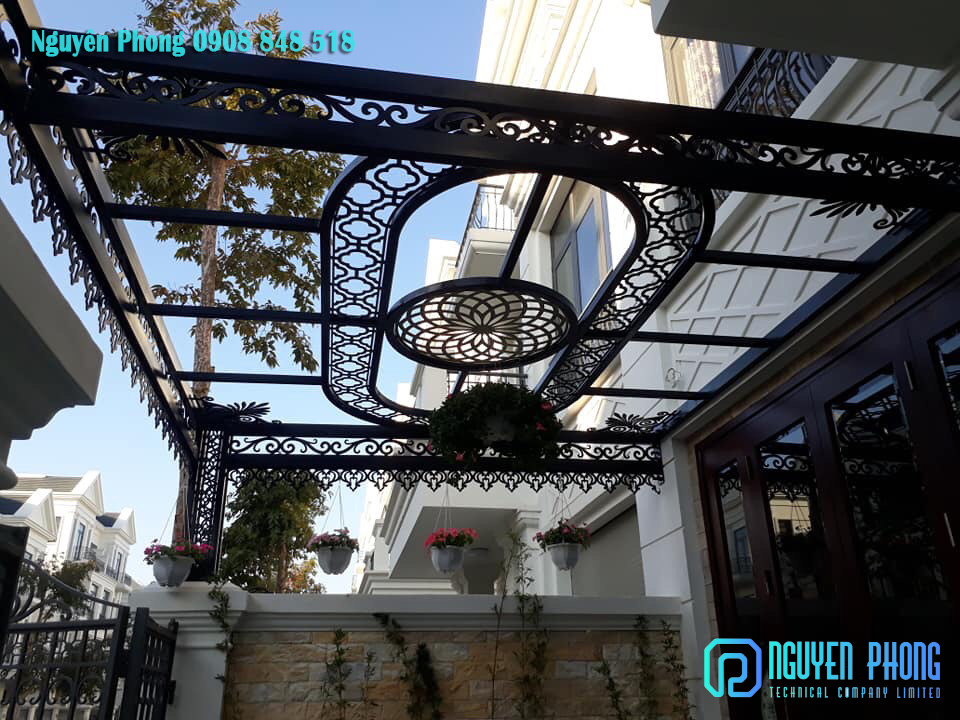 Customers only need to send information about product samples, dimensions, construction requirements, or drawing files via Whatsapp: +84908 848 518 or email Sales@nguyenphongcnc.com. Nguyen Phong specializes in designing and processing art wrought iron items and supporting shipping to all over the world.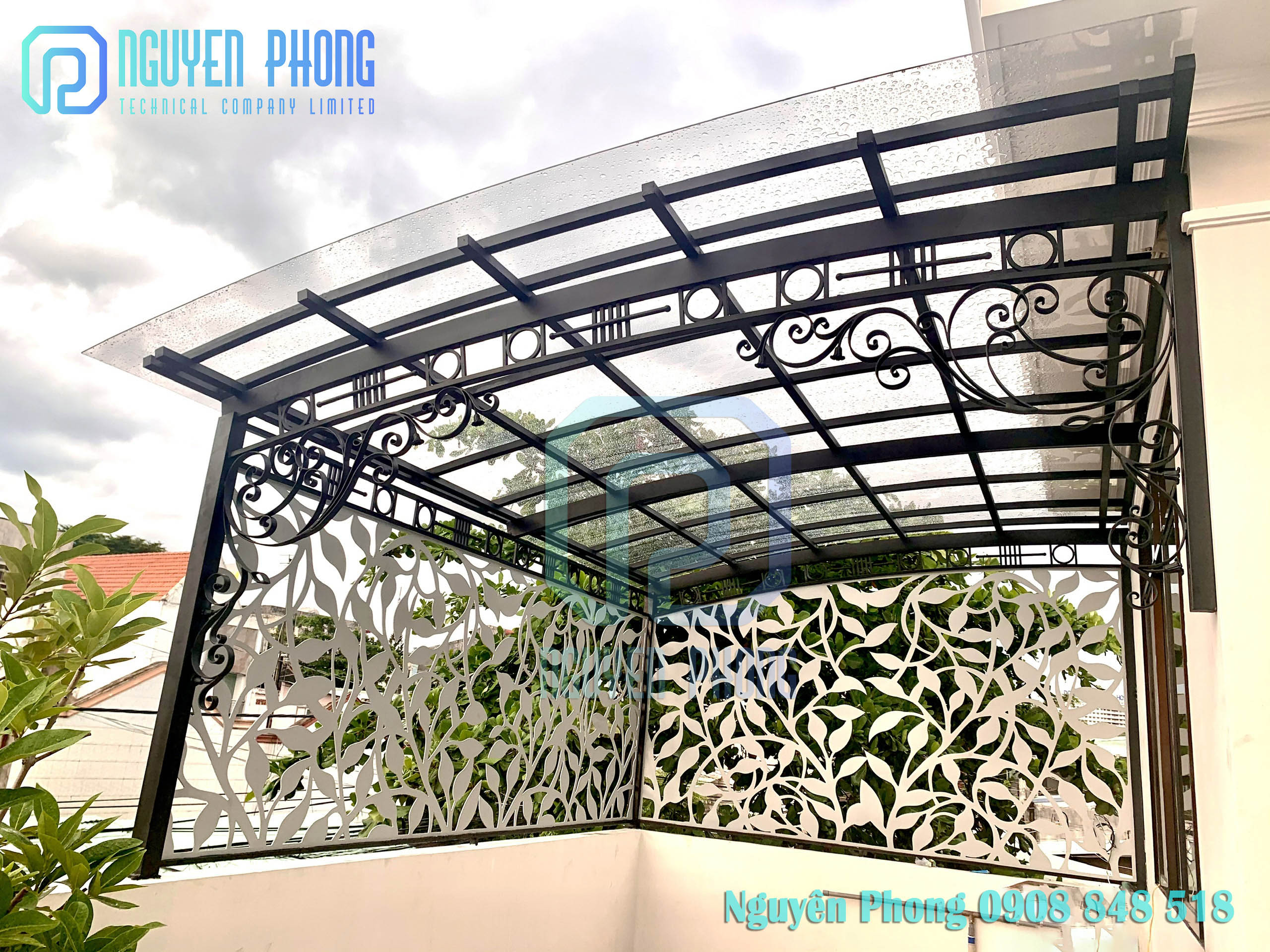 The Purchase process at Nguyen Phong Metal Art:
Advice on models, sizes, and technical requirements. 
Nguyen Phong sent a quotation with full order information (within 24 hours). 
Nguyen Phong makes 2D and 3D design drawings (5–10 days). 
Sign the contract and pay the deposit. 
Factory production (20-50 days)
Packing your iron glass pergola and delivering them to the international shipping company. Then, the shipping company will deliver the package to your door.
DESIGN MODEL - WROUGHT IRON PERGOLA/ AWNING FOR VILLA - EXCLUSIVE IN NGUYEN PHONG
- In 2022 Nguyen Phong elevates the service level with 3D wrought iron Pergola/ awning designs and pattern designs according to the needs of customers and the current state of each villa.