IRON DRIVEWAY GATE, FENCE, AND ENTRY IRON DOOR – COMPLETE SOLUTION FOR PRIVATE VILLAS IN THE USA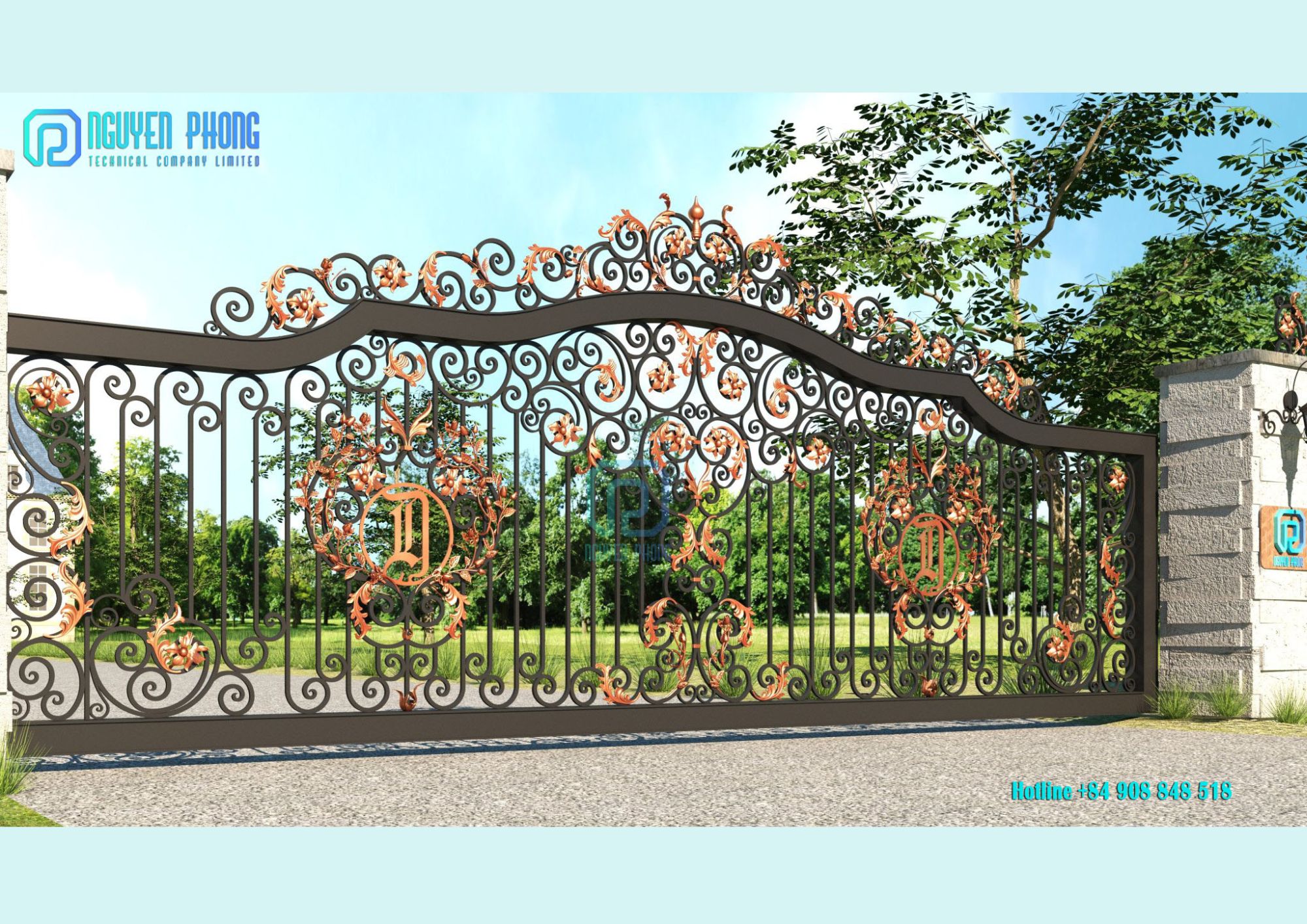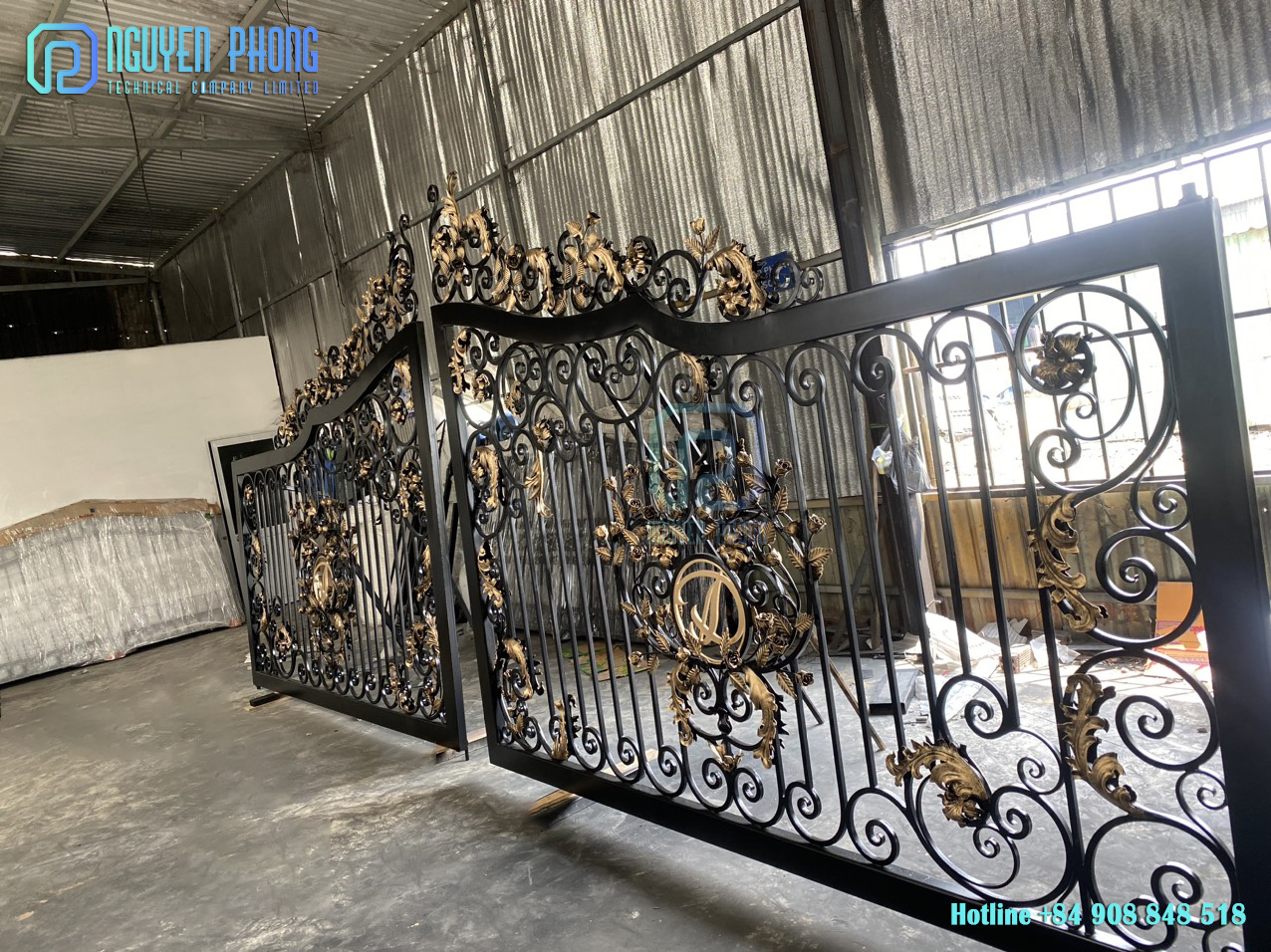 1. REQUIREMENTS FOR PURCHASING ARTISTIC WROUGHT IRON GATES AND FENCES FROM VIETNAM FACTORY.
International customers often have more specific and stringent requirements when purchasing goods compared to domestic customers. Nguyen Phong Metal, as a specialized wrought iron manufacturing workshop, offers premium wrought iron gates and fences that are superior to ordinary, monotonous iron gates commonly seen. Hence, to meet the special demands, Nguyen Phong Metal is obligated to fulfill the following requirements:
Clear and transparent office and factory information.
Payment information verified by a recognized bank or intermediary legal entity.
Clearly advised the purchasing process from the beginning.
Clearly specified production process, material information, and production timeline in the contract and quotation.
Weekly production progress reports (including images and videos) provided to international customers.
Order tracking and installation guidance provided after customers receive the products.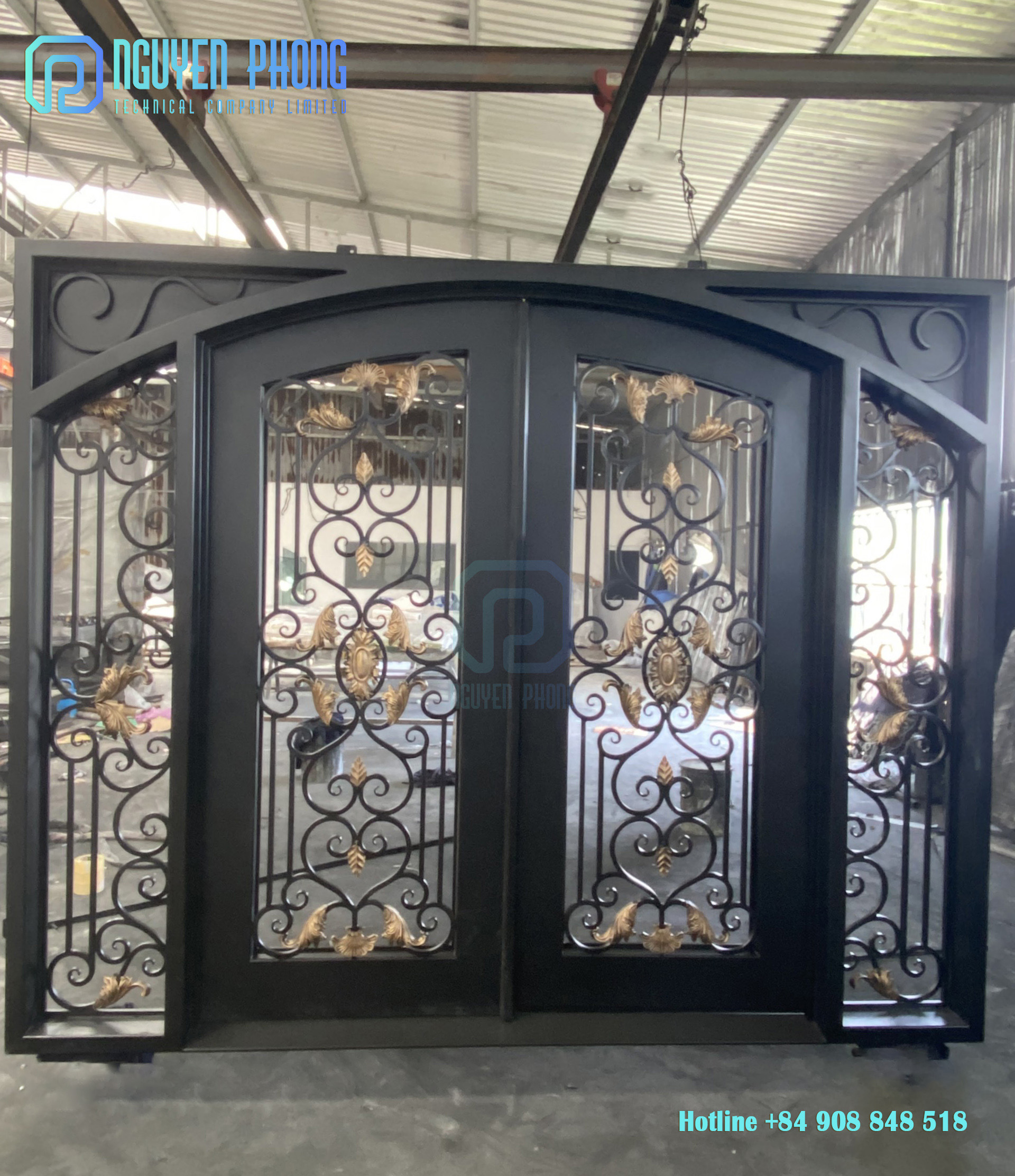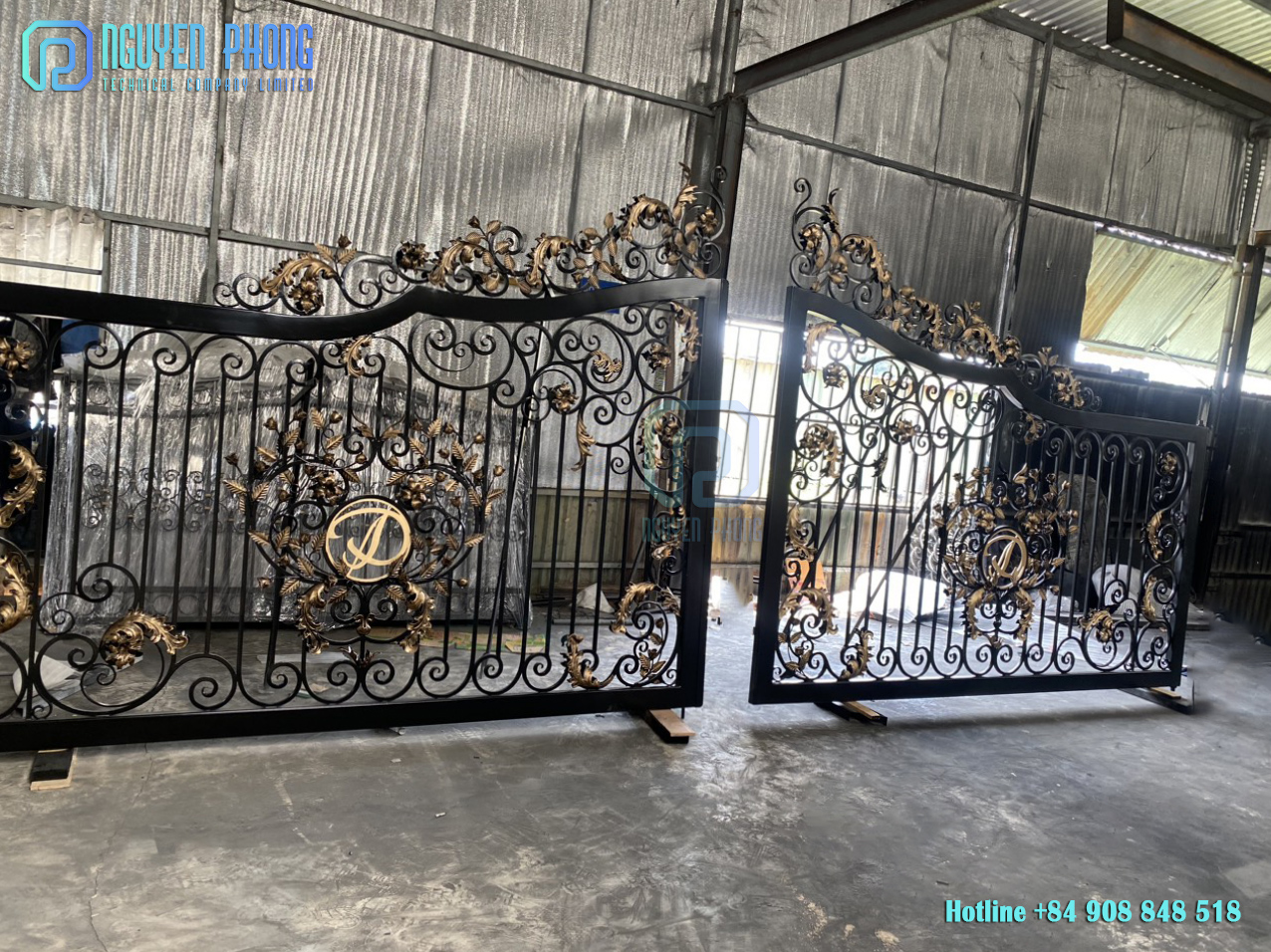 2. MRS.JENNY'S JOURNEY TO PURCHASE IRON GATES, FENCES, AND ENTRY DOORS.
2.1. Factory visit.
Meeting the criteria mentioned in section 1 above, Nguyen Phong Metal is honored to work with Mrs. Jenny to provide her with full of wrought iron artistic products for her villa in the USA.
Mrs. Jenny scheduled a visit to our factory to witness firsthand how our handmade wrought iron products are crafted. She wanted to understand the materials (tube iron, solid square iron, flat iron) we use for iron gates,iron fencing, and wrought iron doors, as well as the high-quality paint (Asia brand) we typically apply.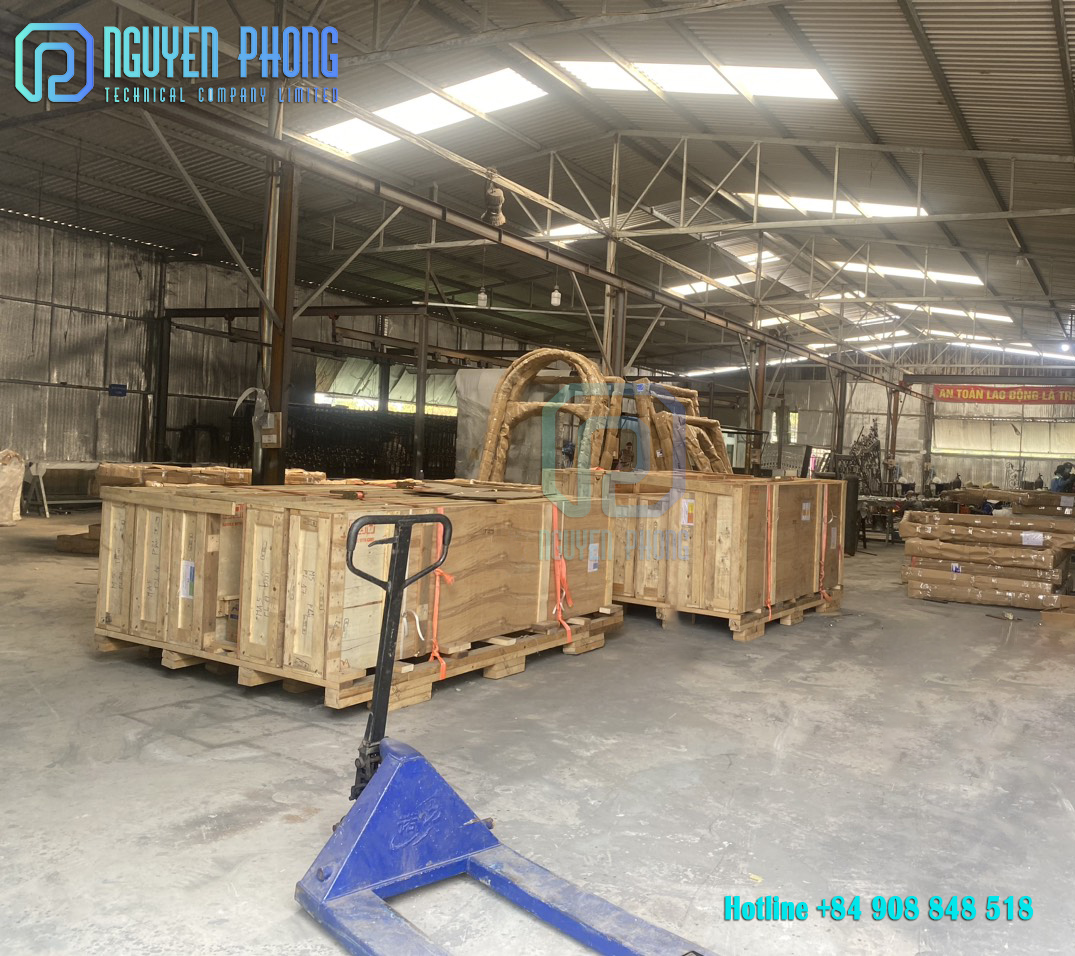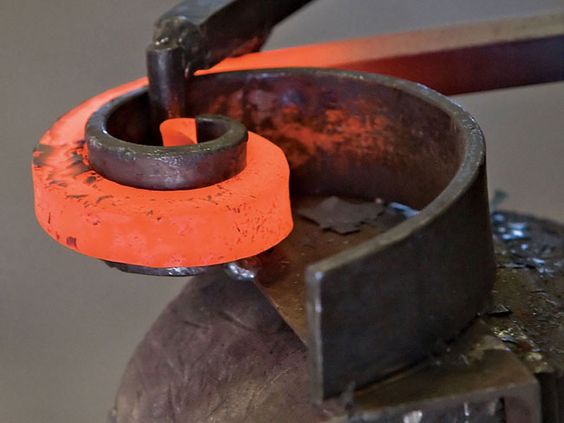 Afterward, she decided to place an order with NP Metal Art. The working process, payment, and production were discussed and agreed upon, and a confirmation order was signed by both parties.
Mrs. Jenny ordered the following items:
1 six-meter-long main gate (with automatic opening motor)
1 side gate (for the walkway)
24 simple wrought iron fence frames
1 artistic wrought iron front door
The adjustment of the gate opening plan (sliding gate into a swing gate) was made after our technical team discussed it with the owner's construction team.
Logo "letter D" for driveway gate is designed according to customer's request.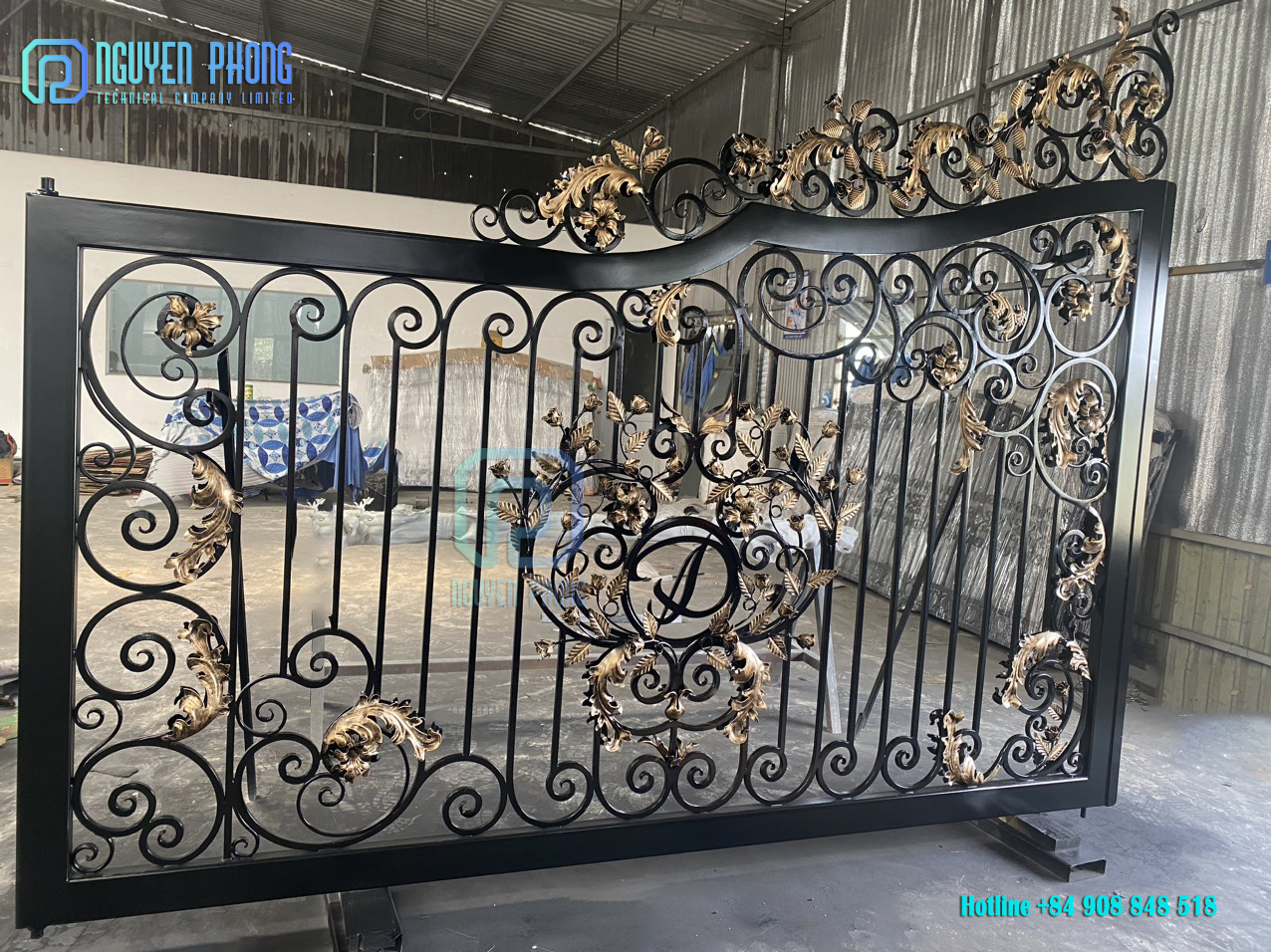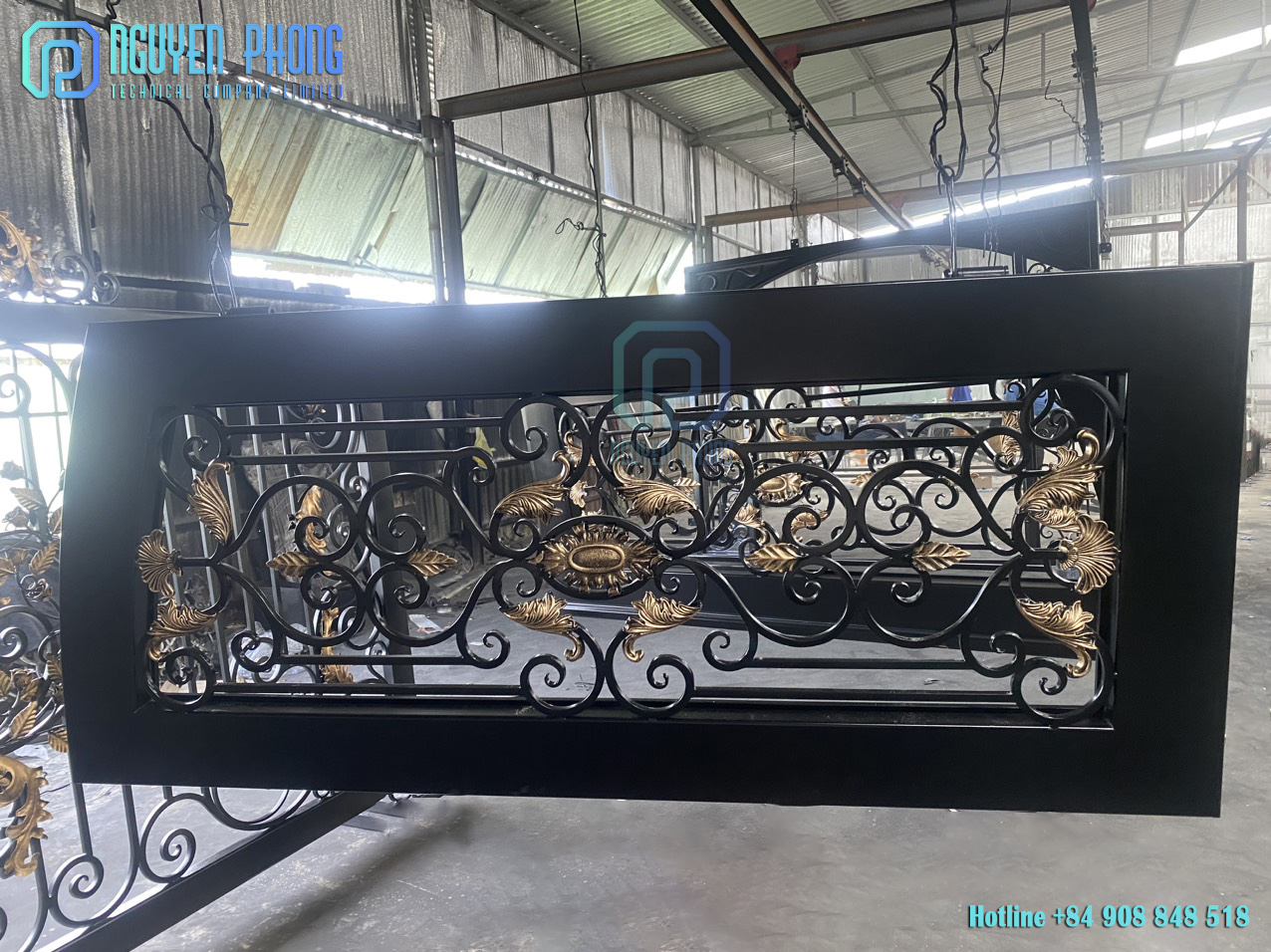 2.2. Double Swing Driveway Gate and Single Side Gate.
Driveway gates are one of the most requested products by our customers from the USA due to landscape preferences, weather conditions, and habits of the American population.
Driveway iron gates possess unique characteristics, such as a wide width, often exceeding 5 meters, and limited height, typically not exceeding 2.4 meters.
Furthermore, they are usually equipped with an automatic opening motor, enabling convenient operation from inside the car without the need for manual opening.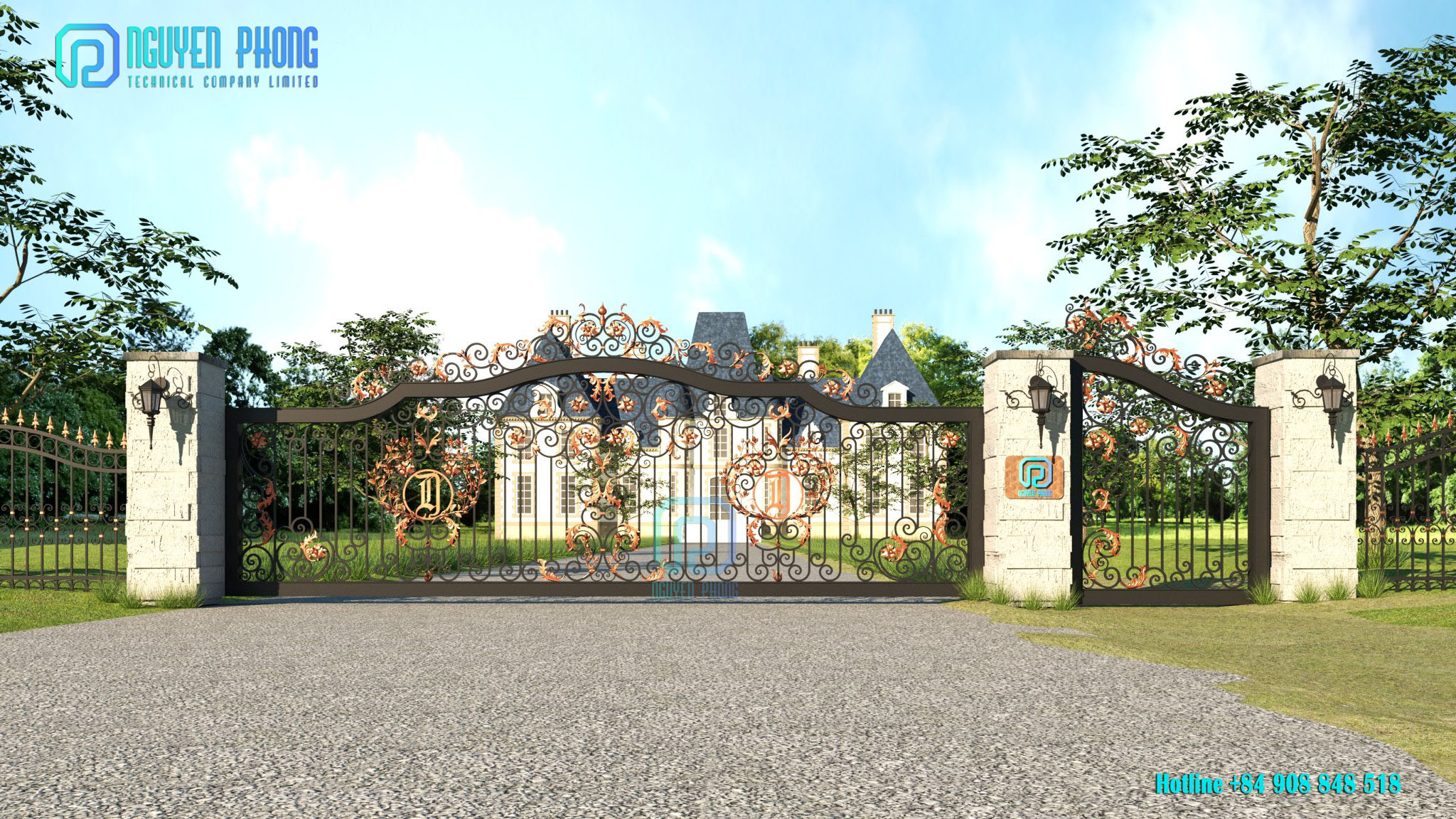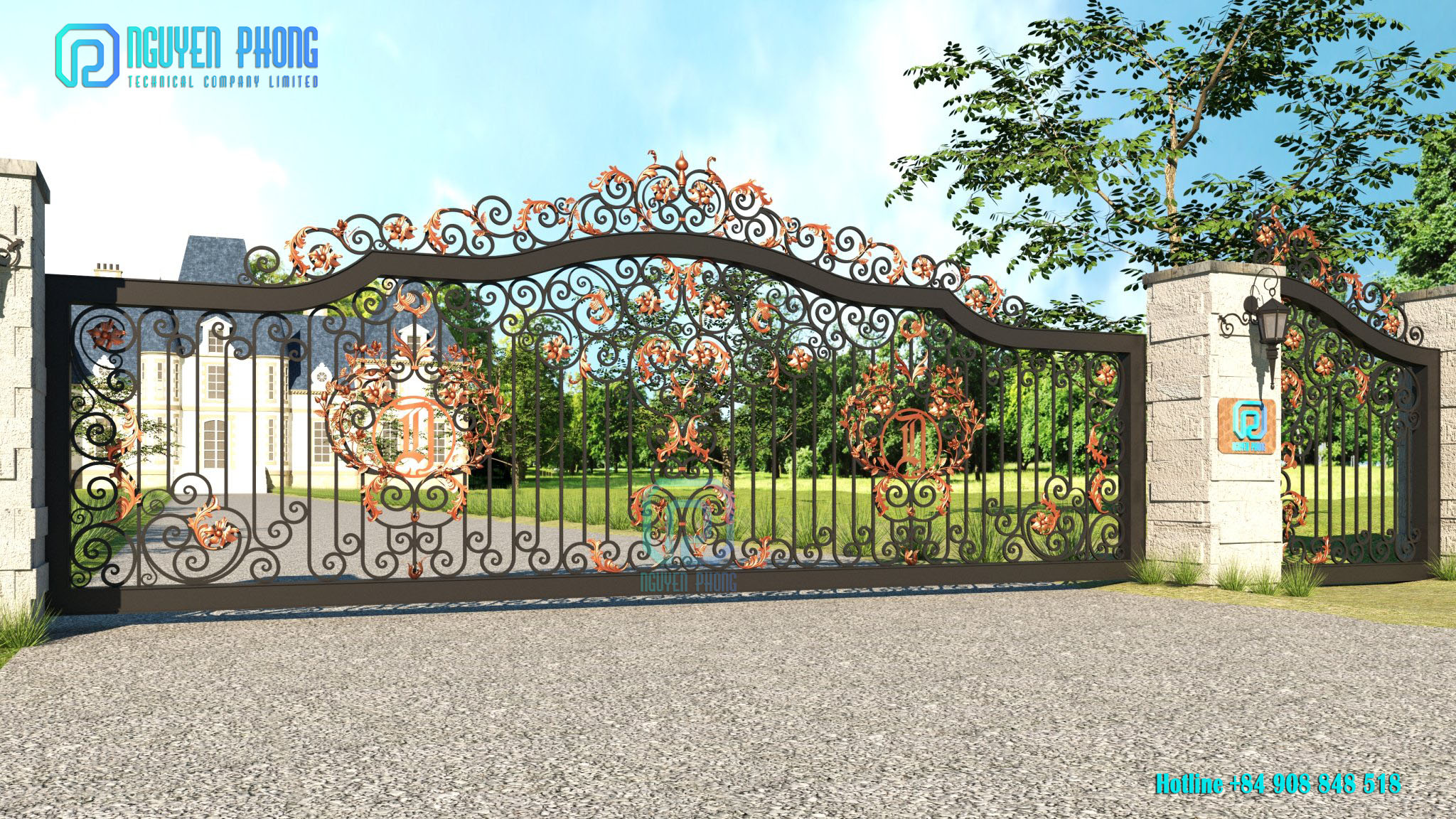 The side gate is smaller in size, manually operated, and specifically designed for pedestrians.
Providing detailed information about the installation location for the driveway gate is crucial. Information such as pillar construction plans, terrain slope, suitable gate opening direction, etc. (provided by the builder) greatly assists Nguyen Phong Metal in designing and producing the most beautiful and user-friendly wrought iron gate for Mrs. Jenny.
A 3D design drawing for the driveway gate and wrought iron fence was promptly provided by our technical team to ensure Mrs. Jenny's complete satisfaction with the ordered wrought iron products.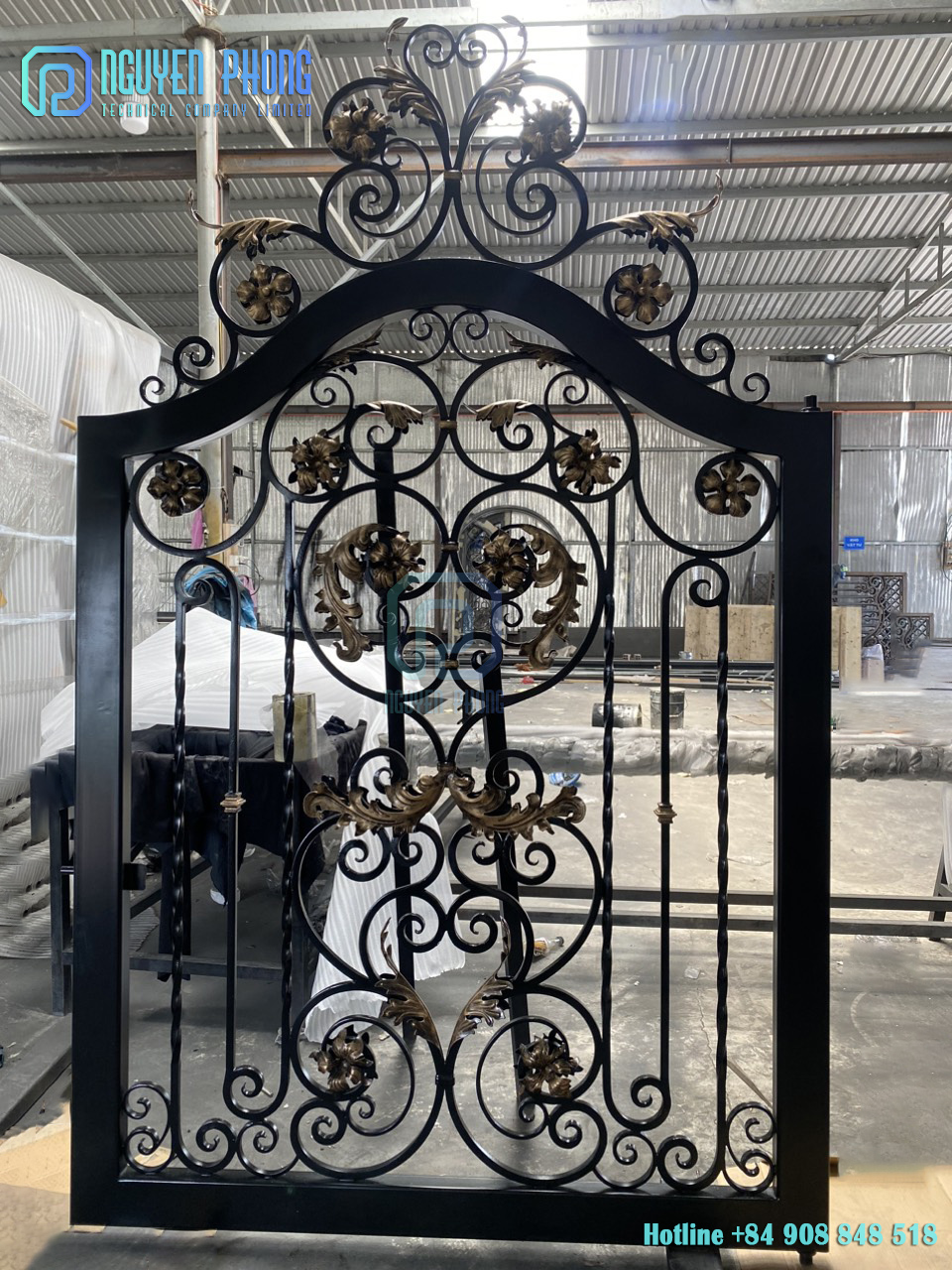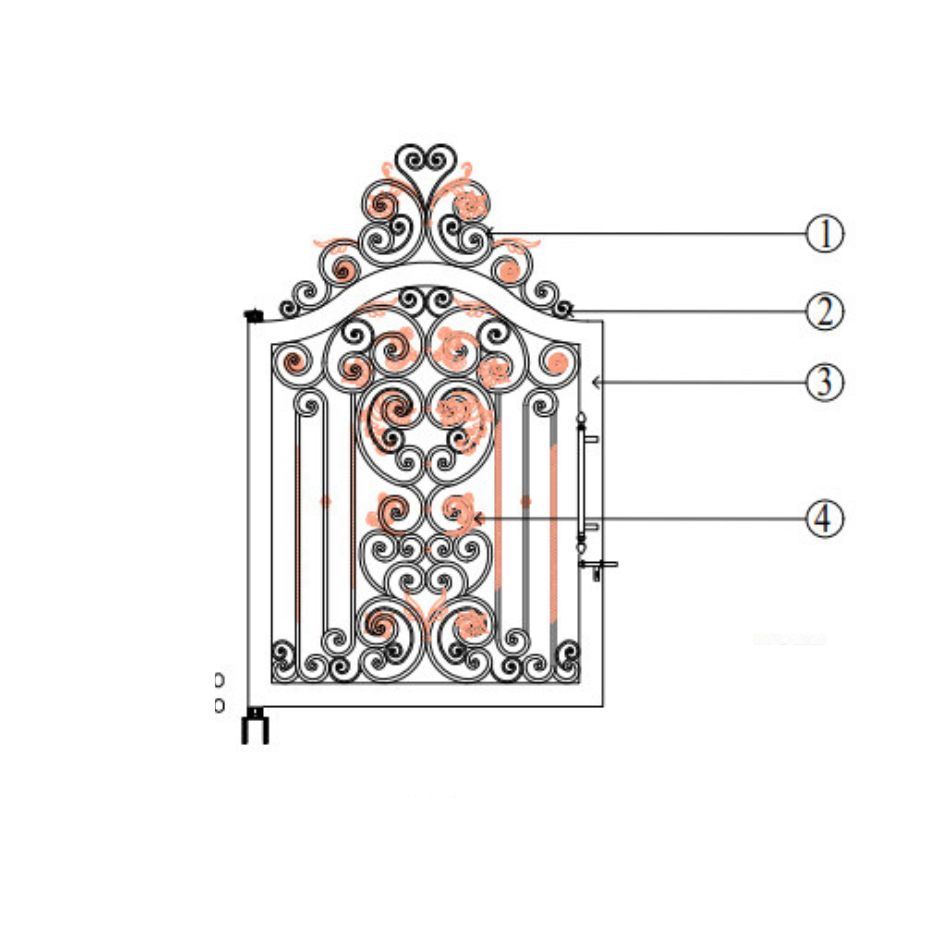 2.3. Simple Wrought Iron Fence Frames.
Most homeowners, villa owners, castle owners, or garden owners have a need to protect their front and side garden areas with simple wrought iron fence frames. The farmhouse-style iron fences are cheaper and help homeowners save on construction or renovation costs. Moreover, the simple decorative patterns on the iron fences easily match various architectural styles, from modern to classical. The farmhouse-style wrought iron fence also complements the luxury iron gates and fences in front of the house (if present).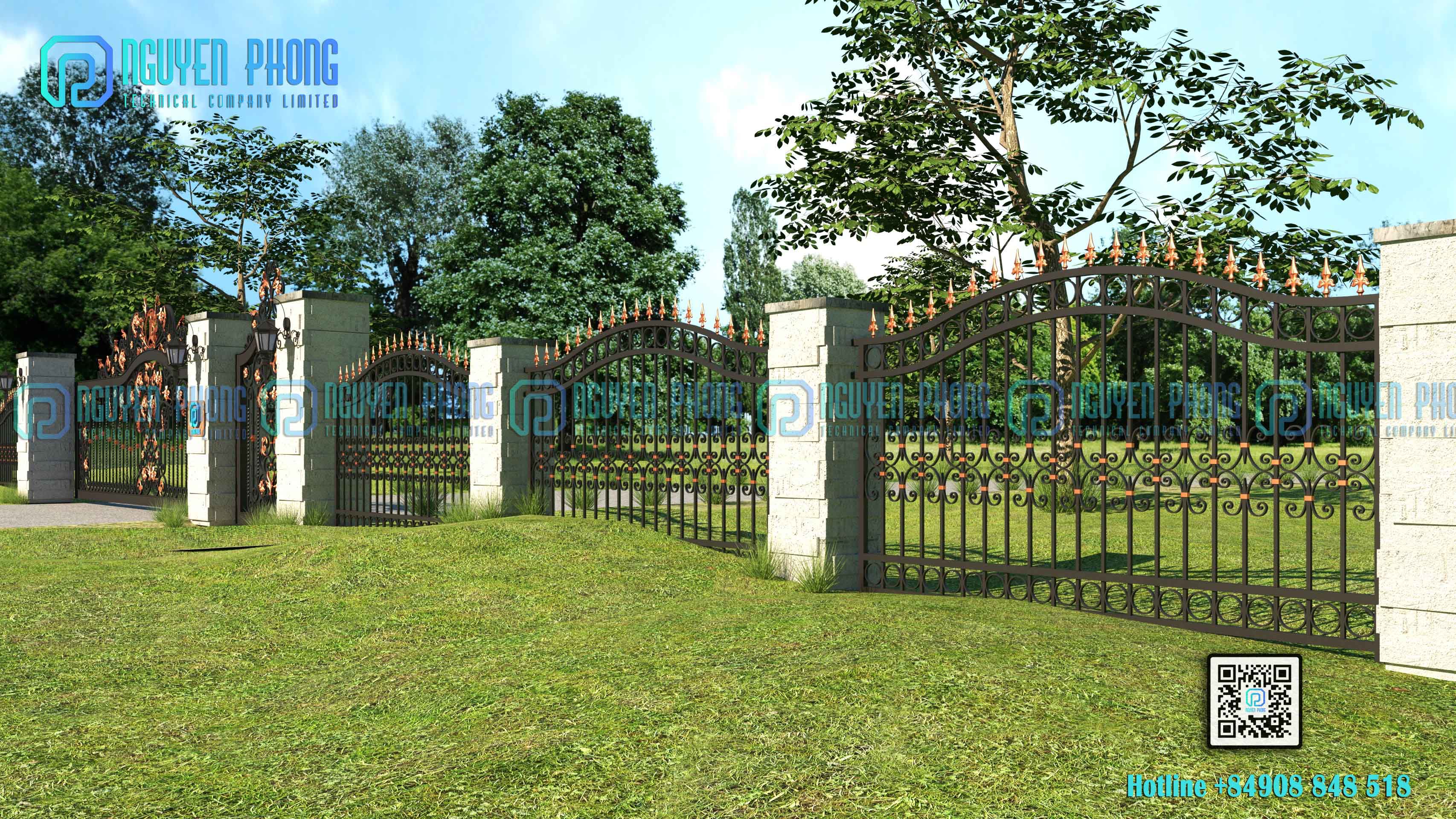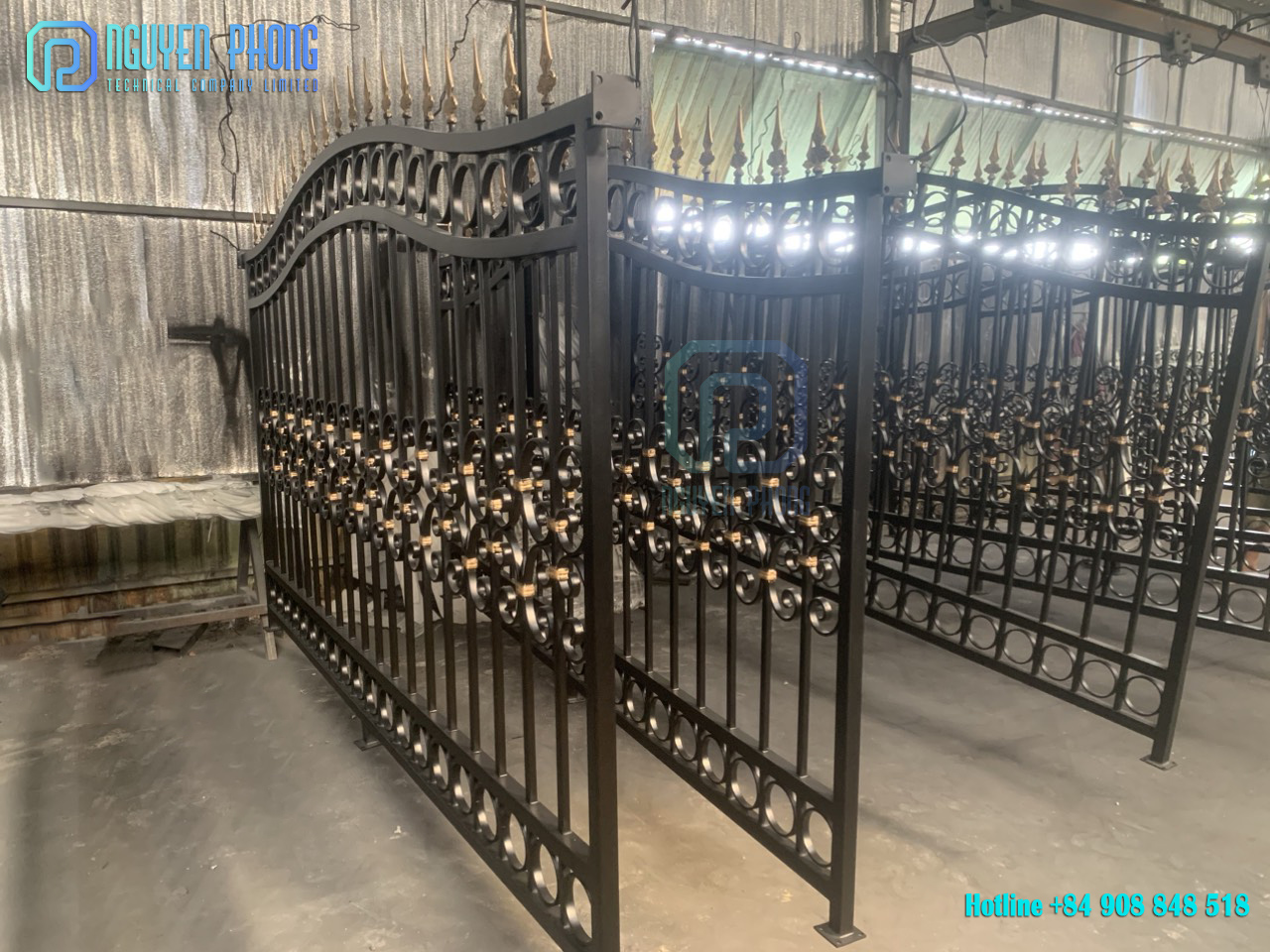 2.4. Wrought Iron Entry Door.
The order for the wrought iron entry door is confirmed after the completion of the villa's construction.
This set of iron doors has a distinctive design and pattern for houses in North America, featuring two fixed door frames on each side and two wings opening door. The design and production of this iron door set depend on the sizes (provided by Mrs. Jenny's construction team). And the production plan is expedited to ensure all products can be completed and delivered to the customer simultaneously.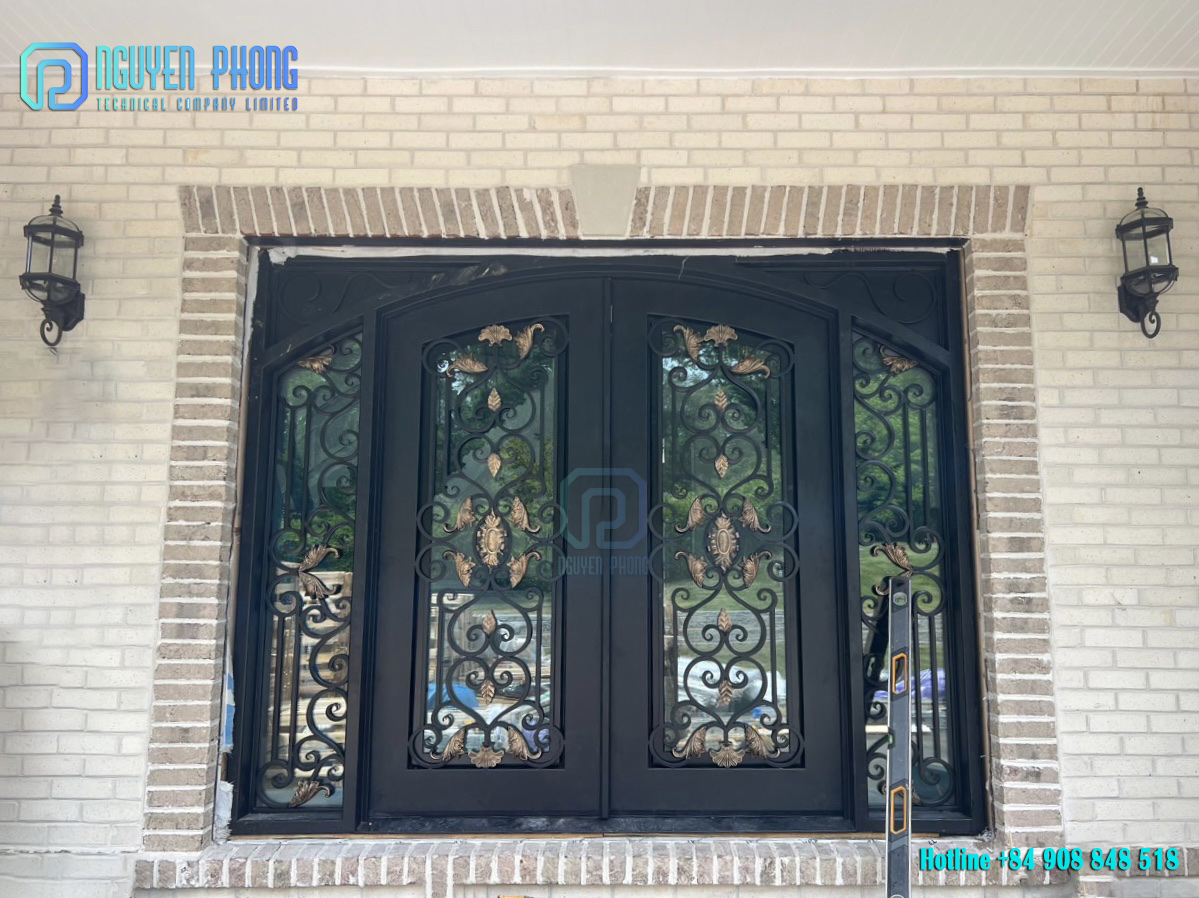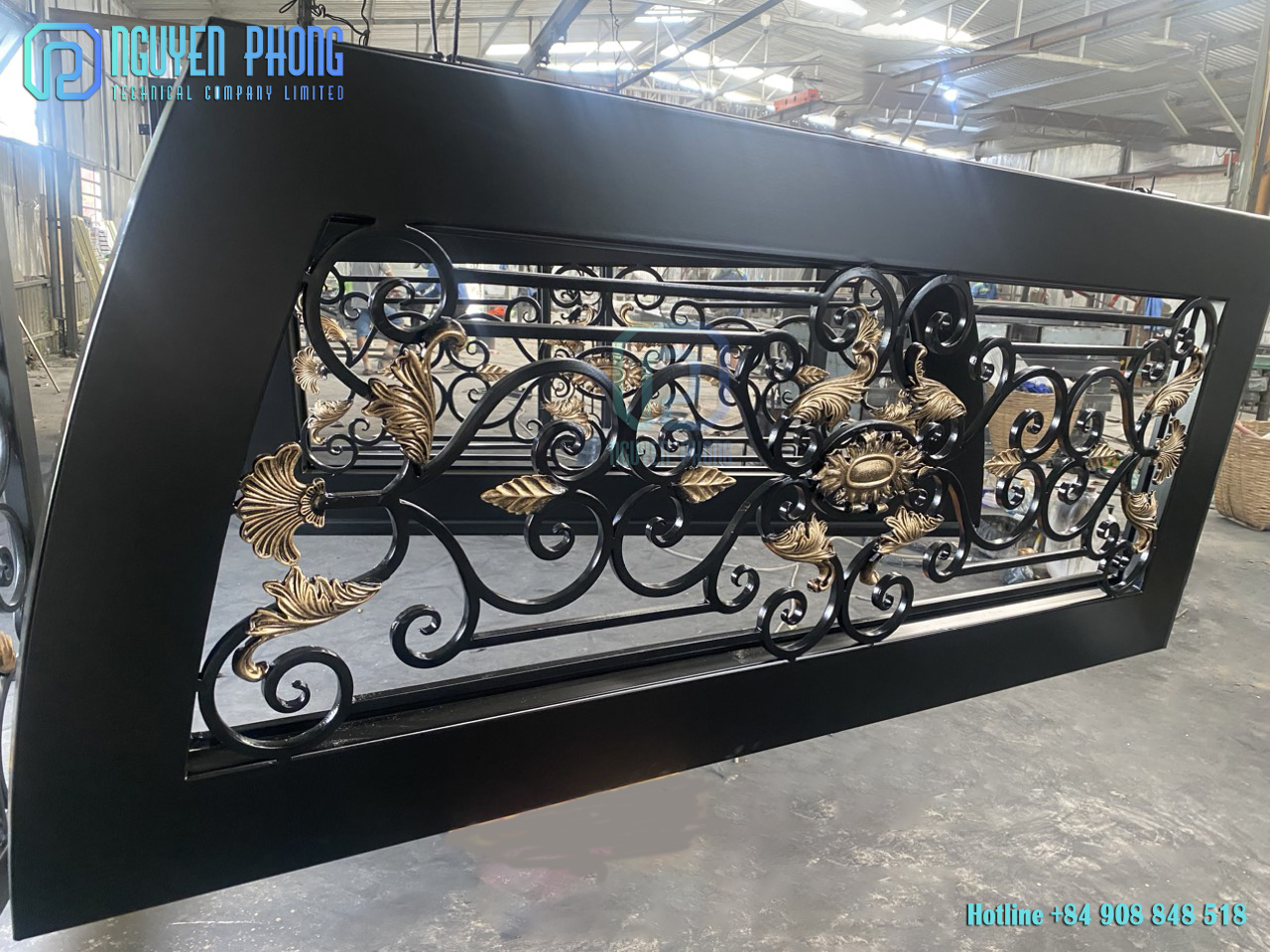 3. HANDCRAFTING PROCESS FOR WROUGHT IRON GATES, FENCES, AND DOORS AT THE FACTORY
All wrought iron products at Nguyen Phong Metal are meticulously handcrafted by experienced and passionate artisans.
The production process involves several stages:
Planning and material preparation for production (2 days).
Wrought iron bending and assembly of decorative patterns (20 days).
Surface inspection and cleaning (5 days).
Primer coating + final color painting (7 days).
Aesthetic checking and packaging (5 days).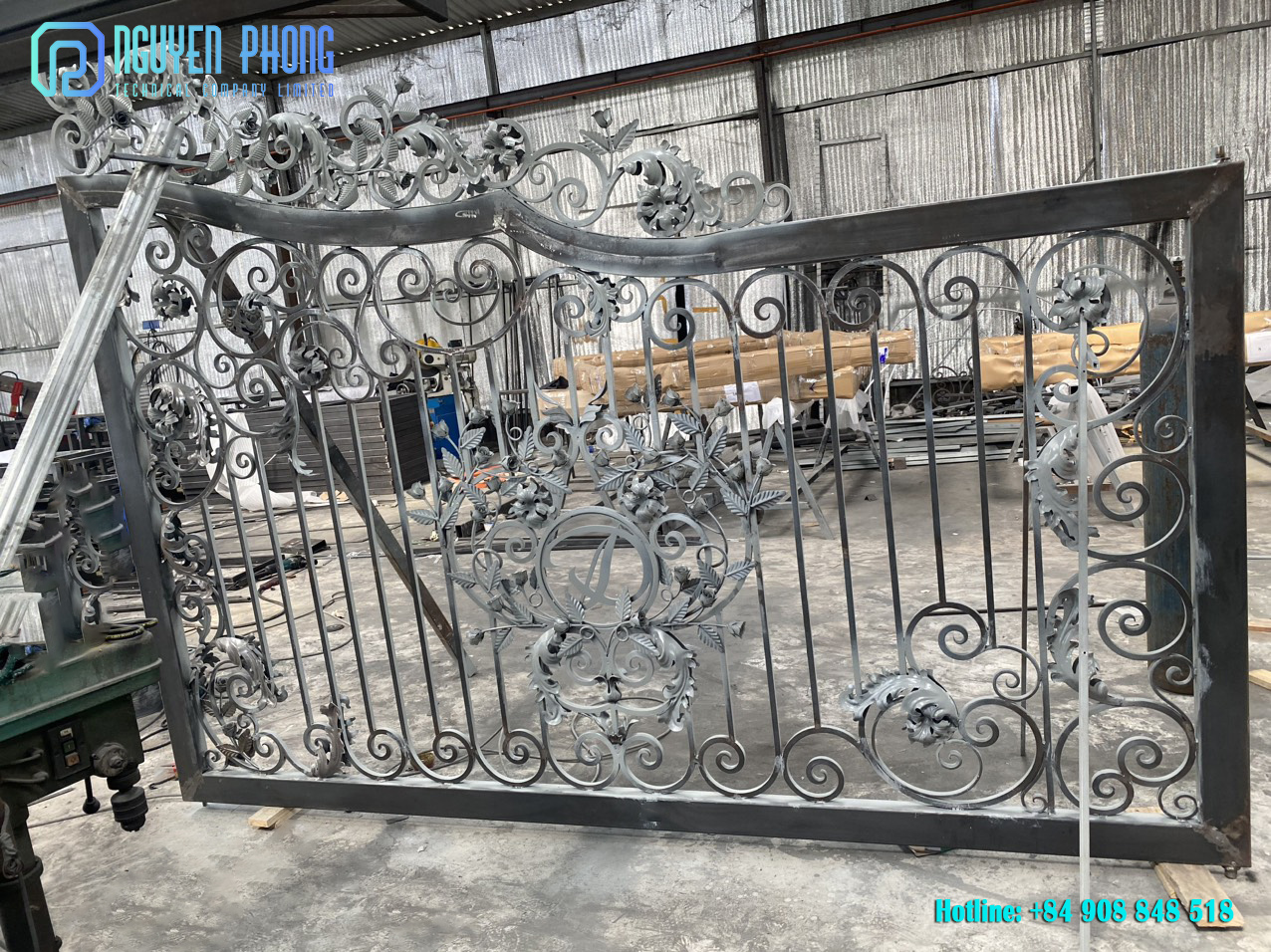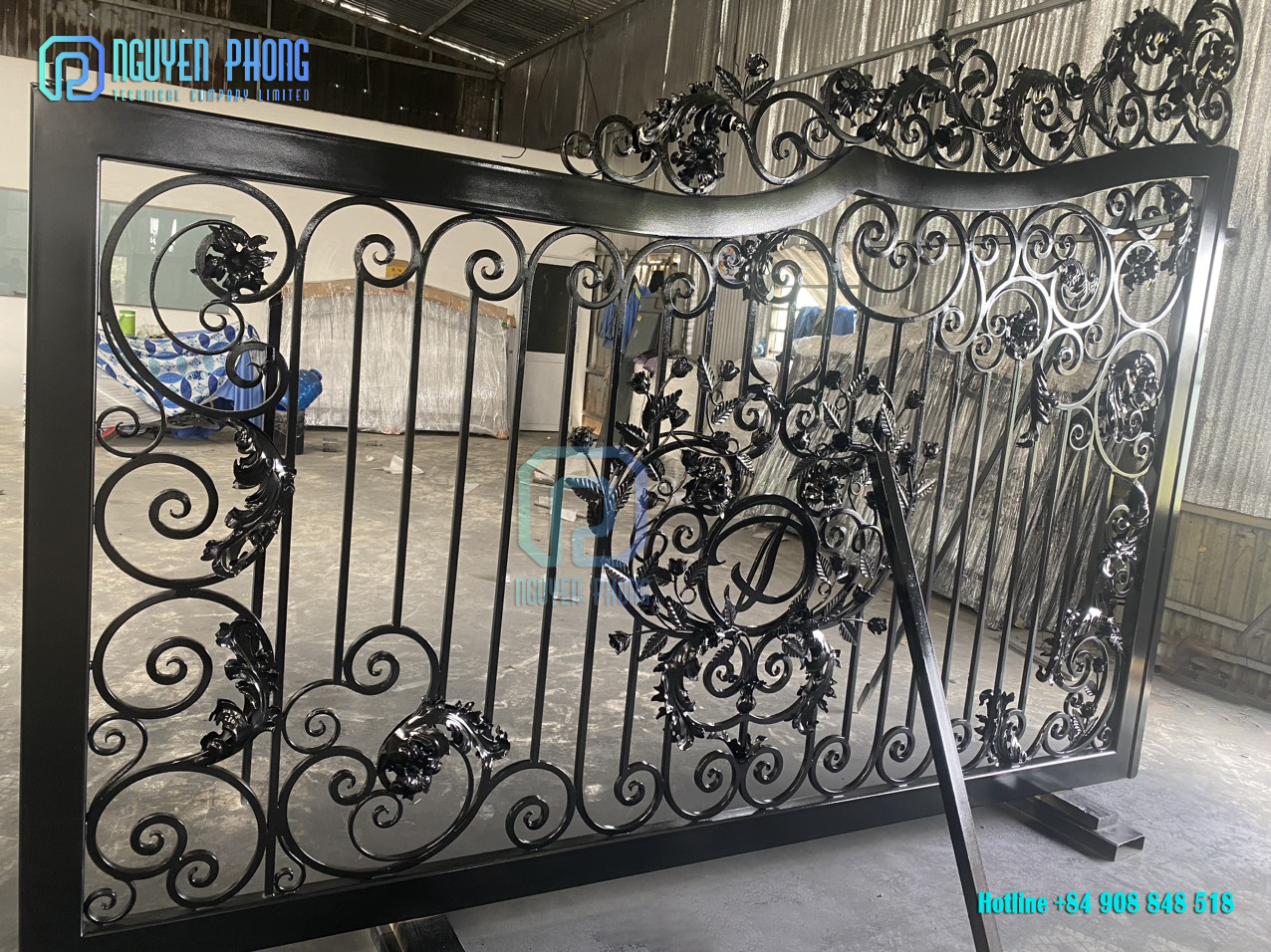 The whole production process takes place within 40 days.
During this time, the technical team regularly checks for any errors on a weekly basis and provides report images to customers.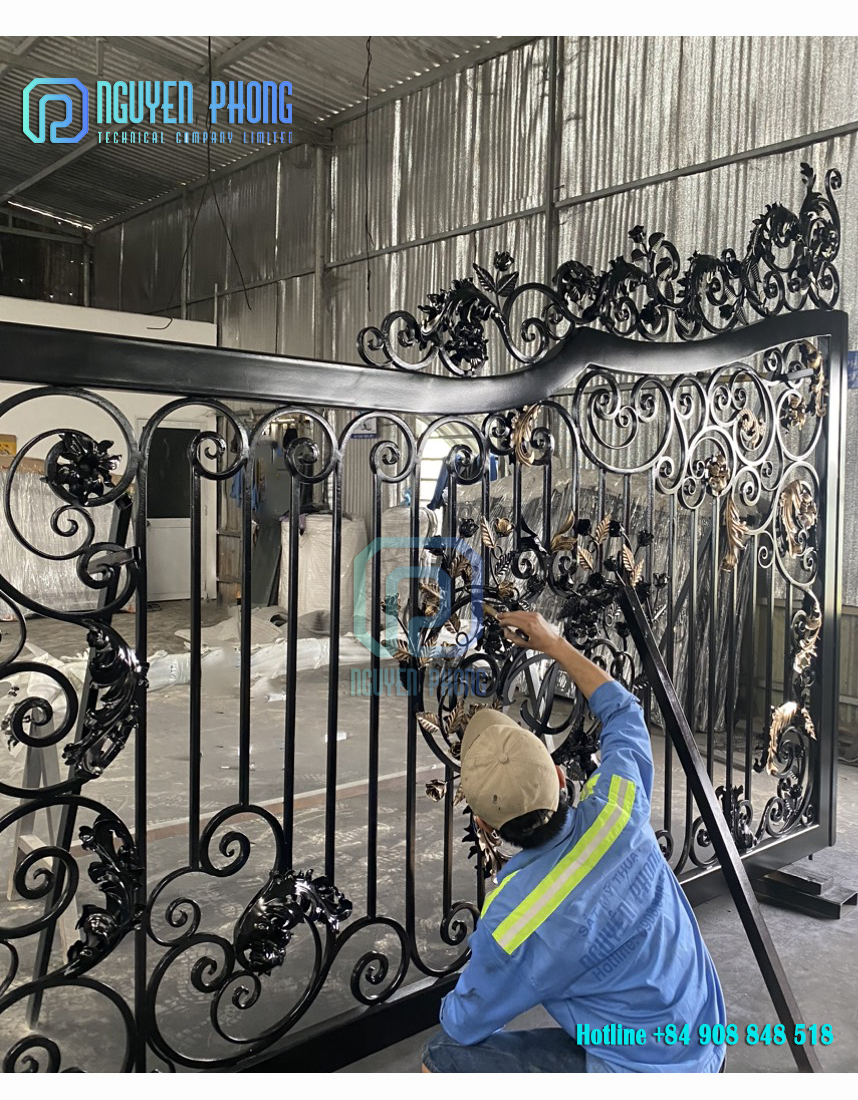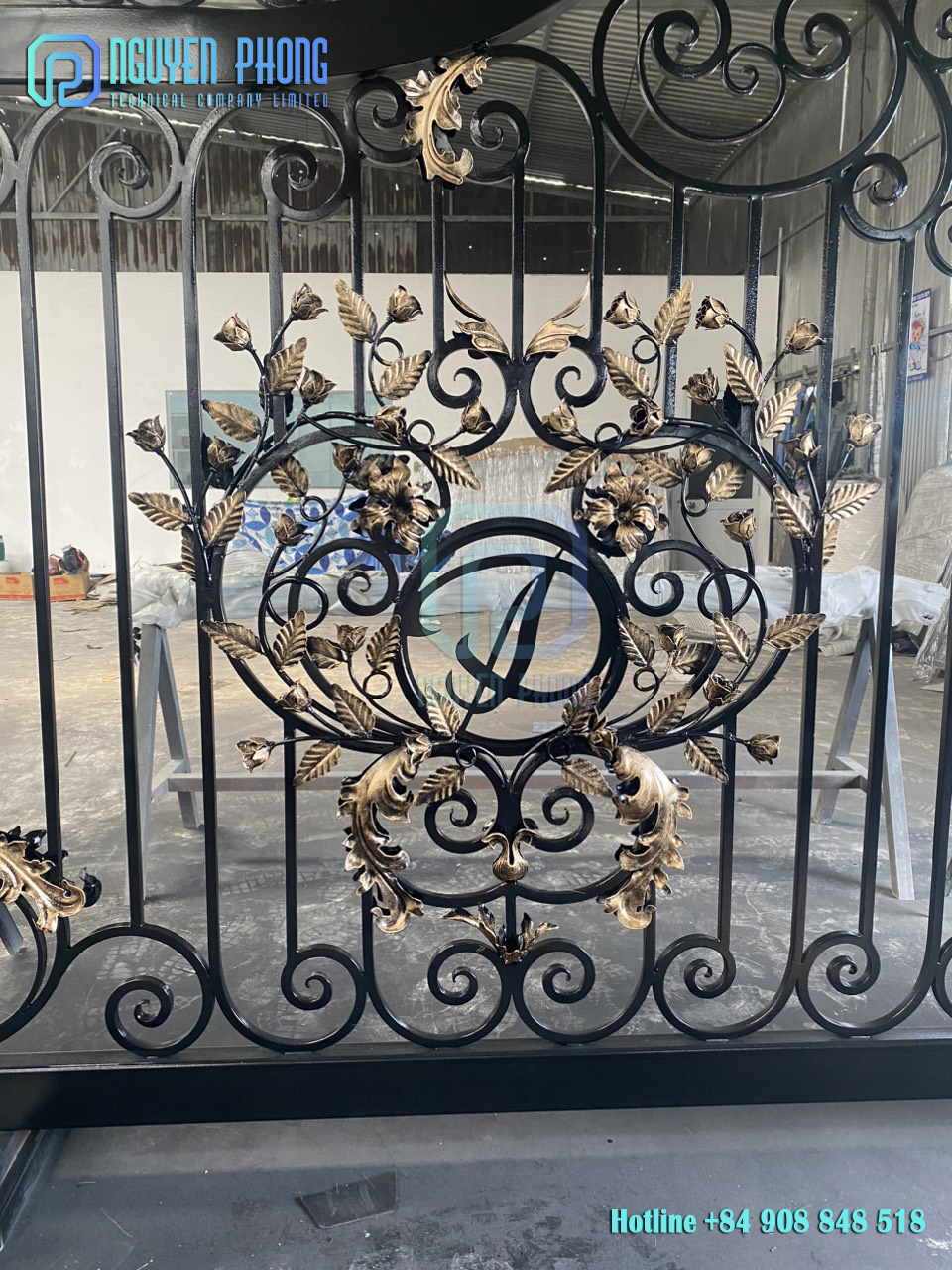 4. COLOR FINISHING PAINT ON CUSTOMER REQUIREMENTS
One important factor is the paint color, which is crucial for customers at Nguyen Phong Metal.
The input quality of the paint, paint surface quality, and paint life are of great interest to the customers.
Matte black paint color is required for all products, and for iron art accessories like roses and leaves, an imitation antique gold color is highlight. These color preferences are confirmed by the customer when signing the order and 2 days before the paint phase.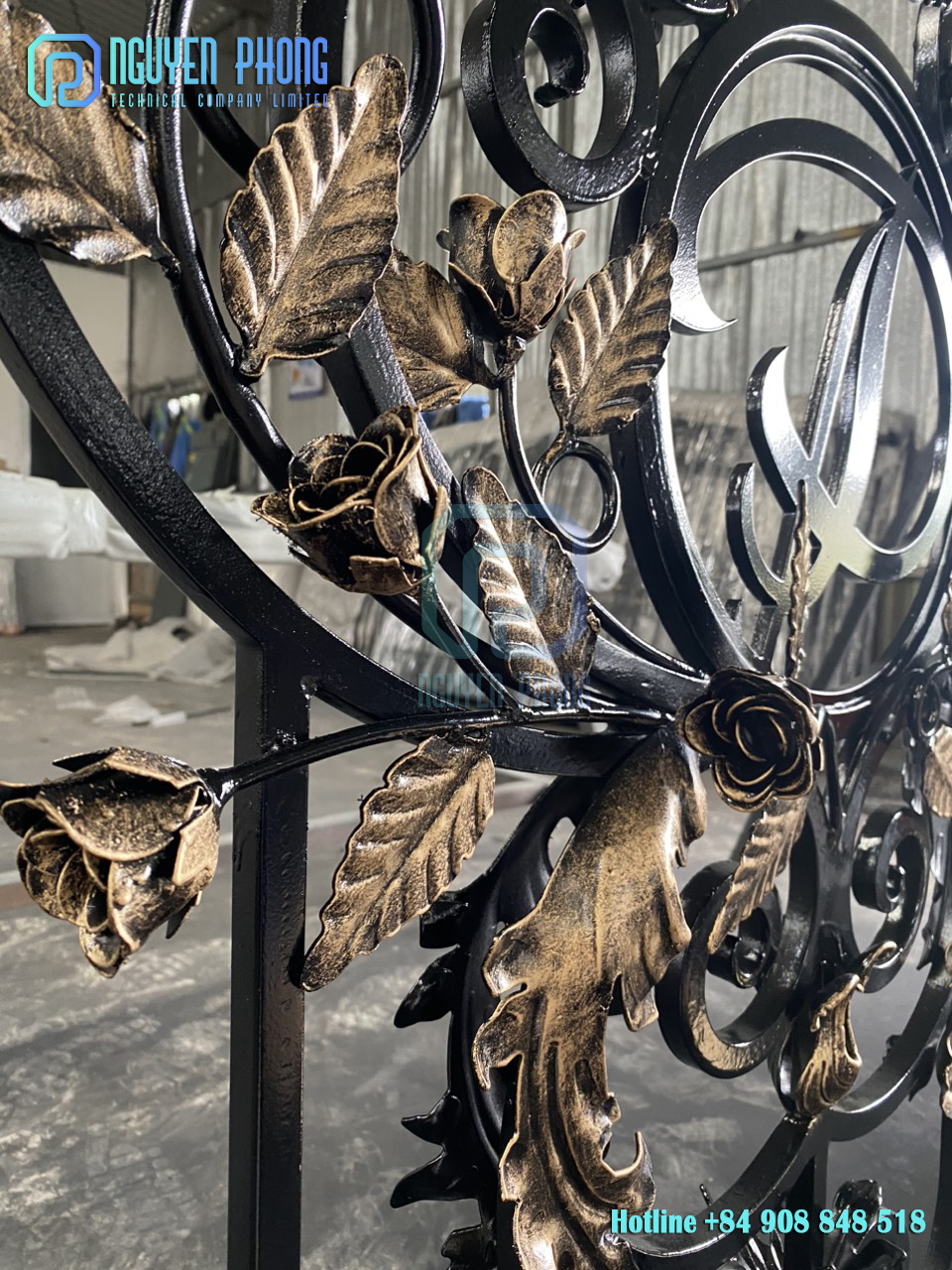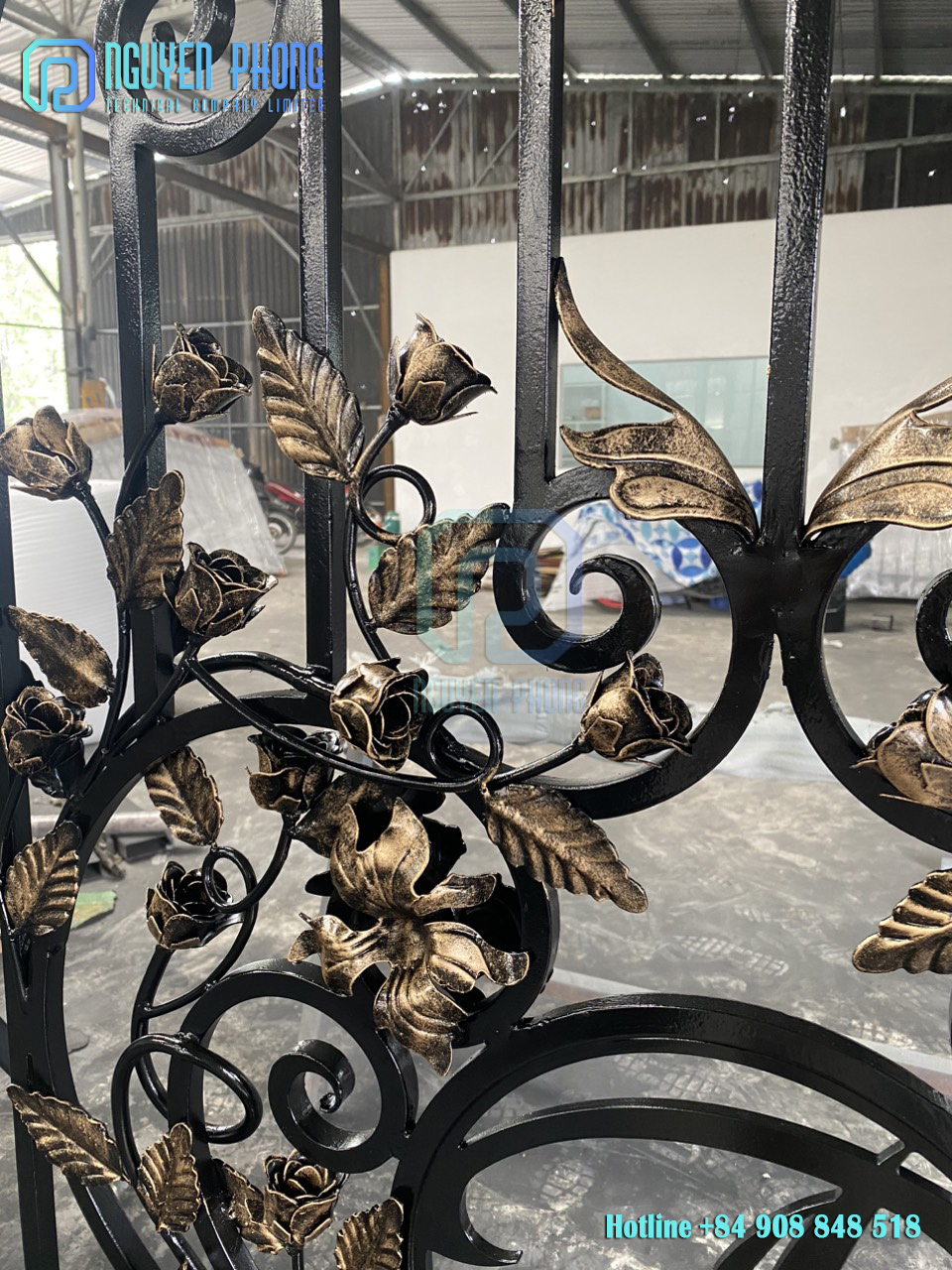 The rose accessories on the driveway iron gate are painted meticulously, paying attention to the smallest details, as if creating a beautiful picture. This reflects the passion of the workers at Nguyen Phong Metal.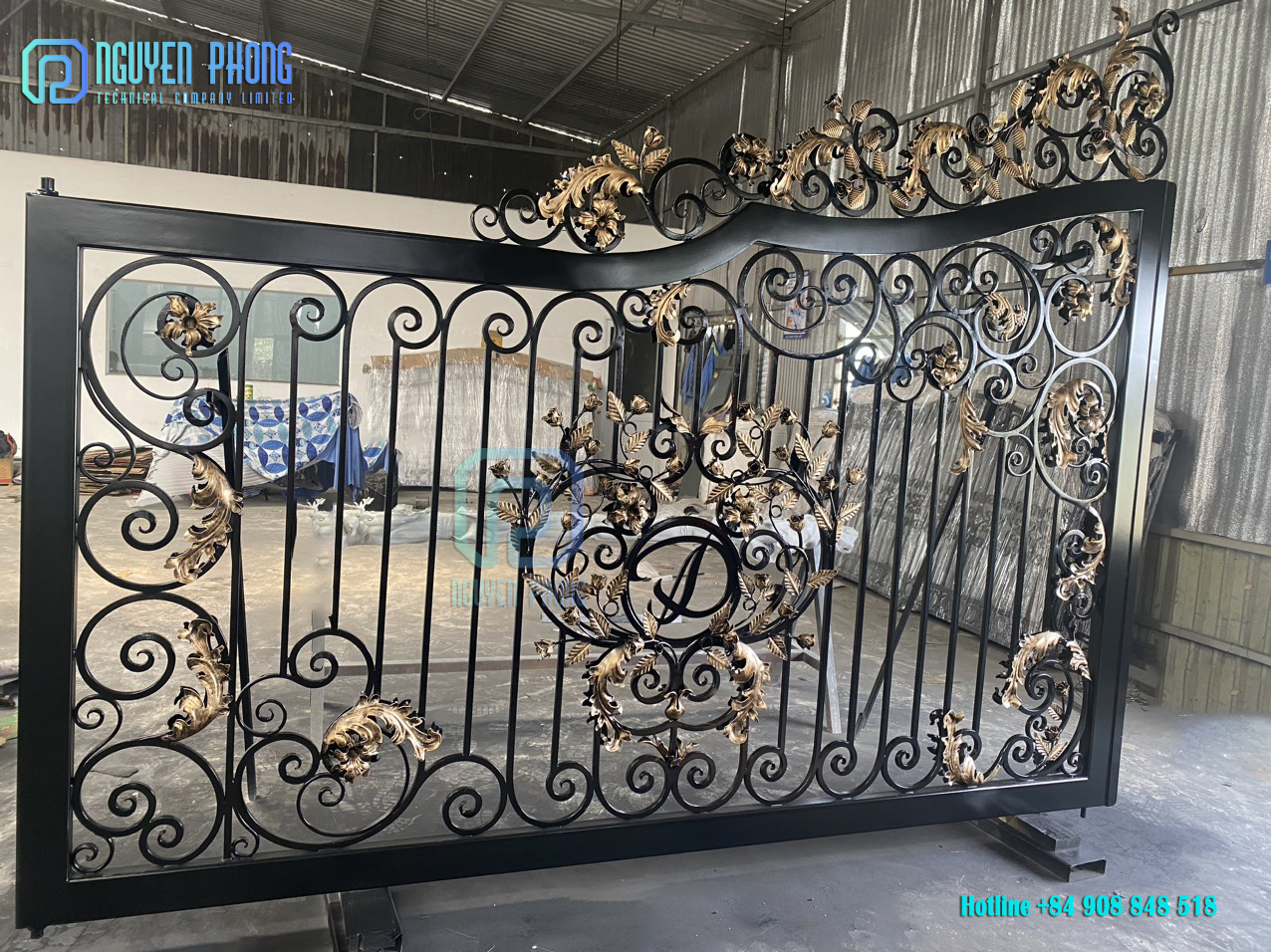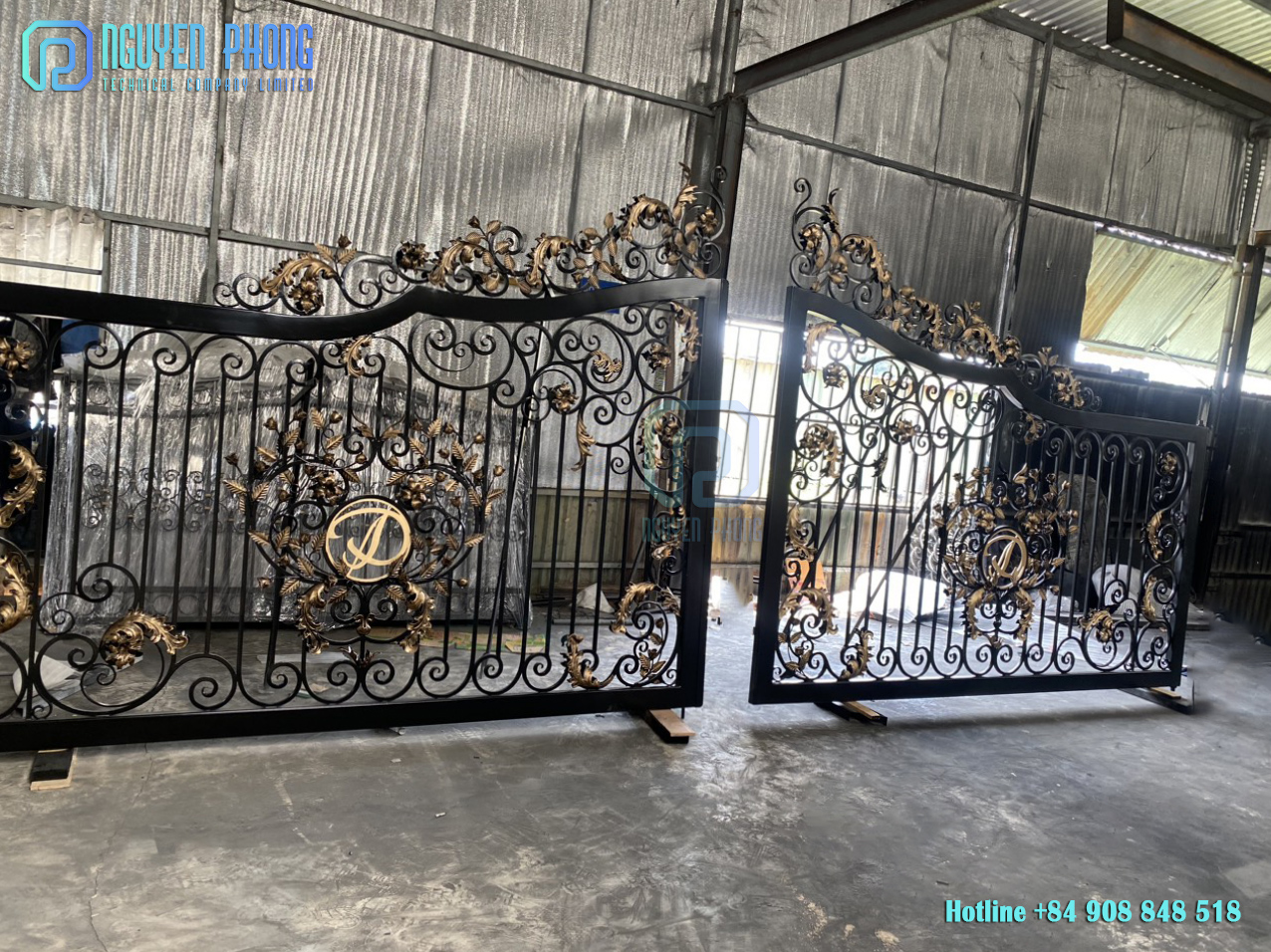 5. QUALITY INSPECTION AND PACKING OF PRODUCTS
After the product quality inspection is completed, there are at least 3 checks by 3 different departments: the Production manager, head of the technical department, and business manager. This is to ensure that products are evaluated based on clear criteria, avoiding any confusion or omissions when delivering goods to customers. If any defects are found, they will be promptly addressed.
Customers approve all products directly (at the factory) or through videos and photos.
As a result, each wrought iron product delivered to customers is a source of pride and enthusiasm for Nguyen Phong Metal.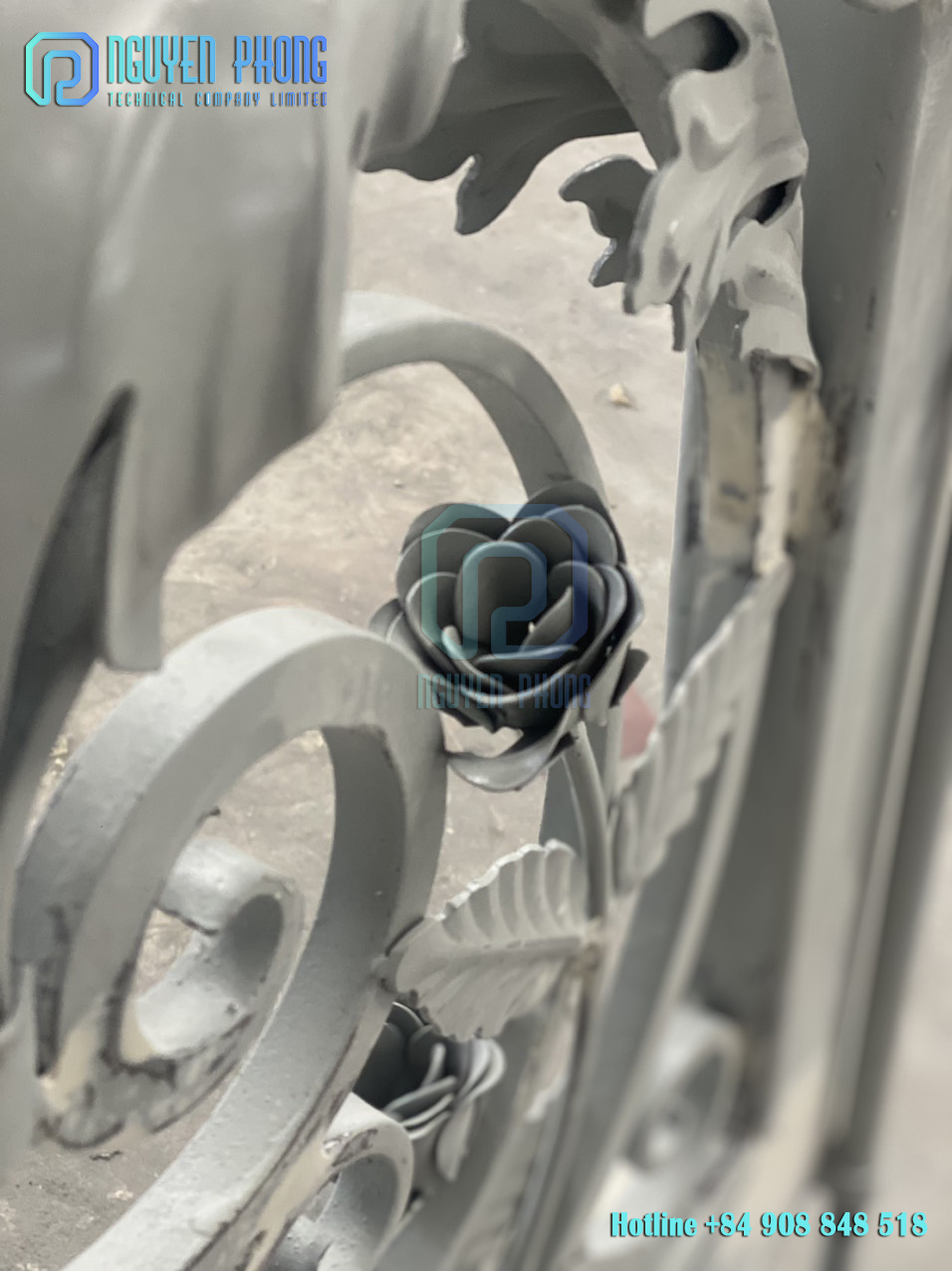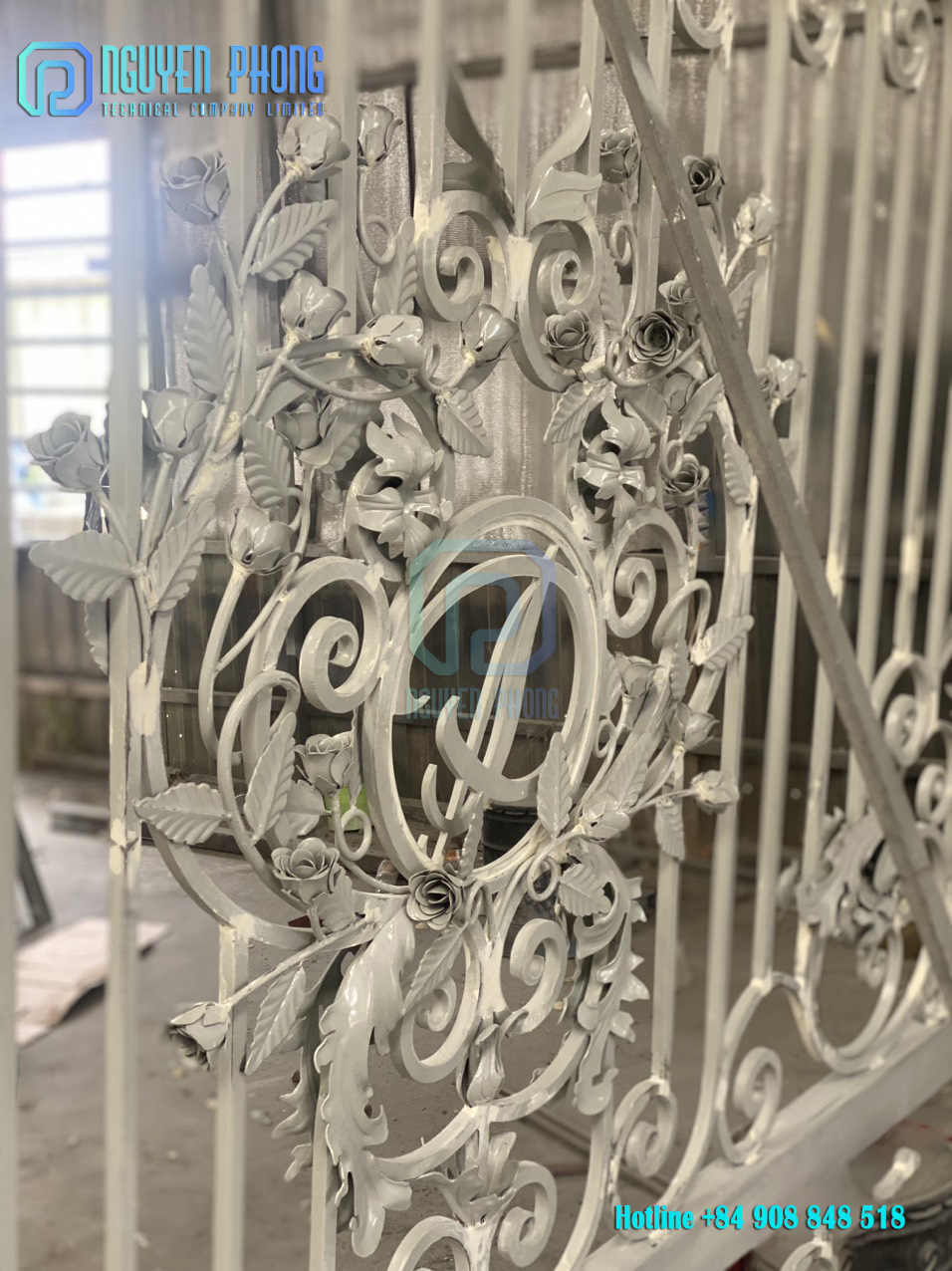 Nguyen Phong Metal team is always ready to advise customers on beautiful wrought iron designs and solutions that fit their budget. This is what makes customers always want to order a complete production of items for their house to achieve a good price for the product and shipping. So feel free to give us any questions and requests.
Customers can schedule online meetings with our sales team via email: sales@nguyenphongcnc.com or WhatsApp +84 908 848 518. We are very welcome and look forward to hearing your requirements.