GATE, FENCE, RAILING FOR BALCONY & STAIR, PROTECTIVE WINDOW GRILL - MR.DUNG'S VILLA - DISTRICT 7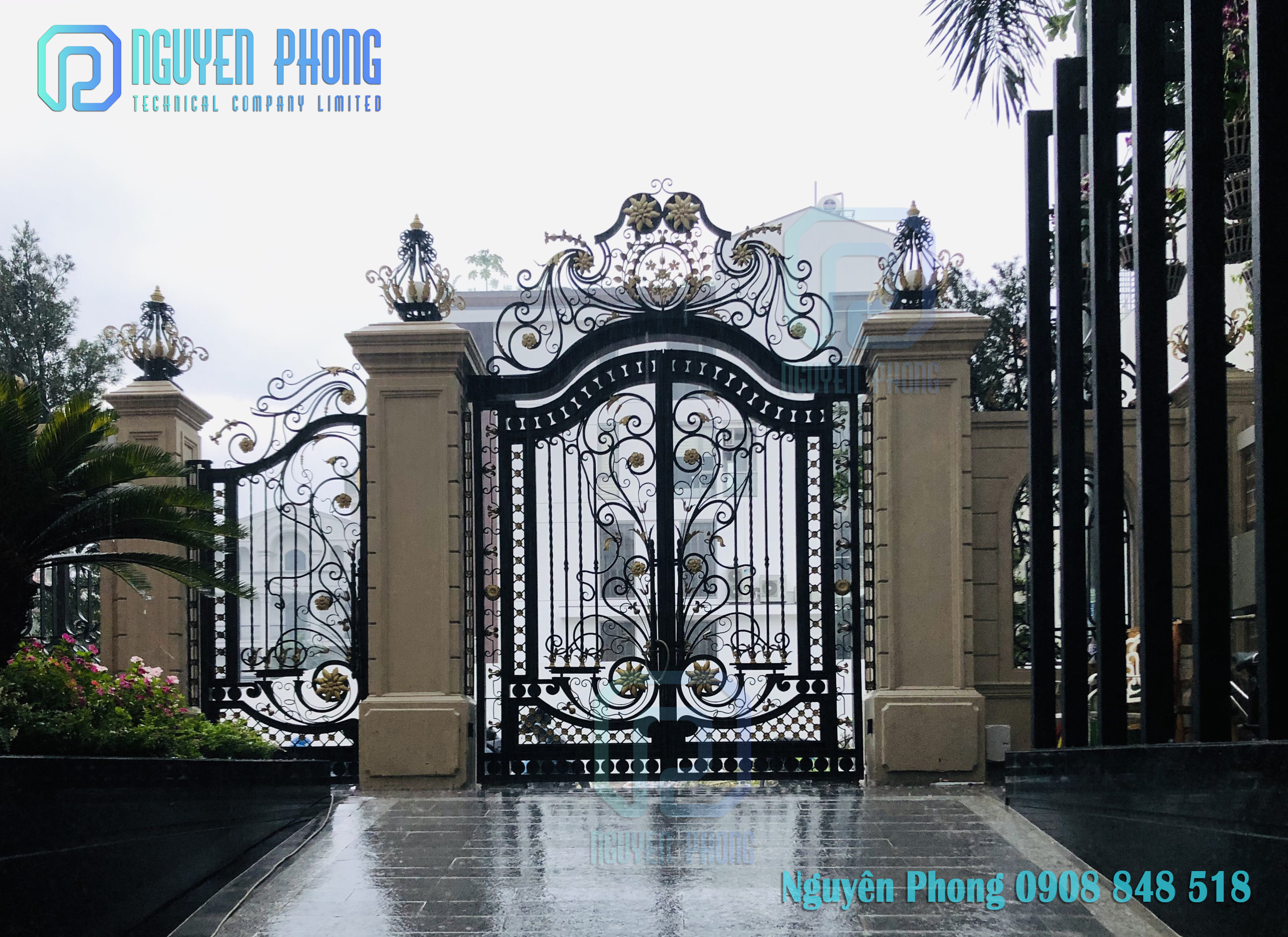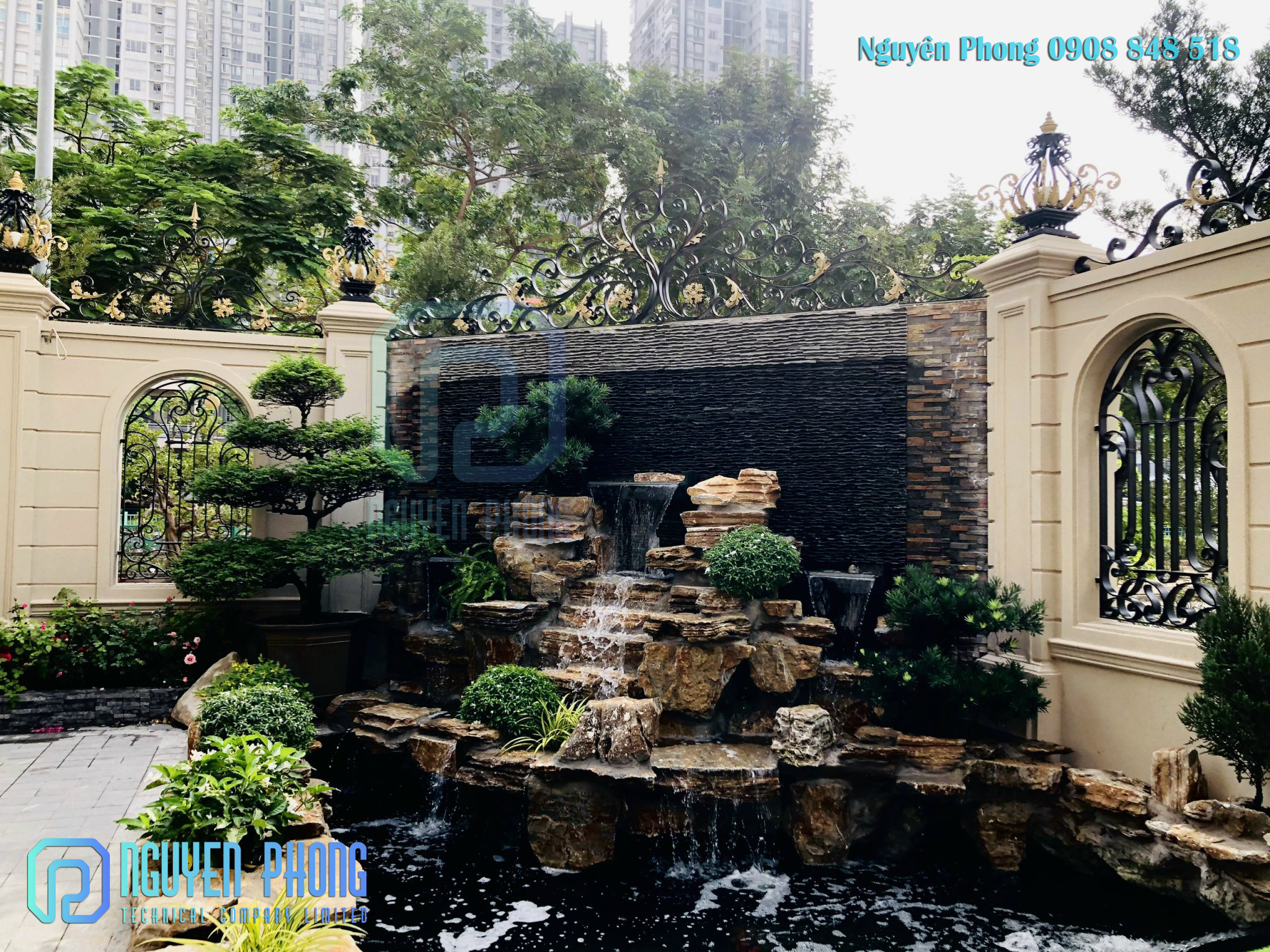 1. WORKING PROCESS – CONTRACT
For wrought iron items (Gates, fences, railings for stairs, ...) for their house, Ms. and Mr. Dung chose the construction unit very early and carefully (start working and select units from the beginning of villa construction). After the process of contact and work, Nguyen Phong Metal understands how great the enthusiasm and interest of Ms. and Mr.Dung is in wrought iron items, and understands how they work.
Because of understanding how customers look carefully from choosing patterns, designs to approving materials, paint colors and customer care process, we are always commended for our customer care attitude and project monitoring, suggesting appropriate and timely construction plans.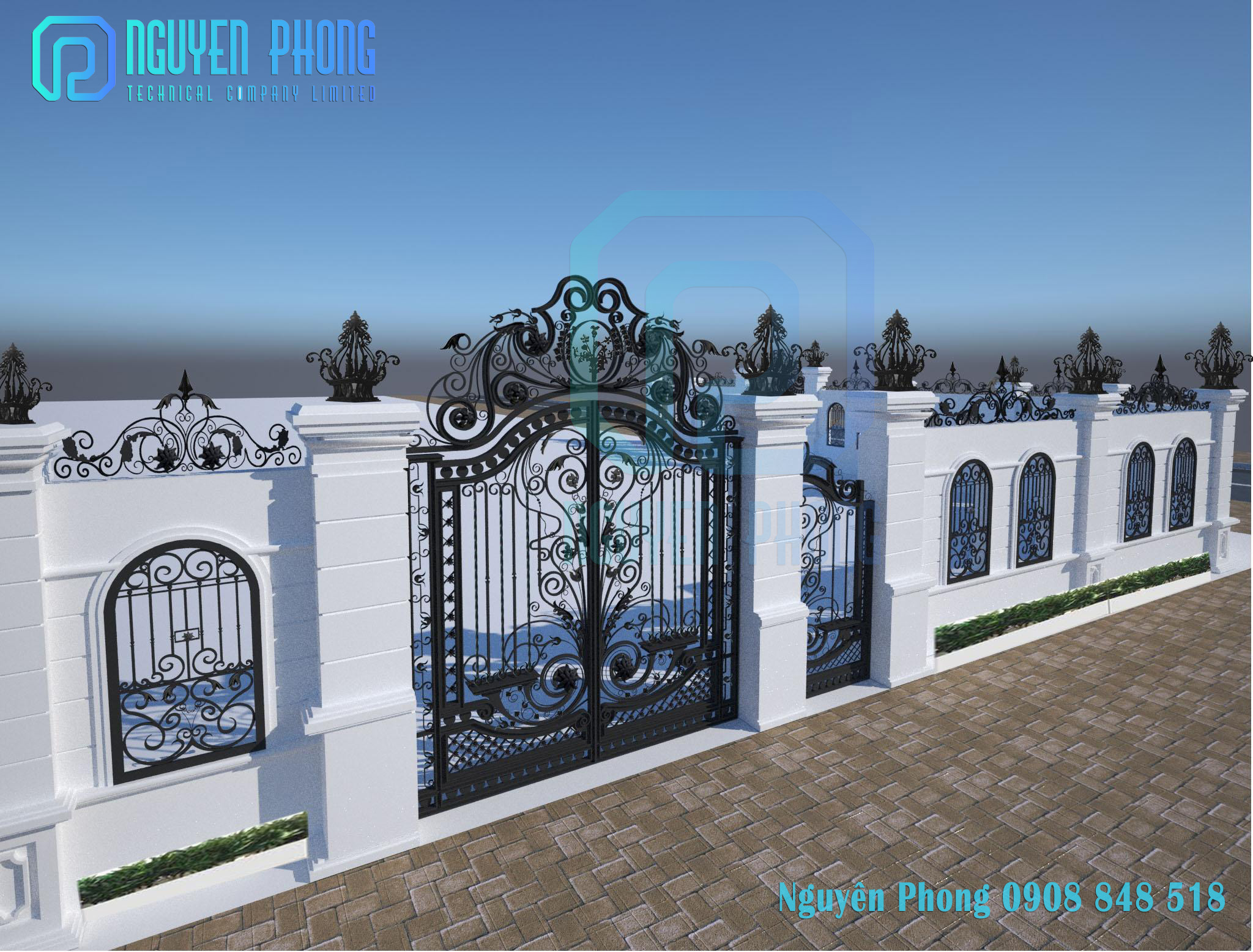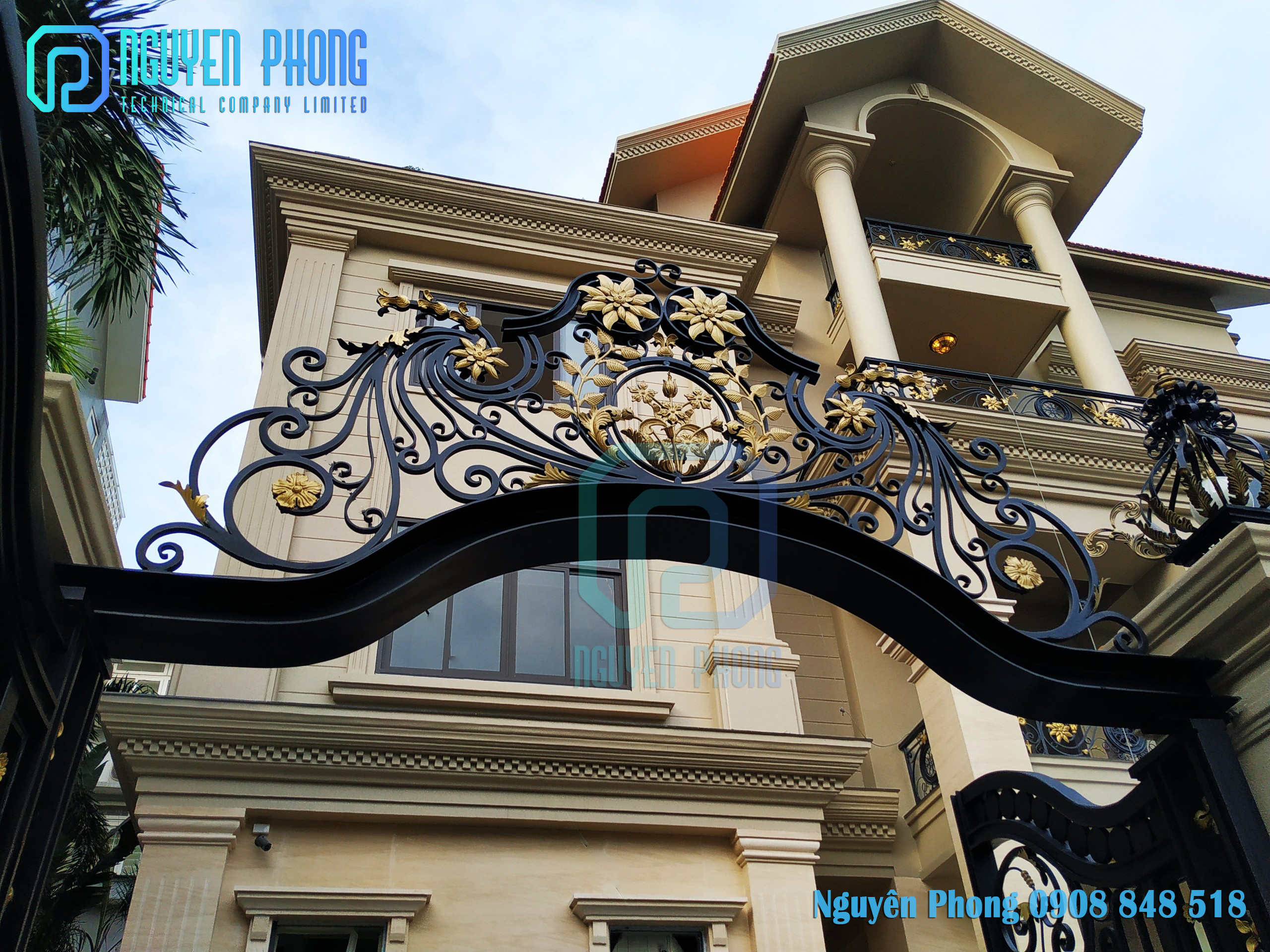 2. THE TOTAL OF PRODUCTS AND VOLUME AT THE WORKS
By July 2020, Nguyen Phong Metal signed an official contract supplying with all wrought iron items from exterior to interior for the villa project in District 7, Ho Chi Minh City with the total volume:
2 large main gates (classic gate design)and 1 auxiliary gate with a total acreage of 31.5 square metres.

15 fence frames and 9 wrought iron fence spears all use 8mm thick square steel iron.

18 meter stair railing and more than 63 meter balcony railing.

11 protective window frames with a total volume of 57 square metres.

14 gate posts & lamps and many other items.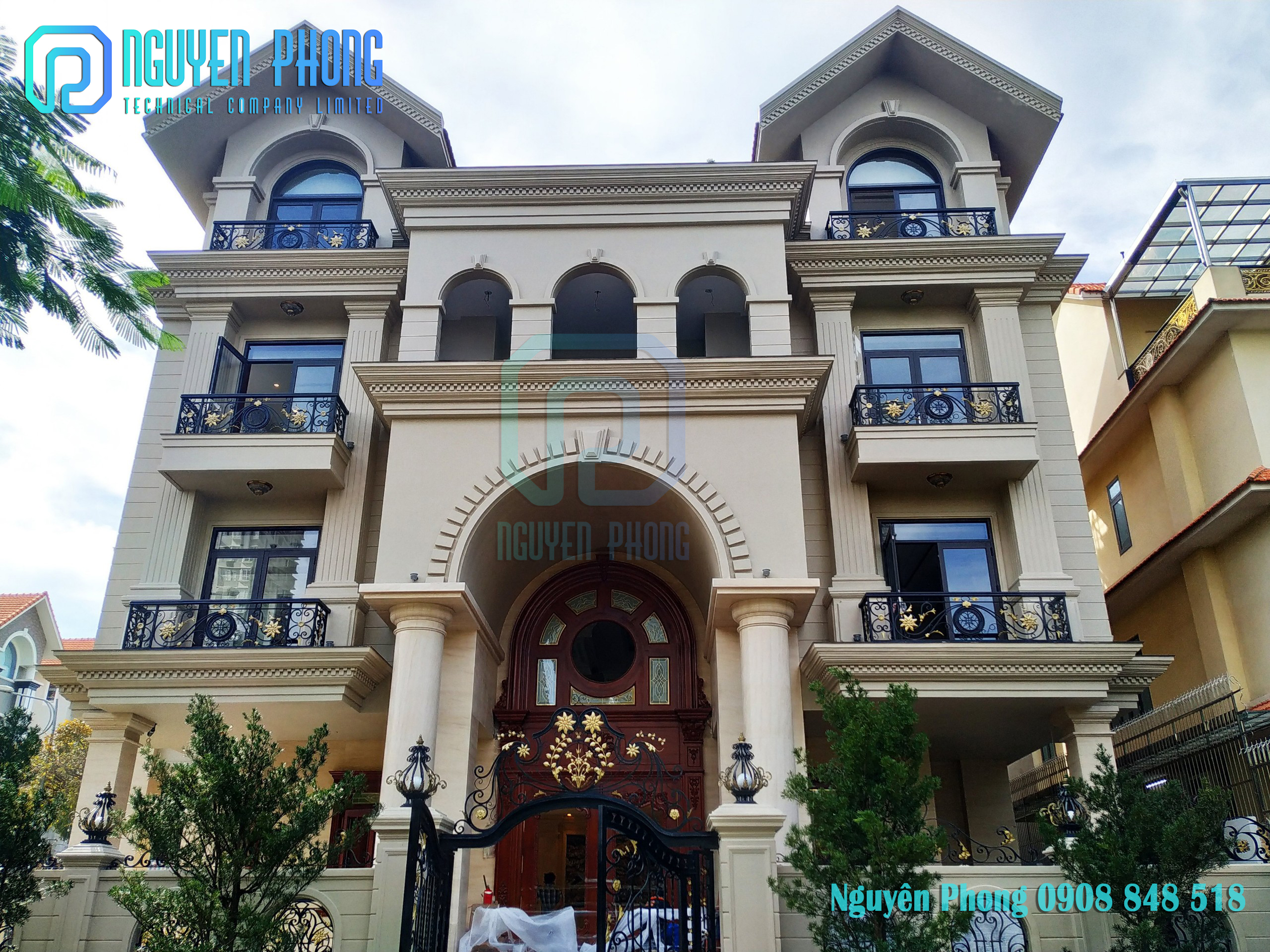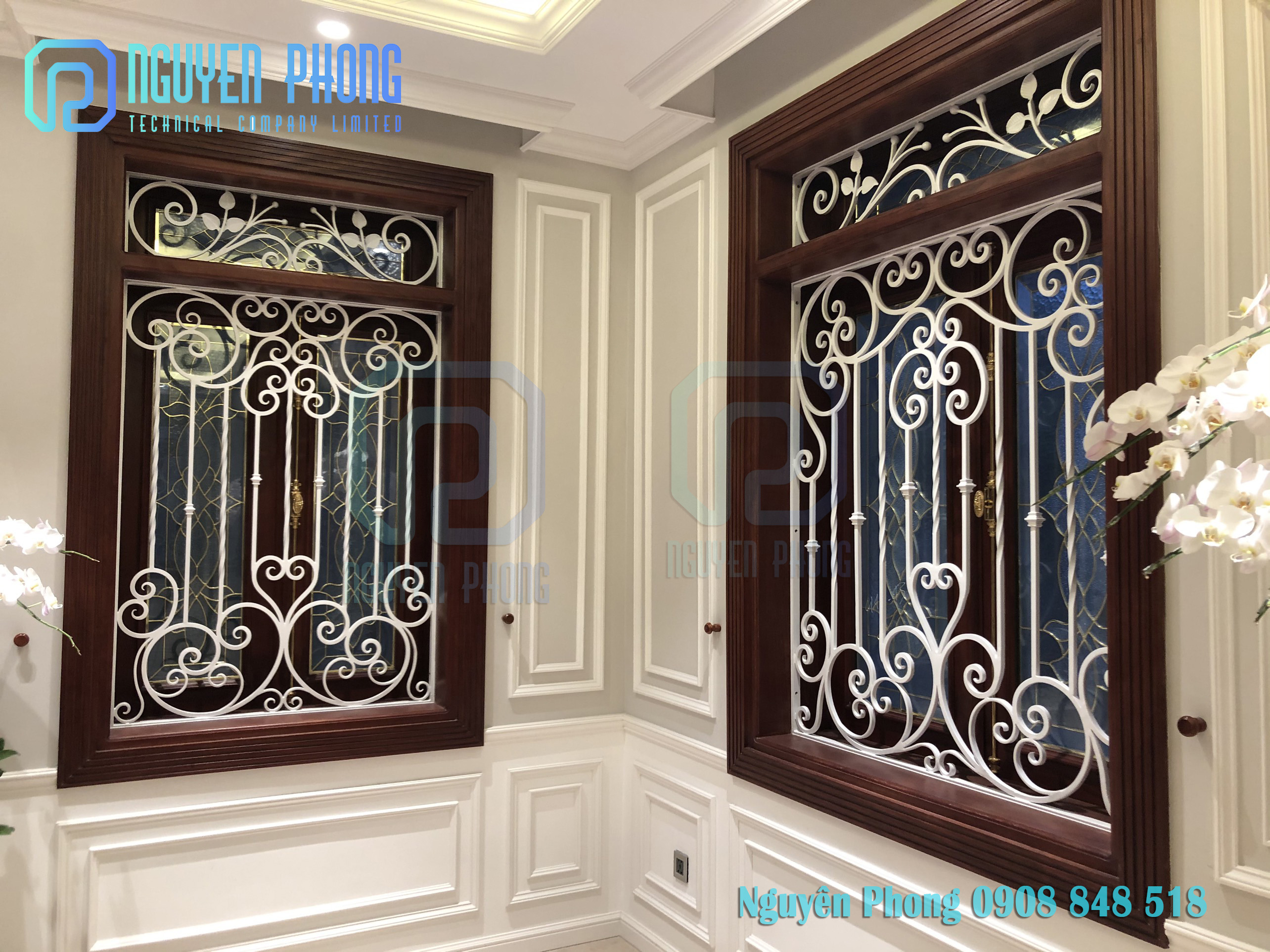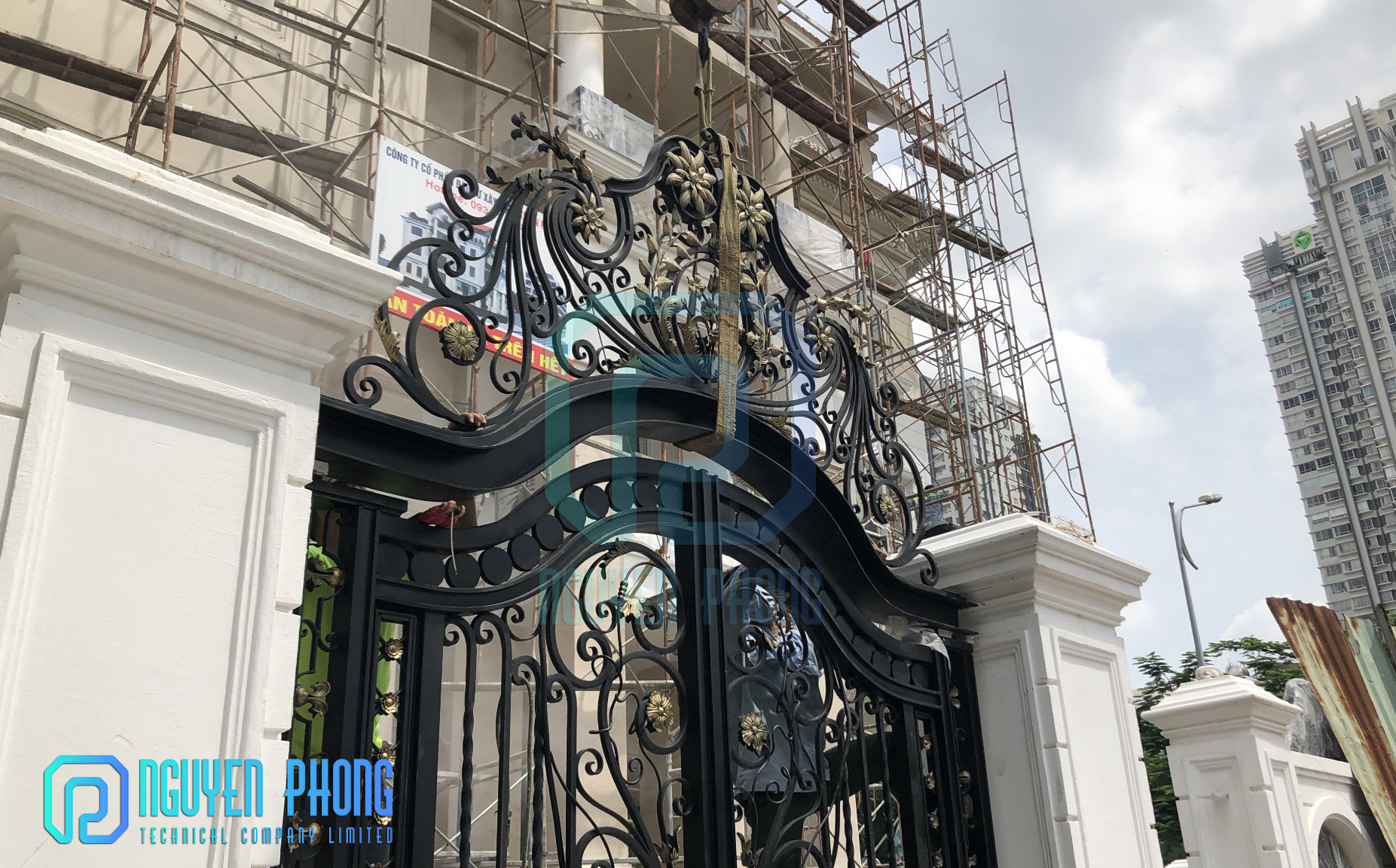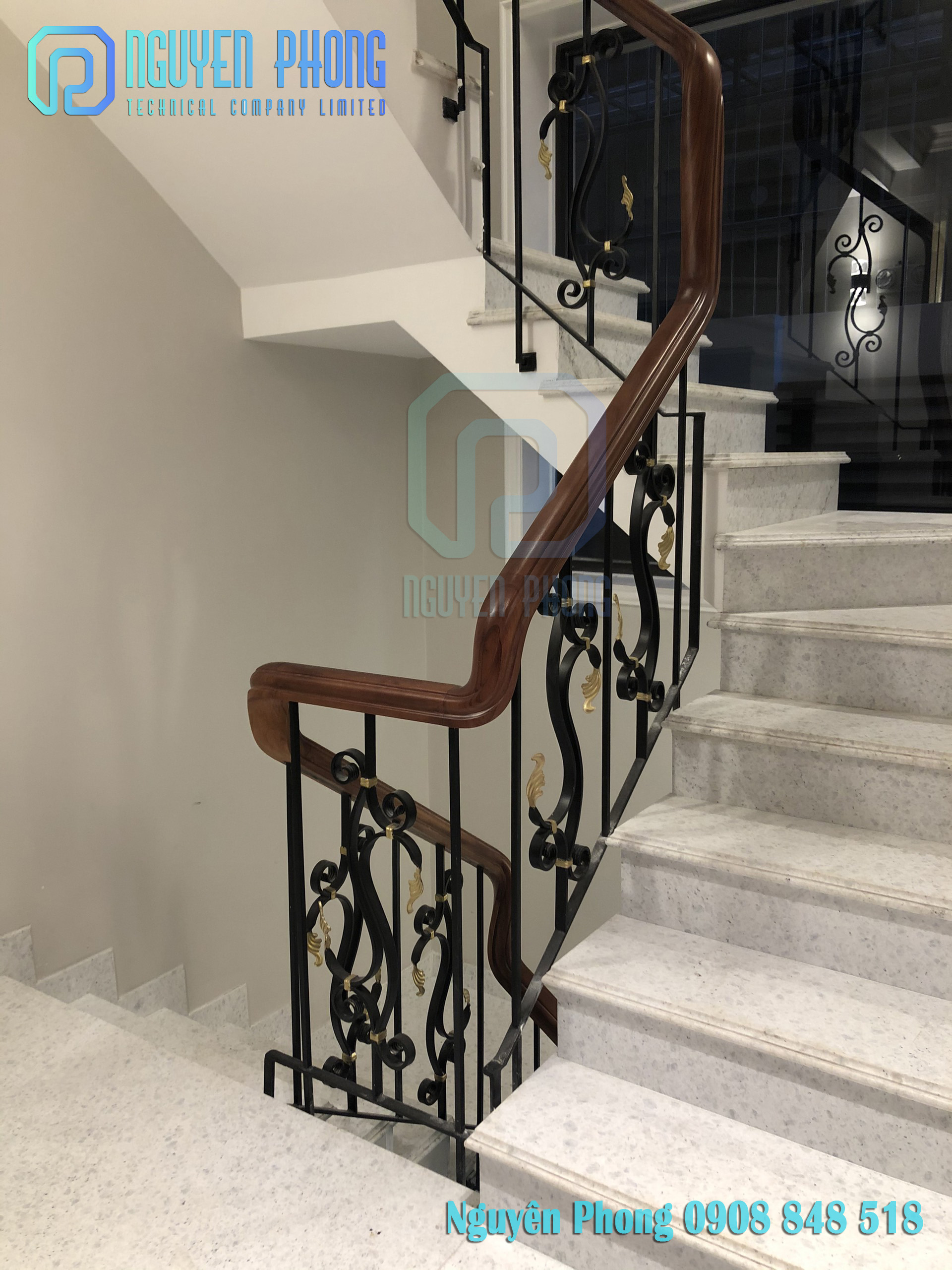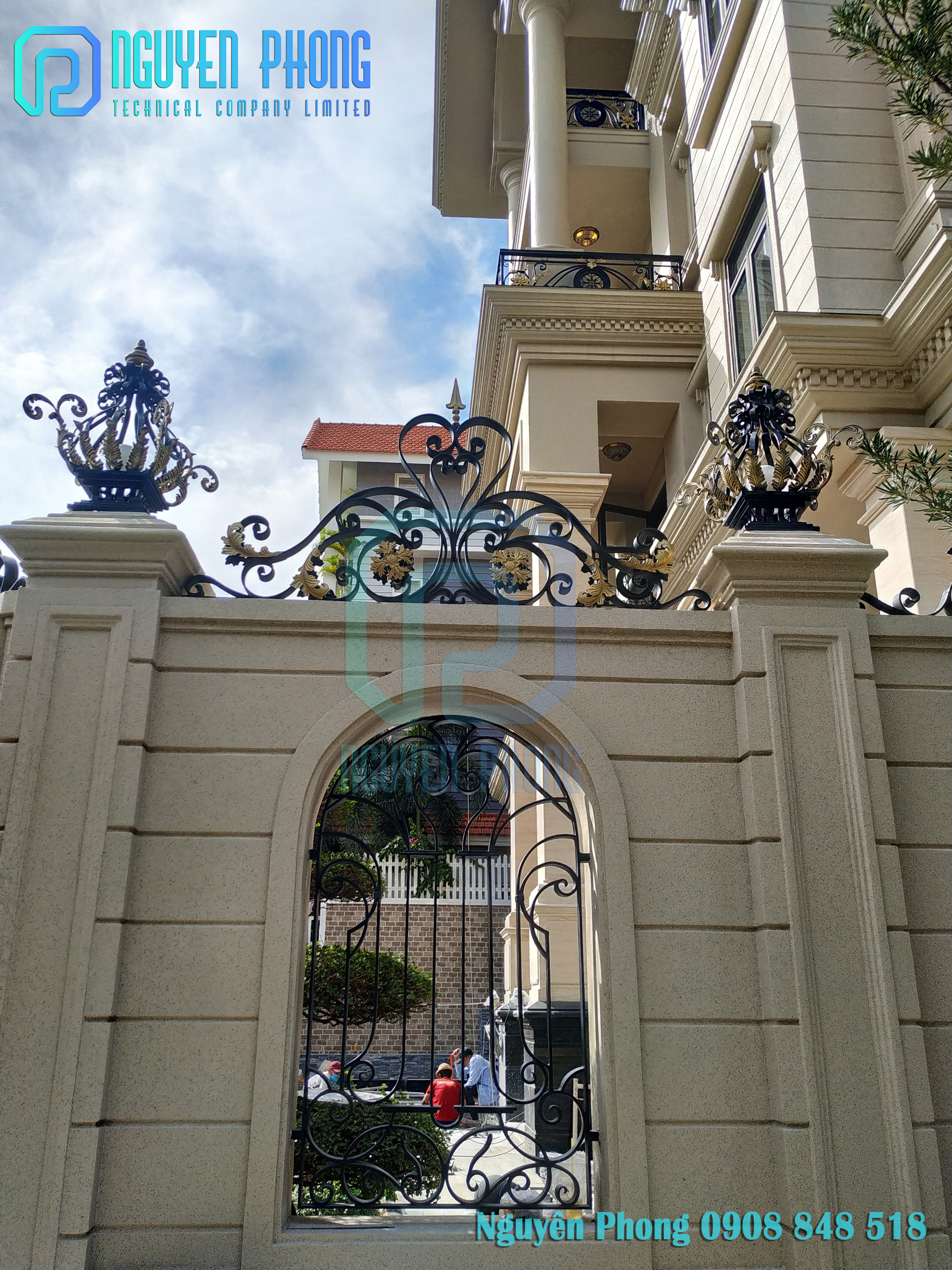 Time for approval of 2D and 3D design drawings is within 1 month. All wrought iron items at Nguyen Phong Metal are demonstrated extremely detailed on drawings and signed between the two parties before proceeding to production and construction within 2 months. From the end of October to the end of December, this is 2 months of extremely focused work, extremely careful in each stage to hand over to Ms & Mr.Dung on schedule... The project is considered as one of the most important works of Nguyen Phong Metal  in 2020 and the good result is receiving satisfaction from the homeowners when completing these items.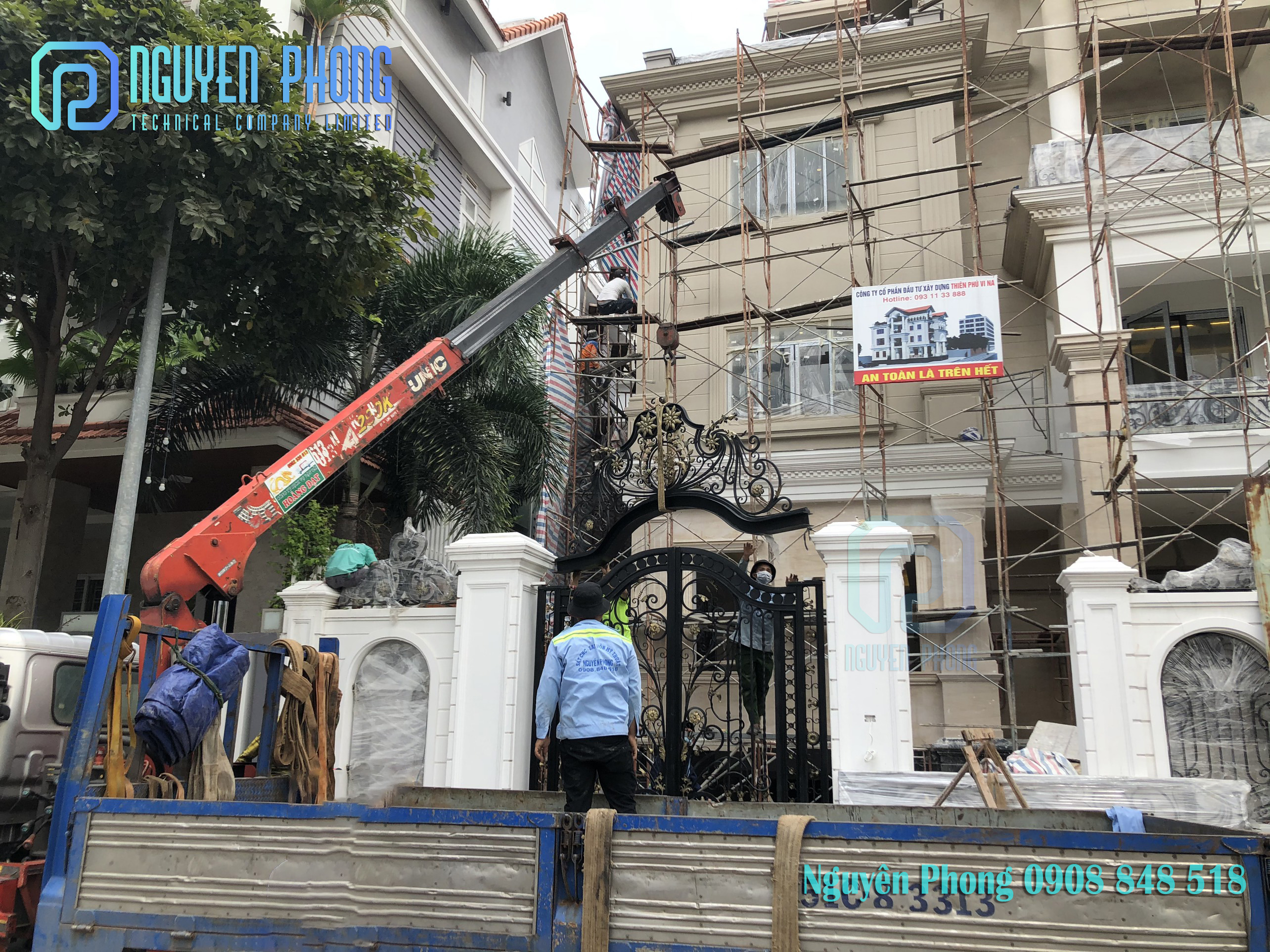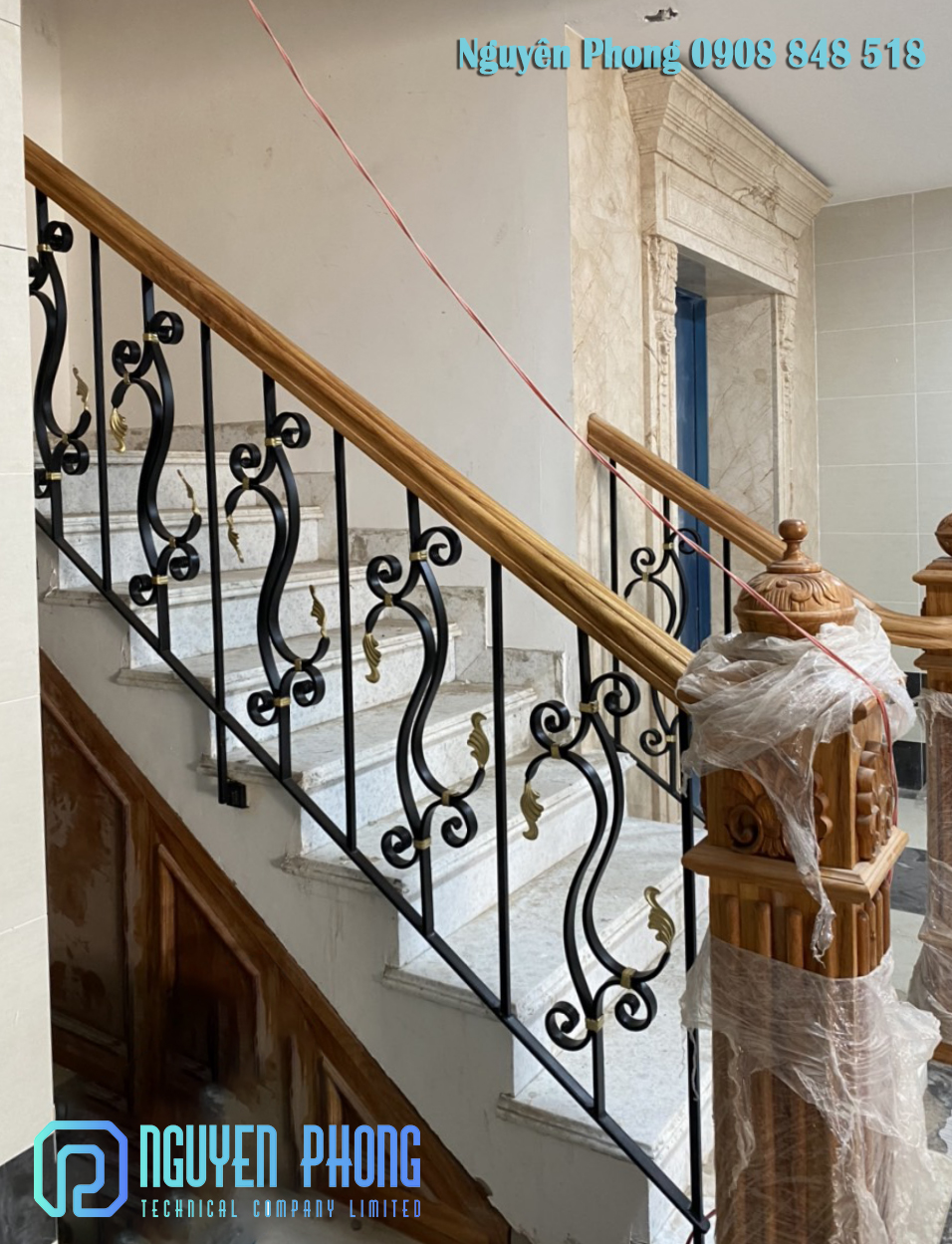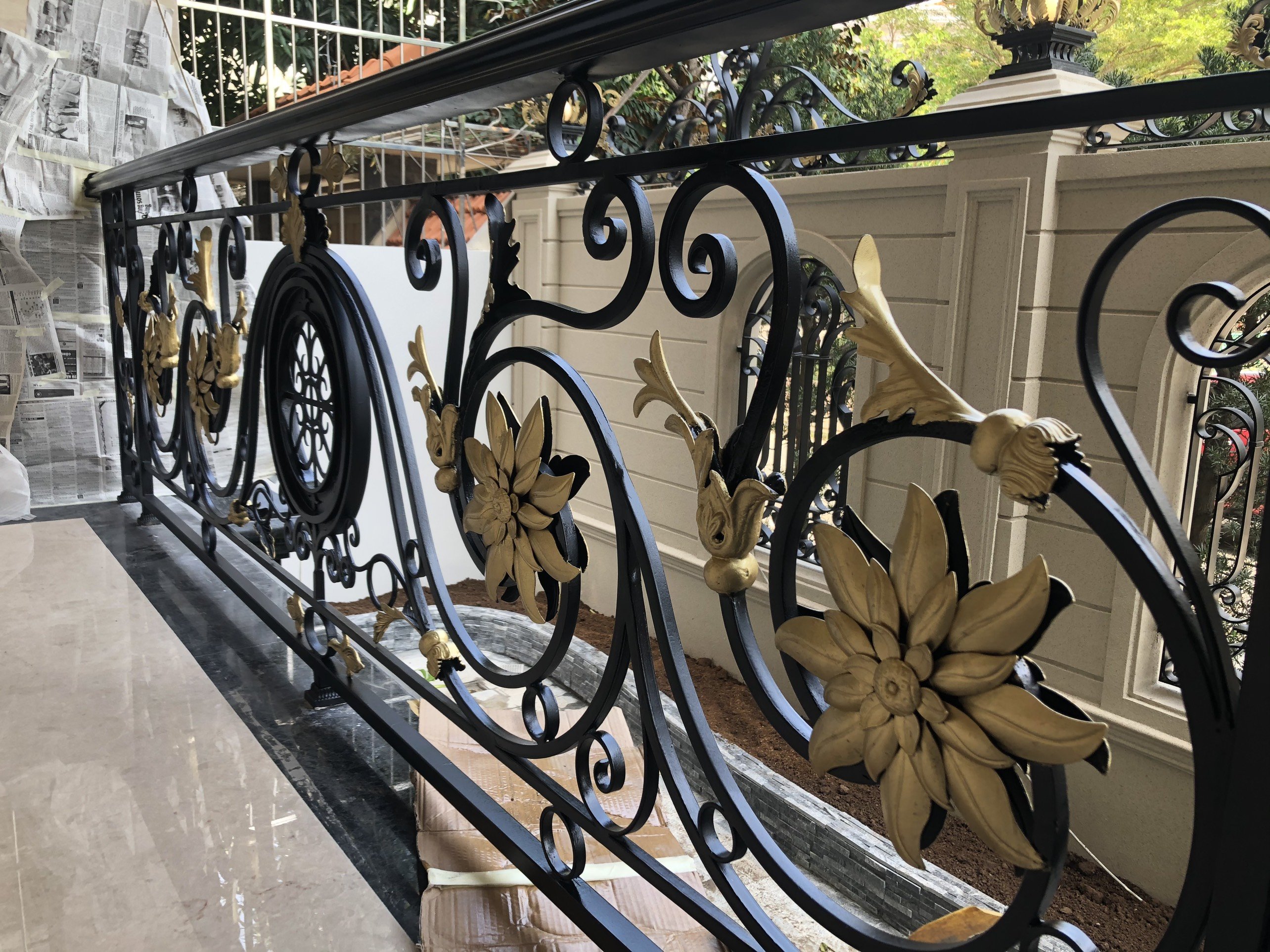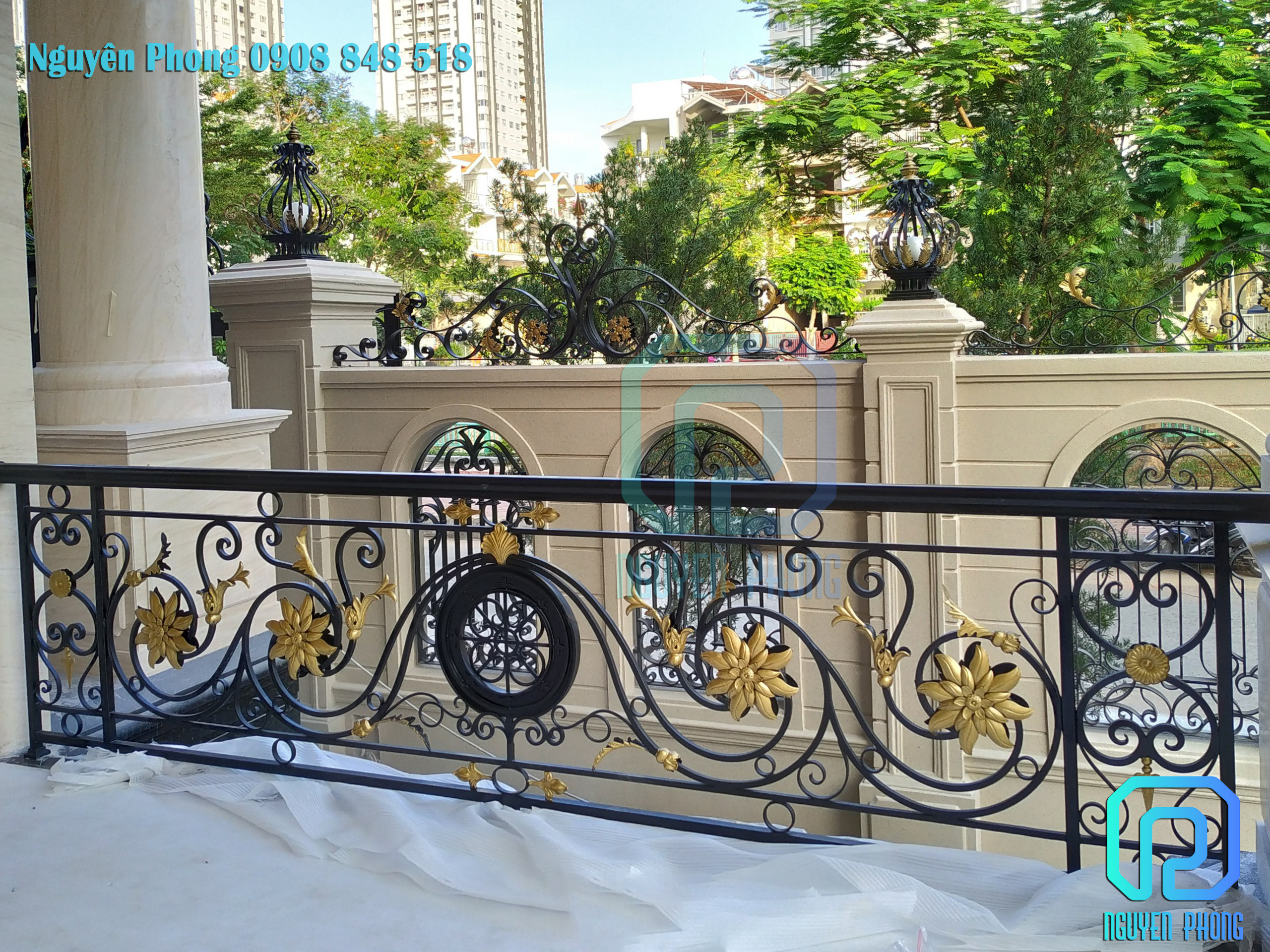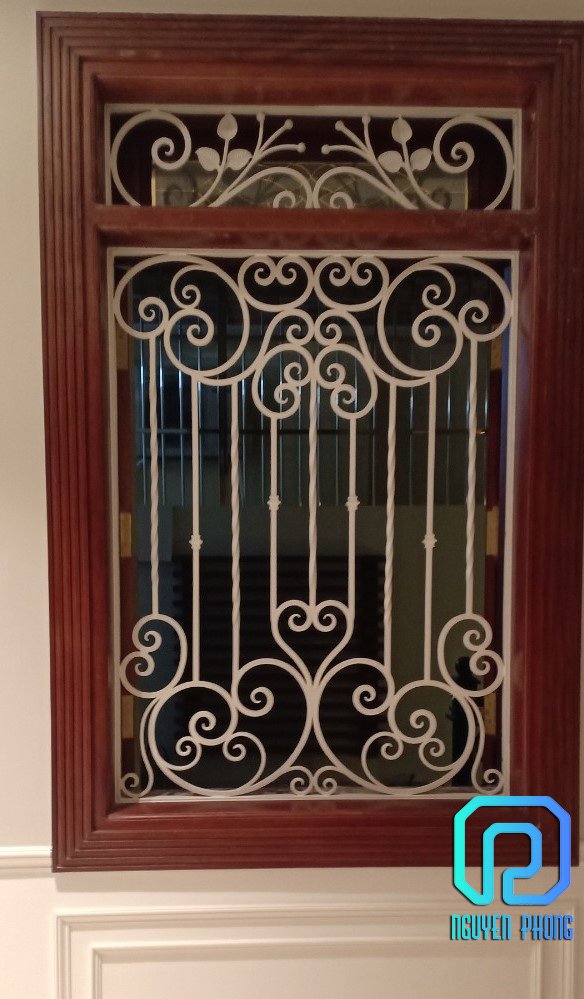 3. METAL FENCE GATE FOR LUXURY VILLA :
The metal fence gate category is the most important of all the items made and also the longest design review.

The gate frame uses 3 -5mm thick iron square tube, the internal patterns all are solid wrought iron such as 20mm square steel iron, 16mm and 8mm round bar bended, embossed CNC iron and many details of cast iron flowers and leaves. The gate model is nearly 5 meters high, bringing a luxurious and superficial feeling to the villa. Each wing gate weighs up to 350 kg. The entire main gate, garage gate and one auxiliary gate all use automatic motors to open and close easily and conveniently for homeowners.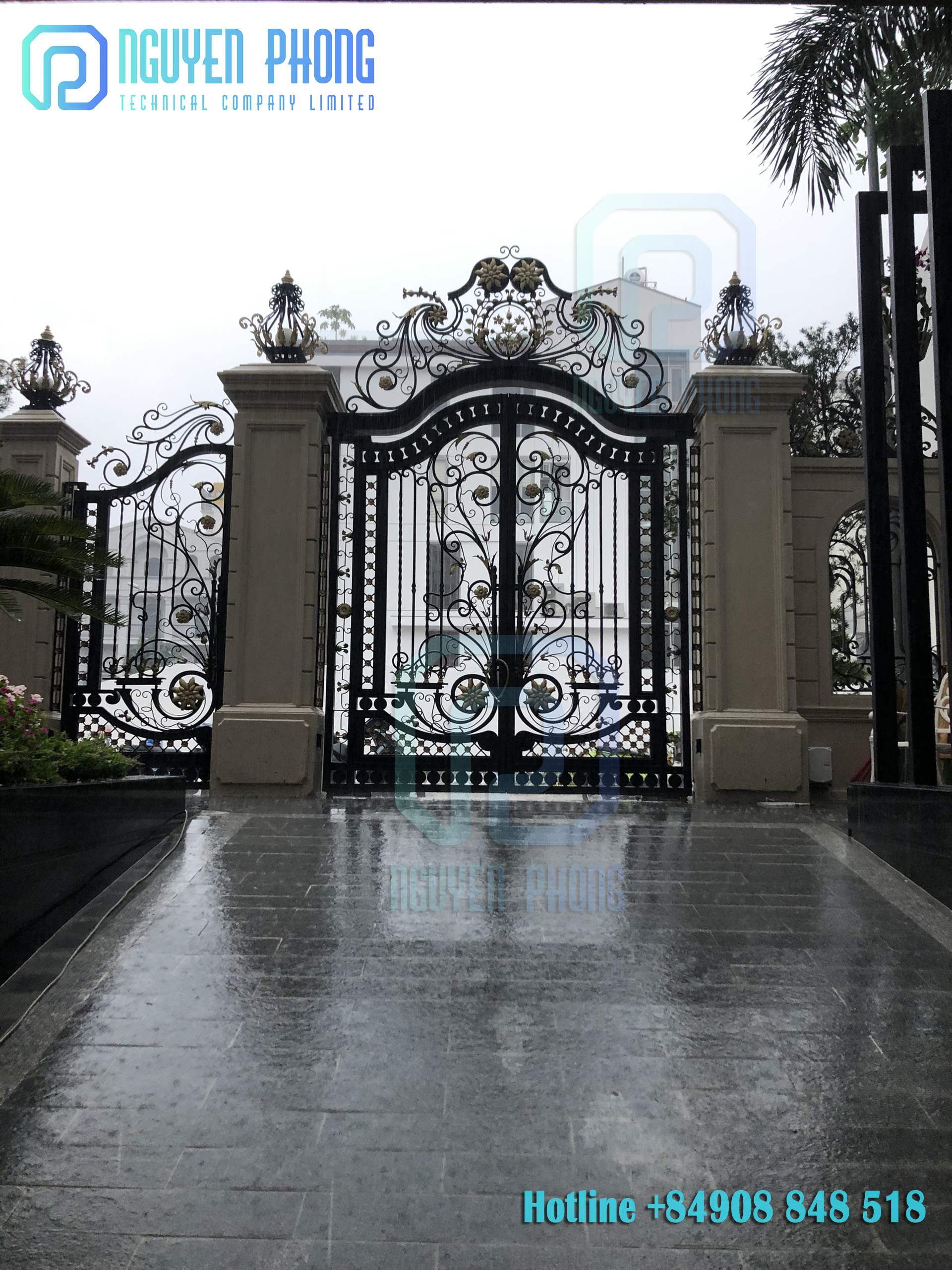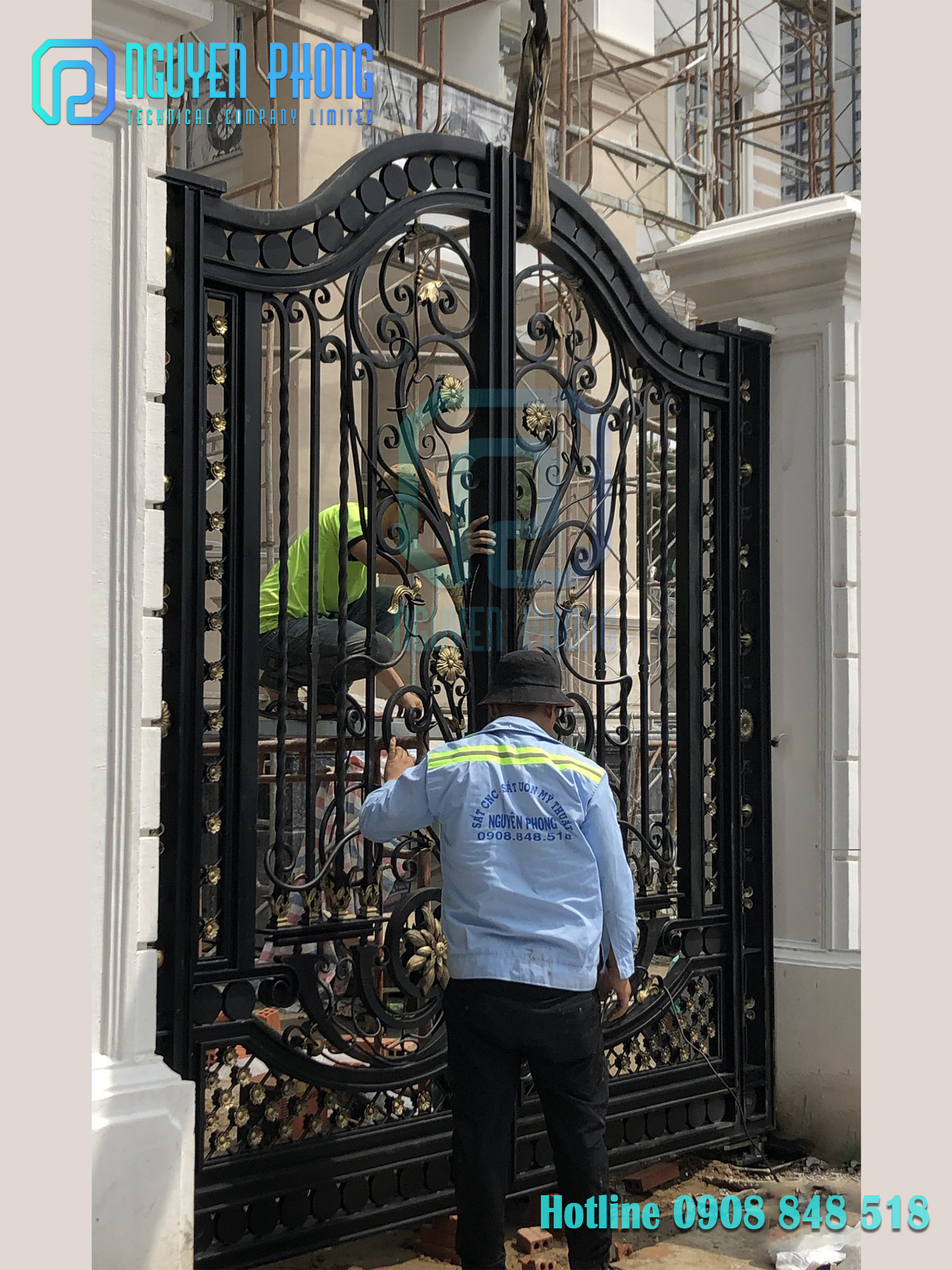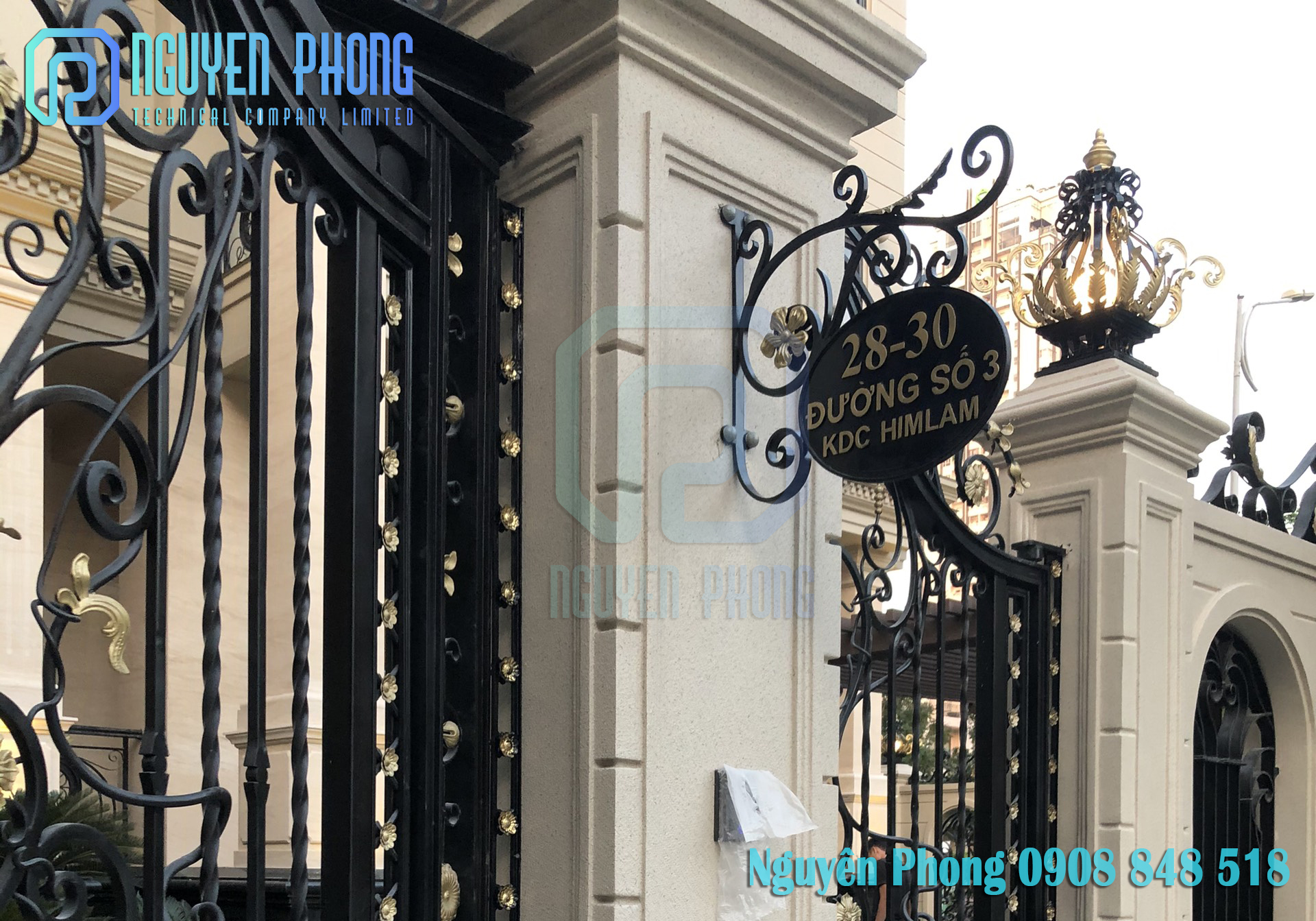 The fence frame and the fence spears have a simpler design, giving priority to sturdiness and highlighting the gate set. For this item, Nguyen Phong Metal uses 8mm thick flat bars to bend, very heavy and sturdy, although looking straight from the outside, it looks very light, slender and airy.

The fence gate posts and lamps are also a very important item, forcing Nguyen Phong Metal to manufacture based on the dimension of posts, all of which are 1.5 times larger in size than conventional lamp posts.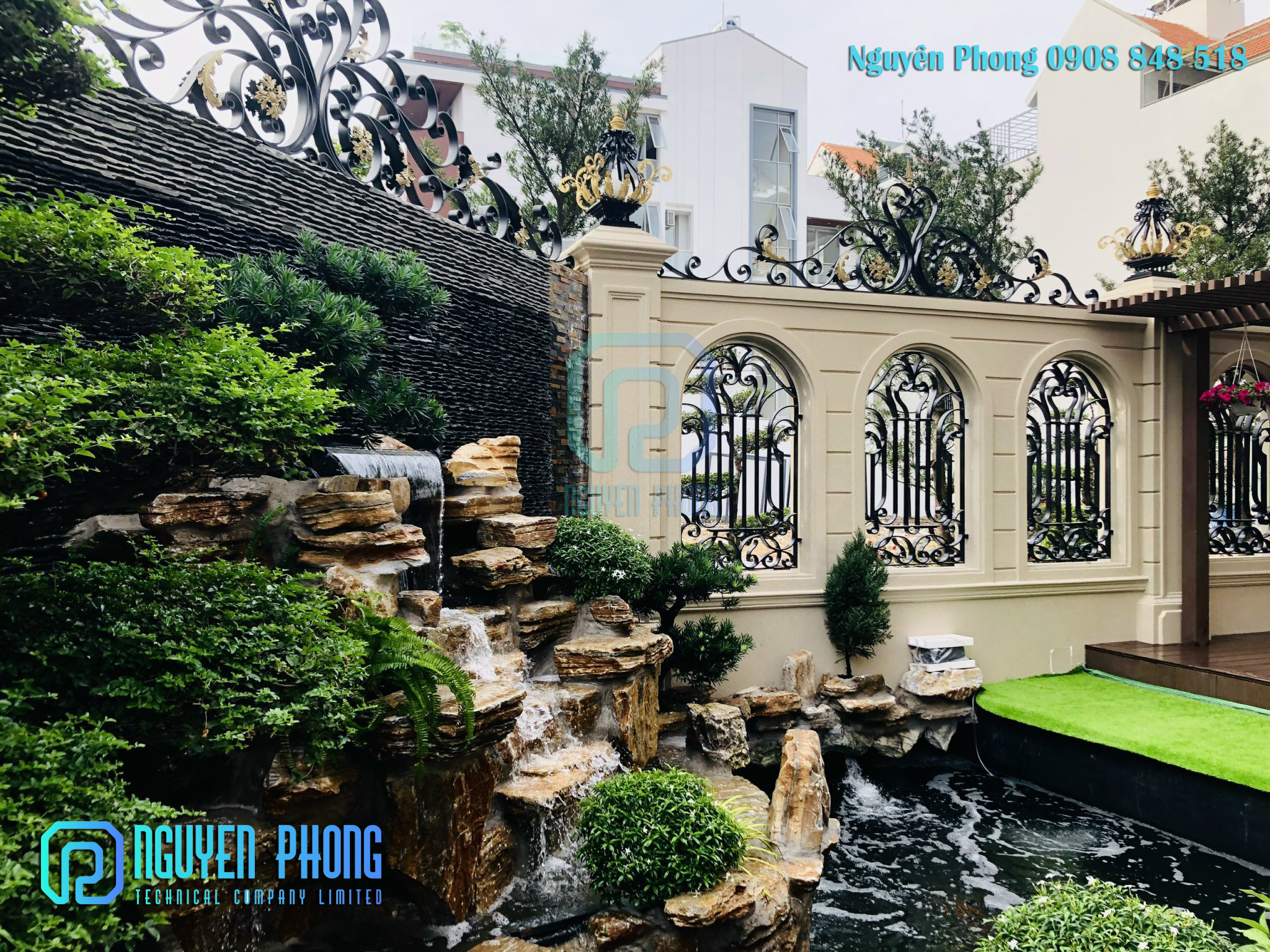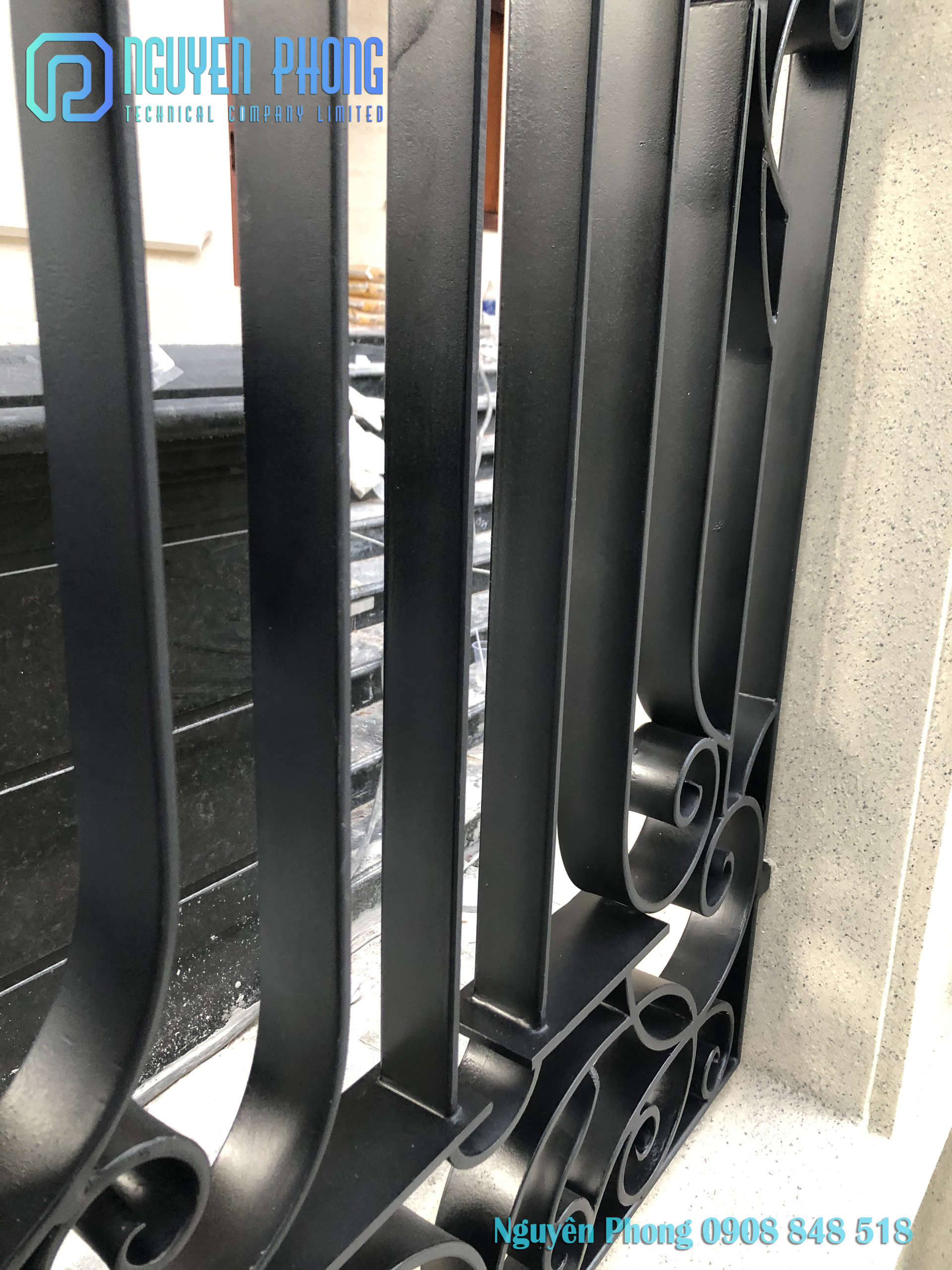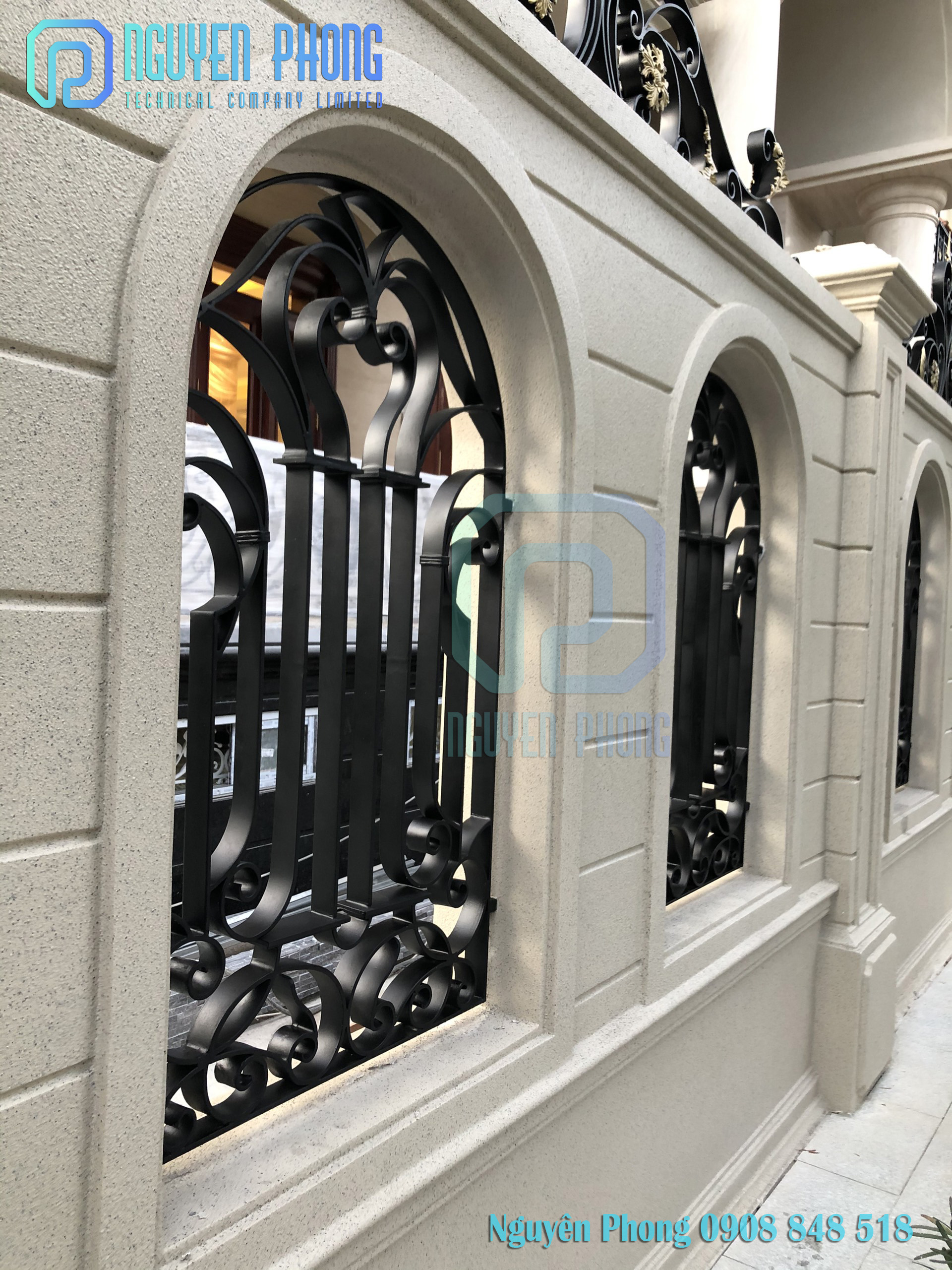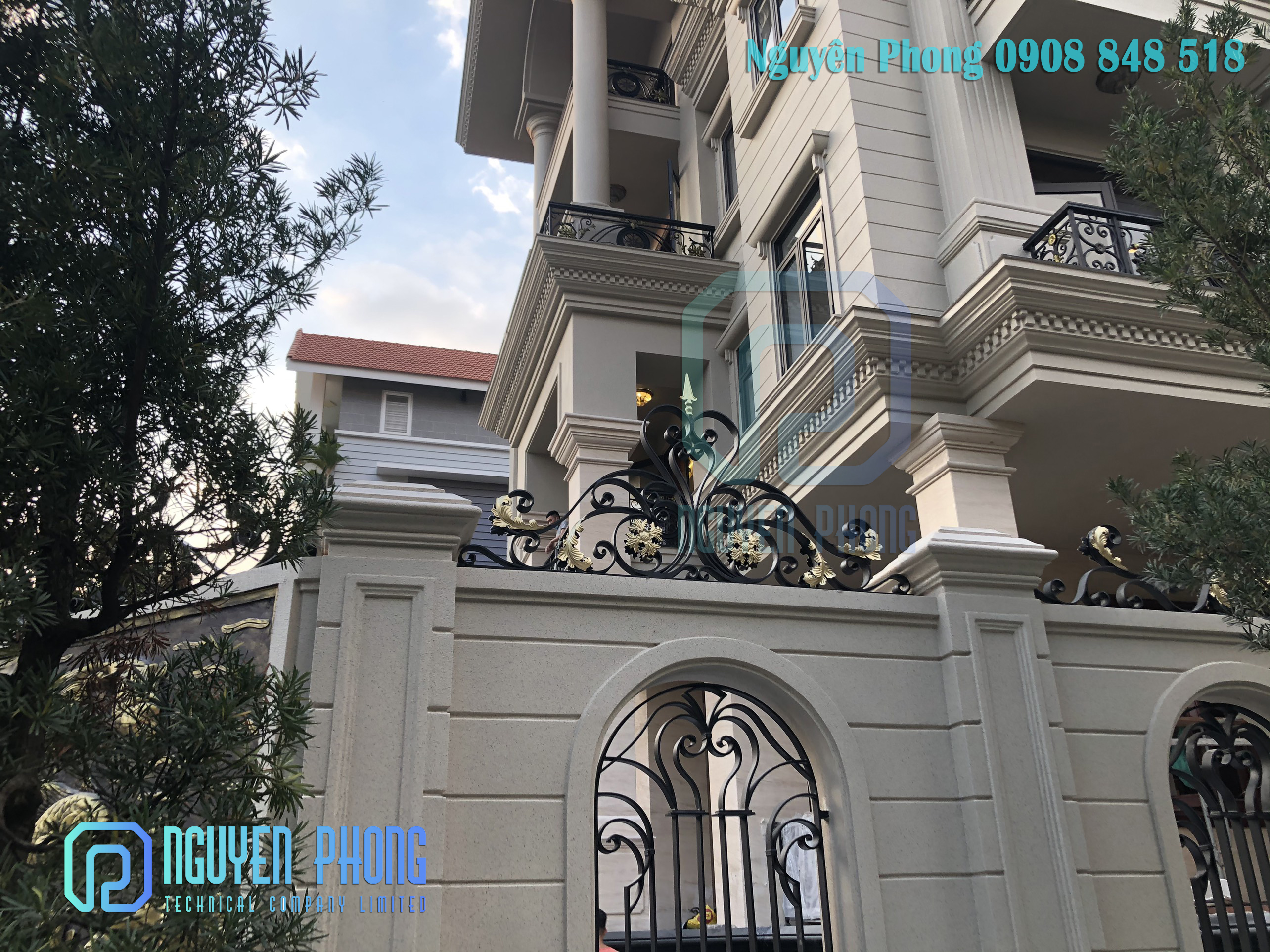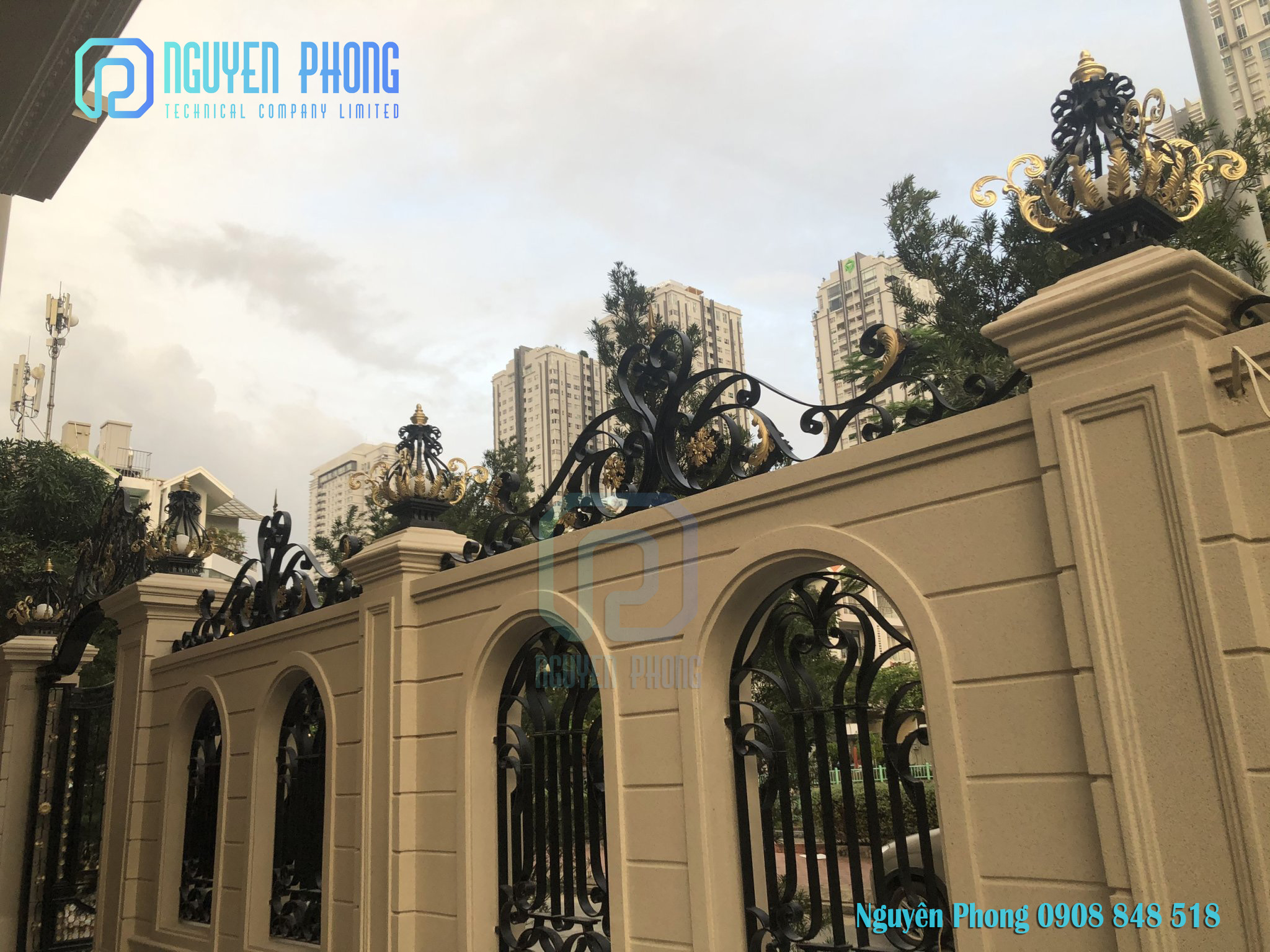 4. WROUGHT IRON RAILINGS FOR STAIR & BALCONY, PROTECTIVE WINDOWS FRAMES.
Wrought iron railing - Balcony railing is also an important item and thoroughly approved design because this item is considered as a "fixed jewelry" for the villa. The railing uses omega iron handrails, the wrought iron pattern uses 16mm and 20mm square steel  iron with a highlight in the center of the balustrade. Construction of 4 floors with a total length is 63 meters.

The design of the stairs is quite small and the railing uses simple patterns from bending flat bars and the wooden handrail, and is painted in matte black because his family mainly uses the elevator.

The protective window frames also use simple models with 16mm square steel iron, painted in a delicate and gentle milky white color.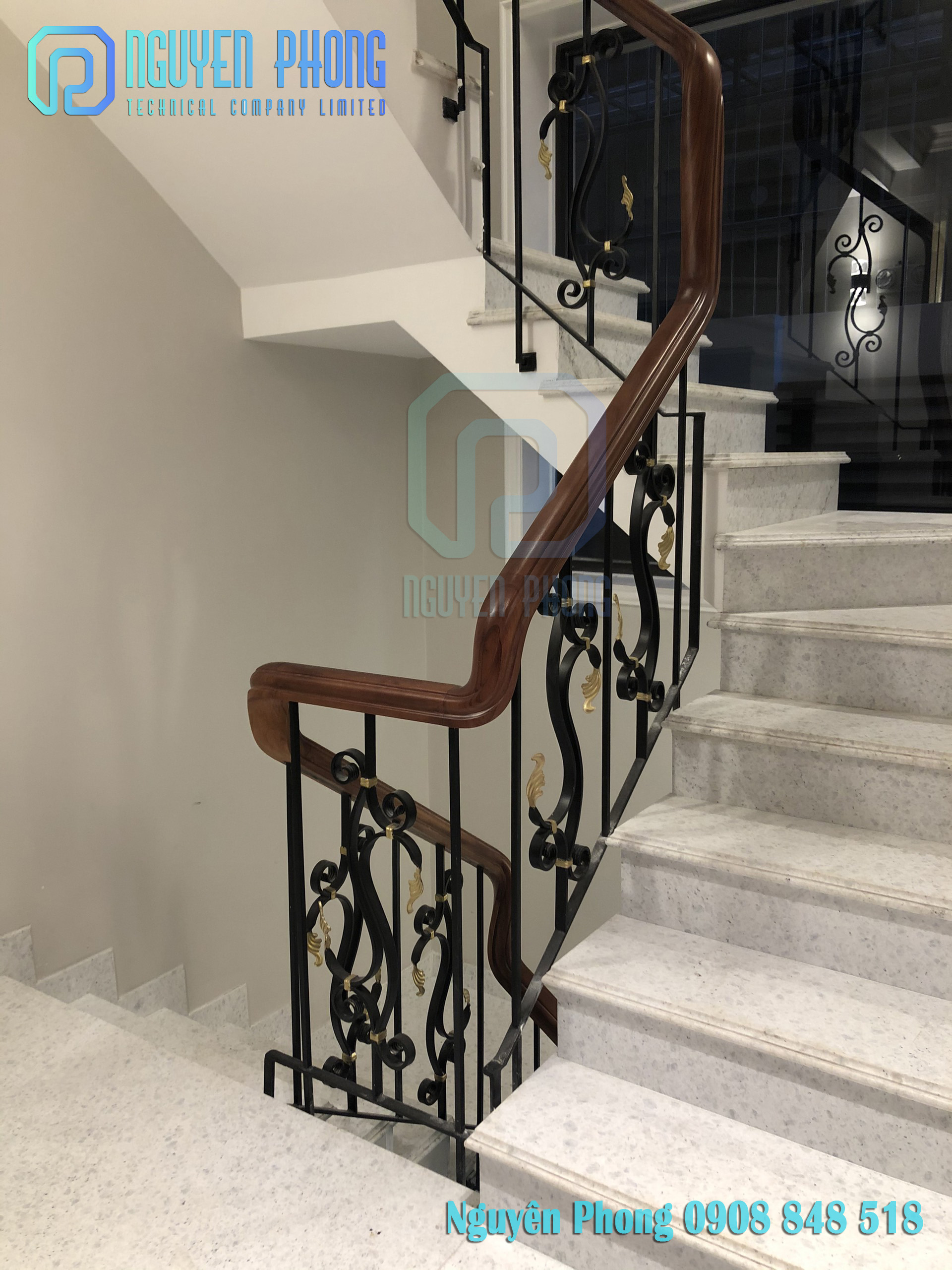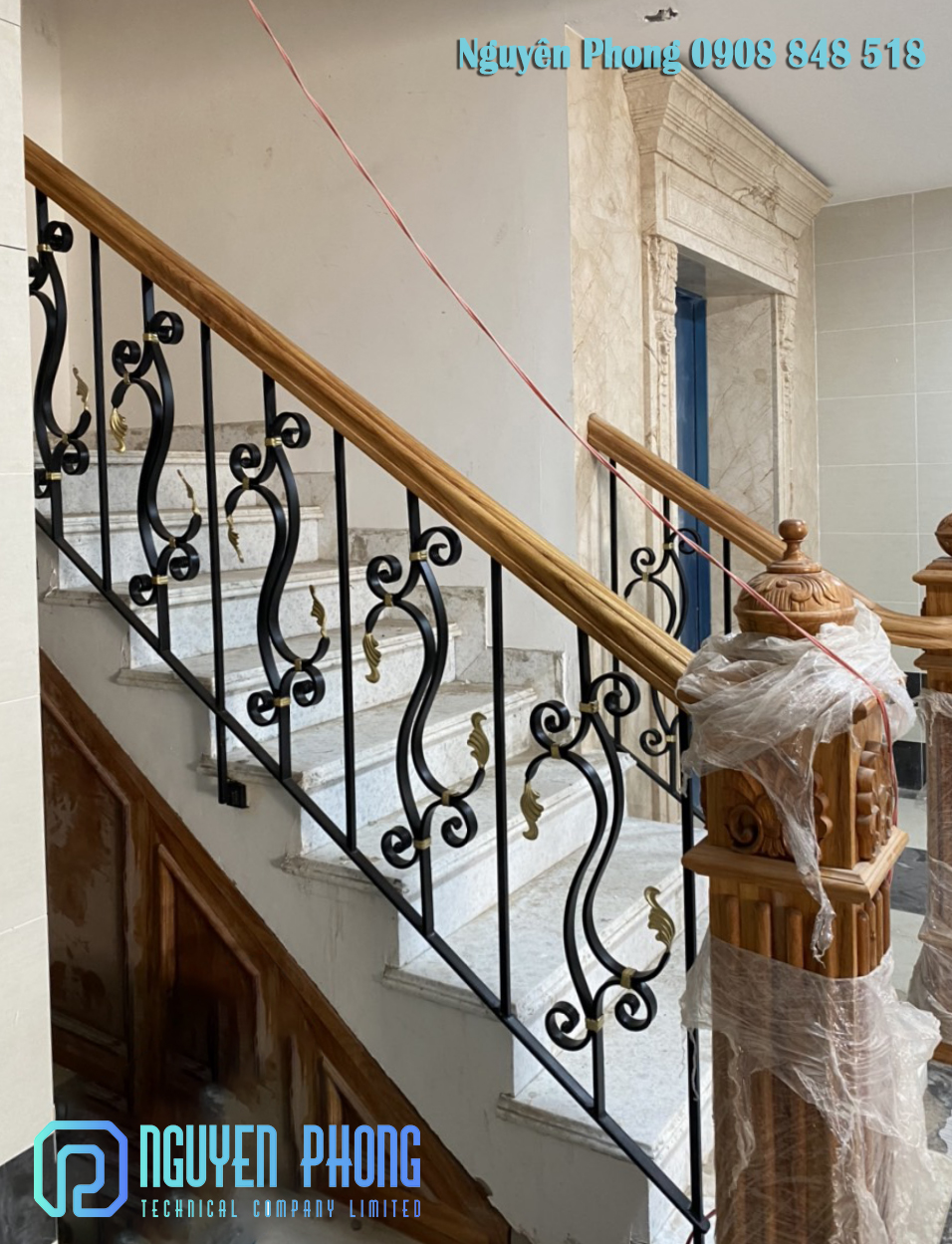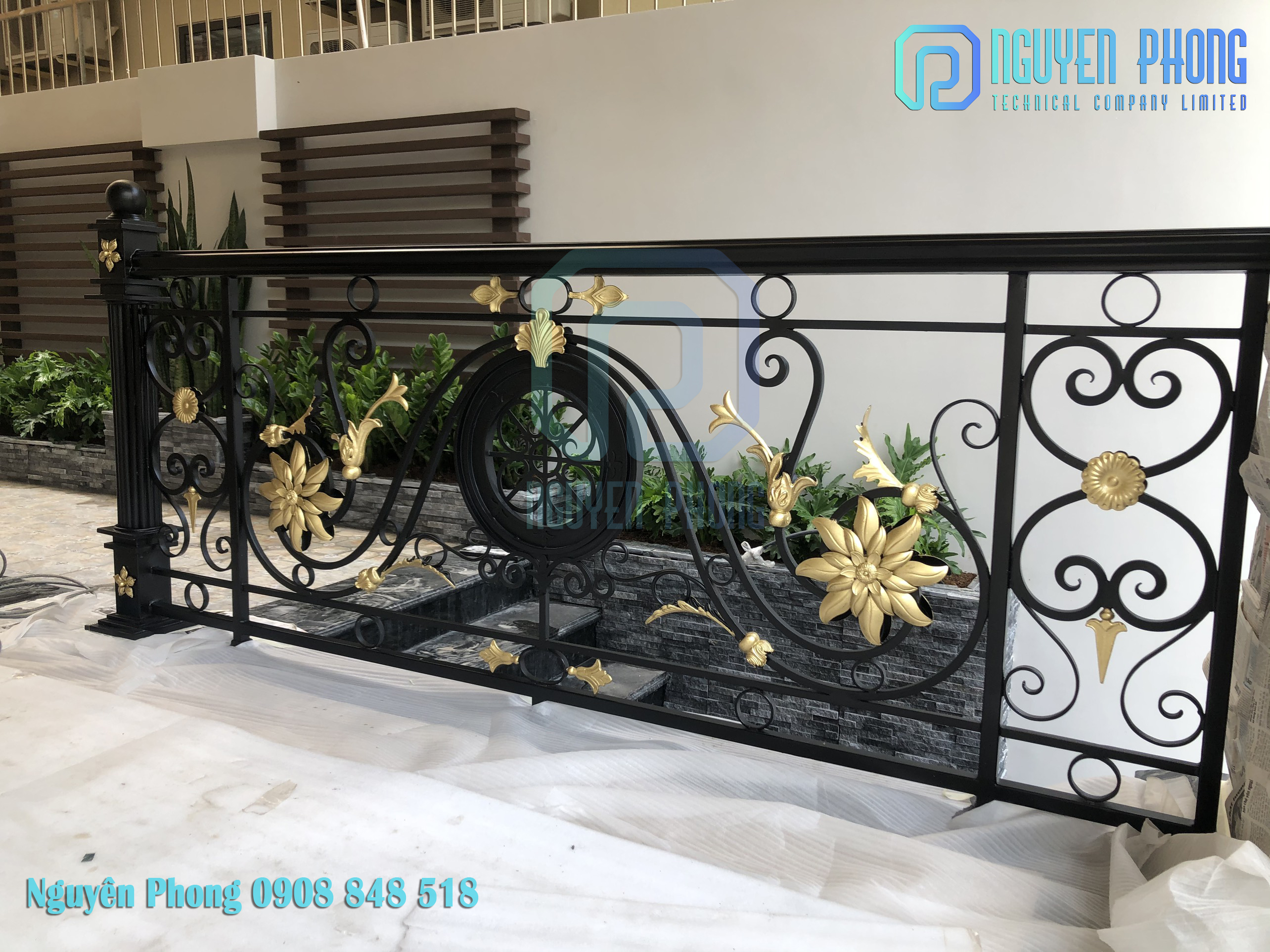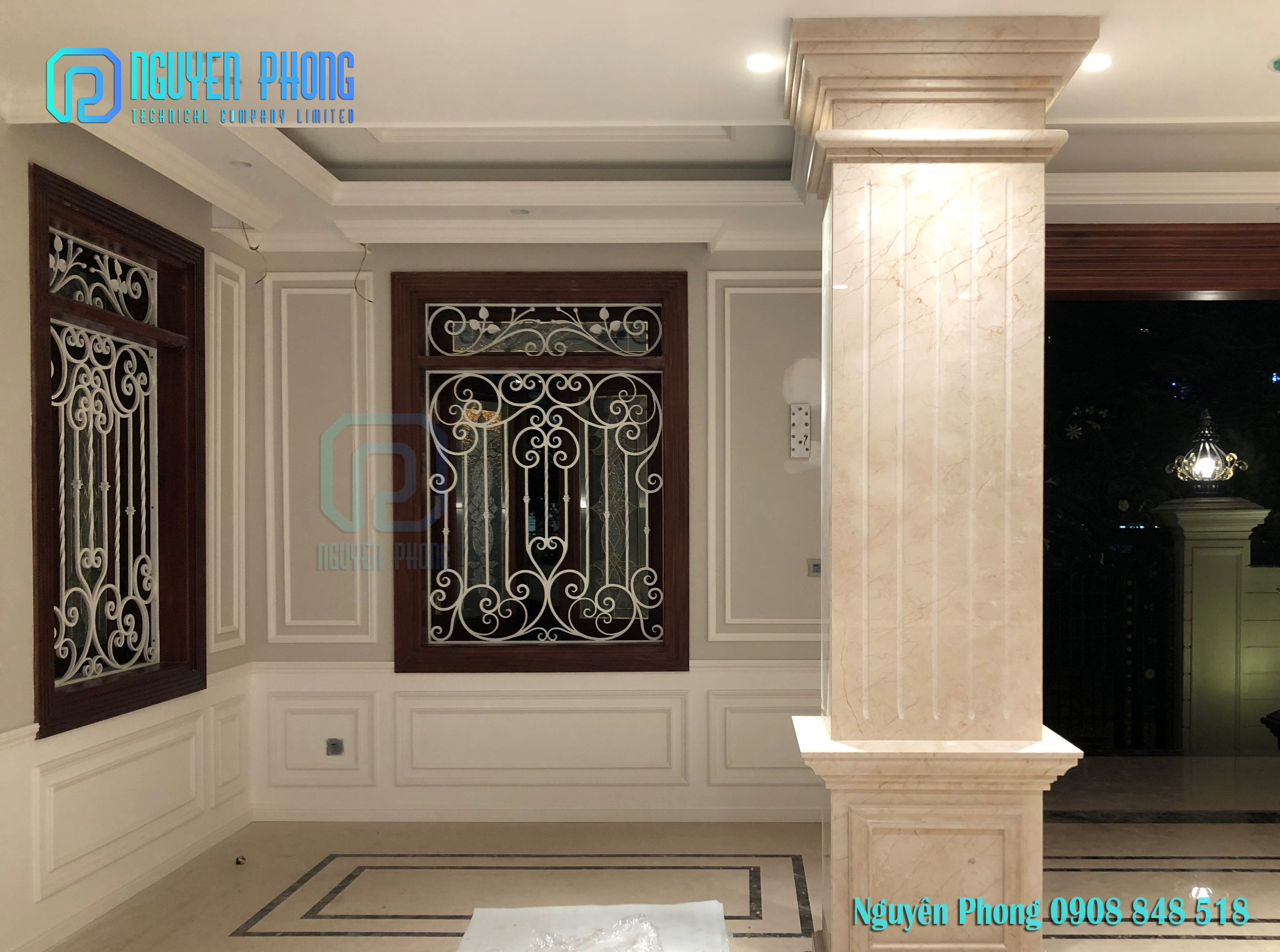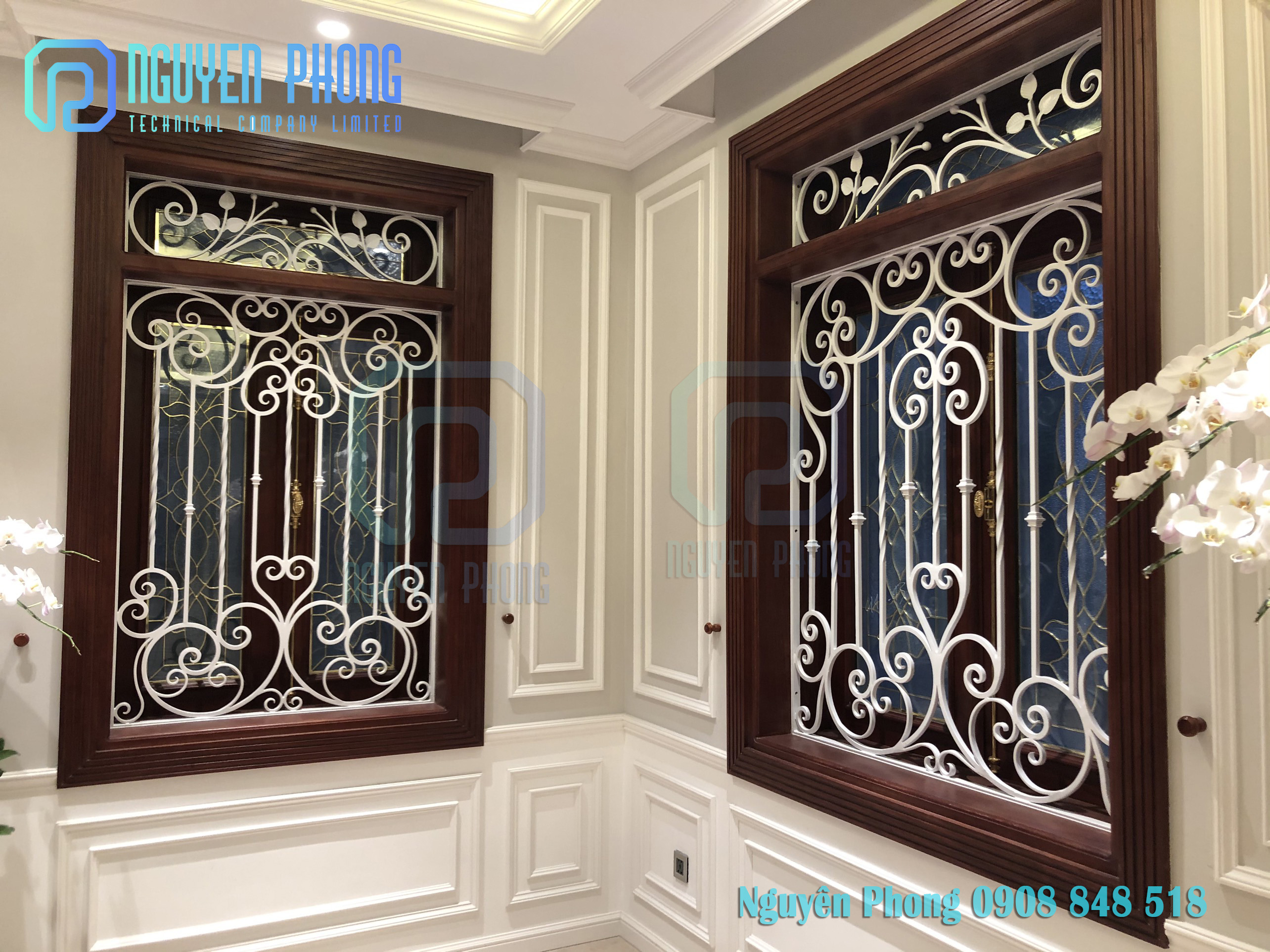 Each finishing project is the chance to make Nguyen Phong Metal try our best to do better than the previous times. All are the efforts of a team of dedicated support to produce high-quality and beautiful products for customers.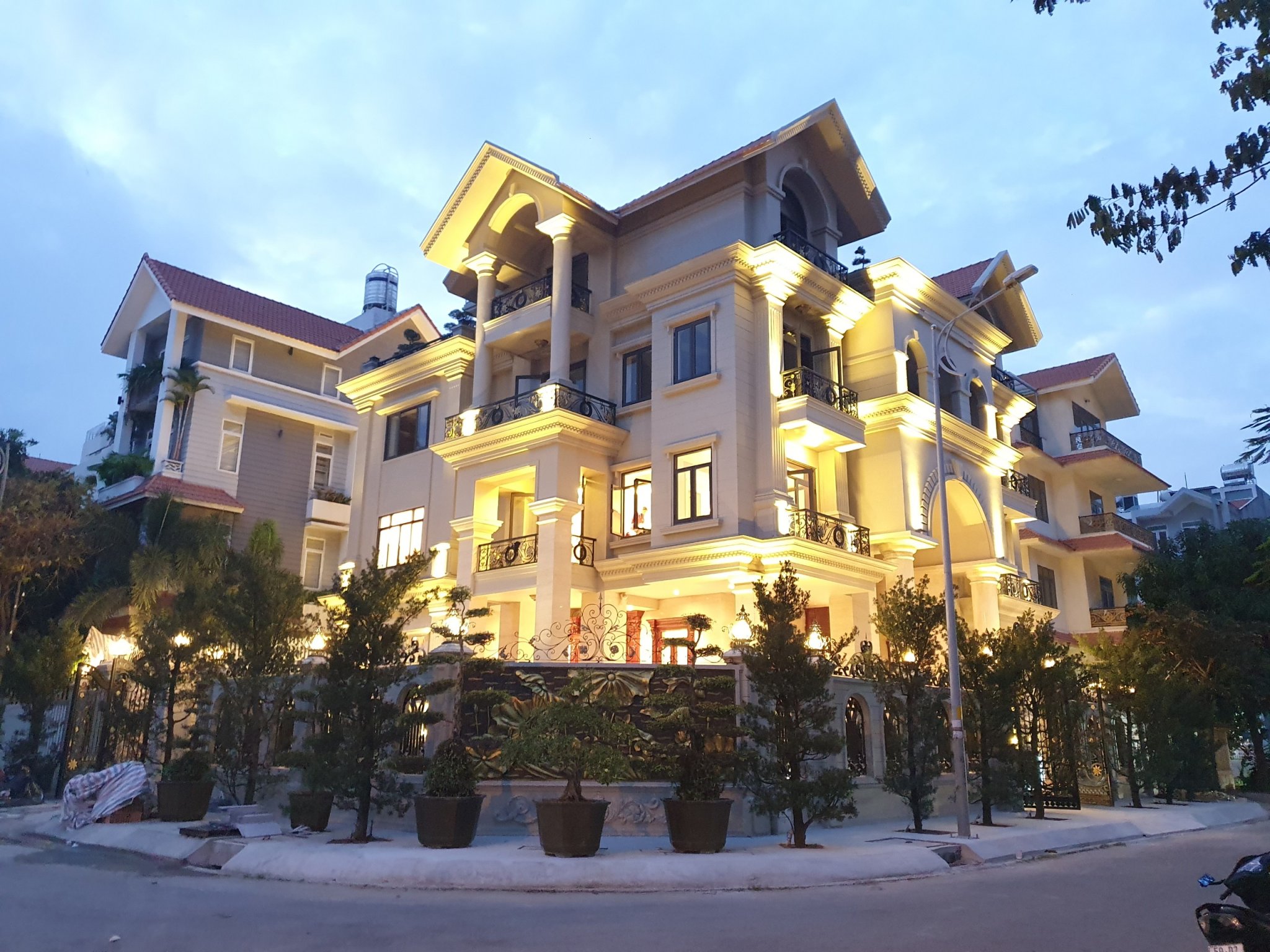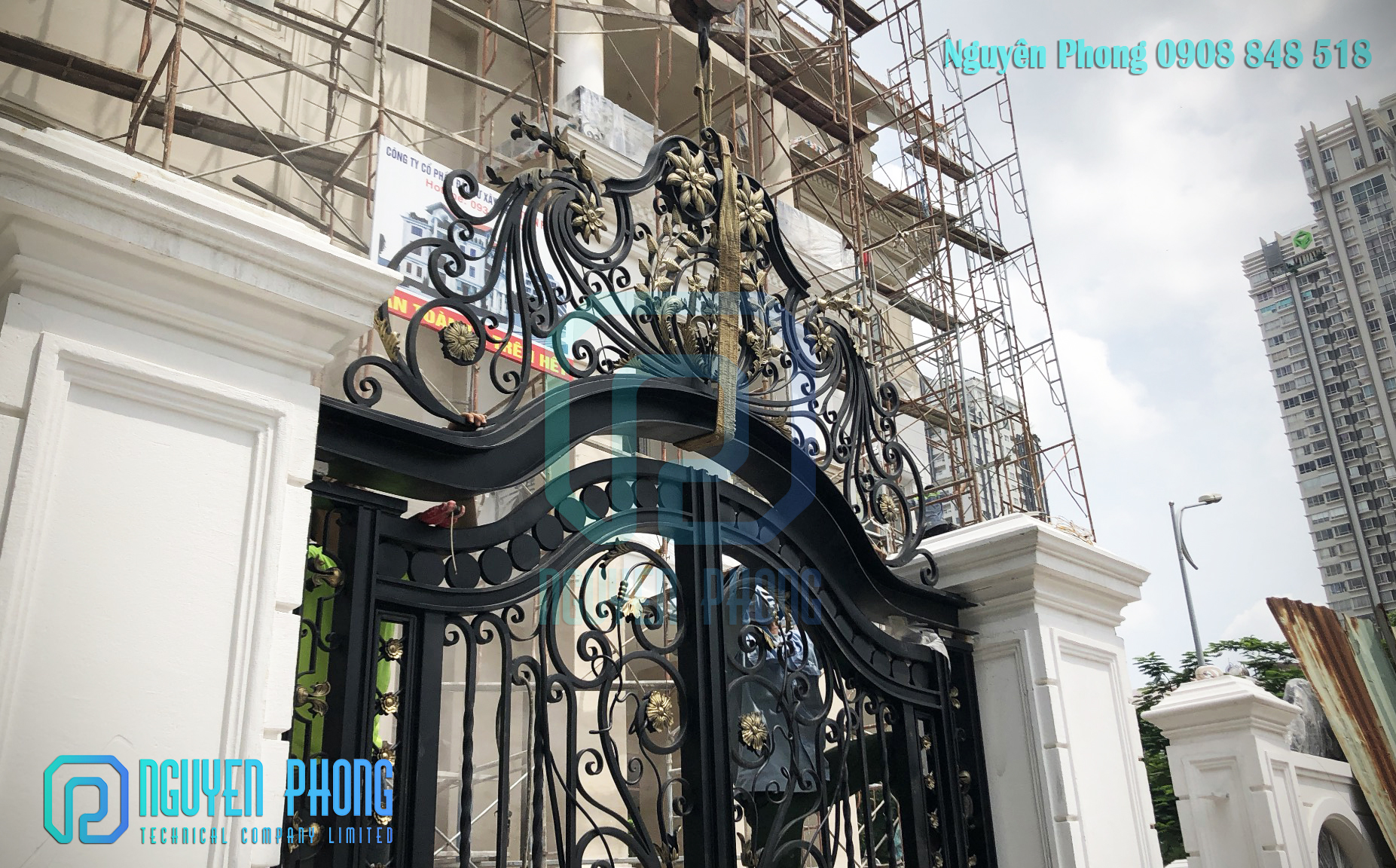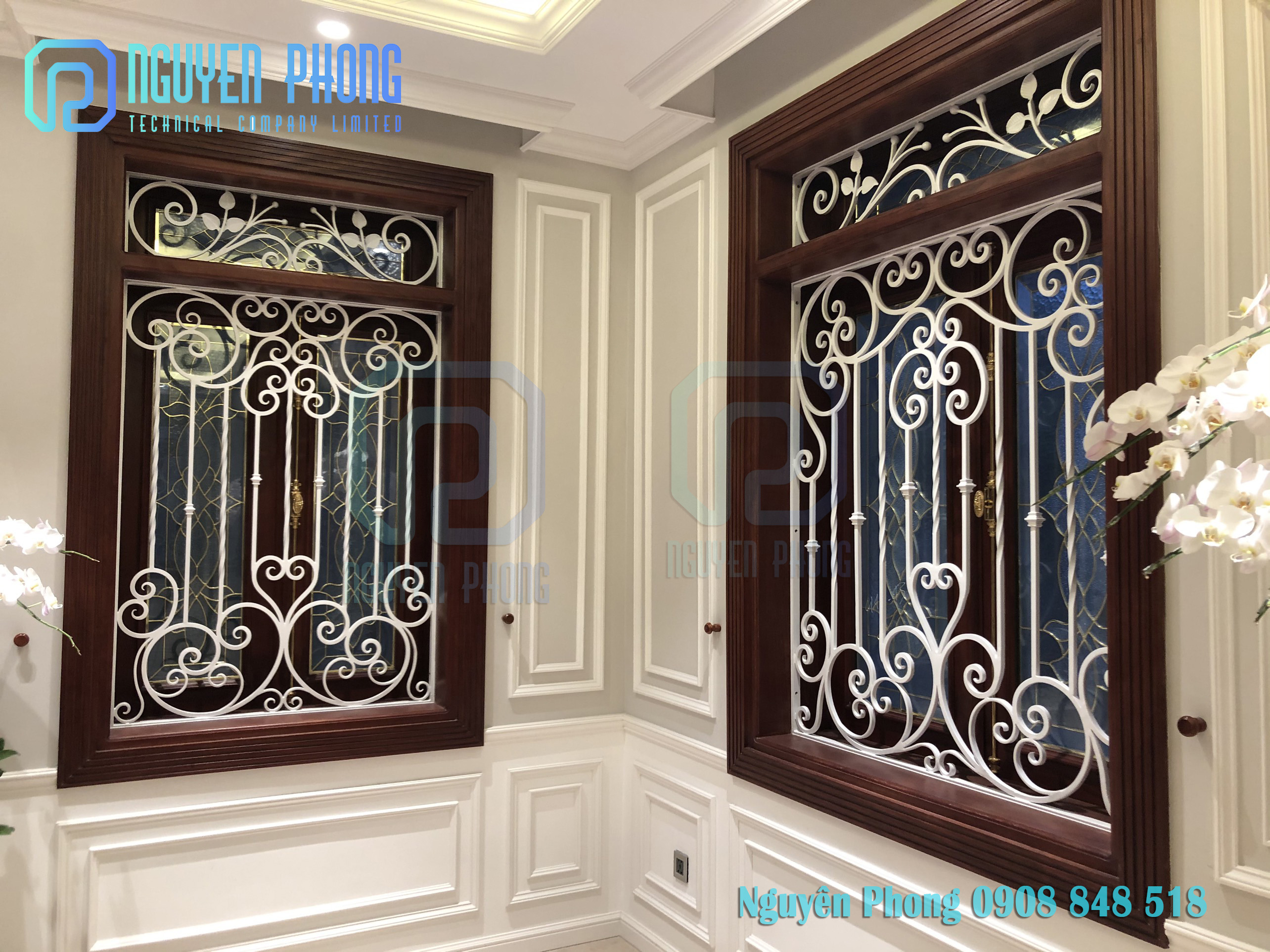 Nguyen Phong Metal thanks for all the trust and facilitation of Ms.& Mr.Dung during the design, production and construction process.
See more: - Custom wrought iron gate and balcony railing for housing - Italia
NGUYEN PHONG METAL – "Trust & Quality"
NGUYEN PHONG METAL JSC
OFFICE ADDRESS: Binh Giao, Thuan An Dist, Binh Duong Provice, Vietnam
Hotline: +84 908 848 518 (zalo, viber, whatsapp)
Email: Sales@nguyenphongcnc.com - phuongdangthy@gmail.com
Website: http://nguyenphongcnc.com/
Fanpage: https://www.facebook.com/nguyenphongmetal/
Alibaba site: https://npwroughtiron.trustpass.alibaba.com