ORDERS FOR WROUGHT IRON GATES FOR PRIVATE HOMES FROM THE ORIGINAL MANUFACTURER IN VIETNAM (Orders from Australia & Spain)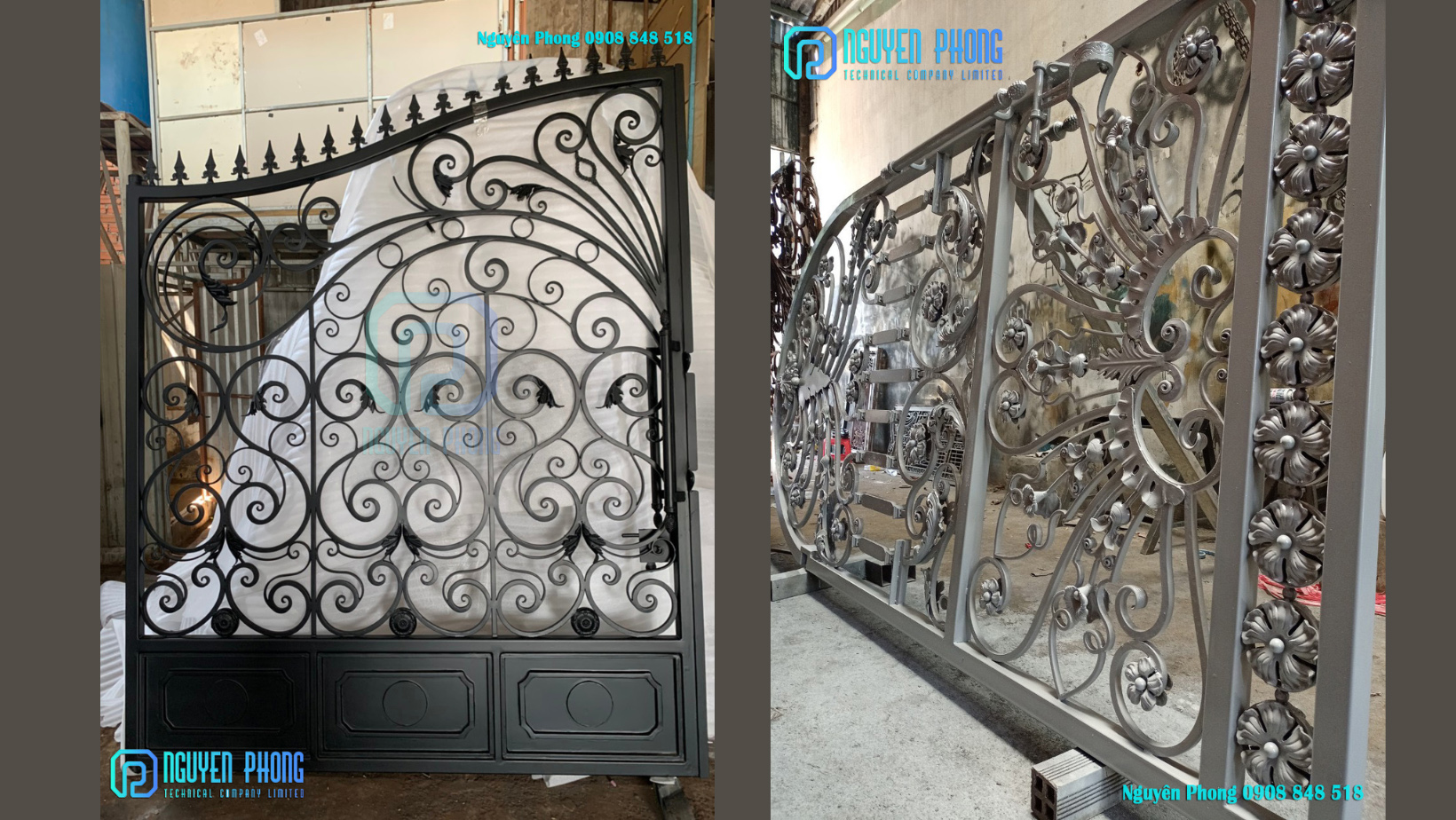 1. Why do customers choose Nguyen Phong Metal Metal? 
Nguyen Phong Metal Metal is simply a gathering place for artisans who are passionate about wrought art iron, we have good production + operation capacity, so we can bring customers high quality iron art products with high quality with best price.
Customers from all over the world come to Nguyen Phong Metal Art to look for high-quality, special (handcrafted) interior and exterior products. The reason is that in their locality, wrought iron craft is not popular, and they cannot make sophisticated, artistic, and good-priced wrought iron products like in Vietnam. That stems from many reasons, like differences in industry history, culture, and labor. Moreover, in the context of extremely favorable commodity trade around the world, everyone can own unique items shipped from all over the world (Customers can not only buy common consumer goods but can even buy a bridge or a stadium,...).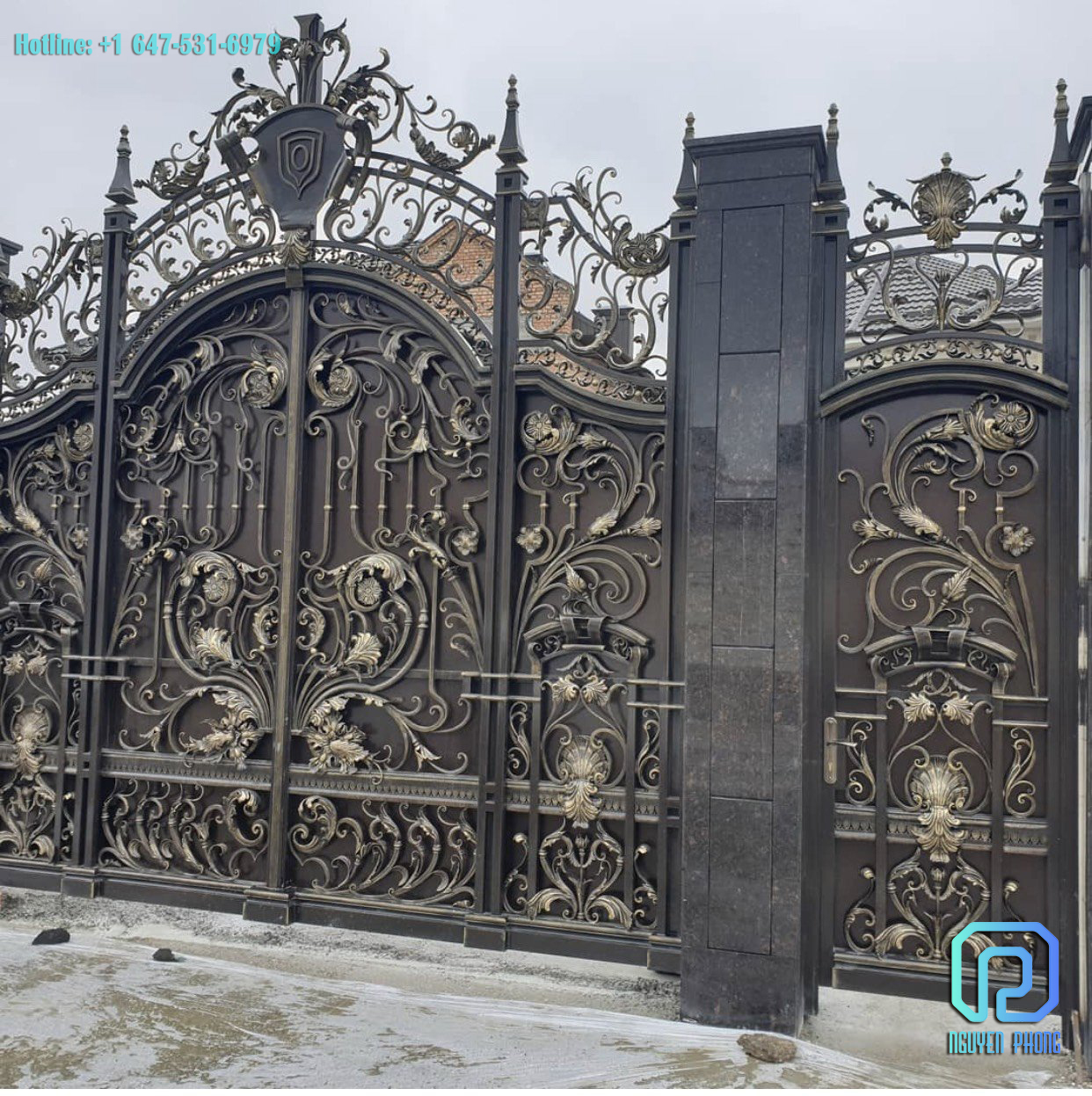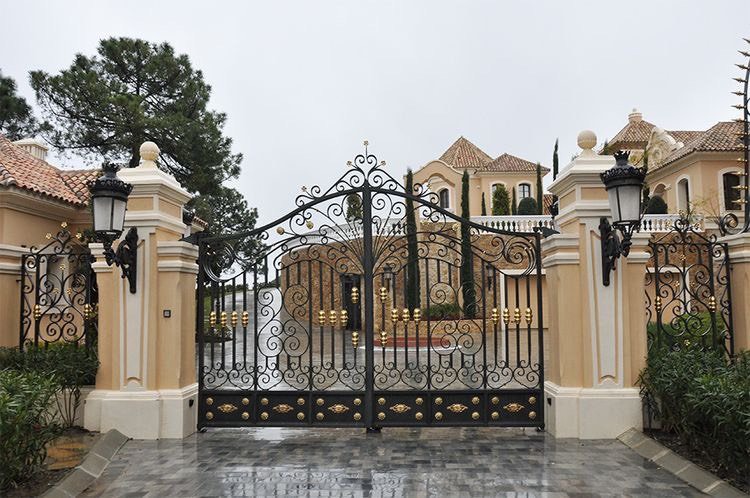 Similarly, artistic wrought iron products are no exception. Customers who buy products for their homes can fully own products like wrought iron gates, wrought iron fences, and wrought iron outdoor railings, designed and completely handcrafted in Nguyen Phong Metal.
Customers can find us through many official websites or social media platforms because we are a manufacturer with nearly 15 years of working time in Vietnam and more than 3 years of exporting to the world, such as the USA, Australia, Canada, Cambodia, Spain, and Italy,...
Here are 2 orders for wrought iron gates — wrought iron fences for private houses from Australia and Spain. They are very personal customers who are interested in unique and handcrafted wrought iron products from Nguyen Phong Metal. See details below.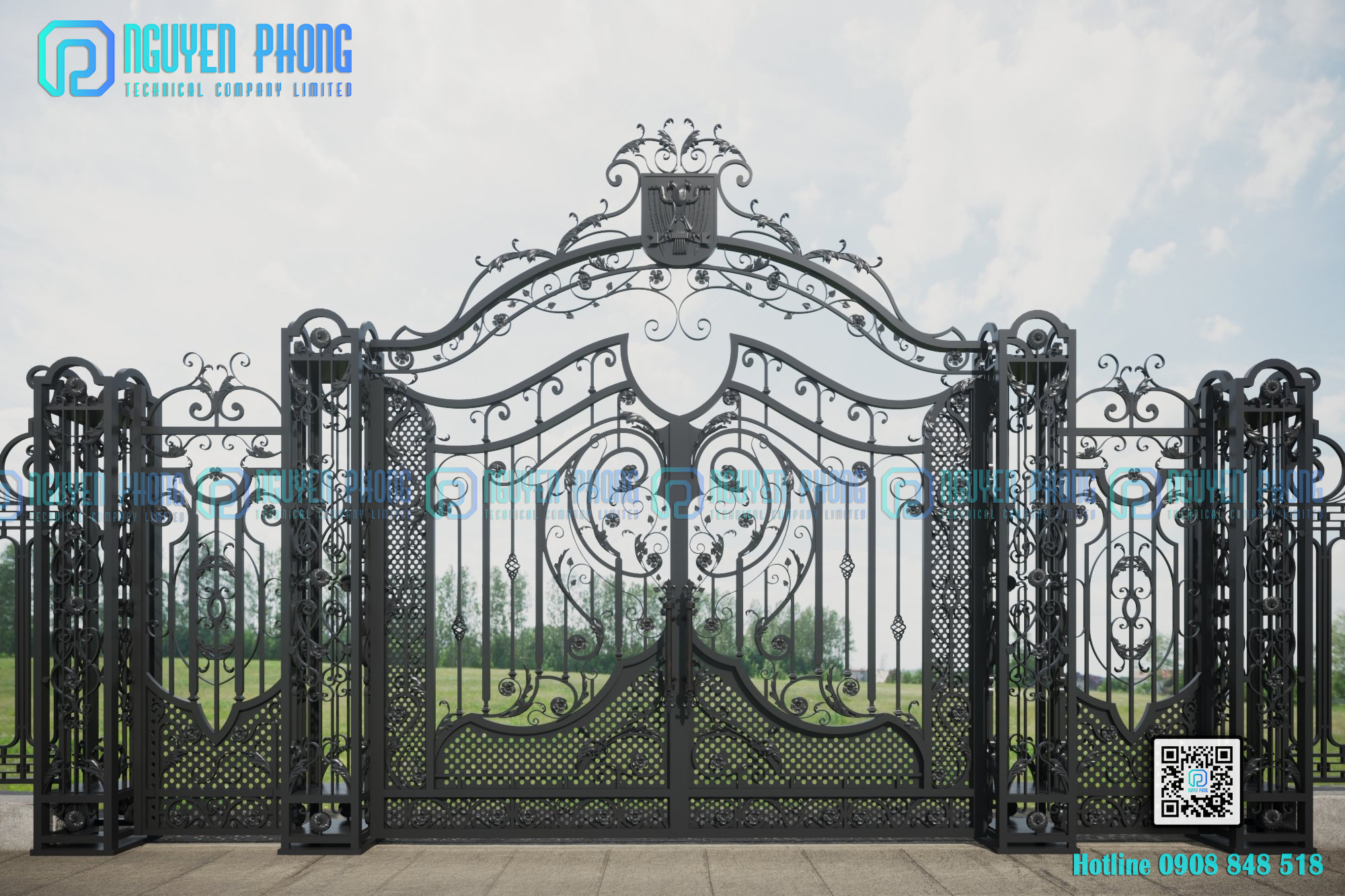 2. AUSTRALIA – Full set of the wrought iron main gate, side gate, wrought iron railing, and wrought iron fence.
Client: Mr. Ryan from Australia
Project: Private Villa
- Mr. Ryan found Nguyen Phong Metal Metal Art on Alibaba and worked directly with us via email: sales@nguyenphongcnc.com 
- He inquired and received our consultation and quote 2 months before he decided to order a full set of wrought iron products, including the wrought iron main gate, side gate, wrought iron fence, and wrought iron balcony railing, from our factory. 
- Nguyen Phong Metal will provide customers with all 2D design drawings in accordance with the required dimensions (actual construction dimensions) and expected delivery charges (SEA) so that customers can estimate the entire cost when buying from the factory in Vietnam.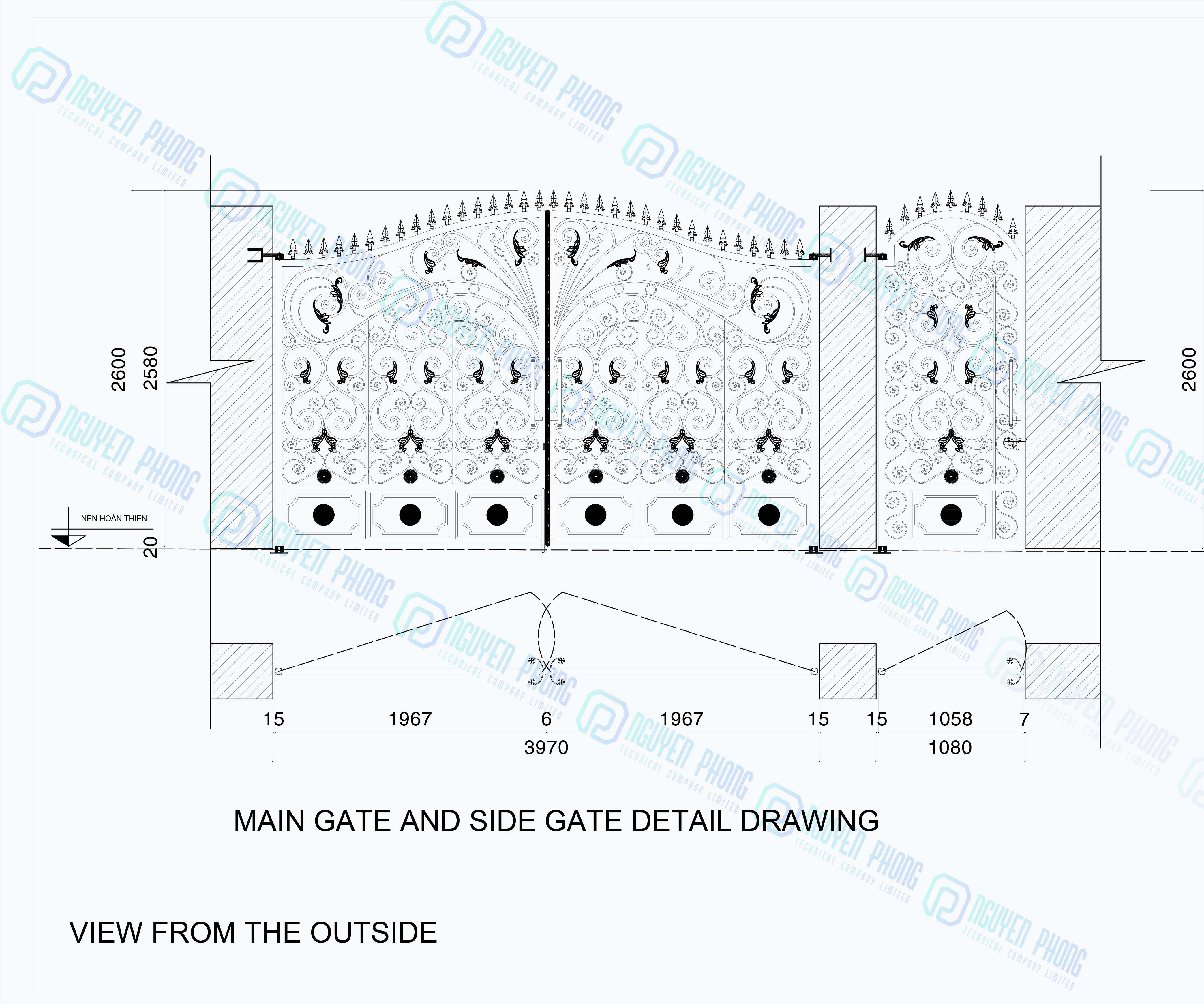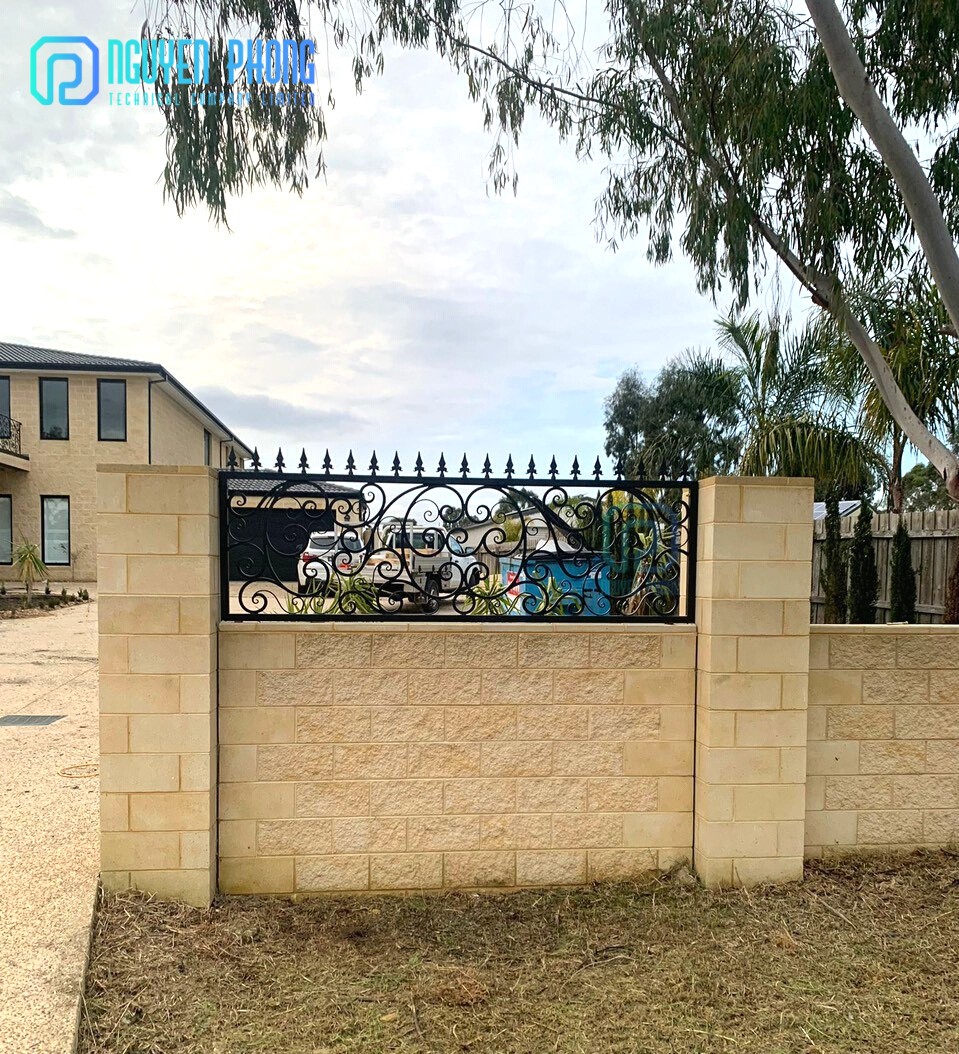 2.1 Information on artistic iron items for individual villas.
• The iron main gate with two wings.
• A single wing on the side gate 
• A front decorative wrought iron fence frame. 
• Wrought iron balcony railings for the facade.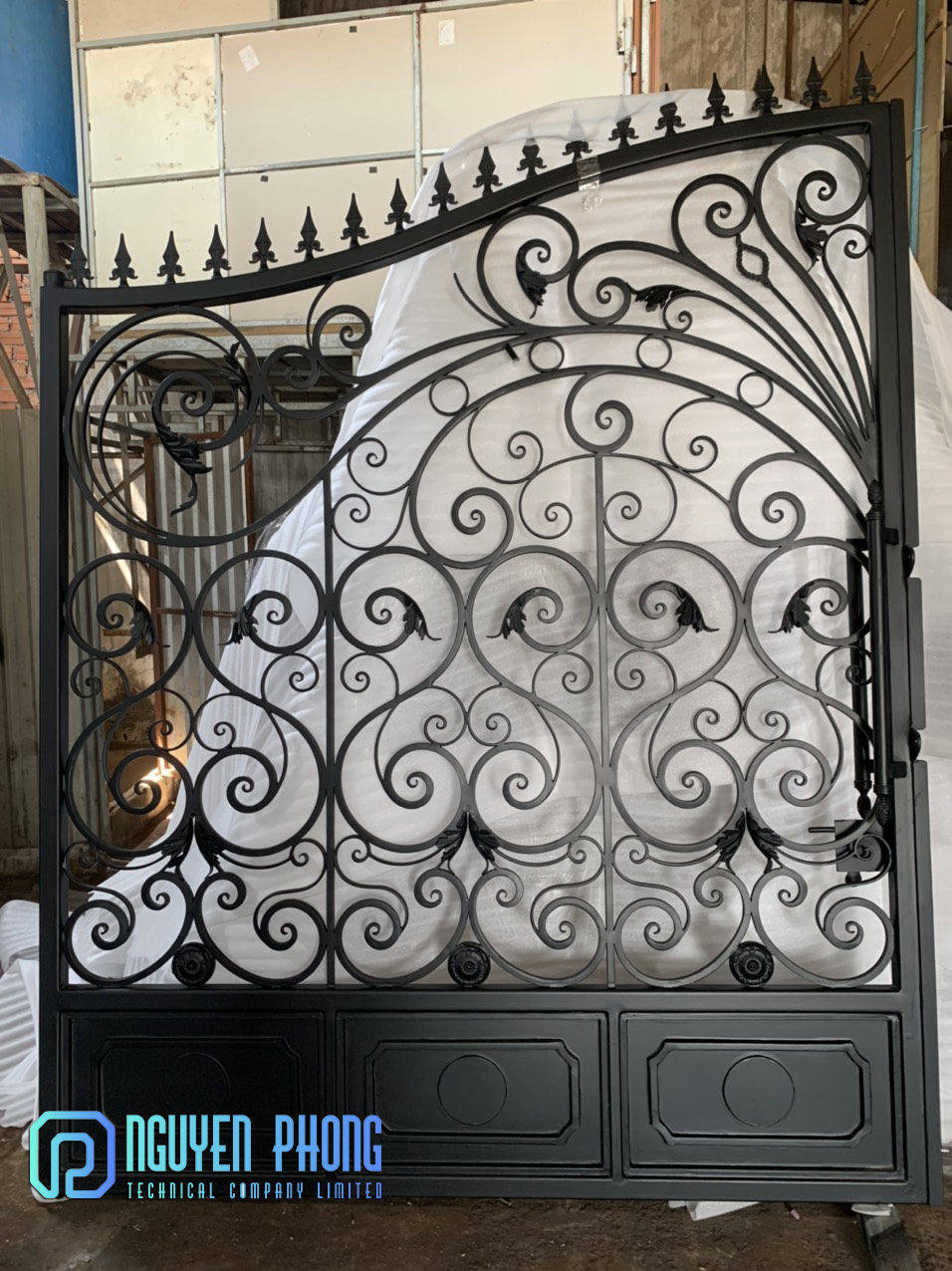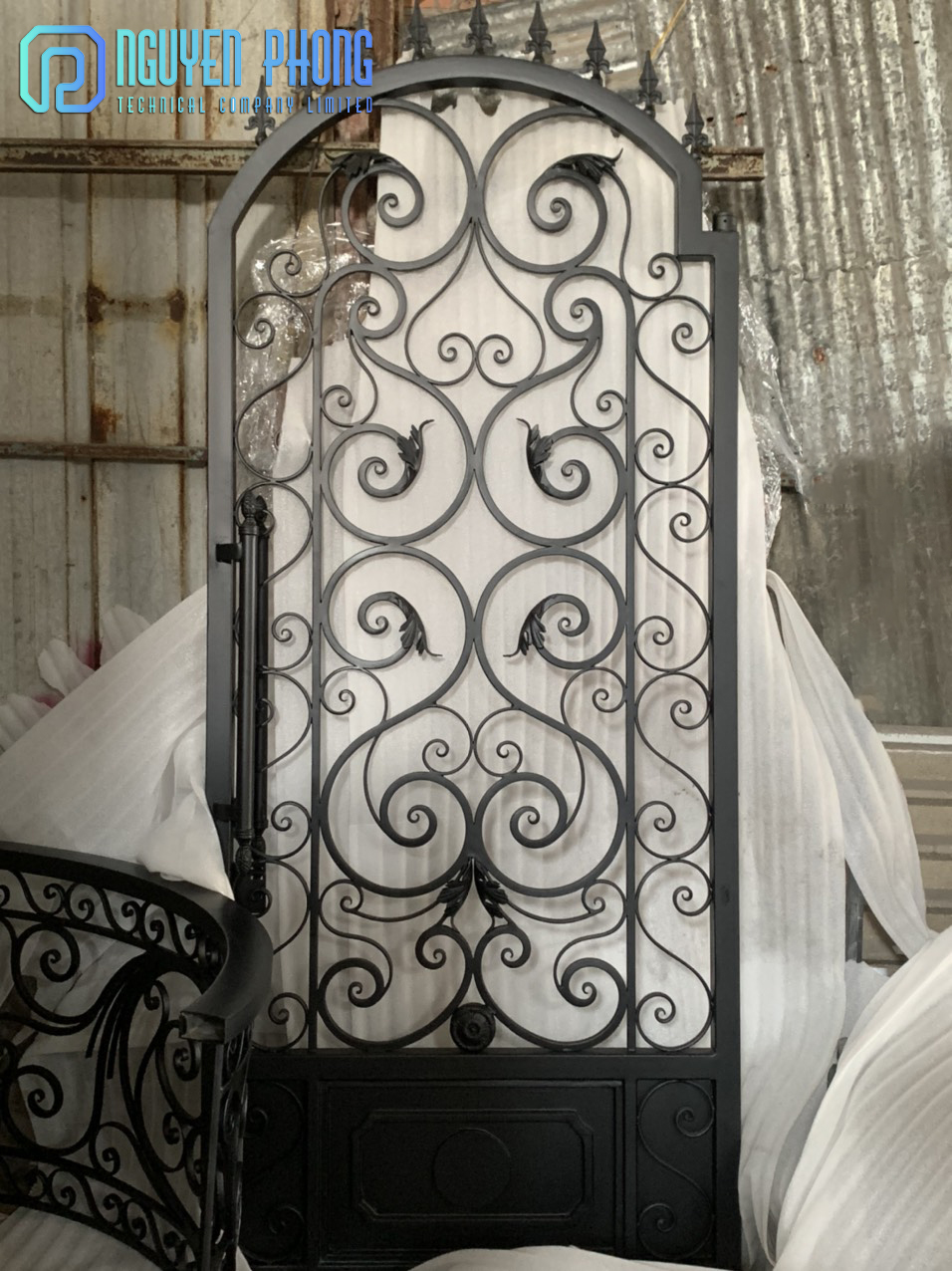 2.2 Information on materials and processing at the factory.
- Wrought iron main gate and side gate; wrought iron fence: pattern using 16x16mm solid square iron, 16x6mm flat bar combined with decorative iron art accessories. 
- Wrought iron balcony railing: using 14x14mm solid square iron, 14x6mm flat bar.
- All products use 2-component Asia-brand epoxy paint in matte black. 
The production process is quite fast, within 25 days. Mr. Ryan does not require a hot-dip galvanization method for his products because the climate conditions in Australia are not too harsh. 
Nguyen Phong Metal provided factory production photos and finished product images for Mr. Ryan, constantly letting him feel secure about the schedule for his order in another country. NP's dedicated customer care service helps every customer wherever they are without feeling any geographical barriers.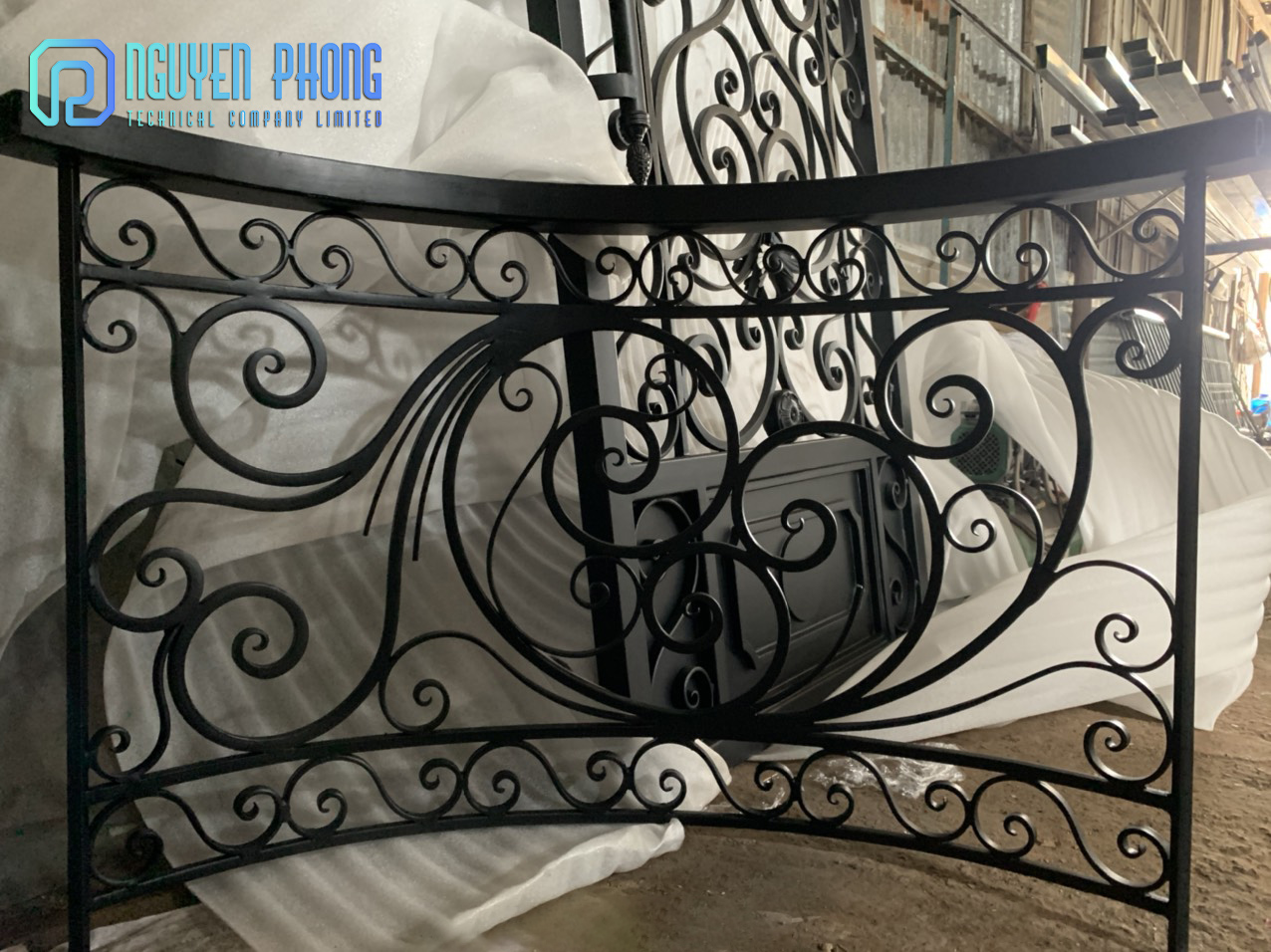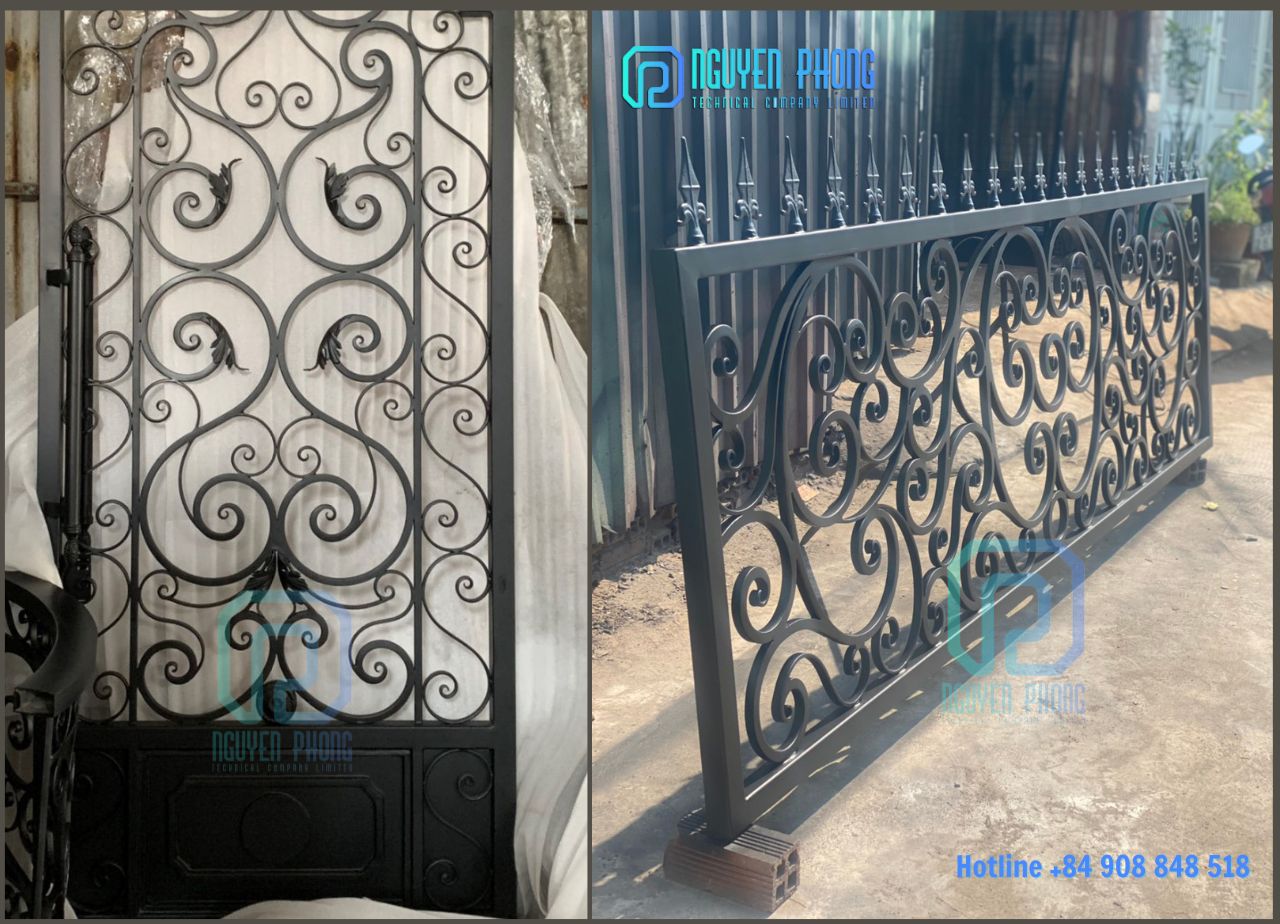 2.3 Packaging and shipping:
 The full set of wrought iron gates, wrought iron fences, and wrought iron balcony railings are thoroughly checked for size and pattern according to design drawings and painted surfaces by experienced technicians before packaging and shipping. 
All products, gates, fences, and railings, are packed with many layers of foam and PE. Then pack the pallet securely before transferring it to the container and delivering it to beautiful Australia. Nguyen Phong Metal Metal Art supports customers by finding the right shipping unit (according to the customer's request) and tracking the shipping journey to help Mr. Ryan until he clears customs and receives the goods at the port.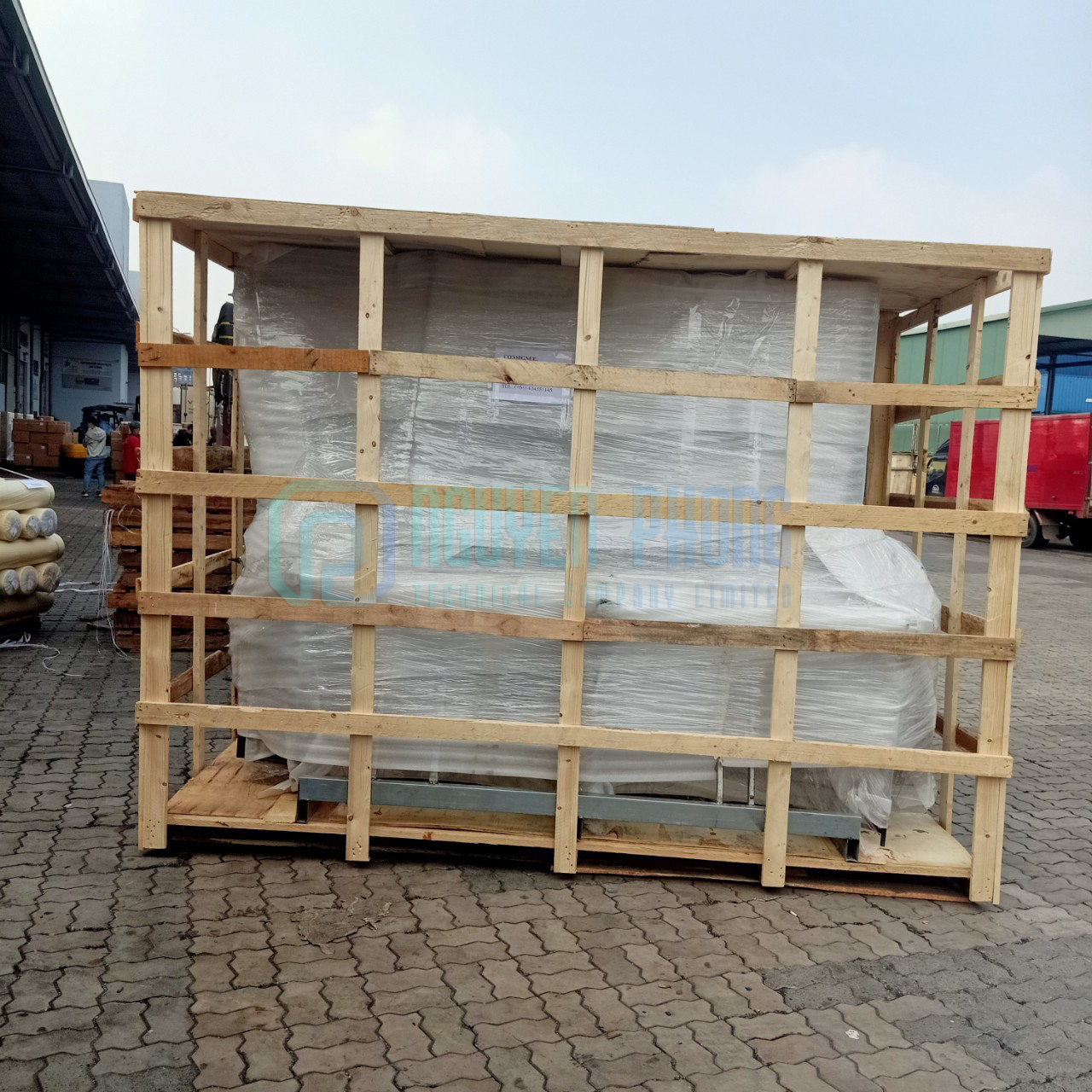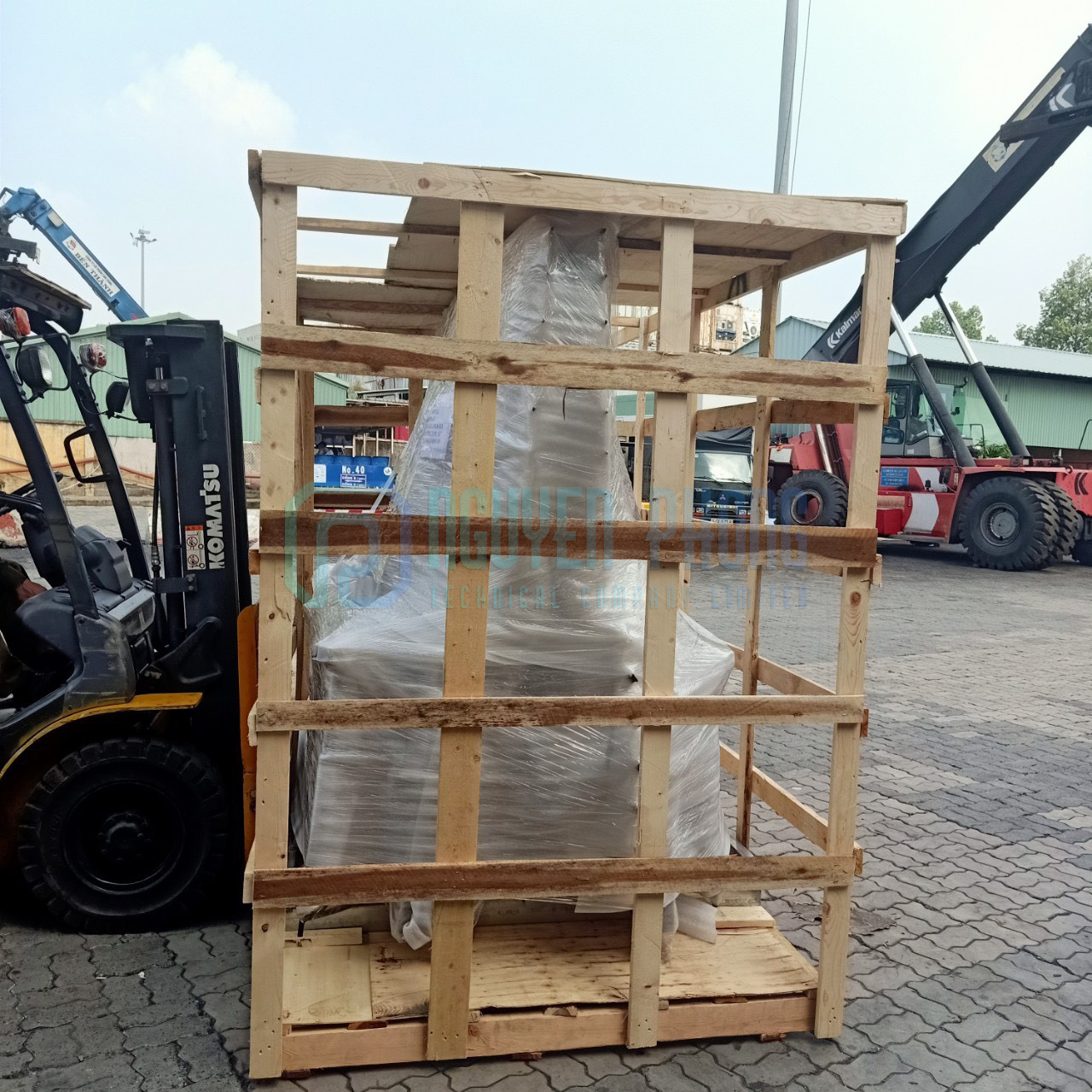 3. SPAIN - set of the wrought iron main gate and side gate  - LATEST DESIGN 2022.
Client: Mr. Sergei from Spain. 
Project: Private Villa 
Like Mr. Ryan, Mr. Sergi also found Nguyen Phong Metal from our booth on the Alibaba e-commerce platform. And then he works with our sales team via email and Whatsapp: +84 908 848 518. 
Mr. Sergei is very interested in the unique handmade wrought iron gate products because no one has owned similar wrought iron gate models in the place where he lives. He asked to use the hot-dip galvanization method to protect the whole product from rust because his house is near the seashore. This is also the method that Nguyen Phong Metal strongly encourages its customers to use to prolong product life because wrought iron products at NP are high-value products.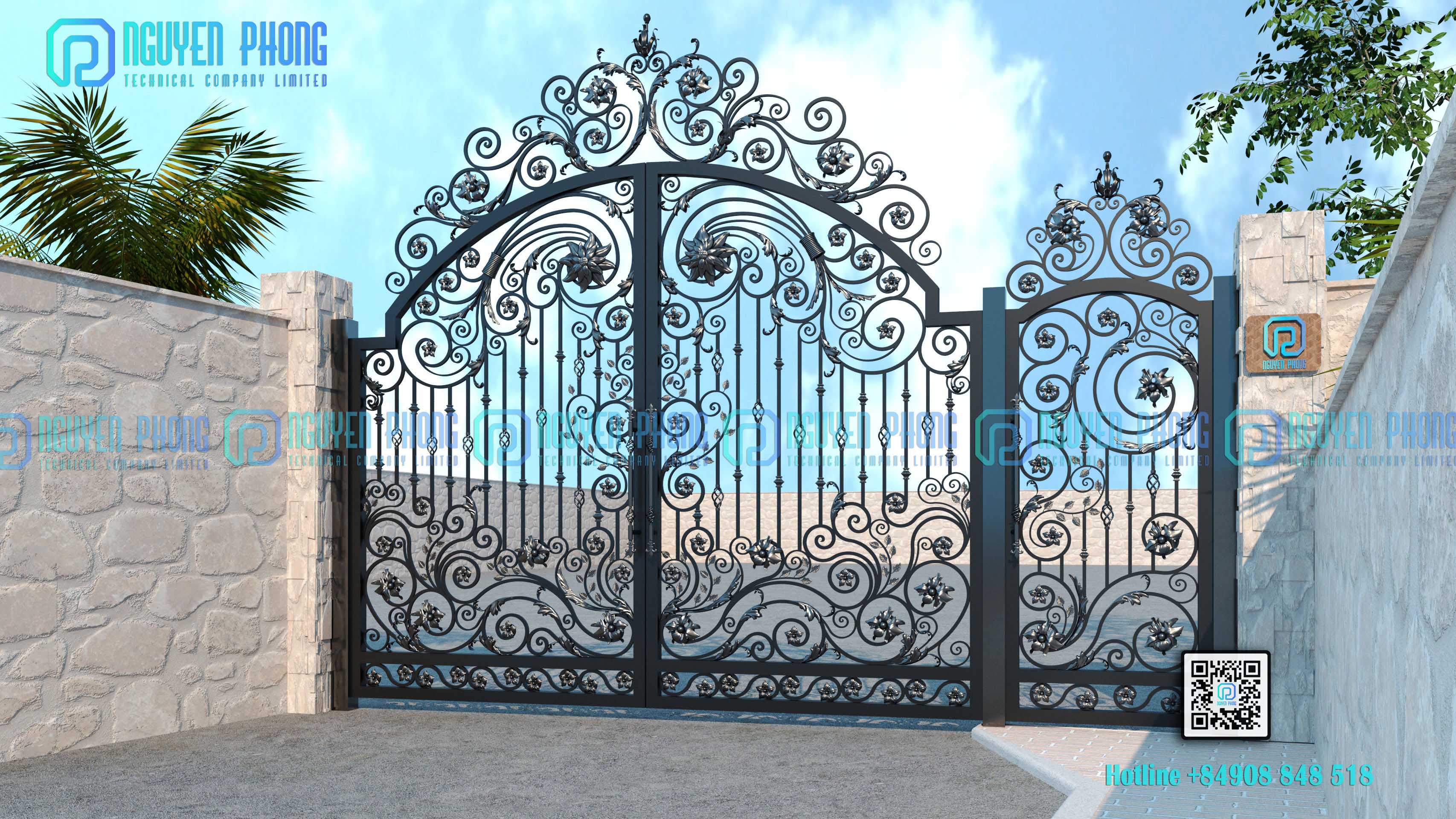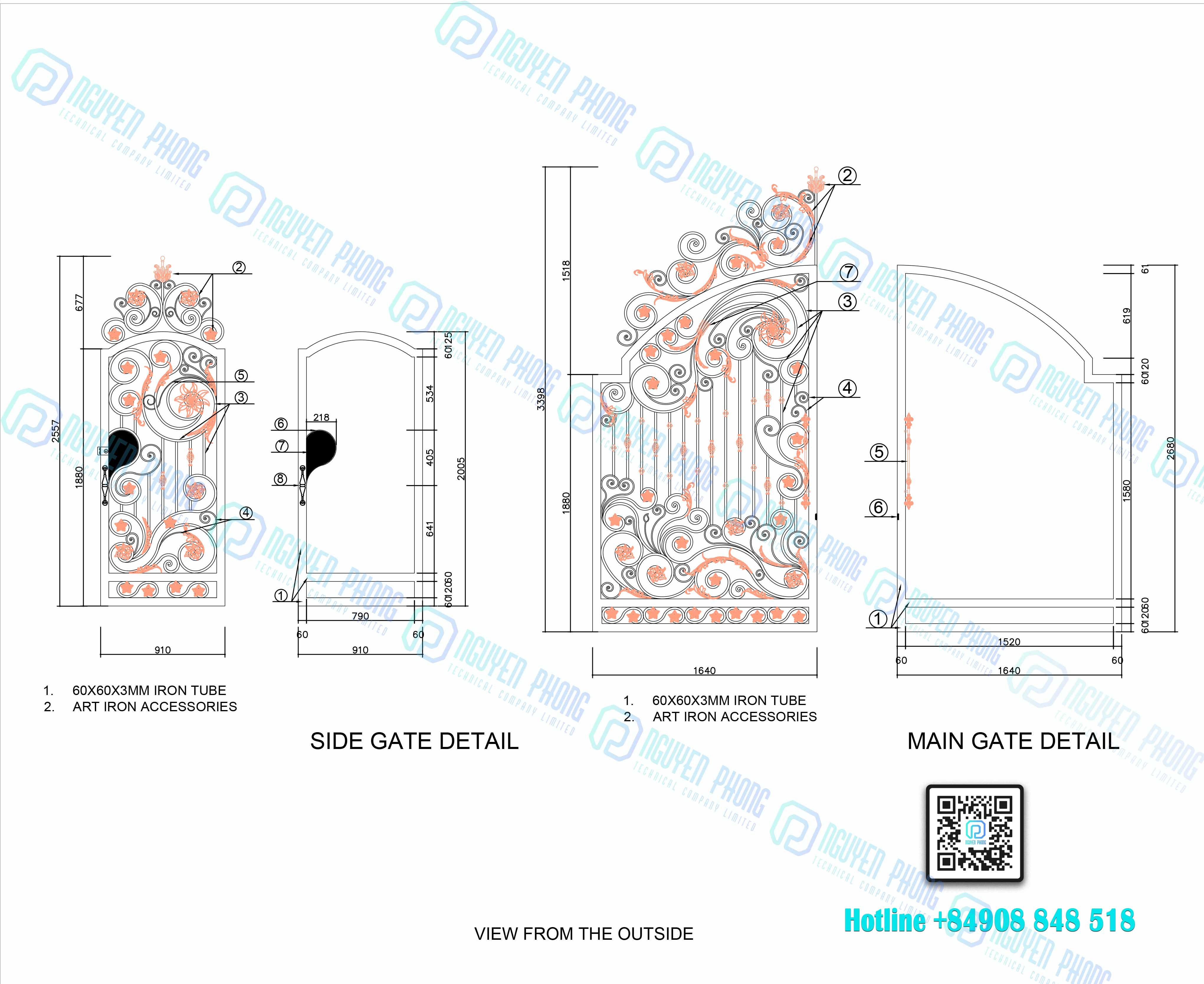 3.1 Information about the wrought iron main gate and side gate: 
Mr. Sergei selected the latest exclusive 3D gate design in our library at the time. After that, the Design Department redesign the 2D and 3D design drawings according to the actual dimensions required by the customer and made some other changes to the gate handle. 
Main gate: W= 3280mm, H=3400mm
Side gate : W=1000mm, H=2560mm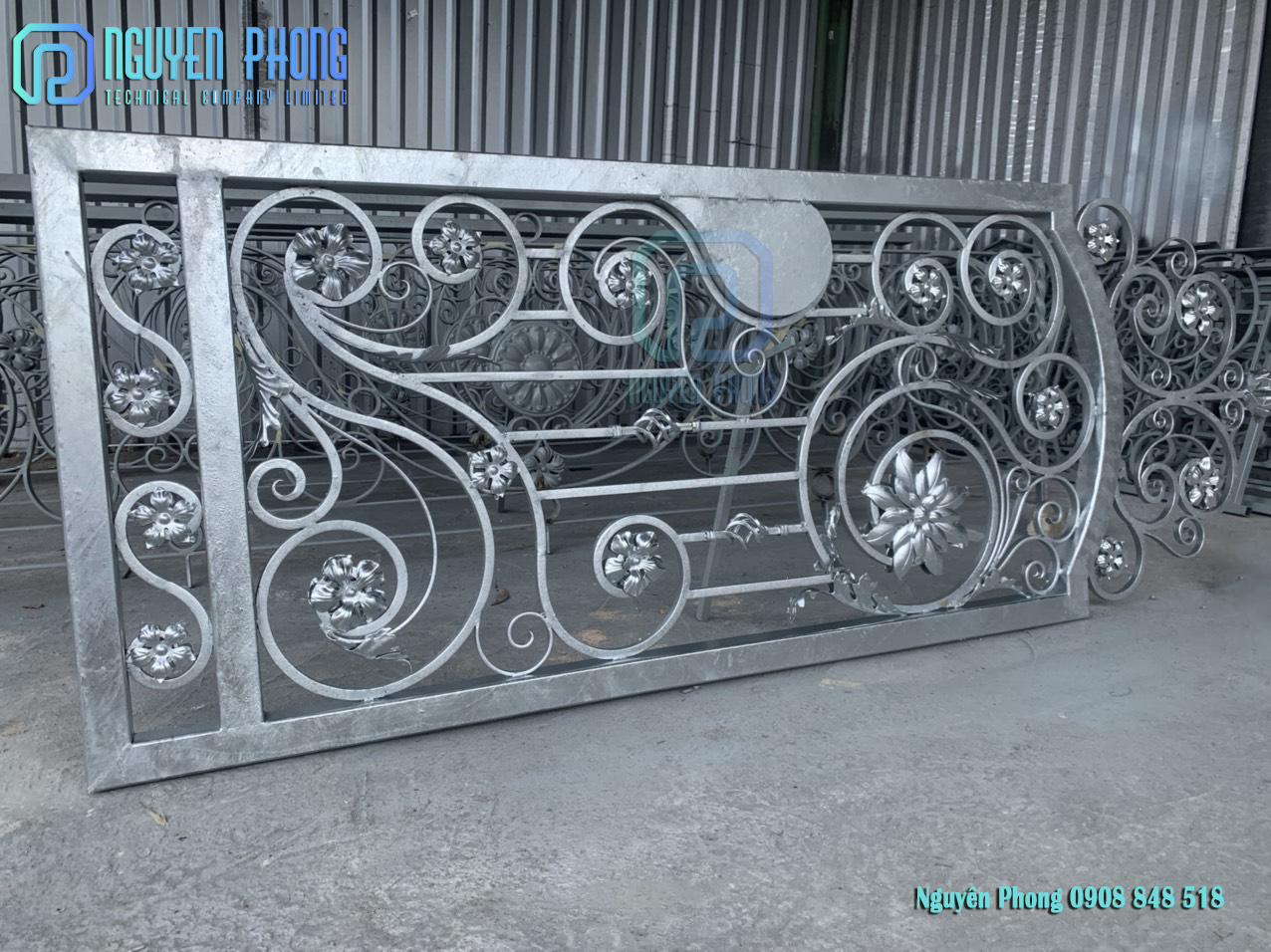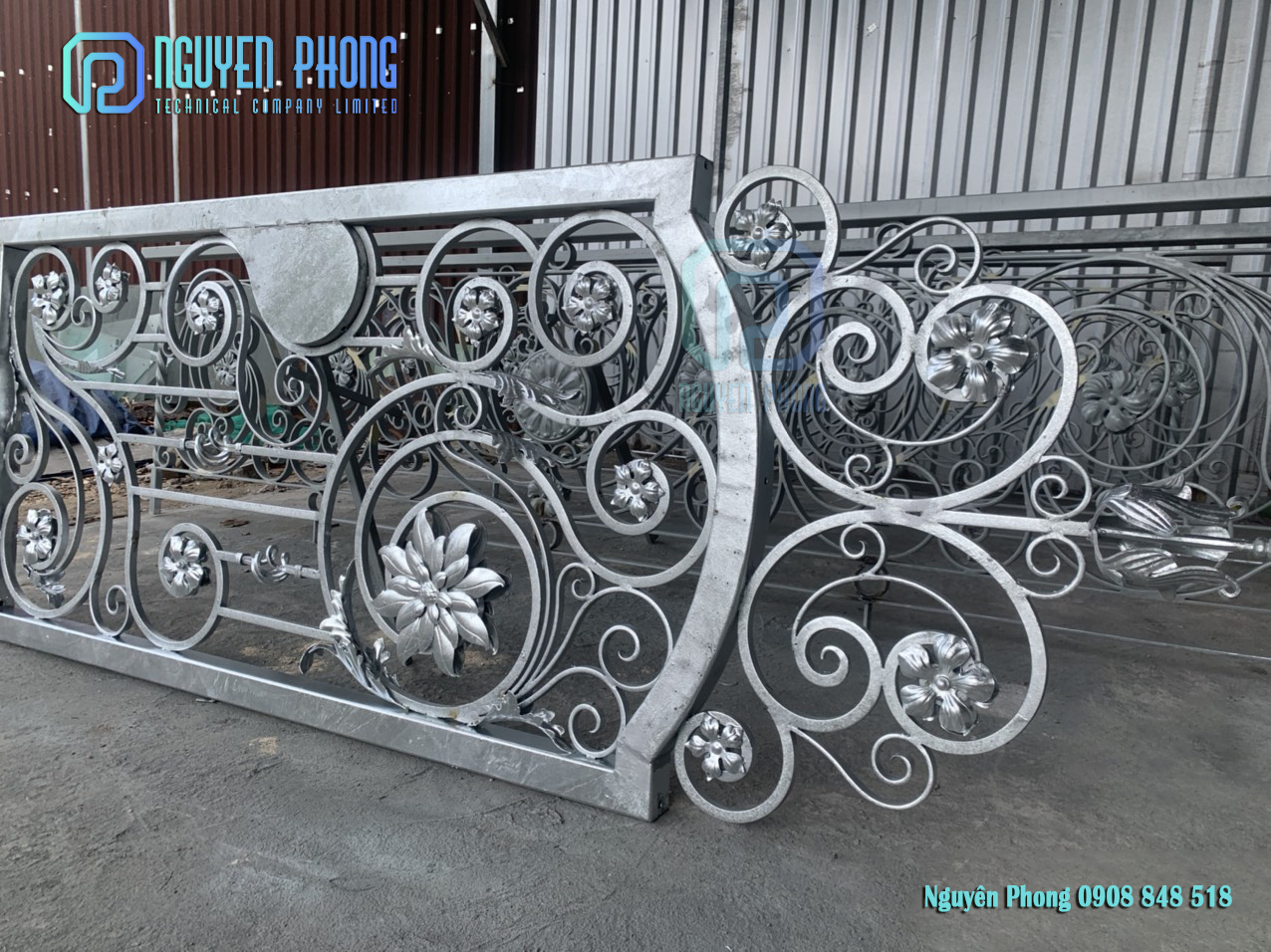 3.2. Information on materials and processing at the factory.
The wrought iron main gate and side gate are made of 16x16mm solid square iron, 16x6mm flat bar, 10mm round bar, and other decorative wrought iron accessories. 
The entire wrought iron gate is painted a matte black color, with silver emulsion-colored decorative accessories. Paint colors are approved (via videos and photos) before being officially painted on the gate set.
The production process at the factory takes place within 30 days, going through the following stages: 
Prepare materials and make production plans. 
Make frames and wrought iron patterns 
Assemble the pattern into the frame;
Assemble accessories and adjust details according to a 1:1 ratio printed drawings.
Treatment of the welding position as well as product surface treatment
Hot-dip galvanizing the entire product's surface and exterior. 
Re-treat the product's surface. 
Paint process (primer, top coat 2 times, finish top coat 2 times).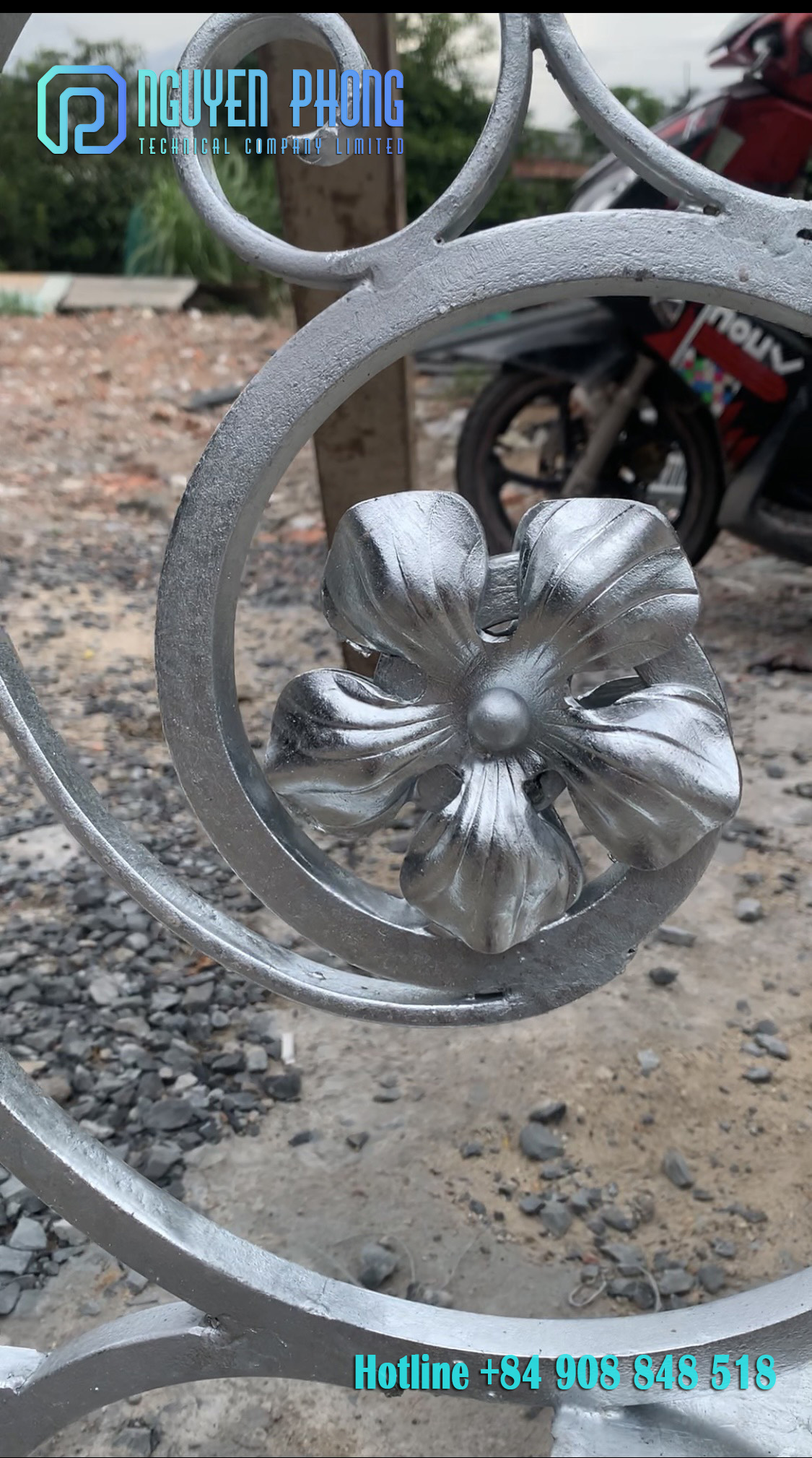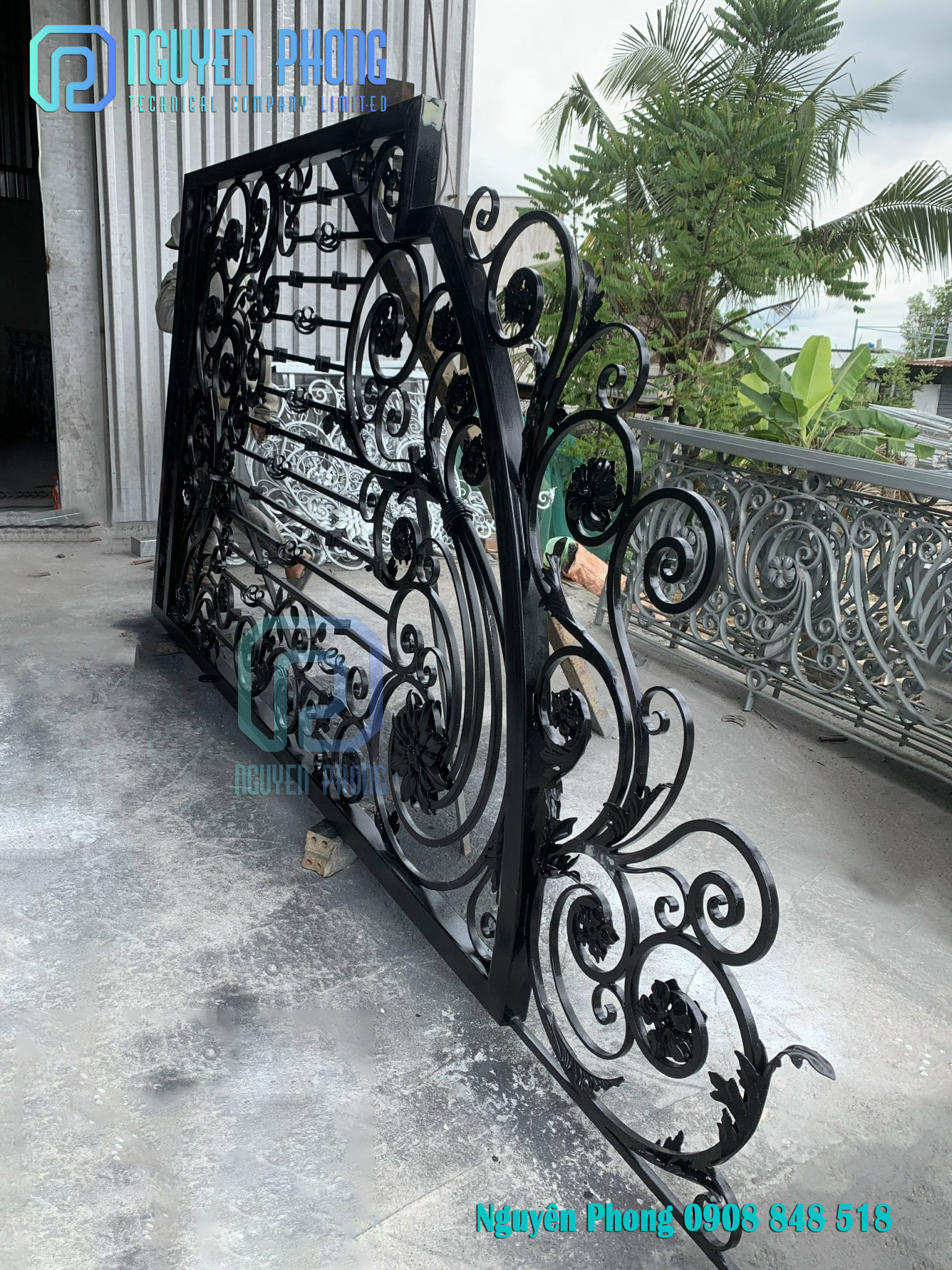 Hot-dip galvanizing wrought iron gates will require more time for surface treatment, so it needs more production time than usual.
We follow the process meticulously and in conformity with every stage of manufacturing to ensure that consumers, even those from Vietnam halfway around the world, always feel confident and at ease while making purchases. In fact, Nguyen Phong Metal has received a lot of positive feedback and reviews when we did the weekly report for him.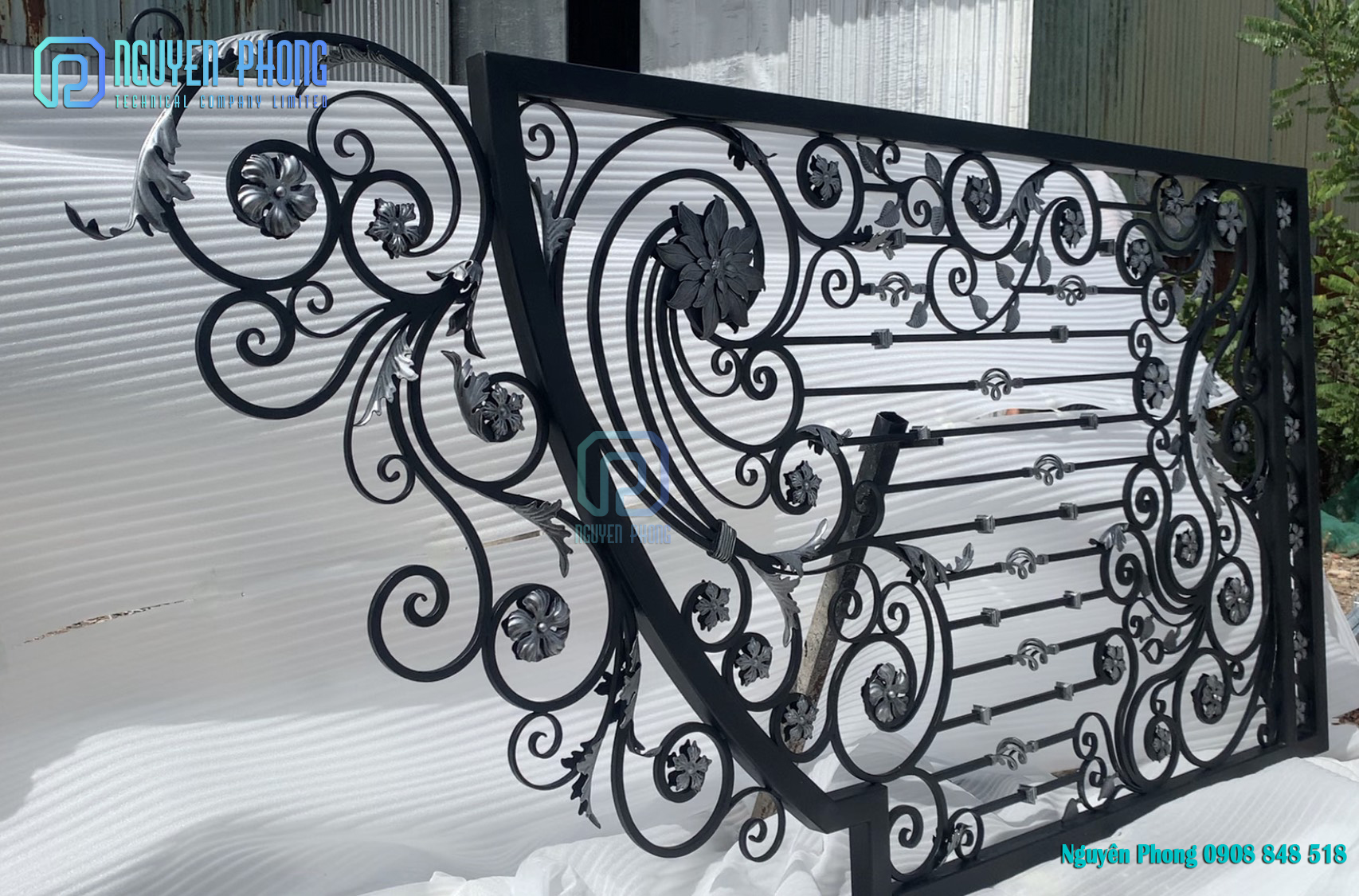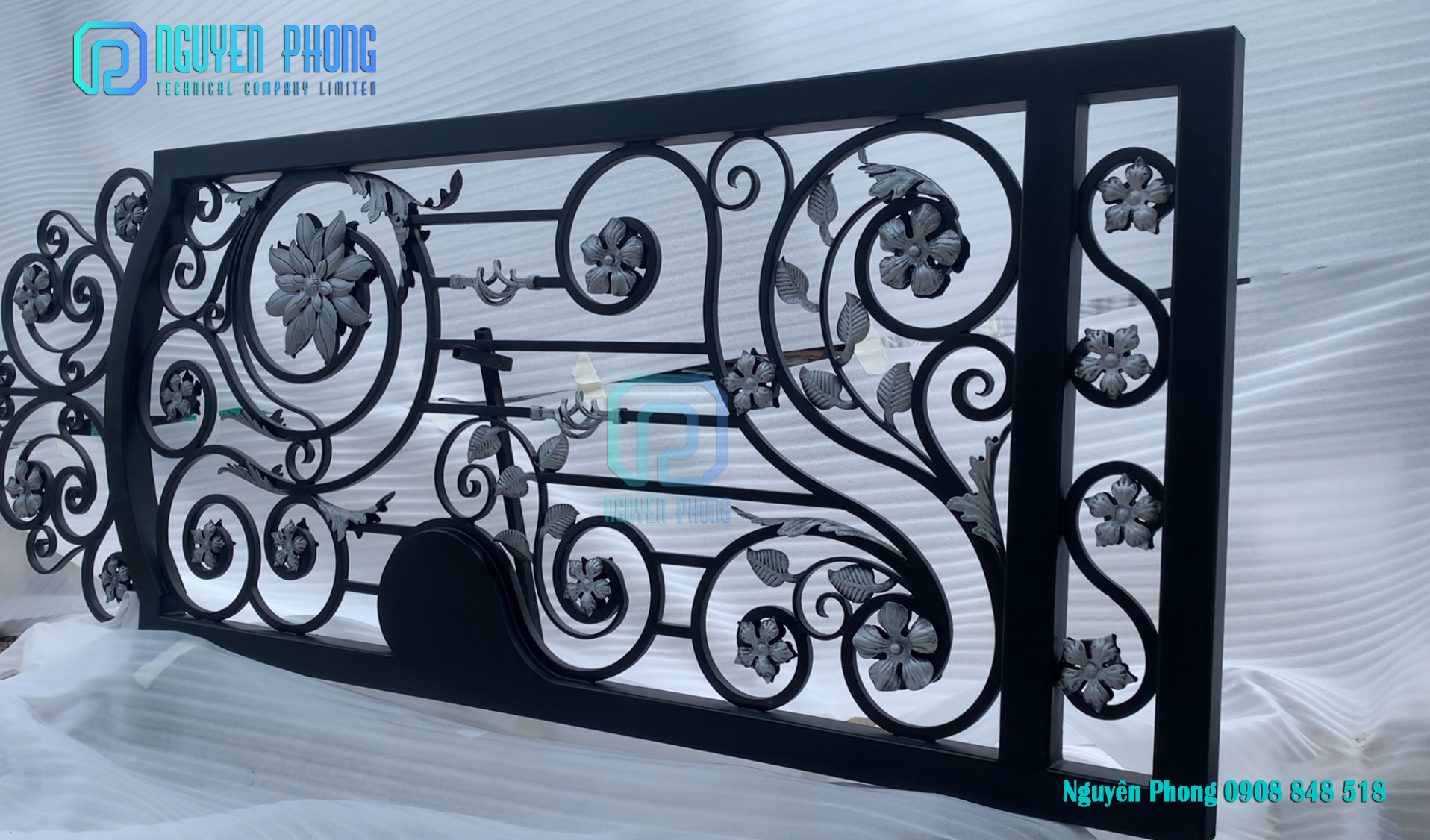 3.3 Packaging and shipping.
Mr. Sergie has chosen door-to-door delivery. Therefore, Nguyen Phong Metal helped him find and choose a reputable international shipping company to handle the shipping. 
Wrought iron gates are quite heavy, so they are packed with care by our workers at the workshop before being sent to the port.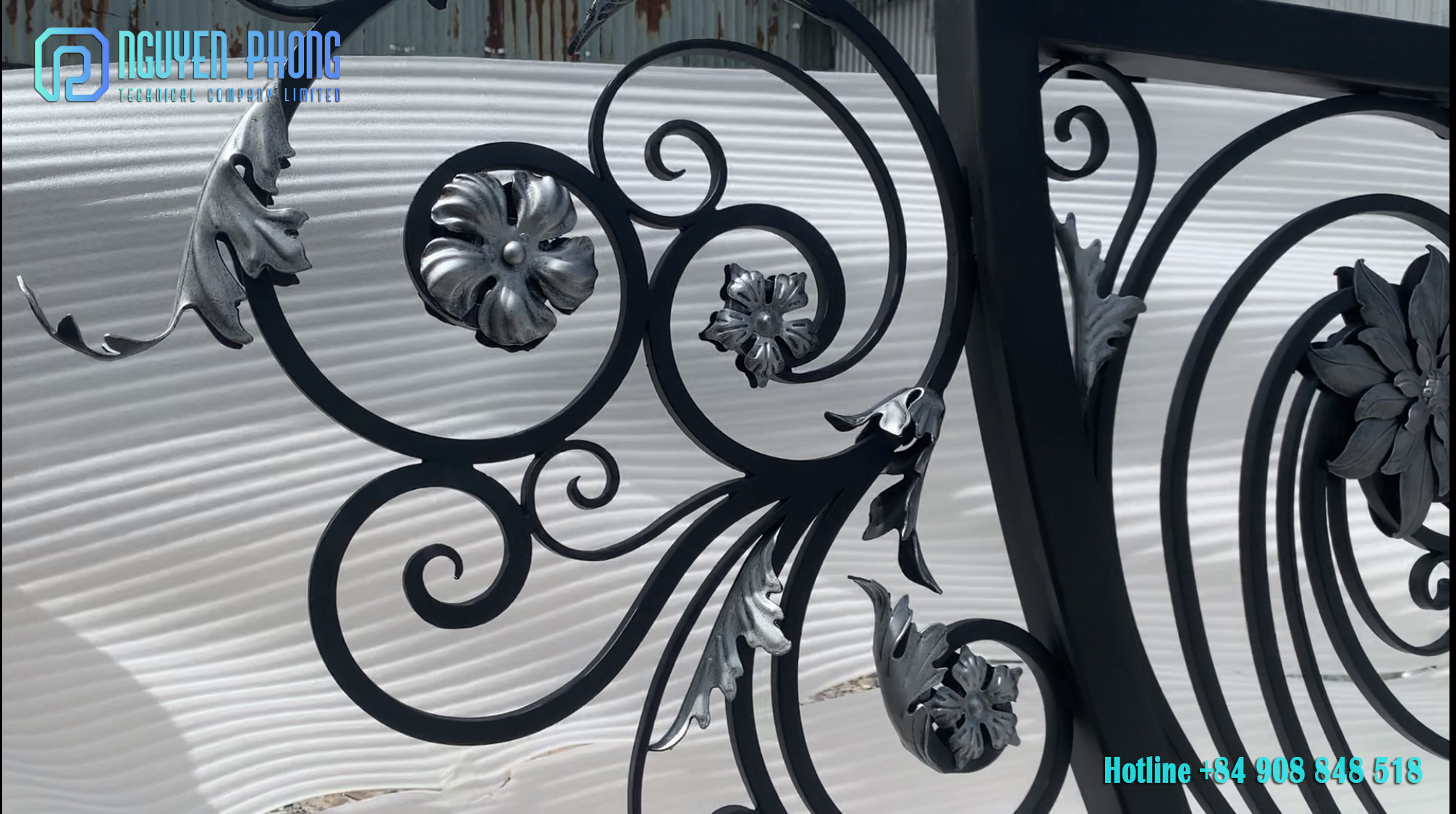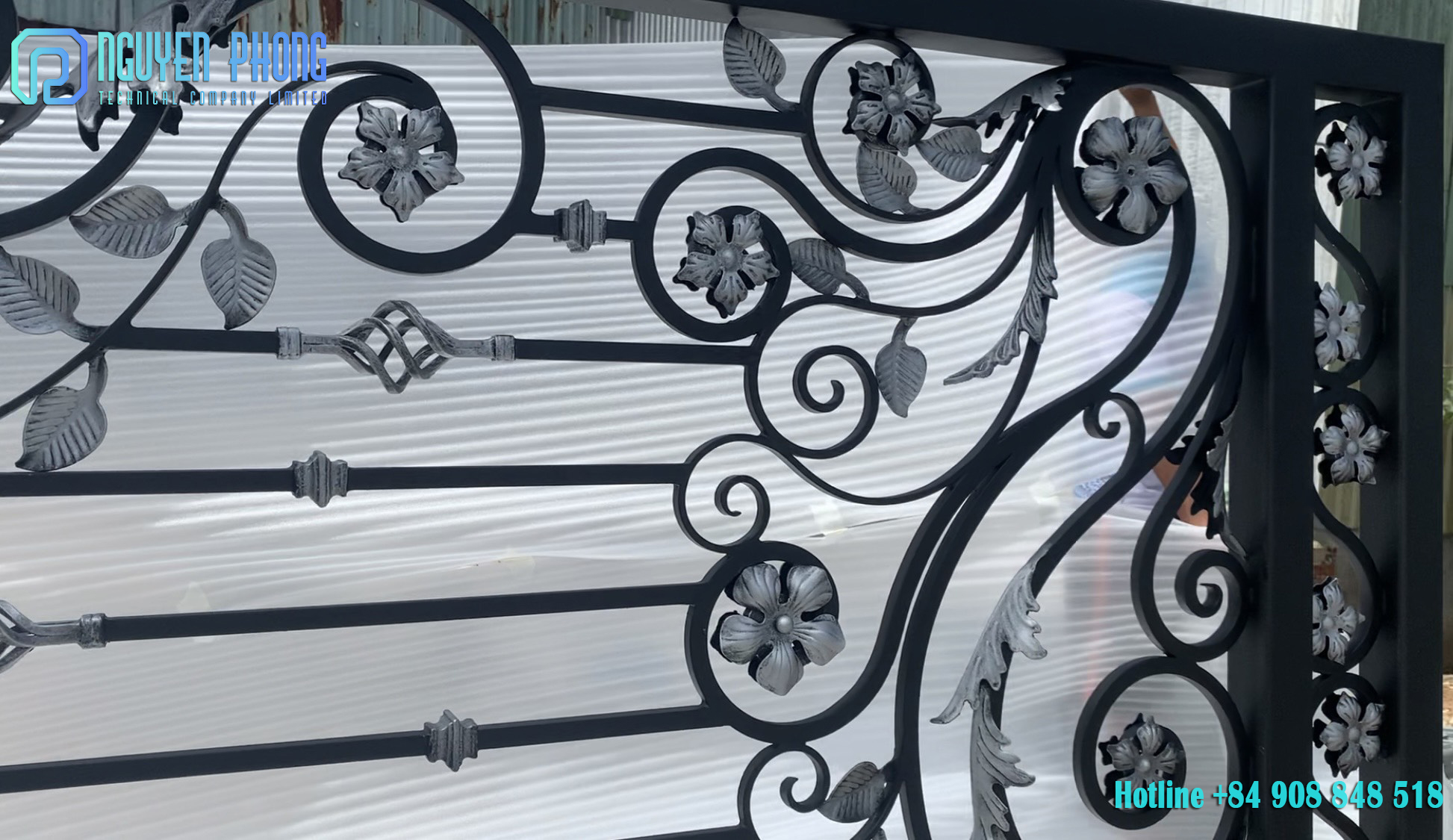 This wrought iron gate set is really our passion when making it. Every detail, even the smallest, is meticulously cared for. The result is a beautiful smooth painted surface and silver glittering flowers. They are as beautiful as a work of art. 
All products are off to Spain, and we eagerly await Mr. Sergei's finished photos!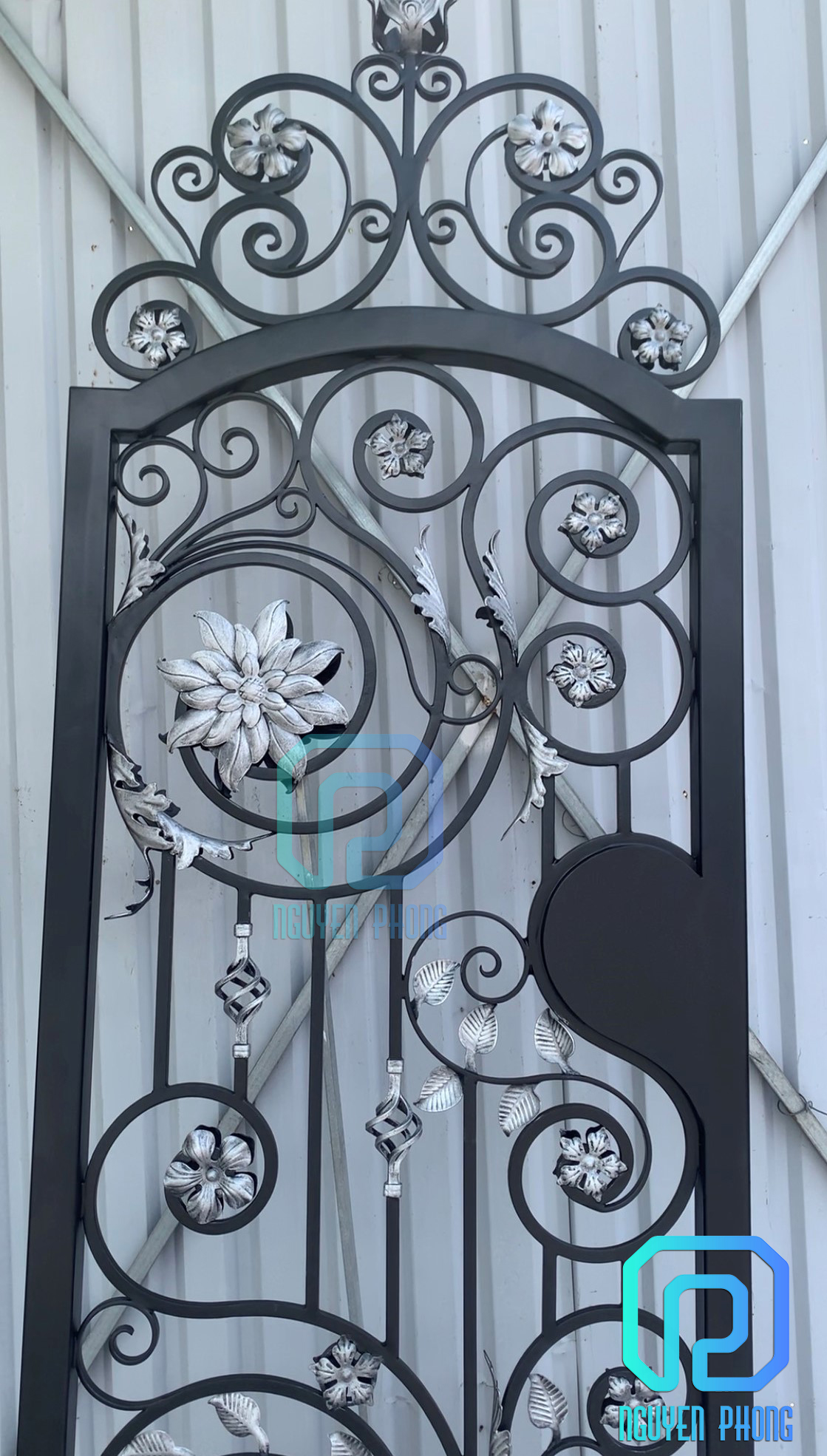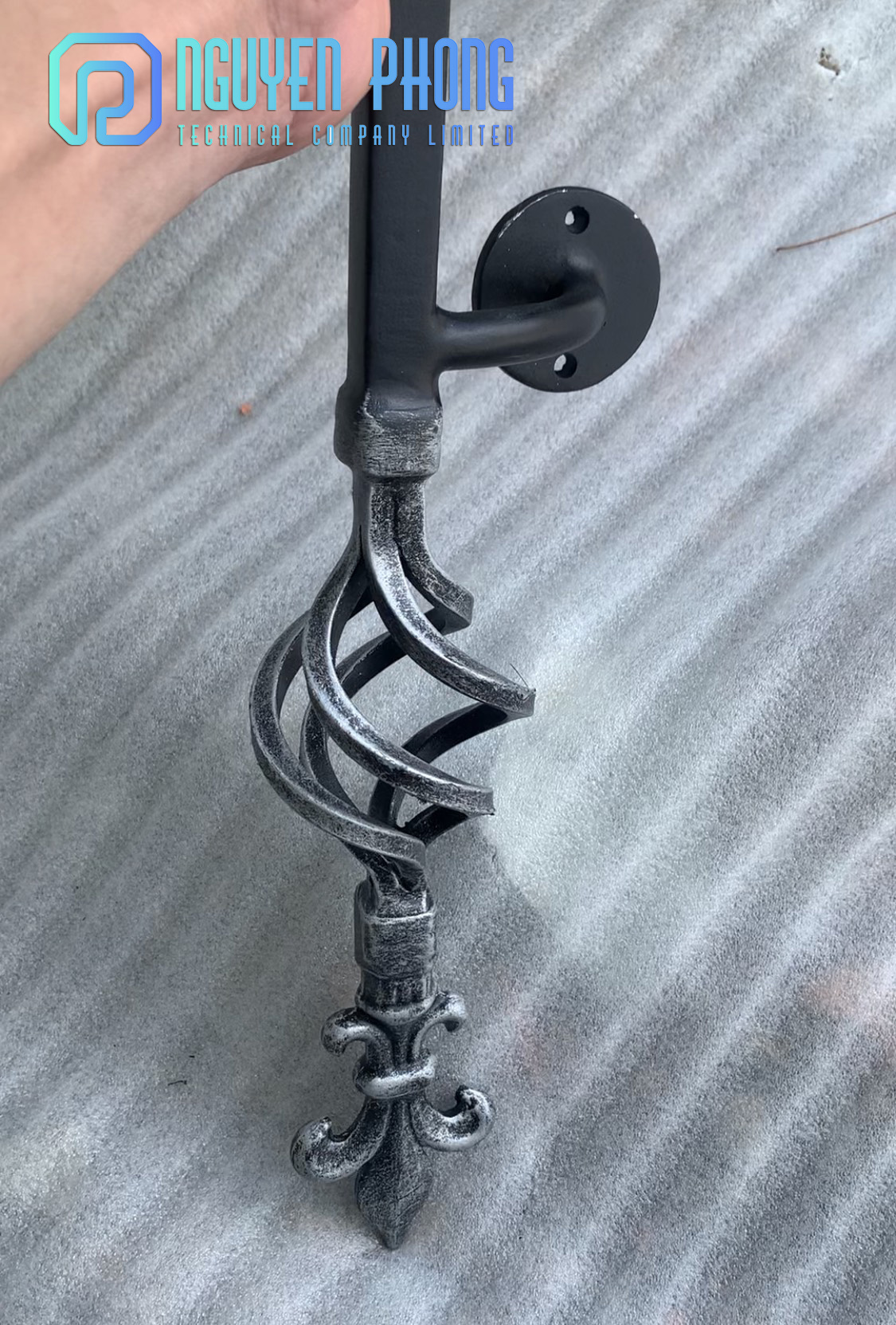 See more:
- GATE, FENCE, RAILING FOR BALCONY & STAIR, PROTECTIVE WINDOW GRILL FOR PERSONAL VILLA
- 40 CLASSIC WROUGHT IRON FENCES
NGUYEN PHONG METAL JSC
OFFICE ADDRESS: 323A Le Quang Dinh, Ward 5, Binh Thanh District, HCMC
FACTORY 1: Vinh Loc Industrial Zone, Binh Chanh Dist, Ho Chi Minh City, Vietnam
FACTORY 2: Binh Giao, Thuan An Dist, Binh Duong Provice, Vietnam
Hotline: +84 908 848 518 (zalo, viber, whatsapp)
Email: Sales@nguyenphongcnc.com - phuongdangthy@gmail.com
Website: http://nguyenphongcnc.com/
Fanpage: https://www.facebook.com/nguyenphongmetal/
Alibaba site: https://npwroughtiron.trustpass.alibaba.com