Wrought iron door, iron balcony railing, iron stair railing, iron canopy for villa - Mr. Pat' order from USA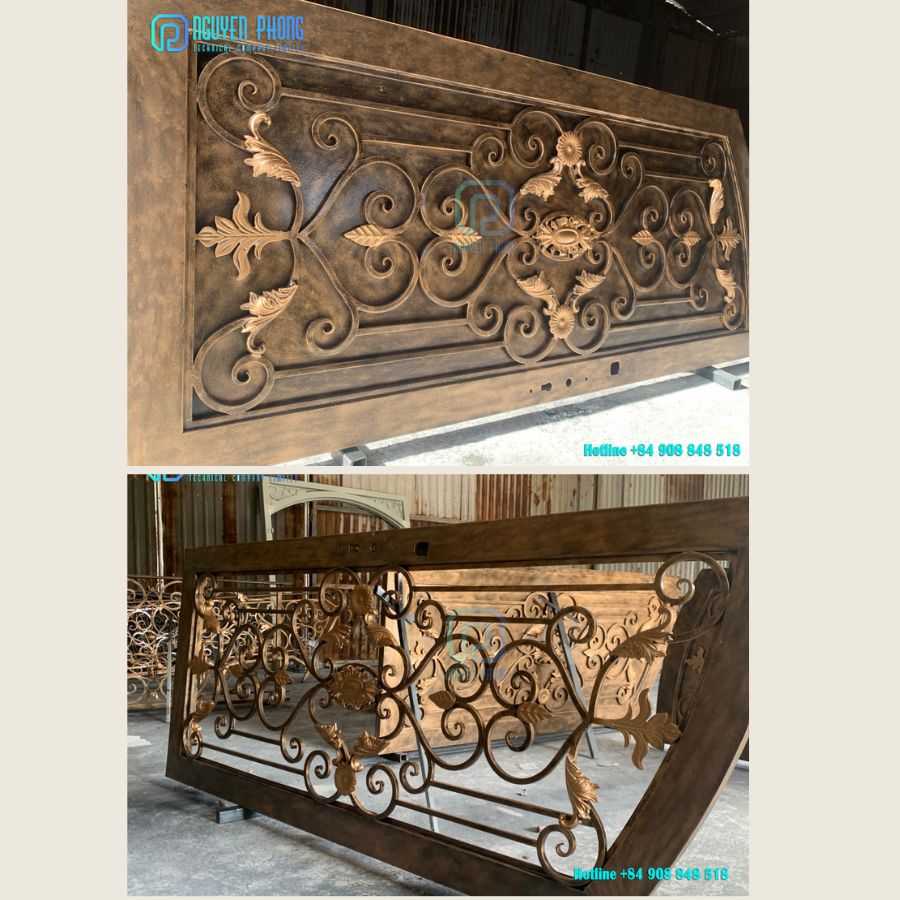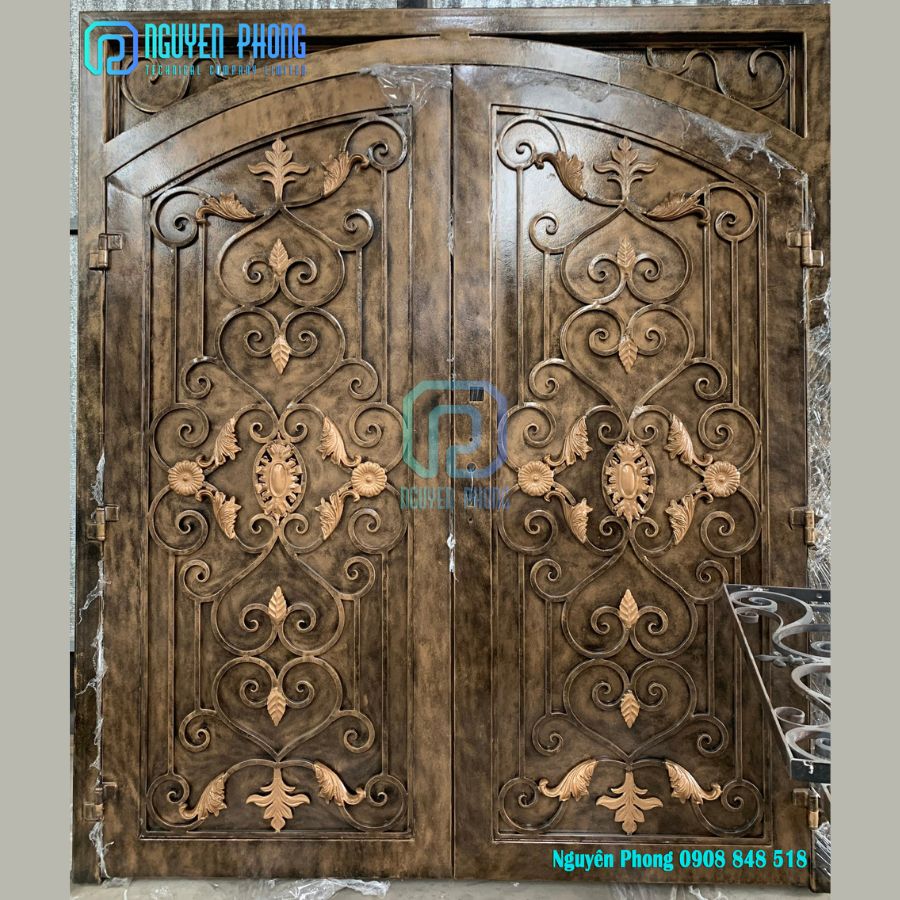 1. PROJECT OVERVIEW + CUSTOMERS' NEEDS
Customers find us on Alibaba site: https://npwroughtiron.trustpass.alibaba.com
Our customer is very nice, he has great respect for NP Metal's handcrafted wrought iron products. And that's why we spend a lot of time consulting to make the products match his needs.
His technician has measured all the necessary actual dimensions (accurate to the nearest mm) to make the product, and described in detail the current installation location. Then provide that information to us. Attached are pictures of the door, balustrade and roof samples he has chosen so we can advise and give him a complete quote.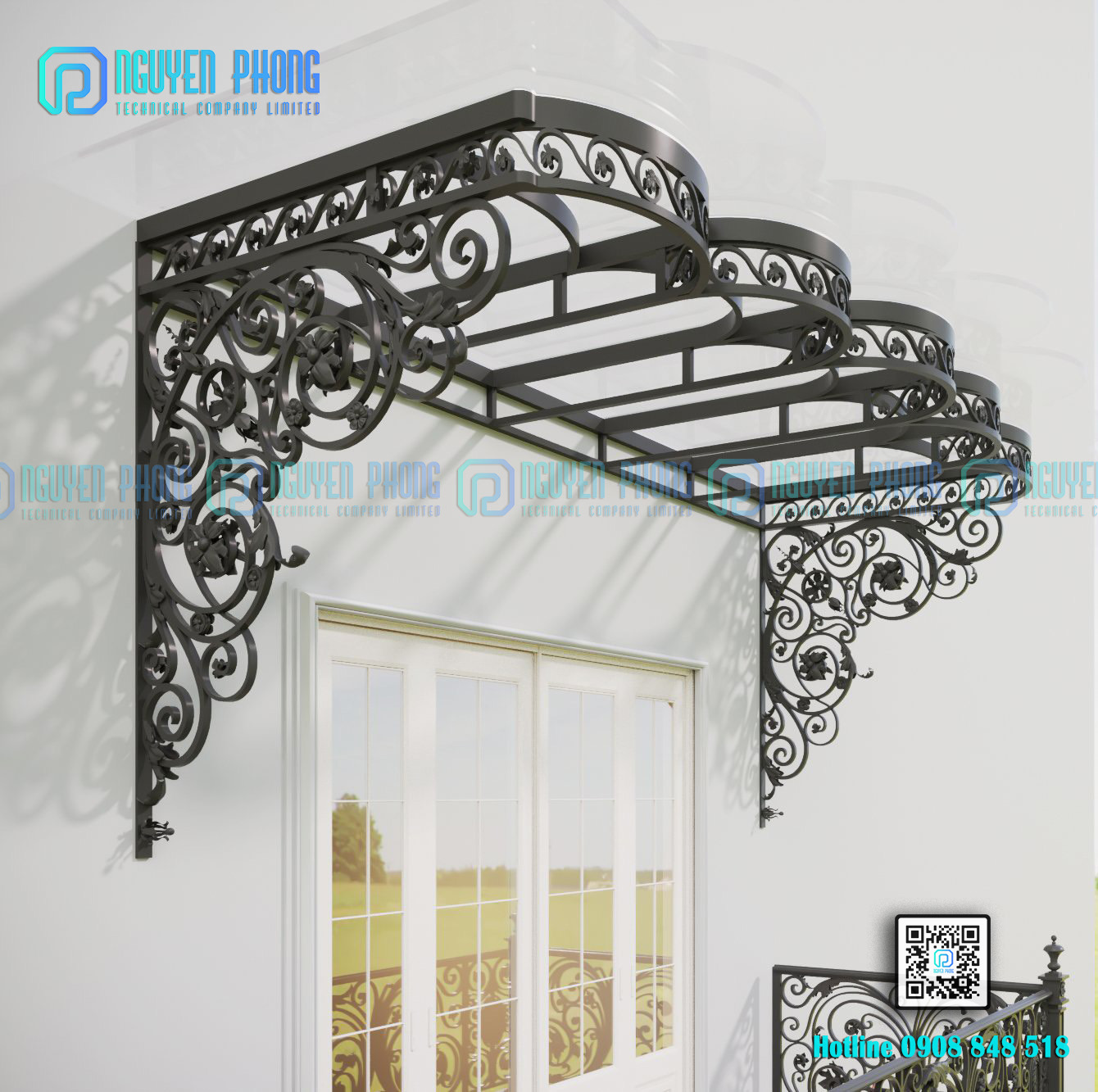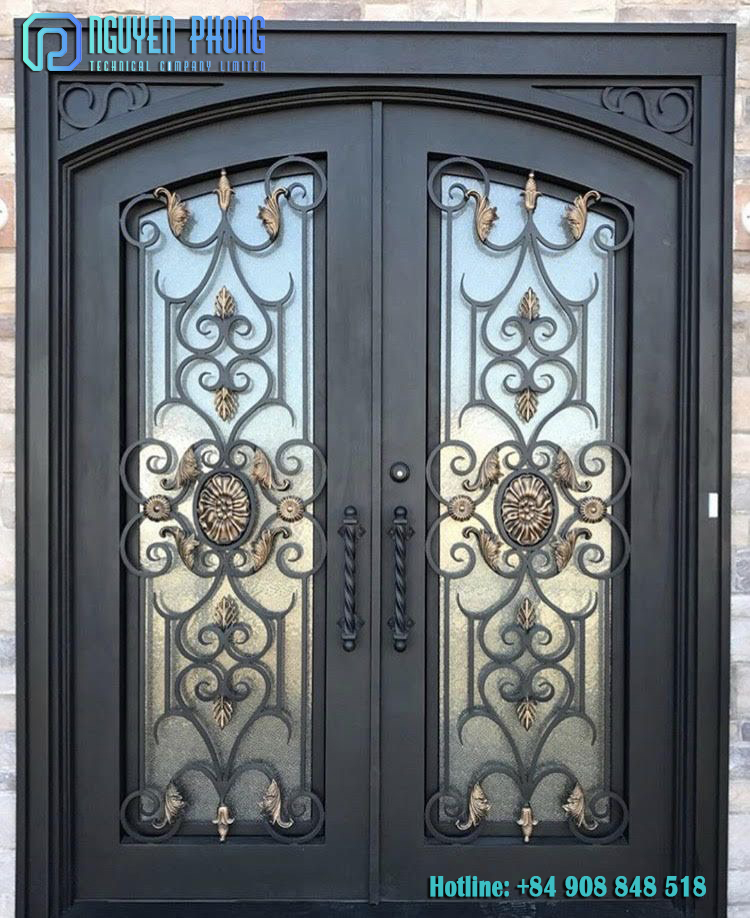 After the quotation is accepted, the Sales team has transferred all the information to the technical team. Our technical and design department got together and developed 2D design drawings for customers.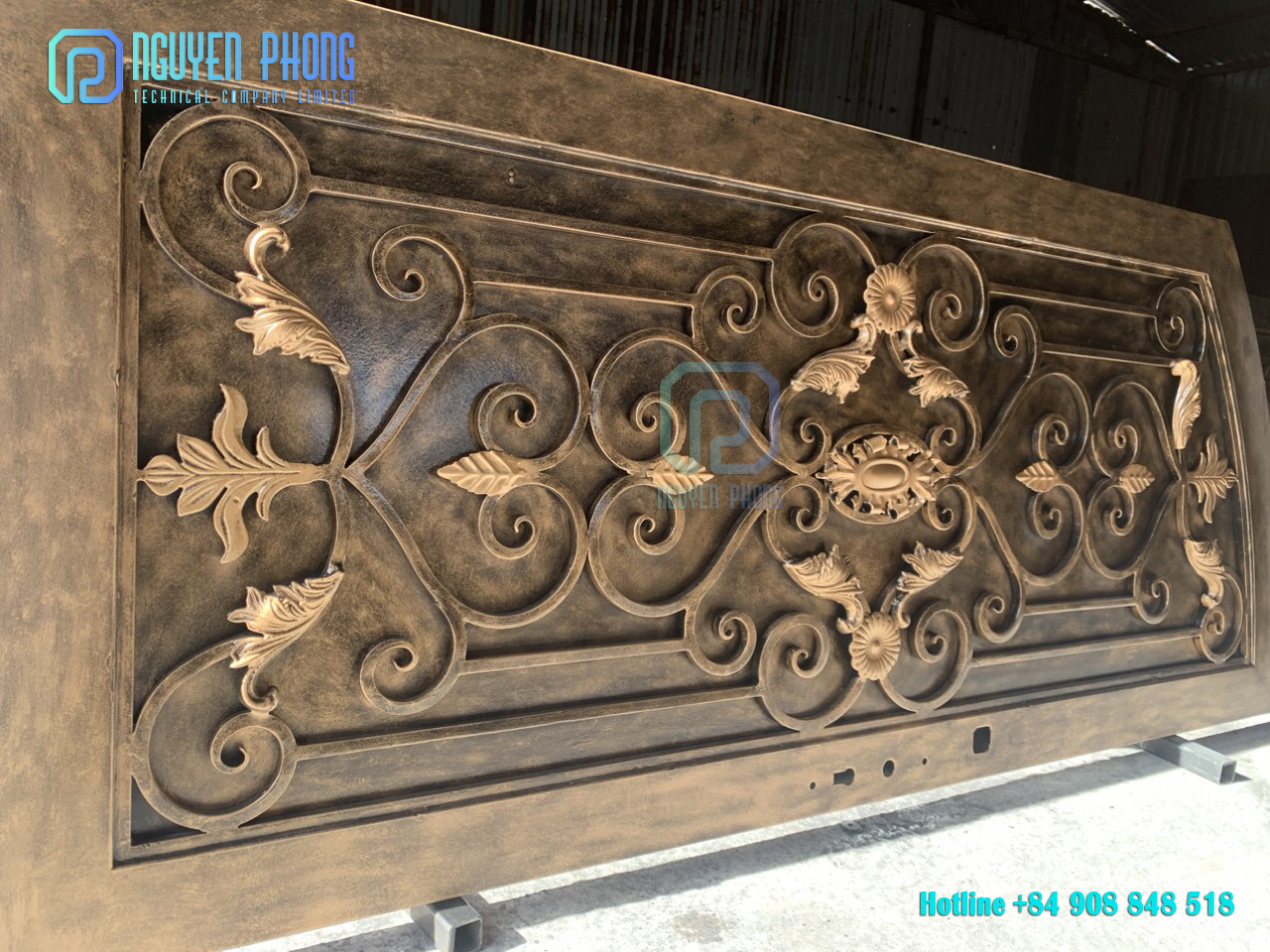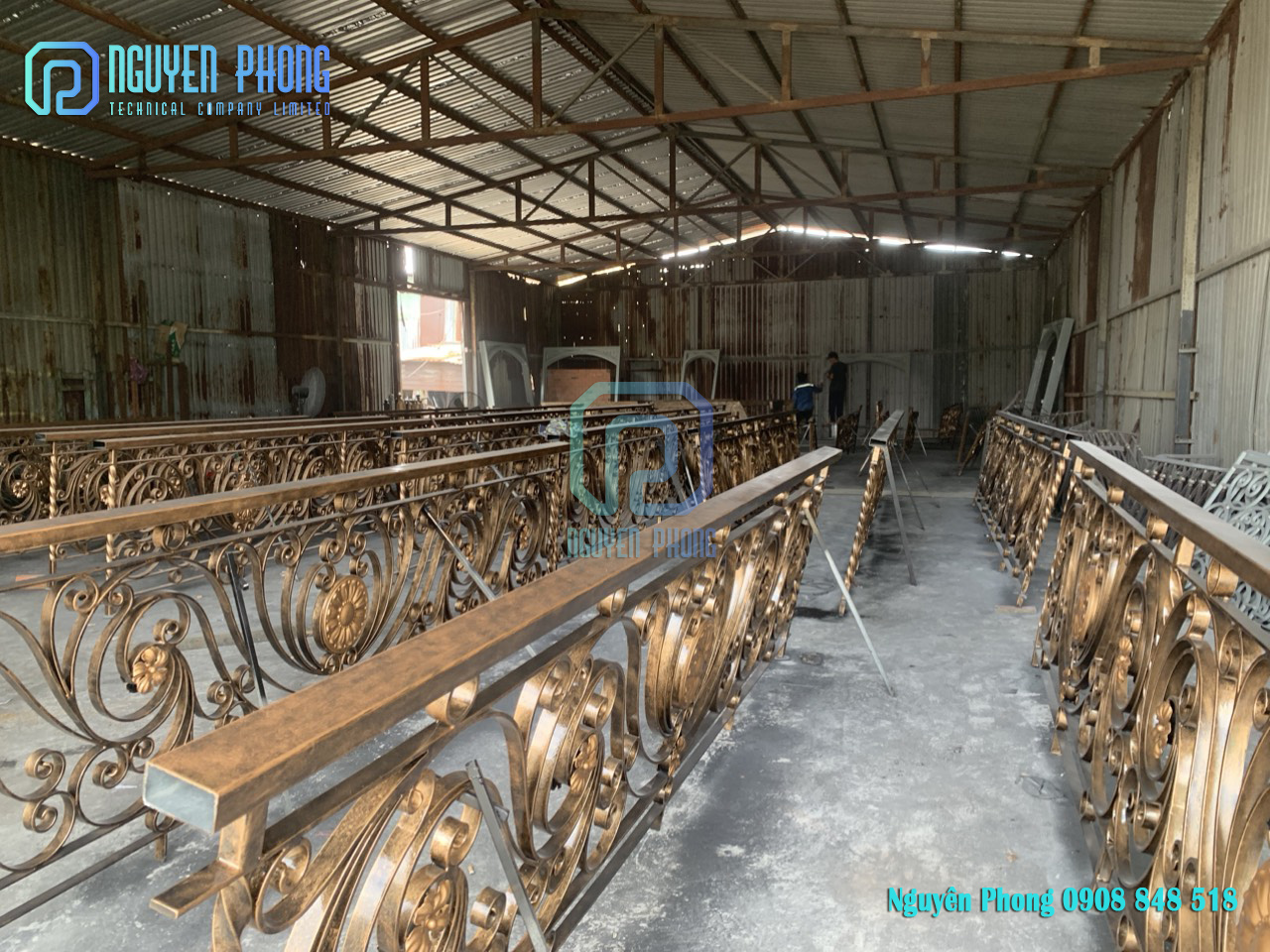 2. DESIGNING 2D & 3D DRAWING MATCHING WROUGHT IRON RAILINGS, WROUGHT IRON DOOR AND WROUGHT IRON CANOPIES TO ACTUAL DIMENSION.
Nguyen Phong Metal understands the concerns of customers, especially those who purchase custom-made products online for their homes. Every customer wants to receive complete information and detailed design drawings before placing an order and proceeding with production.
Therefore, after confirming the dimensions and 2D drawings, our design team proceeded to create 3D design drawings to clearly and accurately represent the pattern design and installation location of each item based on the current conditions of the house.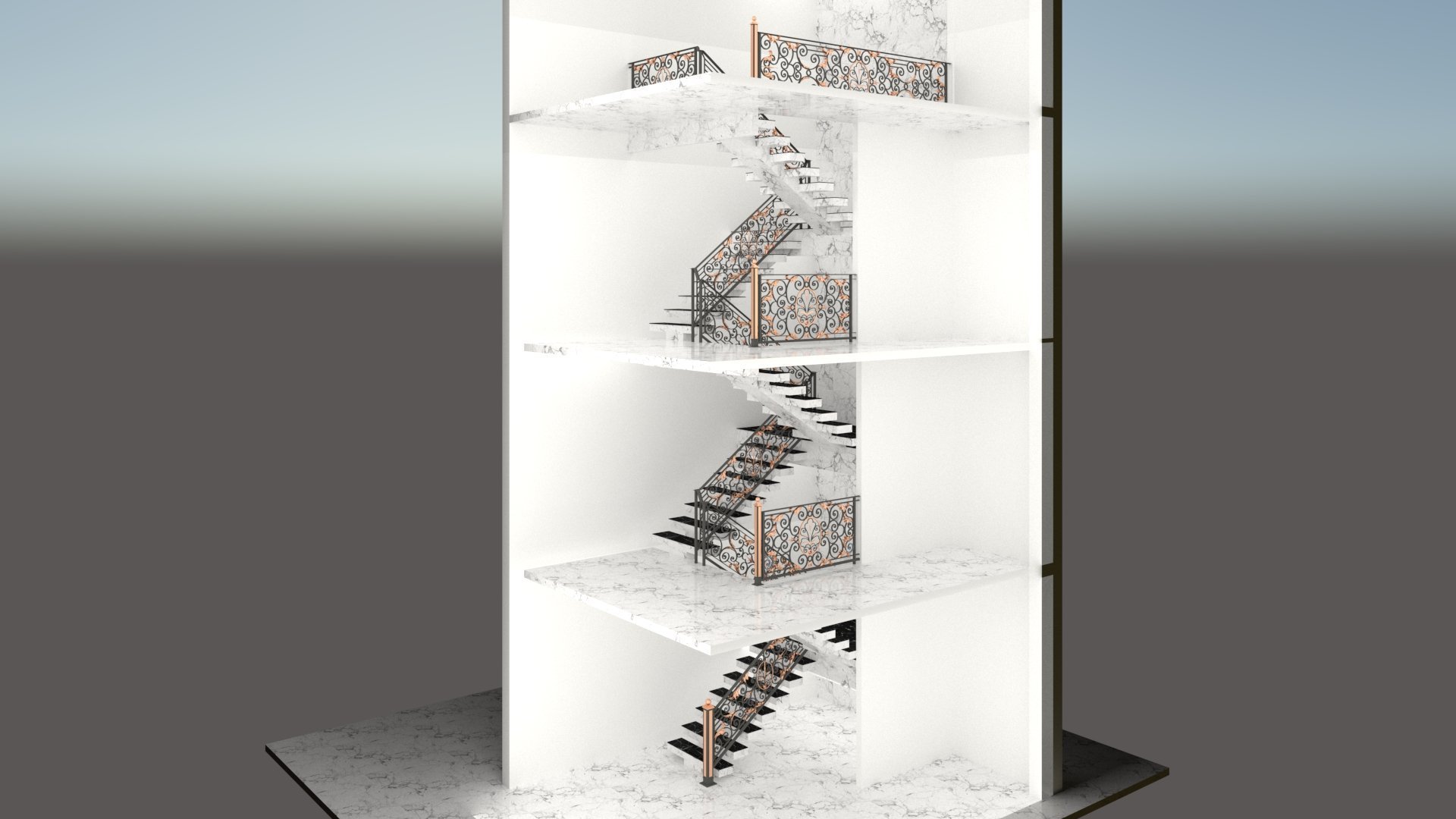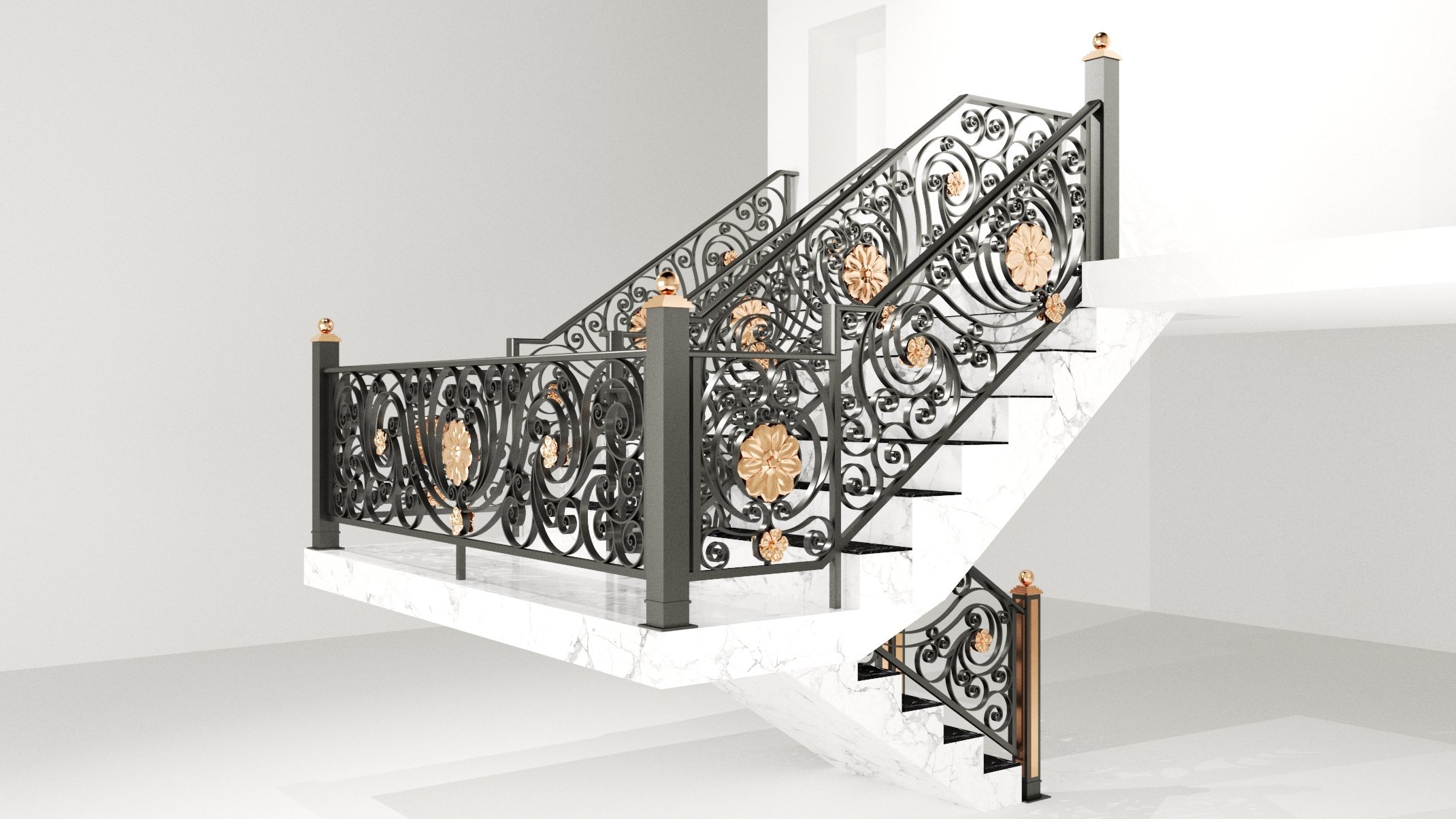 Thanks to the adjustments made from the 2D to 3D design drawings, wrought iron products can be easily, accurately, and safely installed by our customers and his installation team, even in remote locations such as Guyana.
Our design drawings are now complete.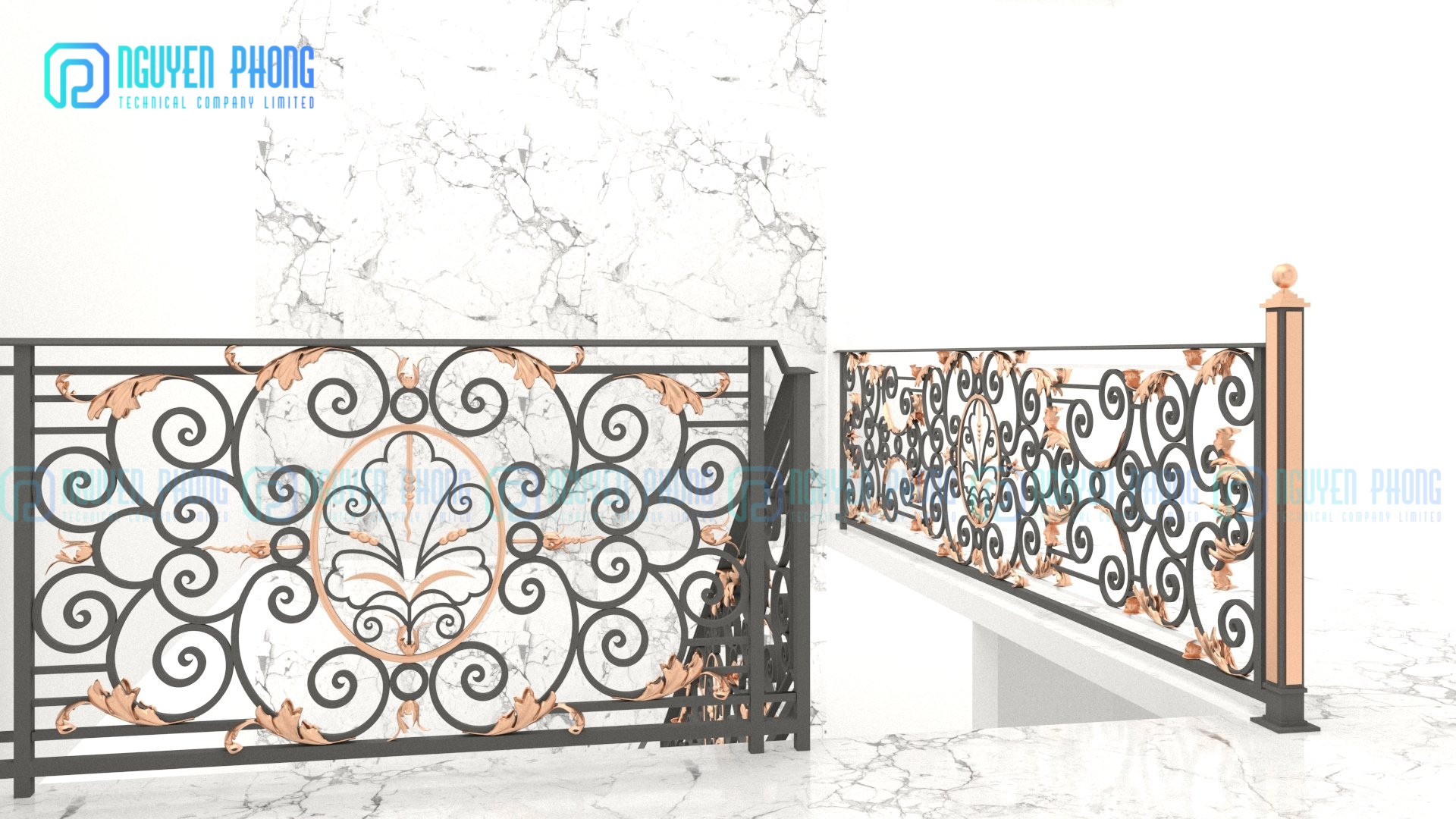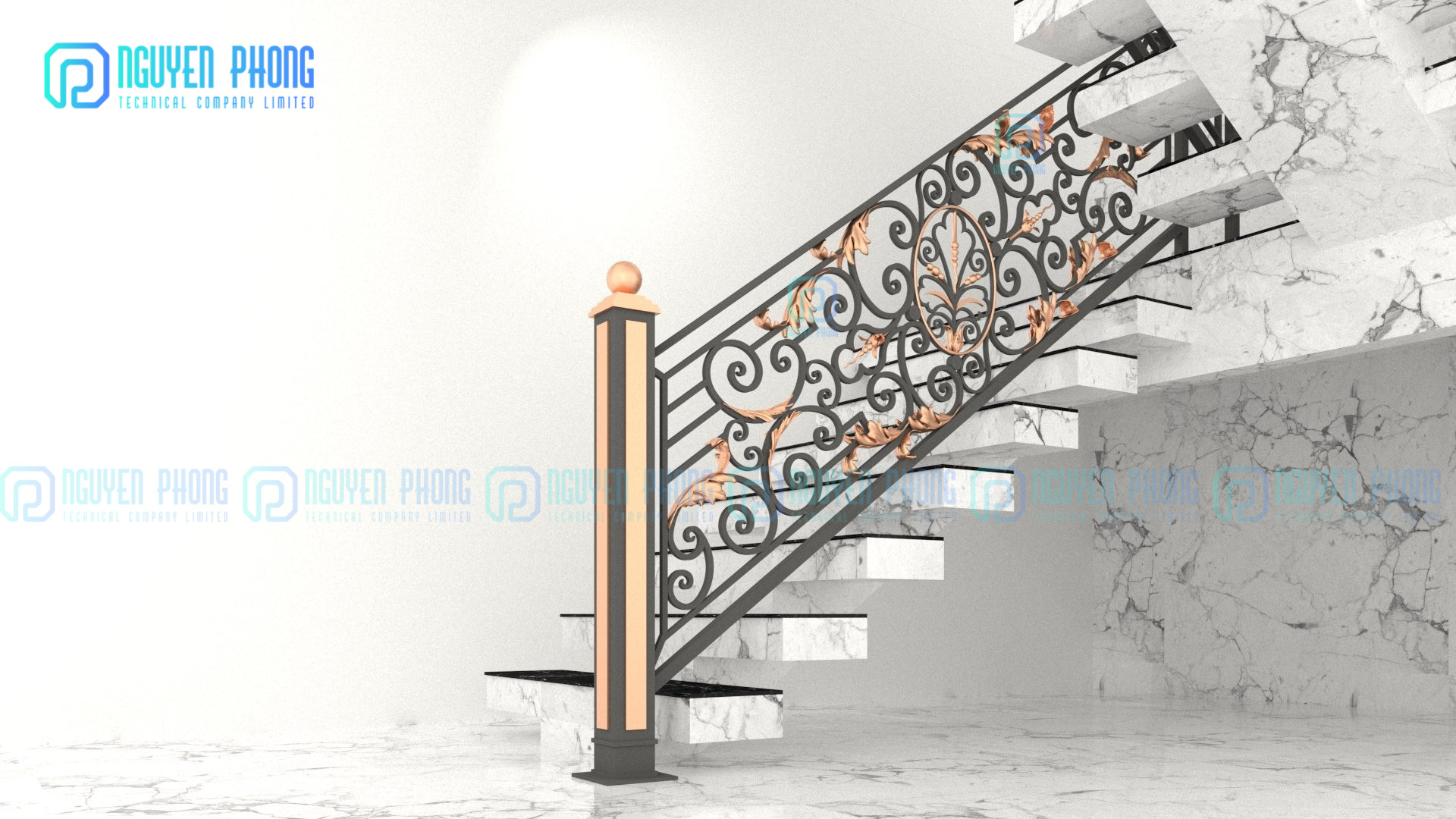 3. PRODUCTION VOLUME AND PRODUCTION TIME (wrought iron door, wrought iron railing, wrought iron canopy).
     All wrought iron products are made by Nguyen Phong Metal with passion and pride. Each stage is done by us seriously and carefully with the hope that customers will be satisfied with handmade iron products from craftsmen from Vietnam.
Below is the full quantity of products that We made for this order:
05 WROUGHT IRON DOORS (4 double iron doors and 1 single iron door)
67 Meters WROUGHT IRON BALCONY RAILING (The area in front of the house)
60 Meters WROUGHT IRON STAIR RAILING (indoor and outdoor)
12 WROUGHT IRON PERGOLA + TEMPERED GLASS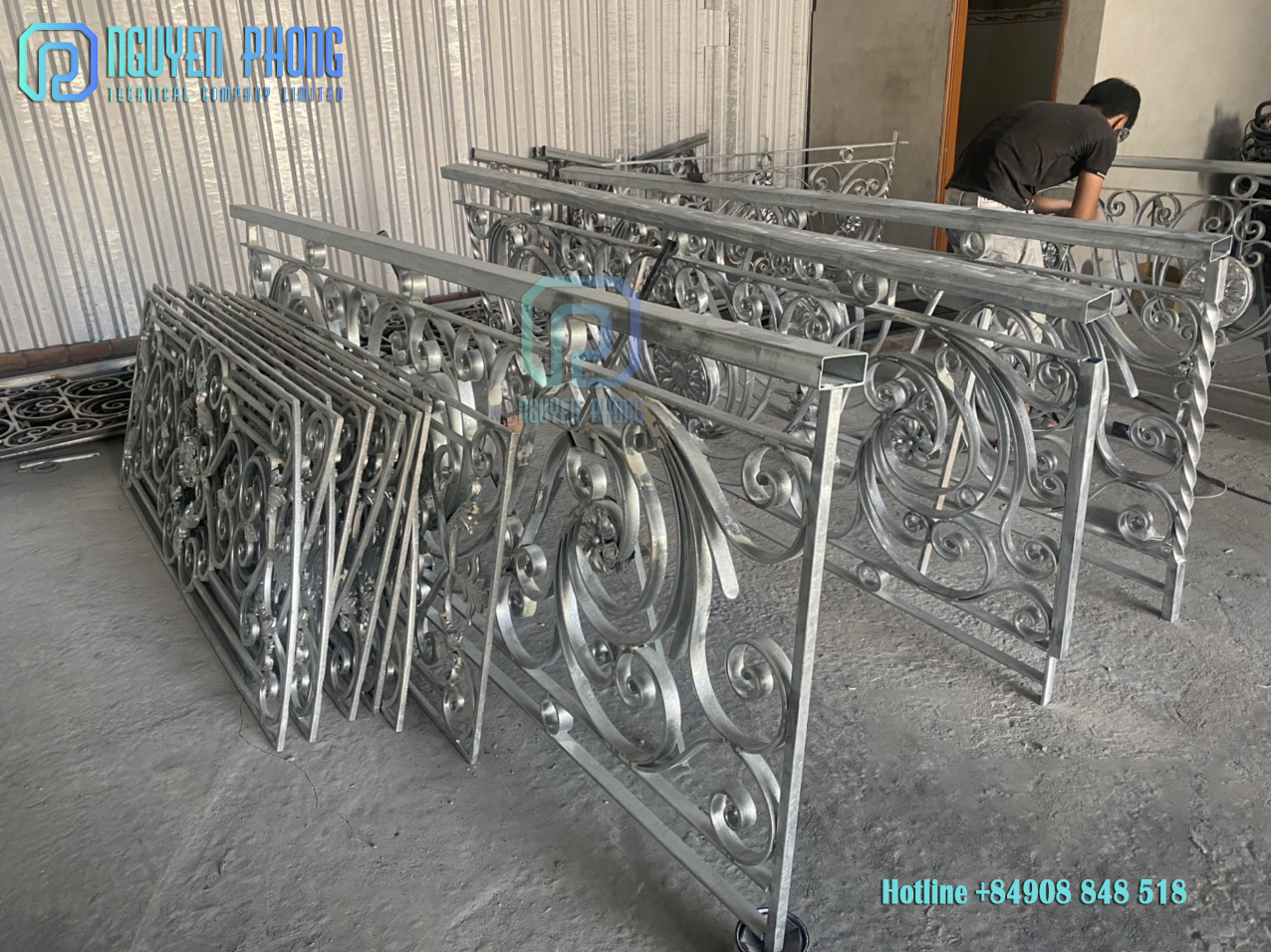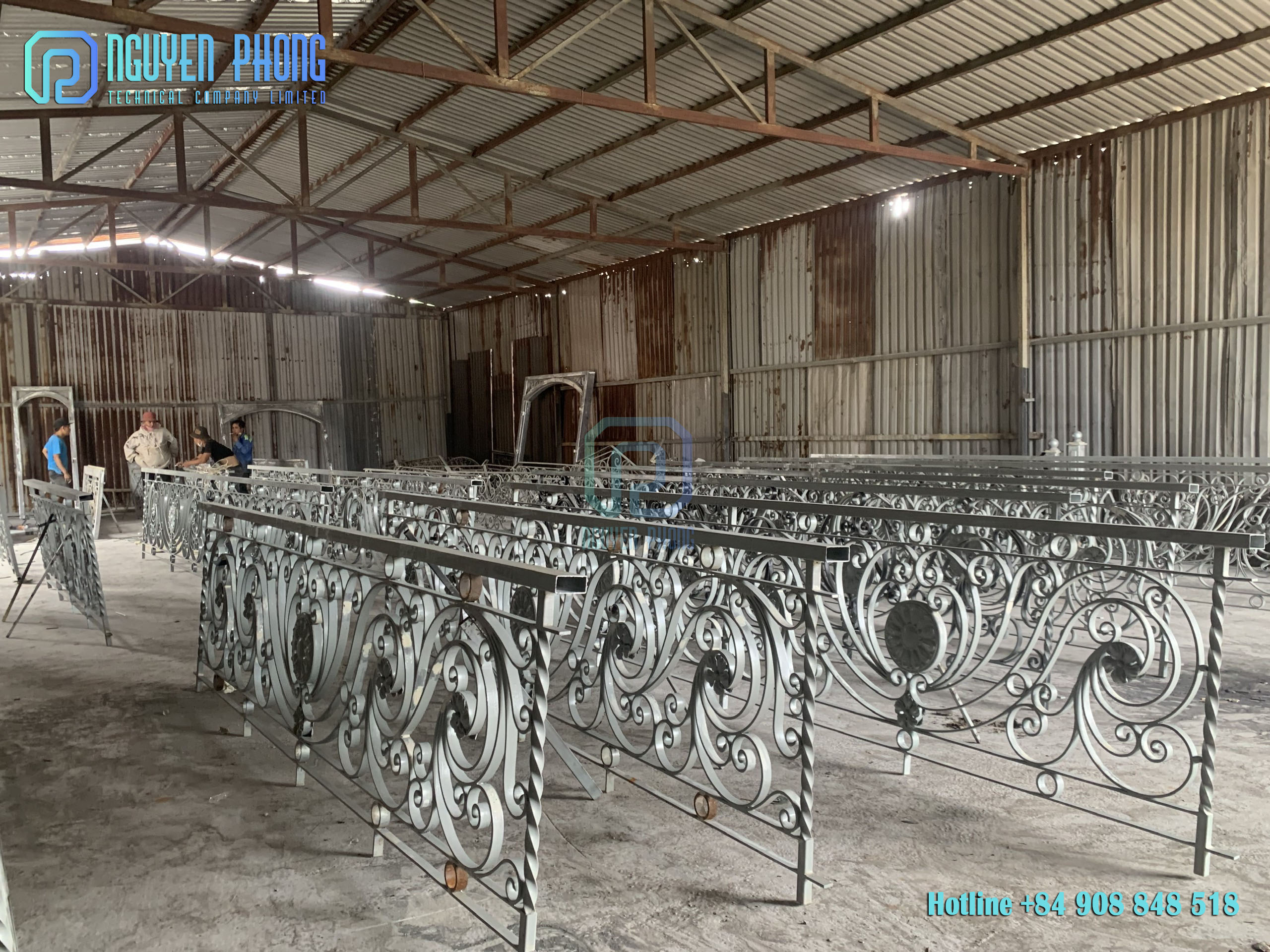 All products for outdoor use are hot-dip galvanized including: 1-leaf iron door and 2-leaf iron door, wrought iron balcony railing, outdoor iron stair railing, wrought iron canopy.
We have always advised our customers to use hot-dip galvanizing for outdoor products.
 Hot dip Galvanizing is the process of creating a layer that protects the metal surface from oxidation and wear; Thereby helping the iron product to be more durable and have a longer life.
 That is, the whole iron product will be dipped into a big hot zinc tank, a thick layer of zinc clings to the metal surface.
Weakness of hot dip galvanize:
The surface is rough, so if you want to paint beautiful colors, they have to go through the process of smoothing the surface (by hand).
Production process will be prolonged (5-7 days).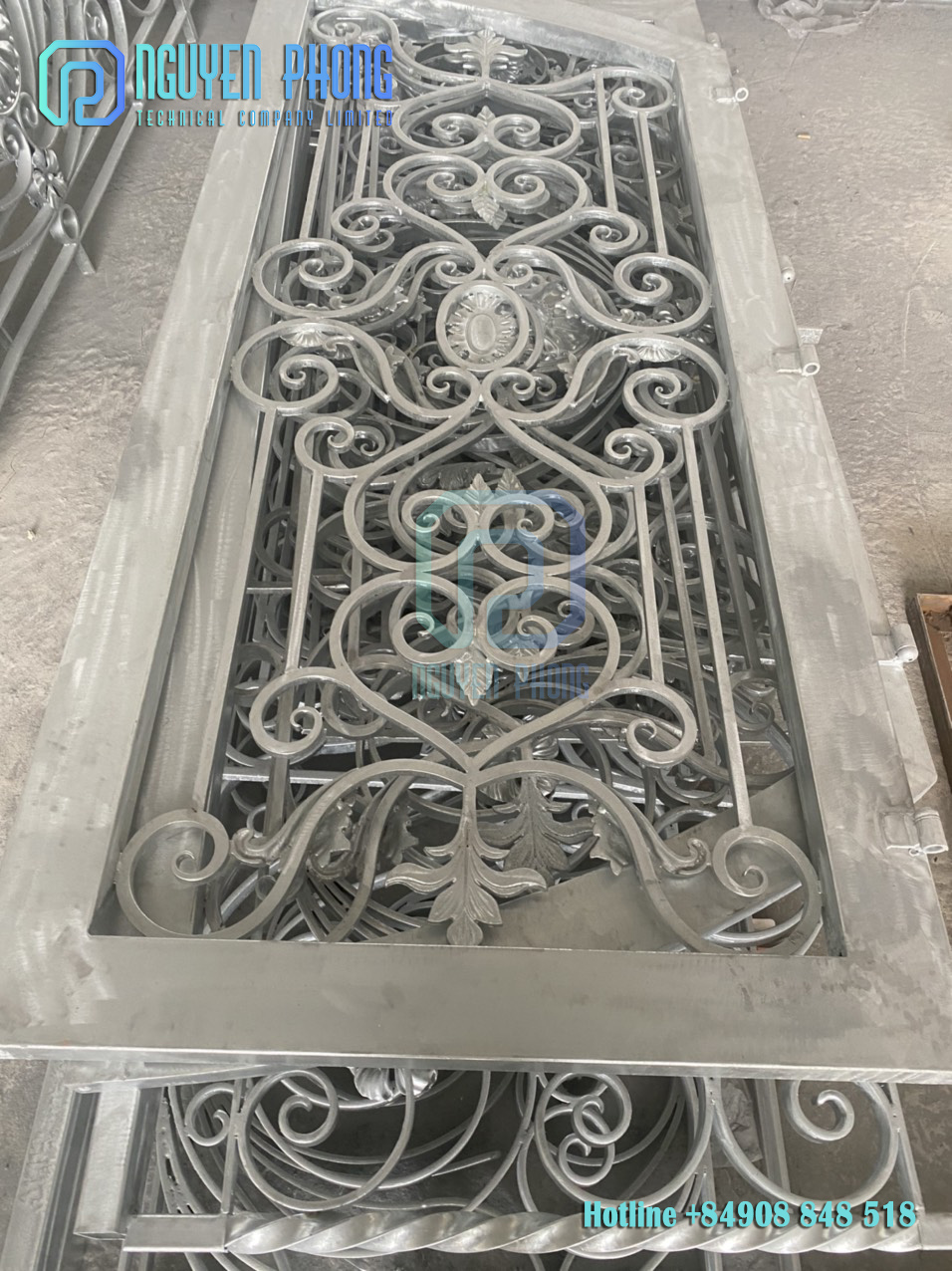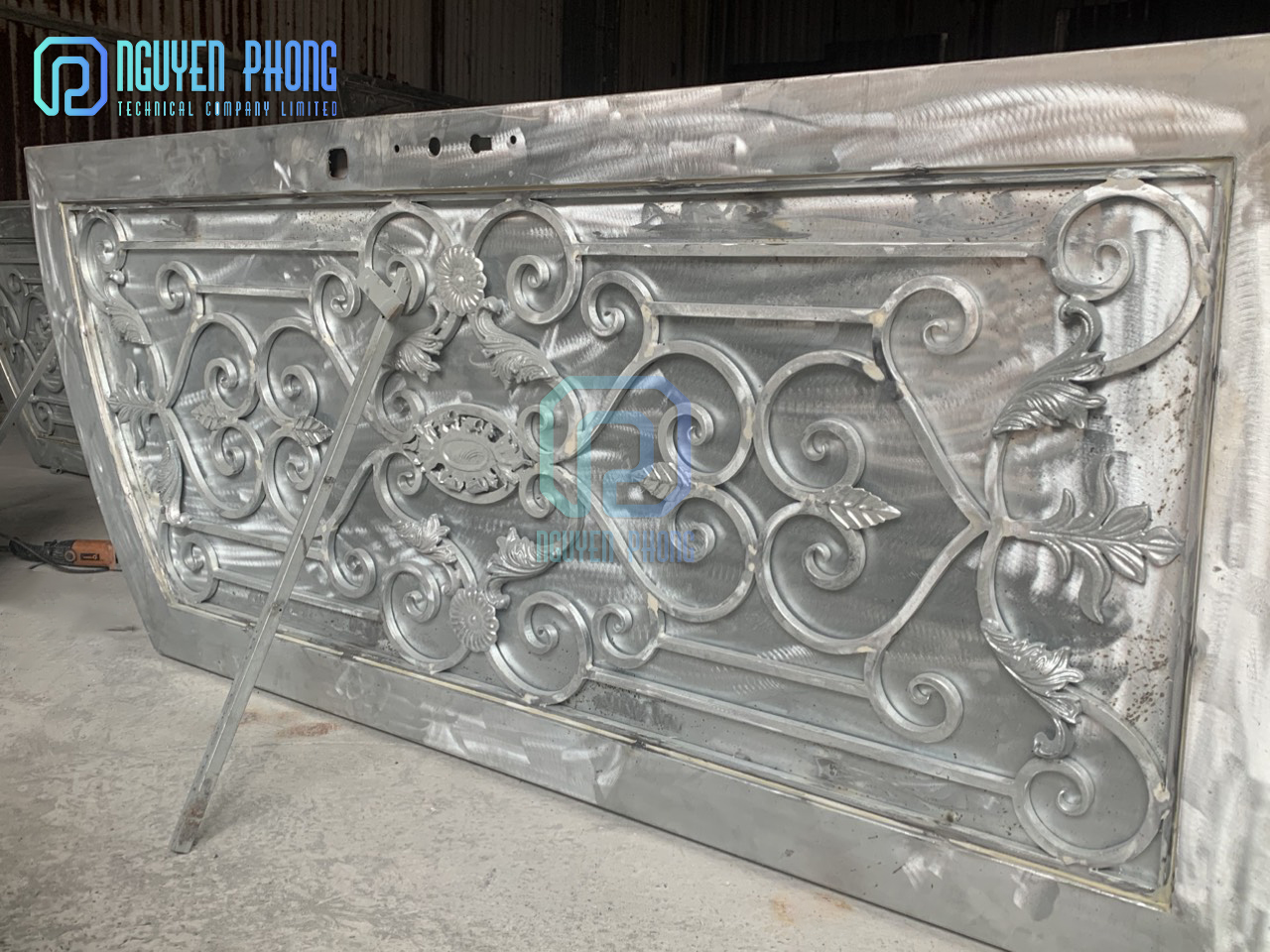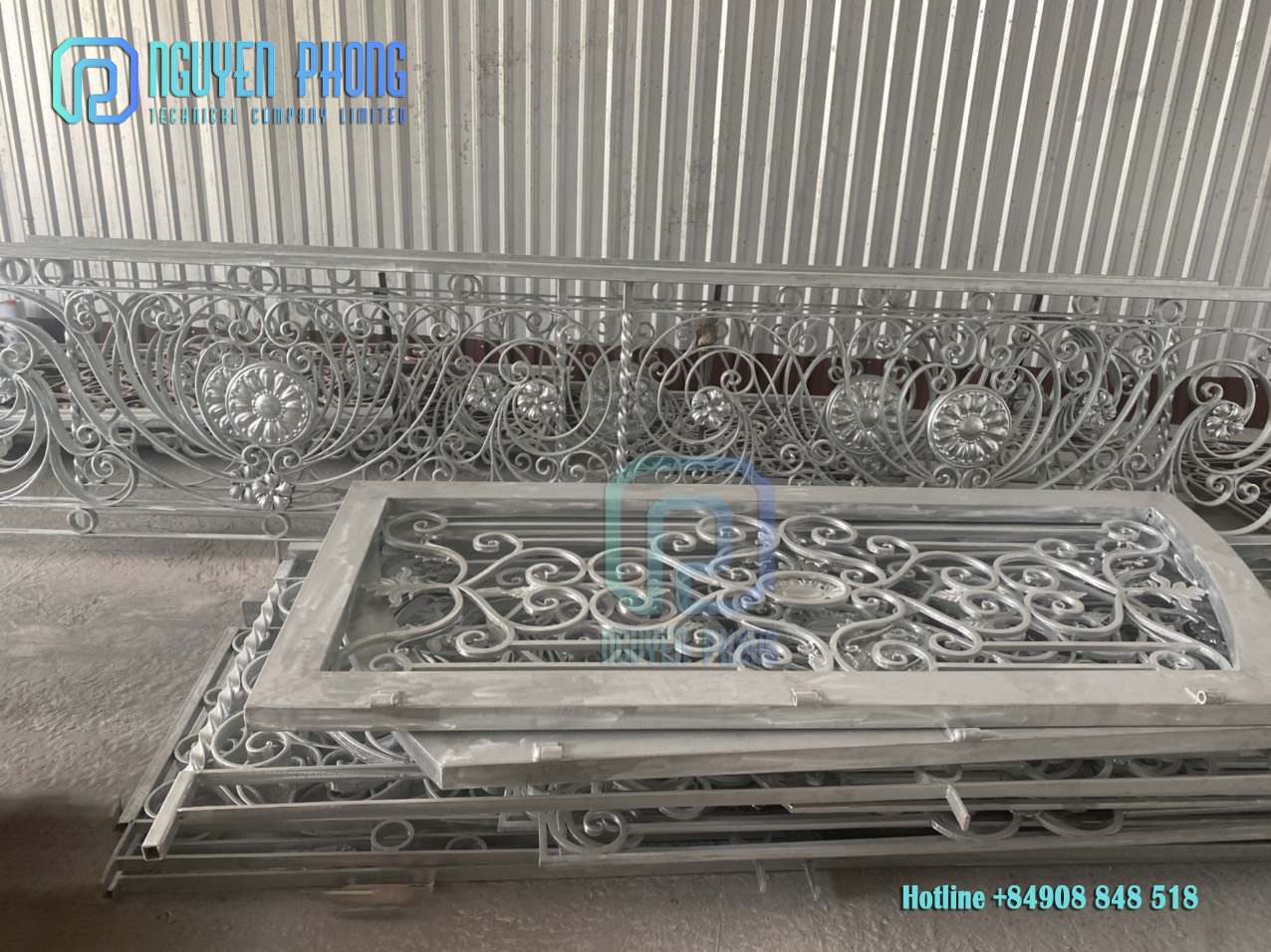 The production time for this order: 75 days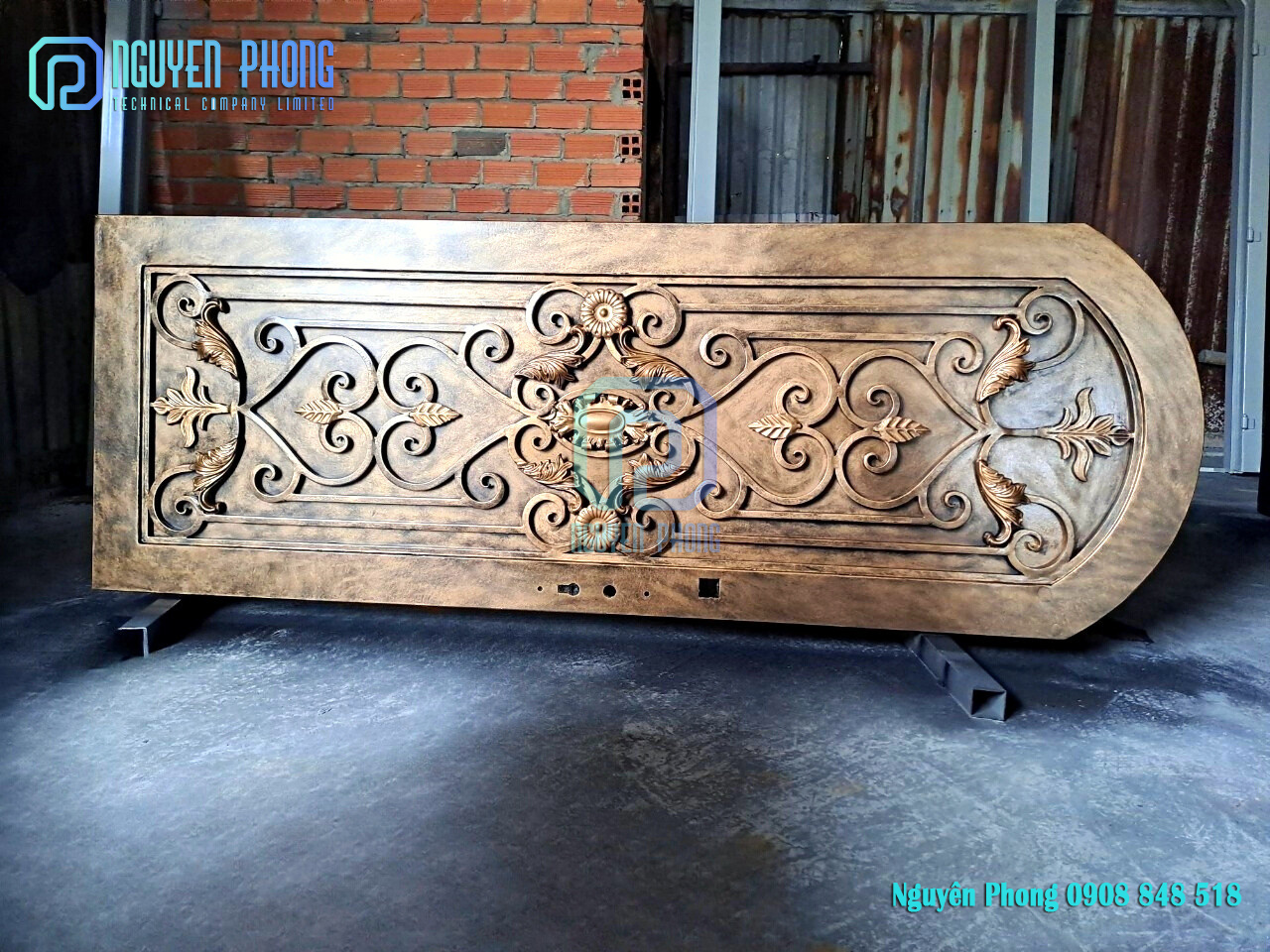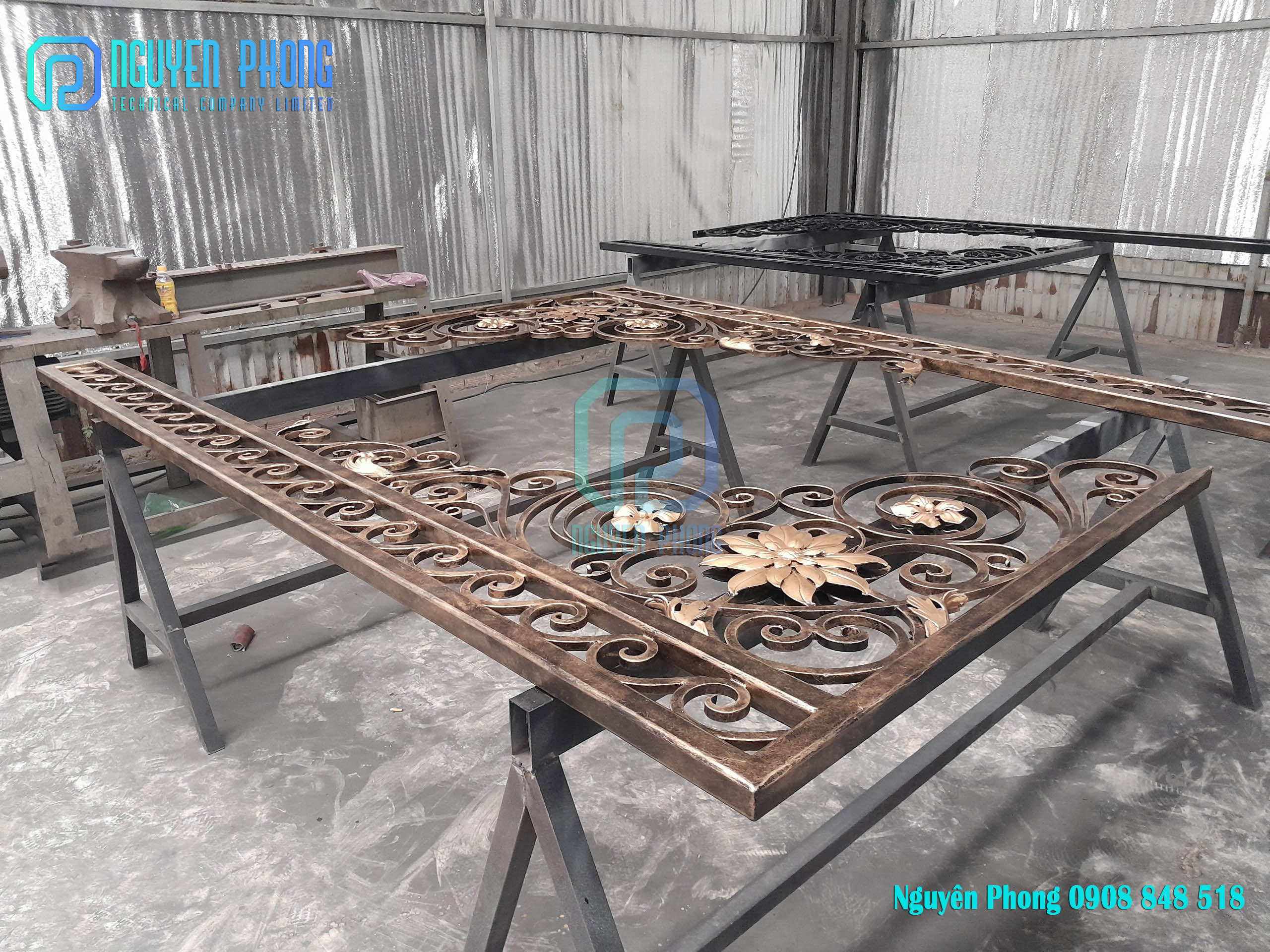 4. SPECIAL REQUIREMENTS OF CUSTOMERS MEETED BY NGUYEN PHONG METAL.
The entire pattern for wrought iron door, wrought iron railing, iron canopy is selected by the customer and Nguyen Phong Metal redesigns each item based on the sample pattern, customer requirements and actual size. They must be both beautiful and safe. Everything is done carefully and passionately by our Designer.
Support to update the arising quantity and product dimension after approving the production drawing.
Performing antique bronze paint colors by hand as required. Paint color sample approved before applying a full product finish.
Report production process to customers for 2 months.
Provide a set of product installation manuals and installation problems that are immediately responded to and supported by the team.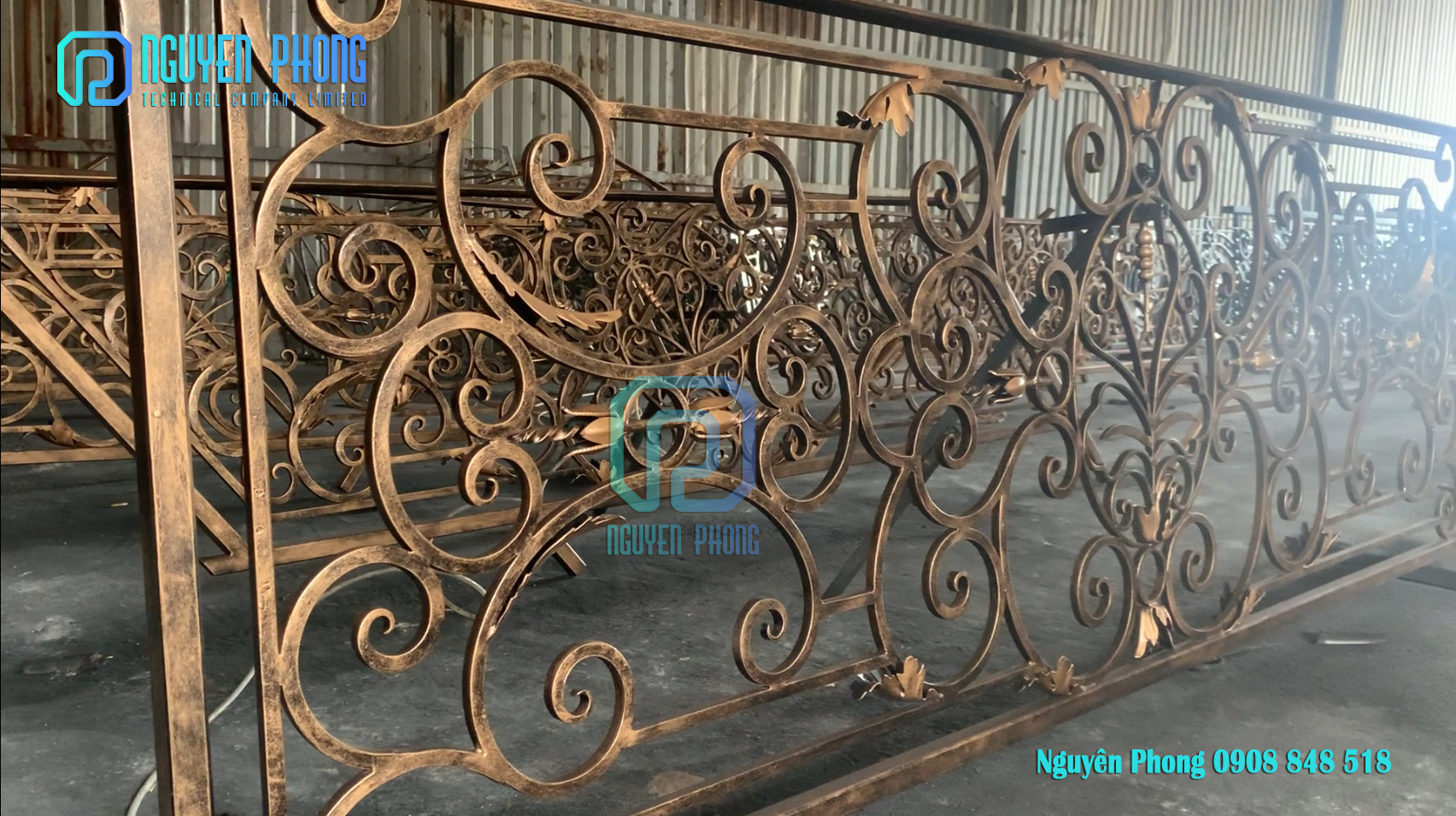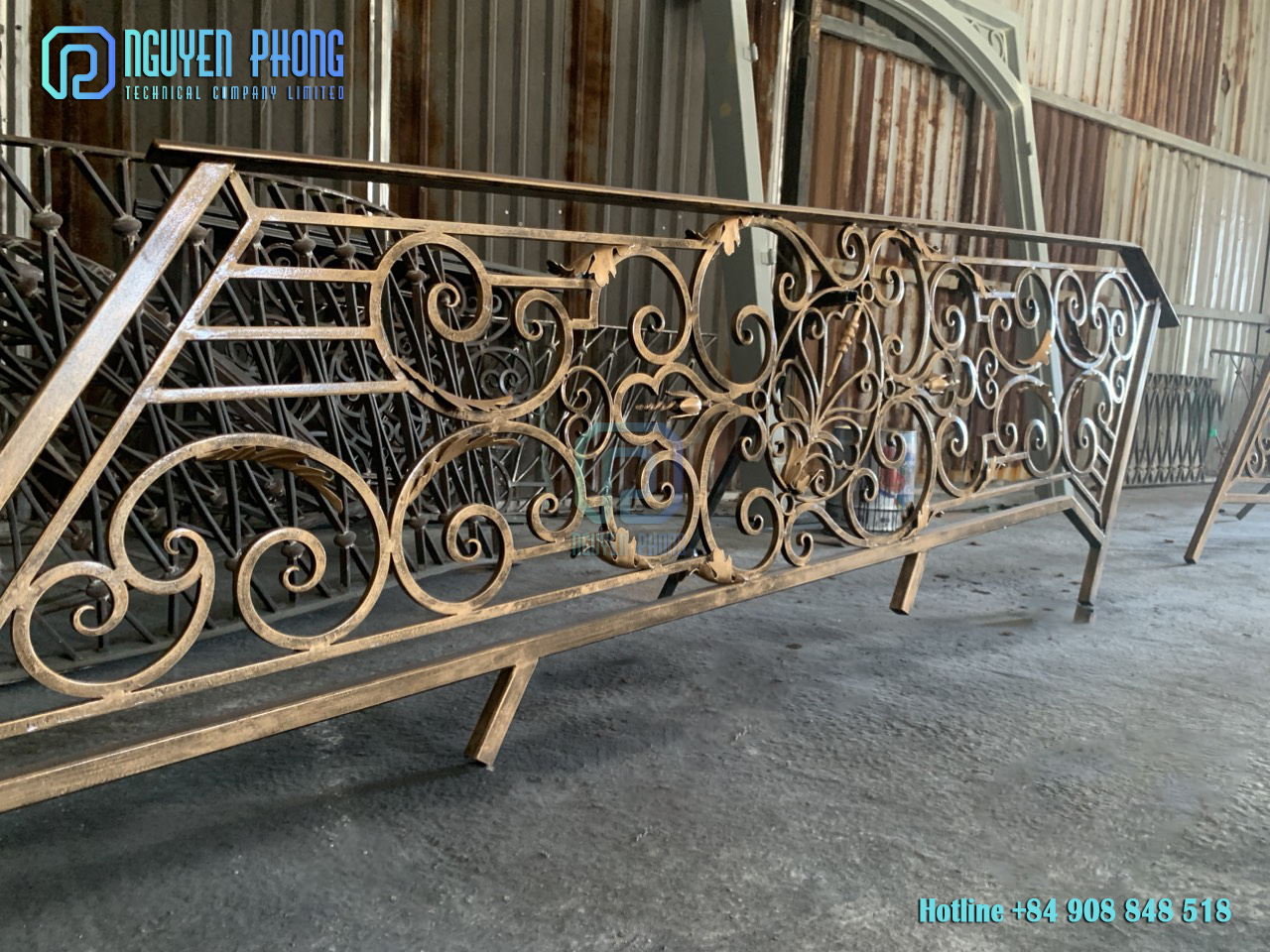 5. FINISHING WROUGHT IRON PRODUCTS & DELIVERING TO SOUTH AMERICA.
Take a look at the wrought iron art products that have been completed at our factory with Nguyen Phong Metal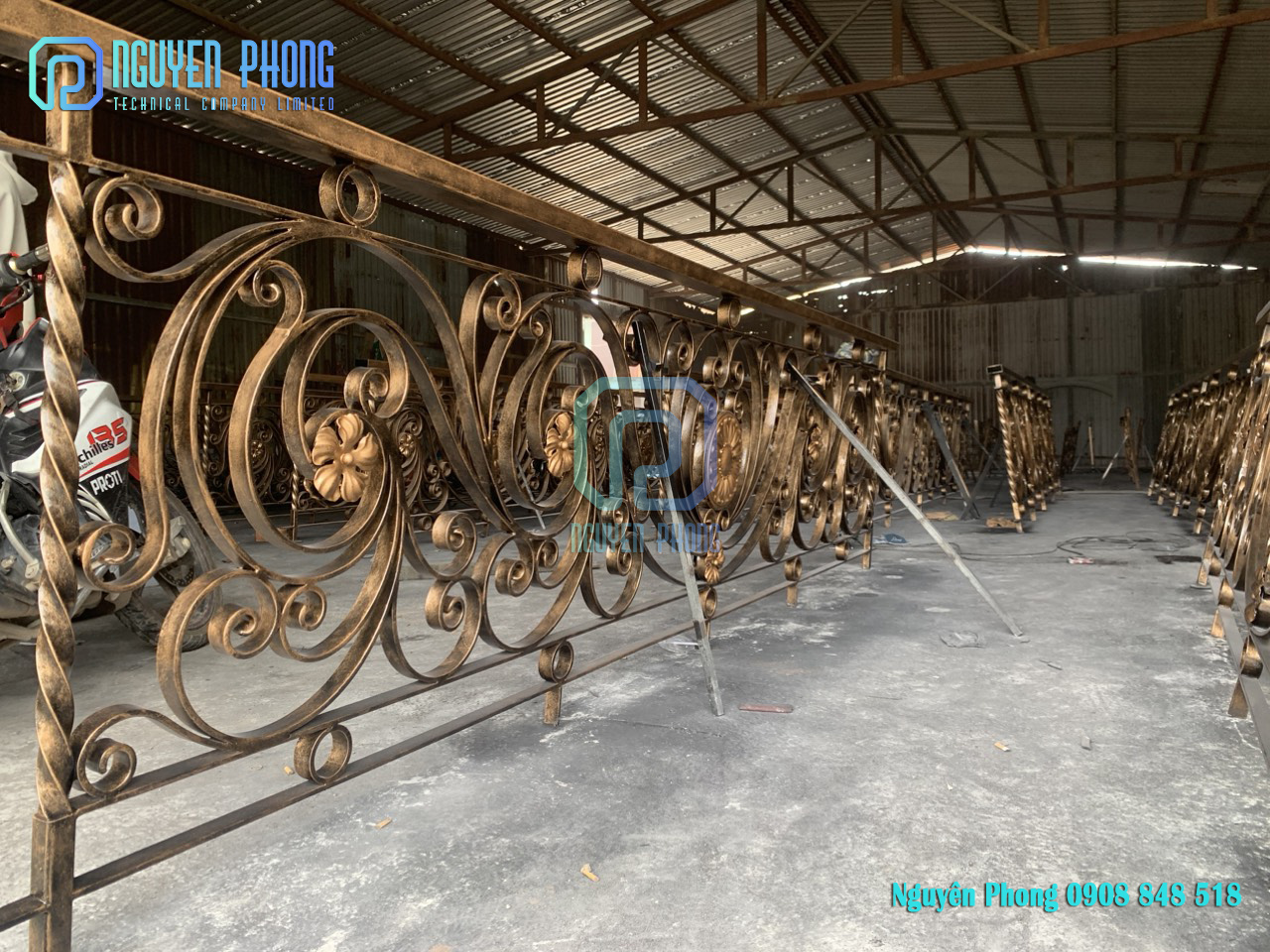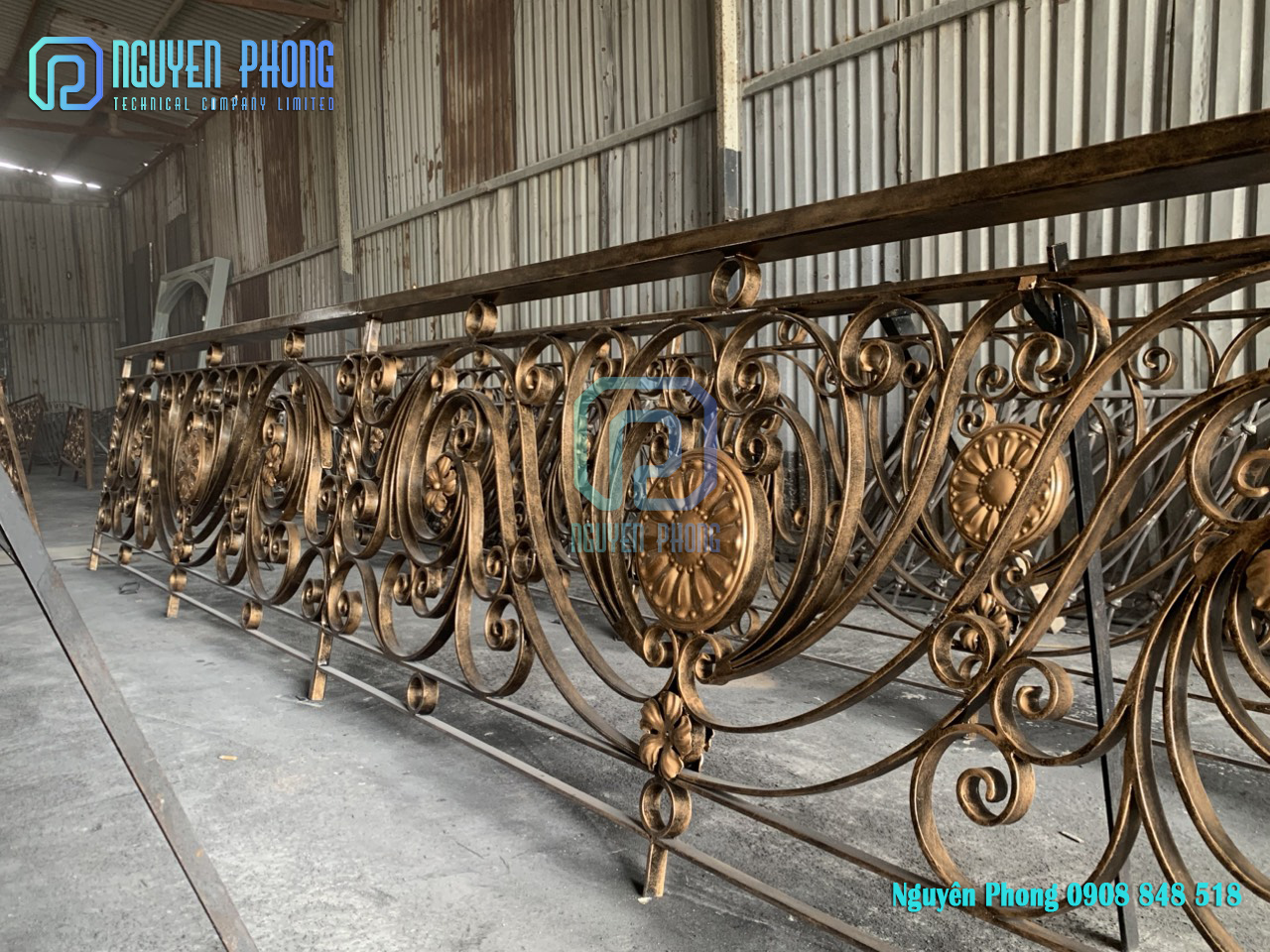 Artistic wrought iron door with glass (the glass part is separated and can only be installed at the construction site by a professional).
Double-sided ornamental wrought iron door with excellent quality and an iron sheet between. Door weighs up to 250kg.
Exquisitely designed wrought iron staircase railing.
Outstanding wrought iron balcony railing with a centerpiece of sunflowers.
Wrought iron canopy roof that split into two pieces for easy packaging and transportation.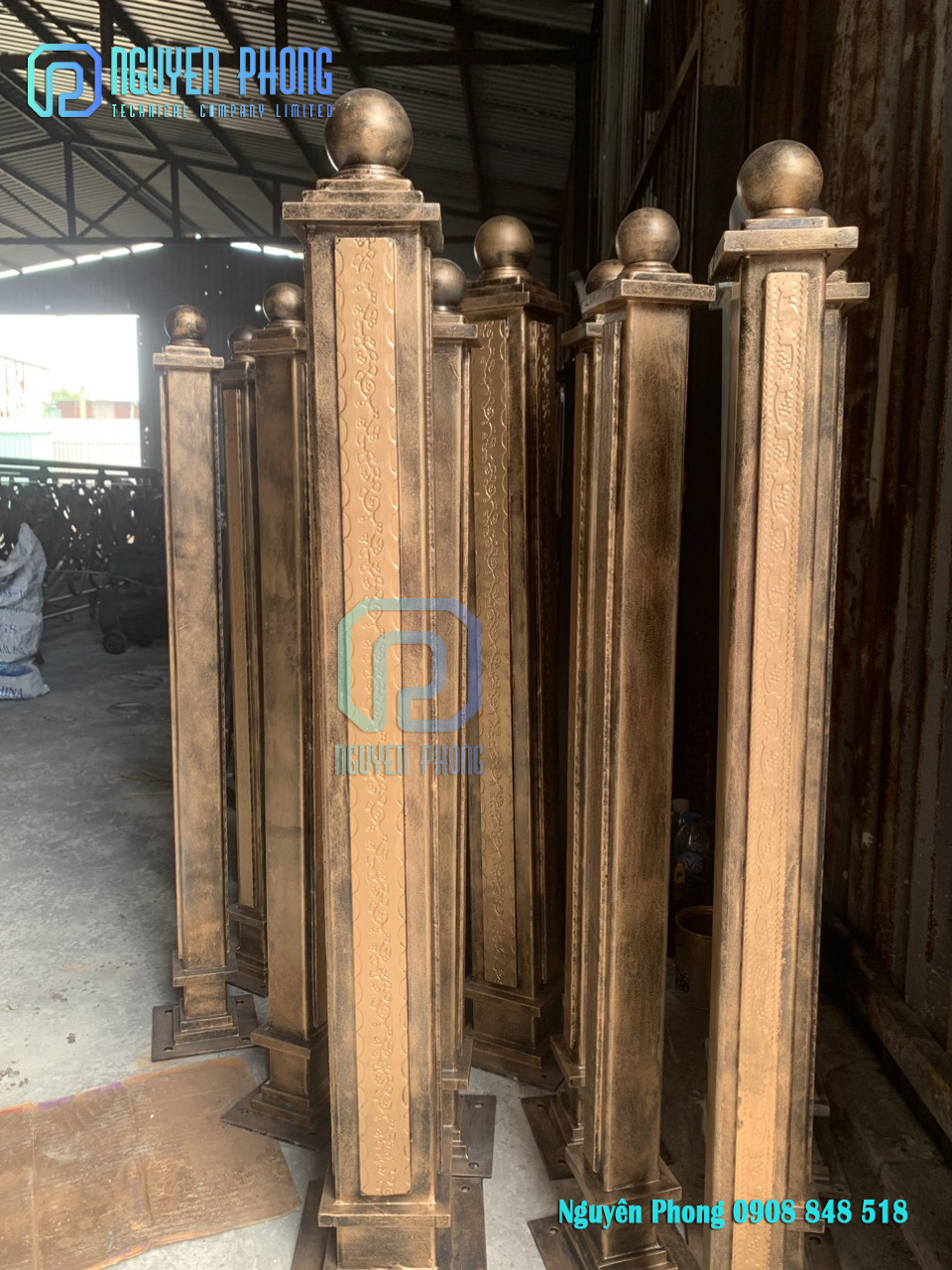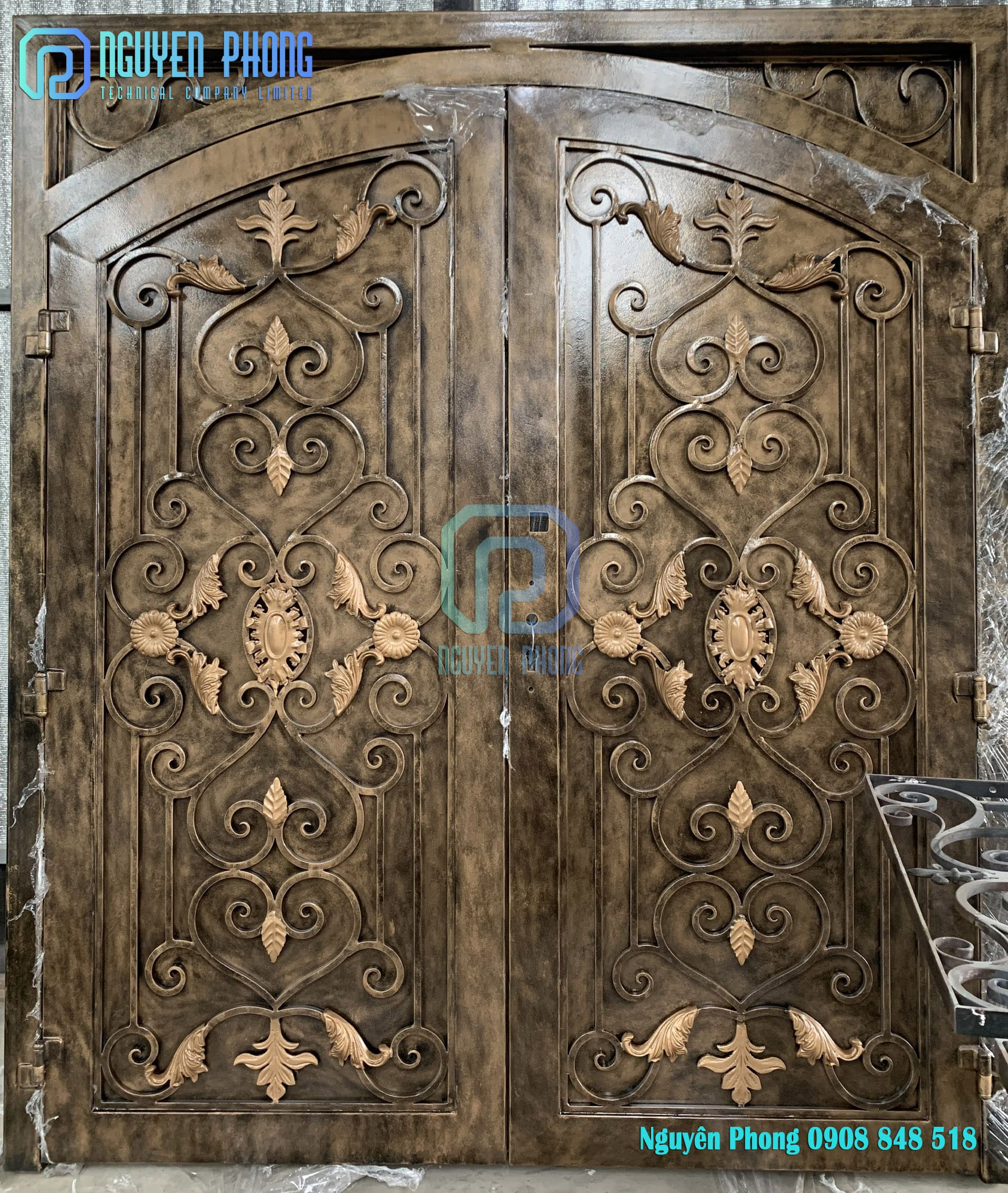 Each order and each customer who comes to Nguyen Phong Metal has many reasons. However, most of them love the artistic beauty of the exquisite handcrafted wrought iron products. We are proud that wrought iron products made by the hands of Vietnamese people contribute to the beauty of many homes around the world.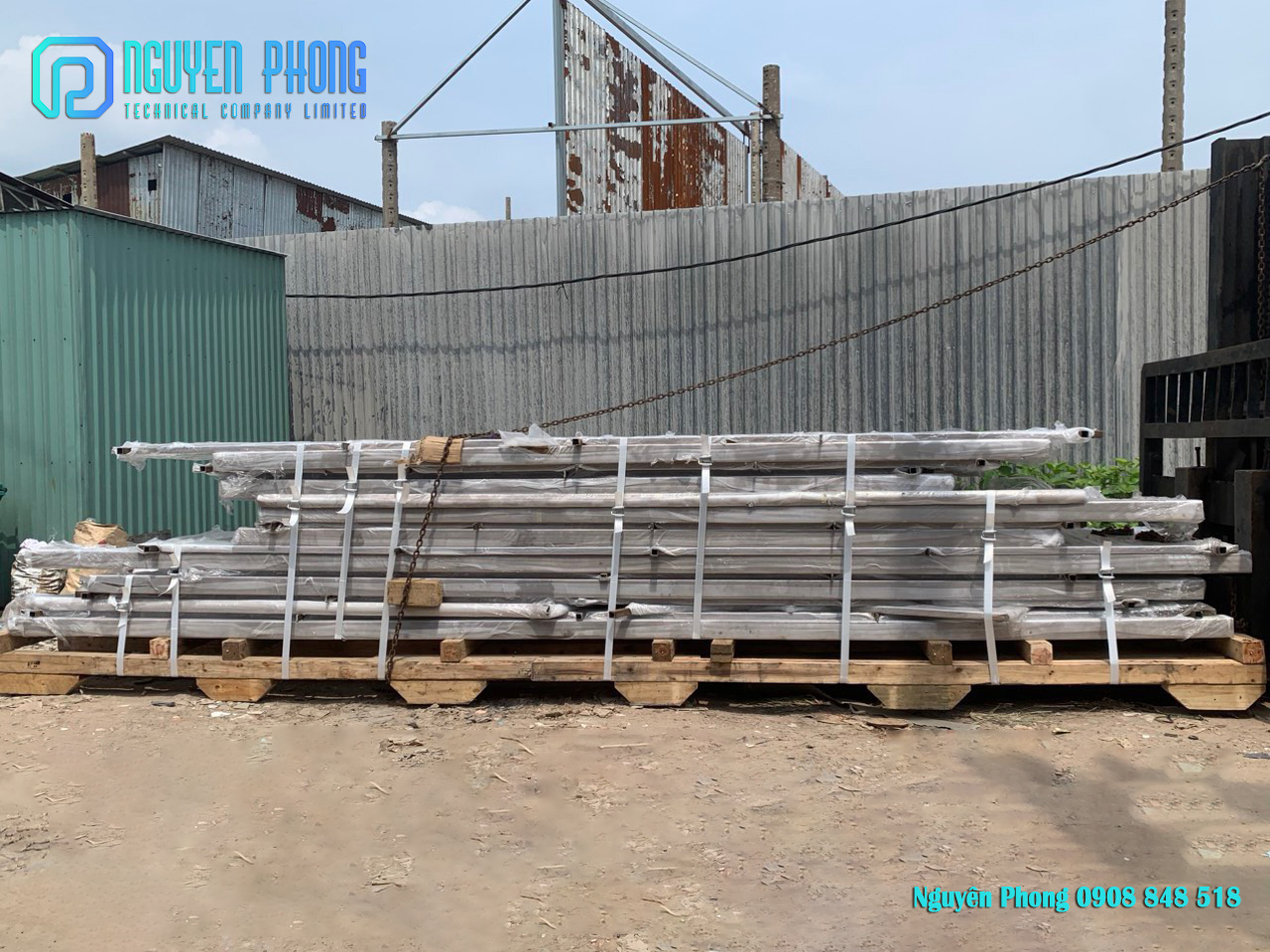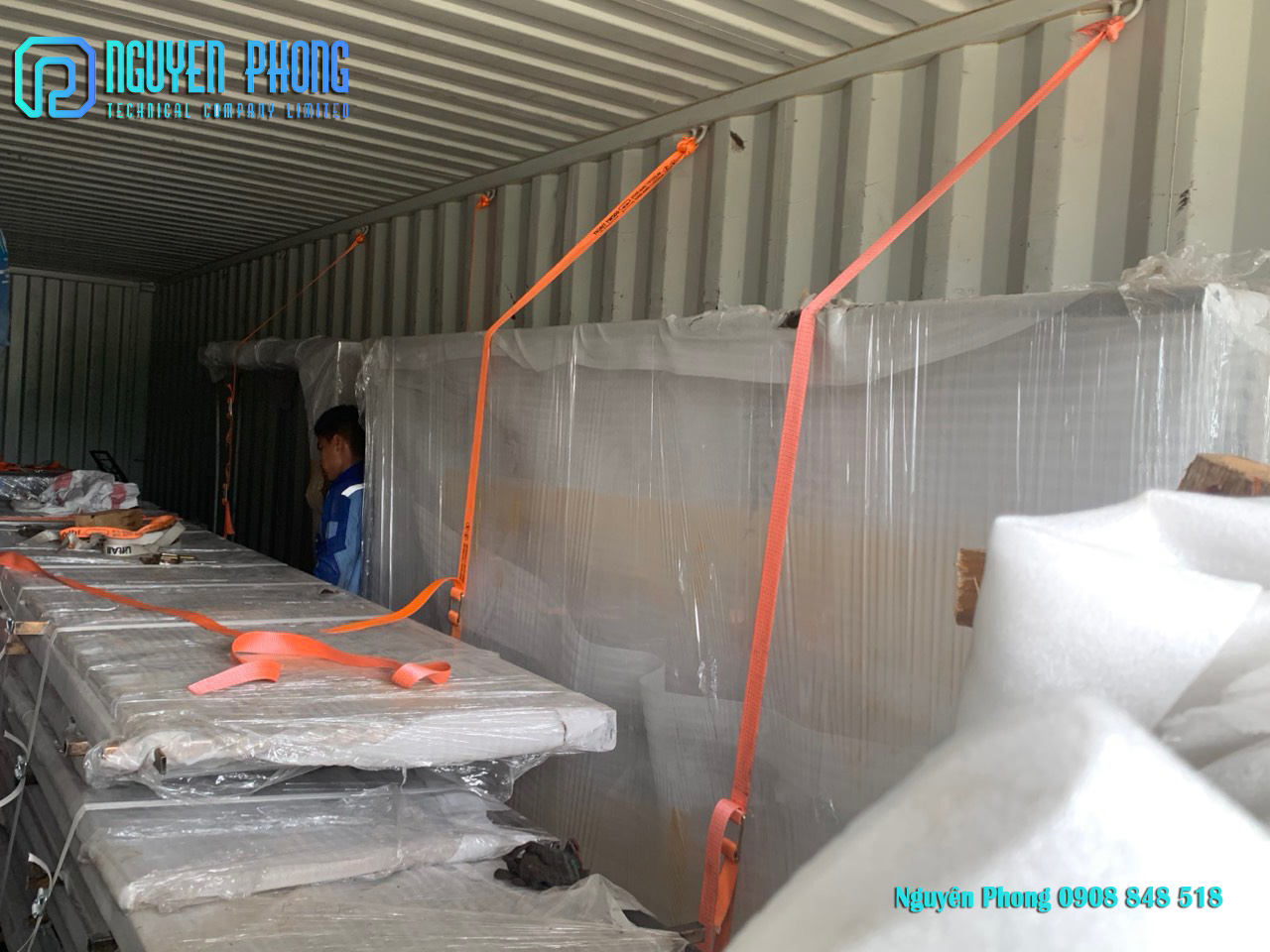 - Top 34 amazing and classy iron driveway gates models
- Good price iron door for wholesaler
NGUYEN PHONG METAL JSC
OFFICE ADDRESS: 323A Le Quang Dinh, Ward 5, Binh Thanh District, HCMC
FACTORY 1: Vinh Loc Industrial Zone, Binh Chanh Dist, Ho Chi Minh City, Vietnam
FACTORY 2: Binh Giao, Thuan An Dist, Binh Duong Provice, Vietnam
Hotline: +84 908 848 518 (zalo, viber, whatsapp)
Email: Sales@nguyenphongcnc.com - phuongdangthy@gmail.com
Website: http://nguyenphongcnc.com/
Fanpage: https://www.facebook.com/nguyenphongmetal/
Alibaba site: https://npwroughtiron.trustpass.alibaba.com