Top 34 amazing and classy designs for wrought iron driveway gates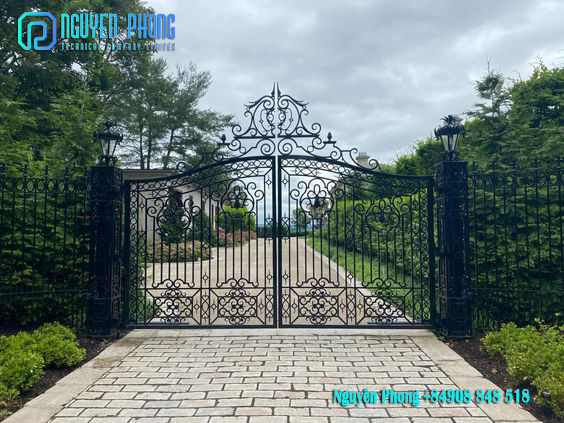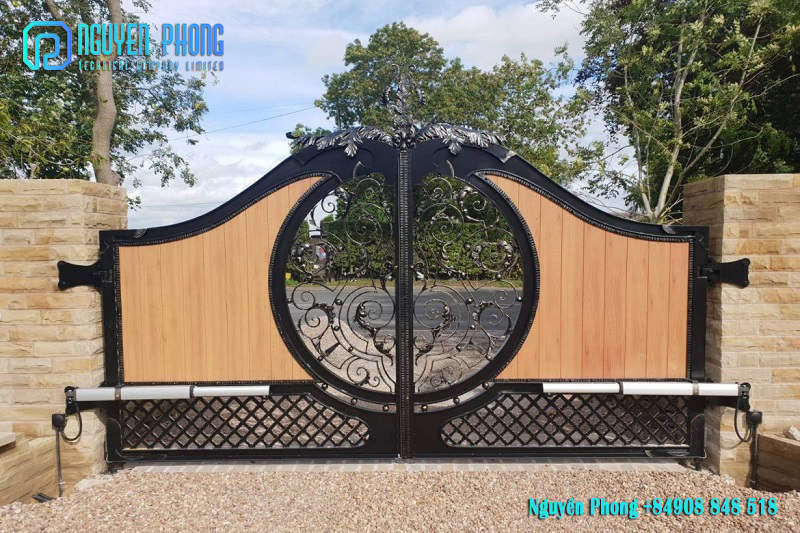 1. The wrought iron driveway gates.
It is clear that wrought iron has been used to create artistic iron driveway gates to protect villas for many centuries. Despite the harsh test of time, artisans continue to use iron art to create elegant and powerful iron driveway gate models in modern times.
The front of your house is the first thing visitors see when they approach your villa, and its appearance can affect how they perceive it in the long run.
While an entrance wrought iron drive gate's main function is to protect your property, it also plays a crucial role in boosting curb appeal, establishing the tone for the rest of your home, and probably adding value to your property.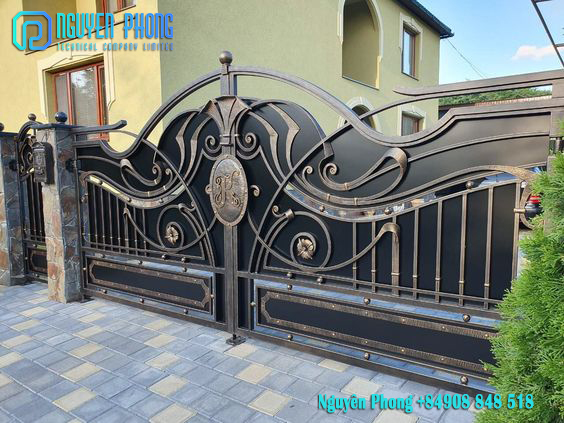 Wrought iron driveway gates at Nguyen Phong Metal are products designed and processed from solid iron combined with other iron accessories. However, before adding an iron driveway gate to the front of your property, ensure the design reflects the personality of the owner and of the iron driveway gate in general, including height restrictions. They have increased longevity through the processes of hot-dip galvanization and epoxy paint. In addition, the most important factor is the ironworkers with the ability and experience to create diverse details and patterns for the product. Therefore, wrought iron driveway gates (classic gate design) are known for their elegance, refined taste, and reliability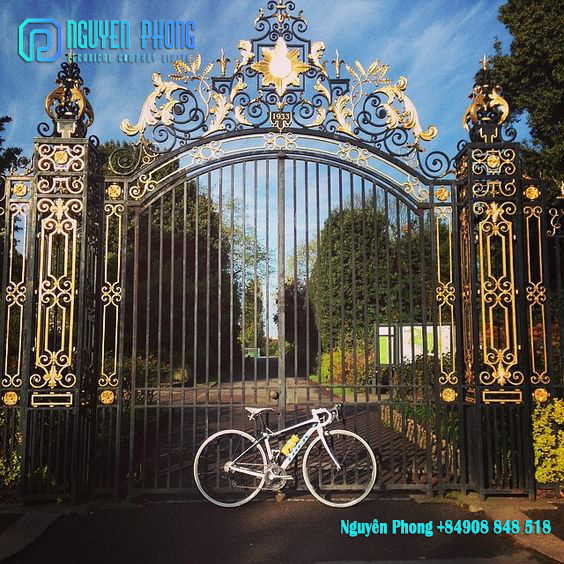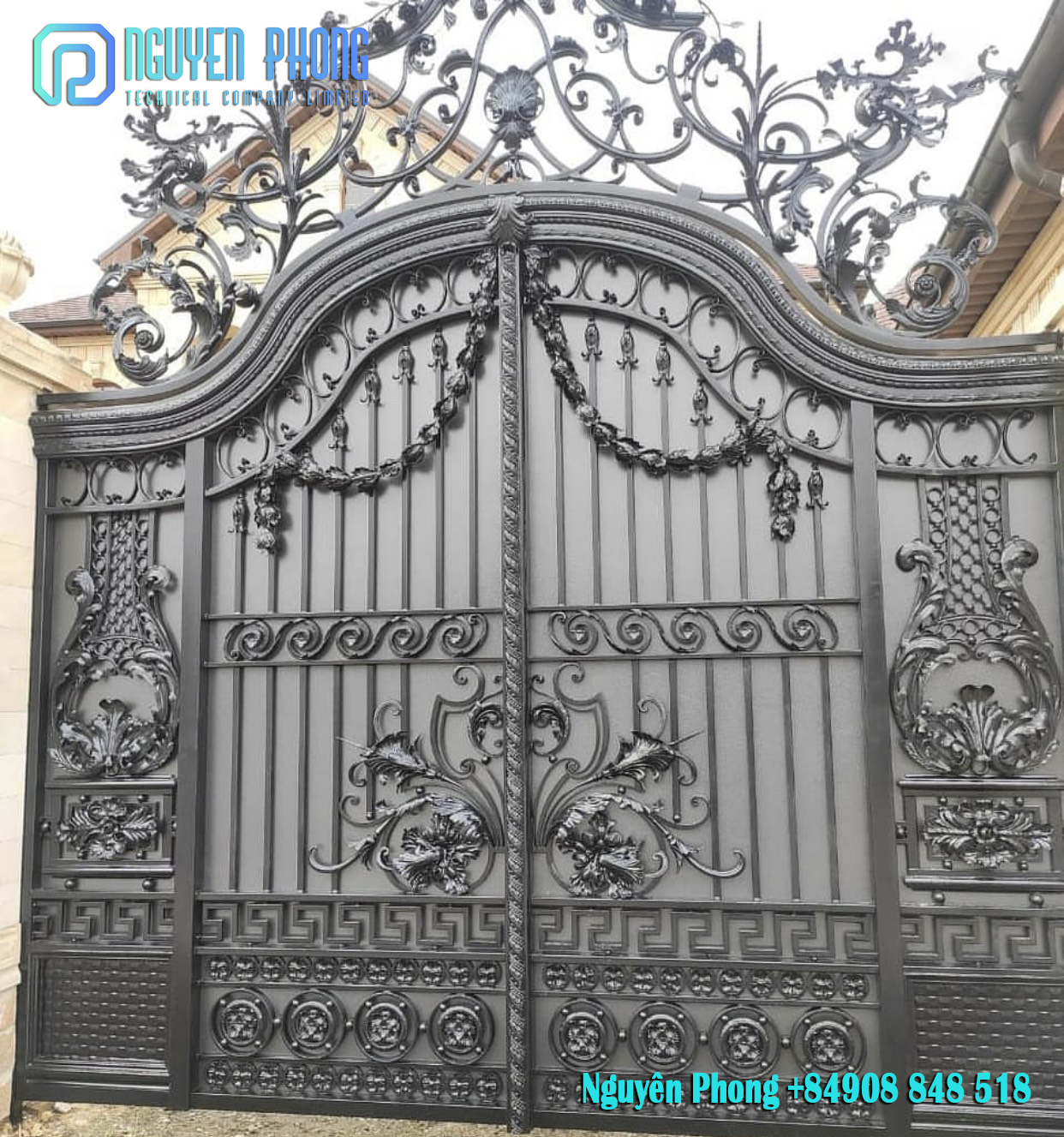 2. Classification of wrought iron driveway gates.
Swinging driveway gates:
Single-swing iron driveway gates—these gates typically open inwards and require a lot of flat space. 
Bi-parting swing iron driveway gates—the swing clearance is only half the width of the gate.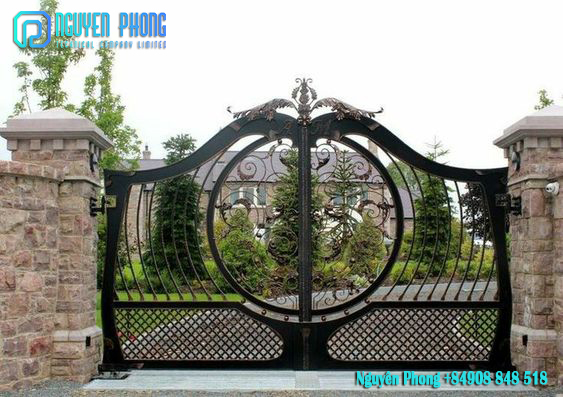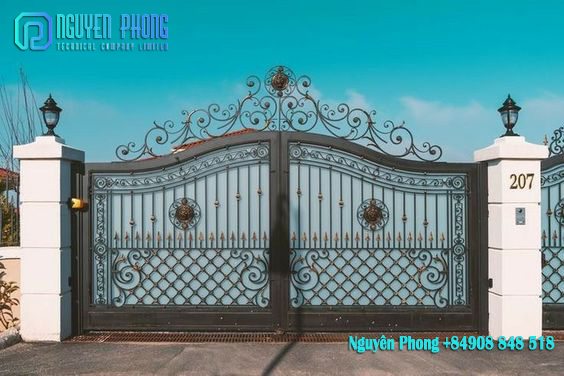 Sliding driveway gates: These gates may slide directly behind and parallel to a chain link fence line thanks to their sliding design. Undoubtedly, they are ideal for driveways with limited space as they tuck neatly away and don't require clearance to swing open. Due to the fact that they are simpler to open and close, these gates are also frequently used for larger entrances.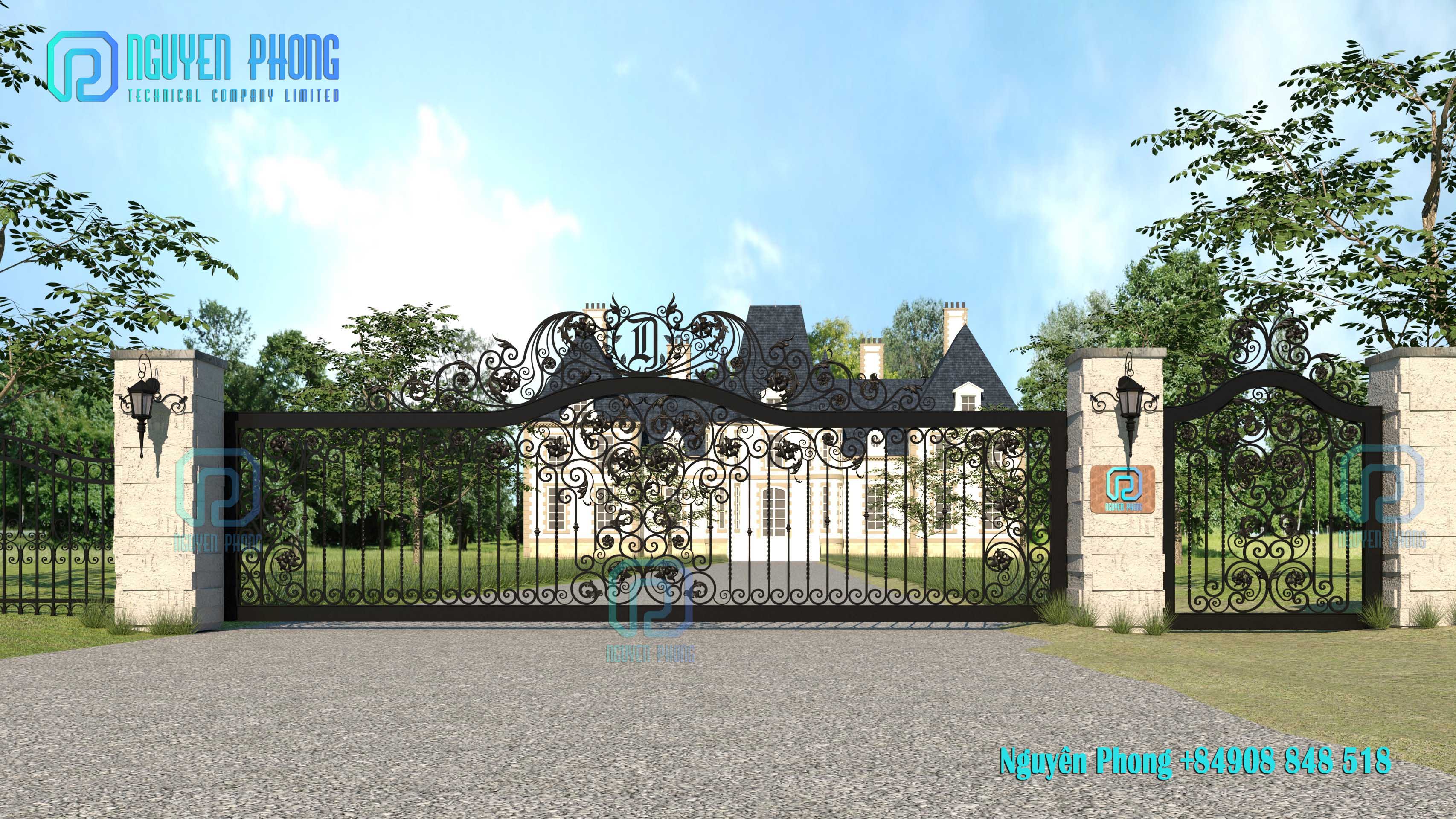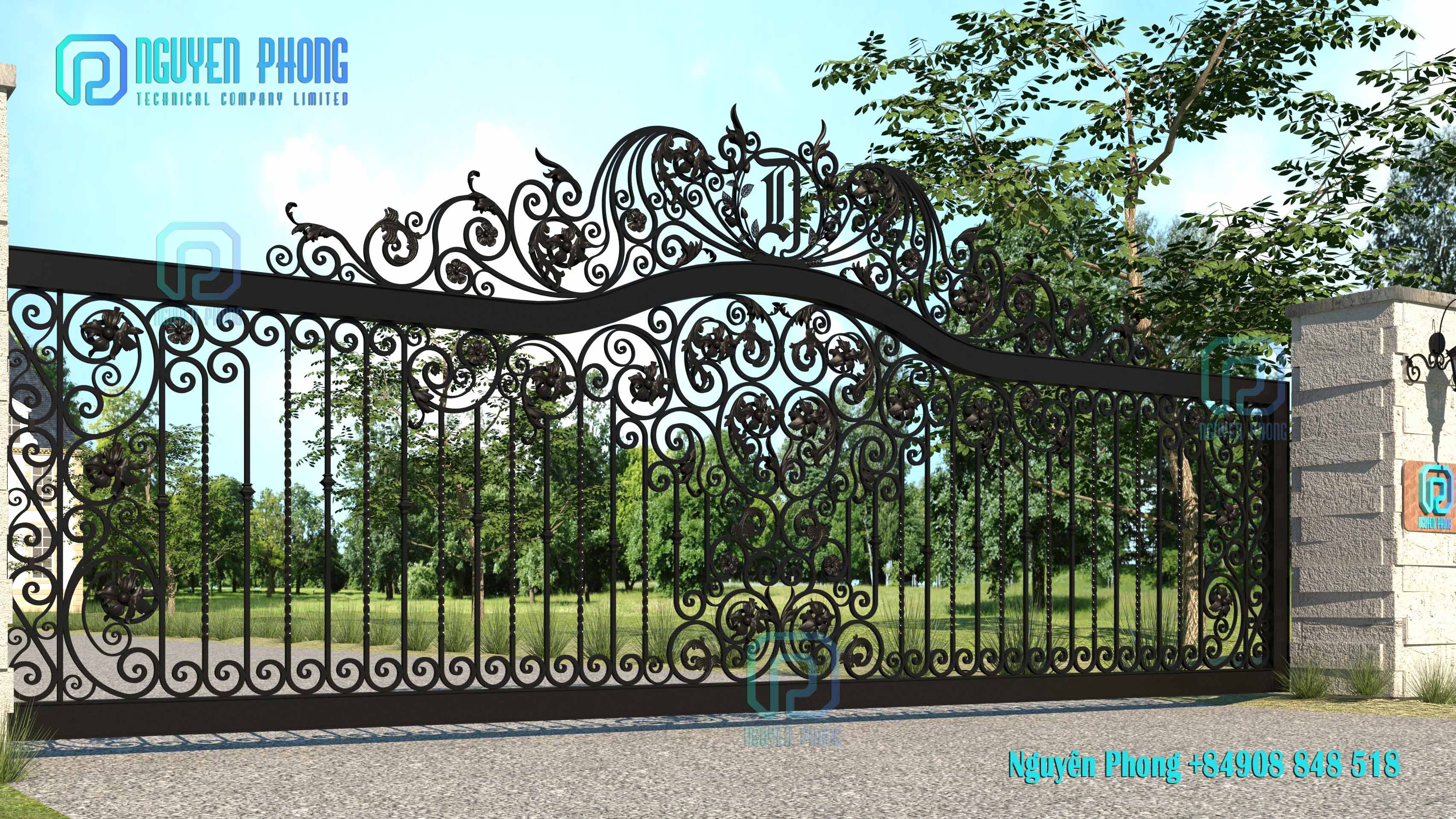 3. Automatic Opening Mechanism for driveway gates
Driveway gates are special gate models because of their large width and limited height. Besides, they are often integrated by using the automatic opening motor. so that you can easily operate the iron gate opener without having to step out of your car. 
You've probably heard a lot about automatic metal driveway gate devices. They help to open and close the gate easily, especially heavy gates. Below, we will give you the information you should know when you want to use an automatic motor.
Automatic gate motors have 3 basic kinds, including: 
Automatic motor opening by lever arm: used for swing gate.
Automatic motor underground: used for swing gate.
Automatic sliding motor: used for sliding gate.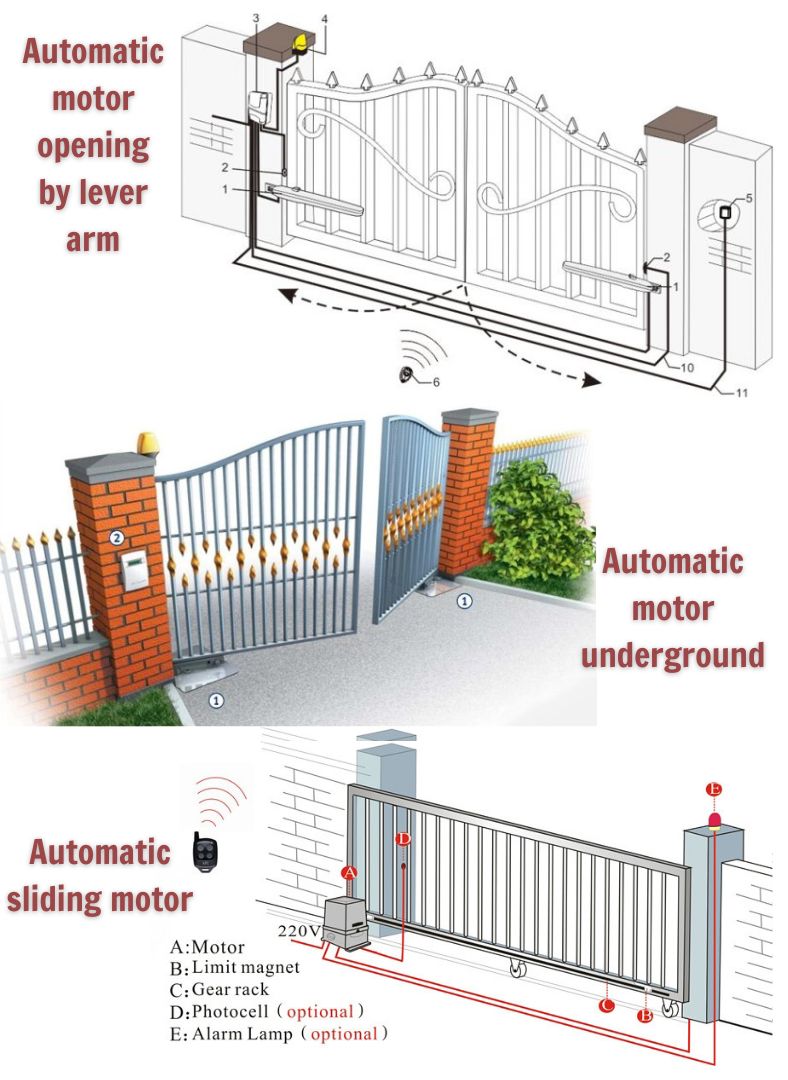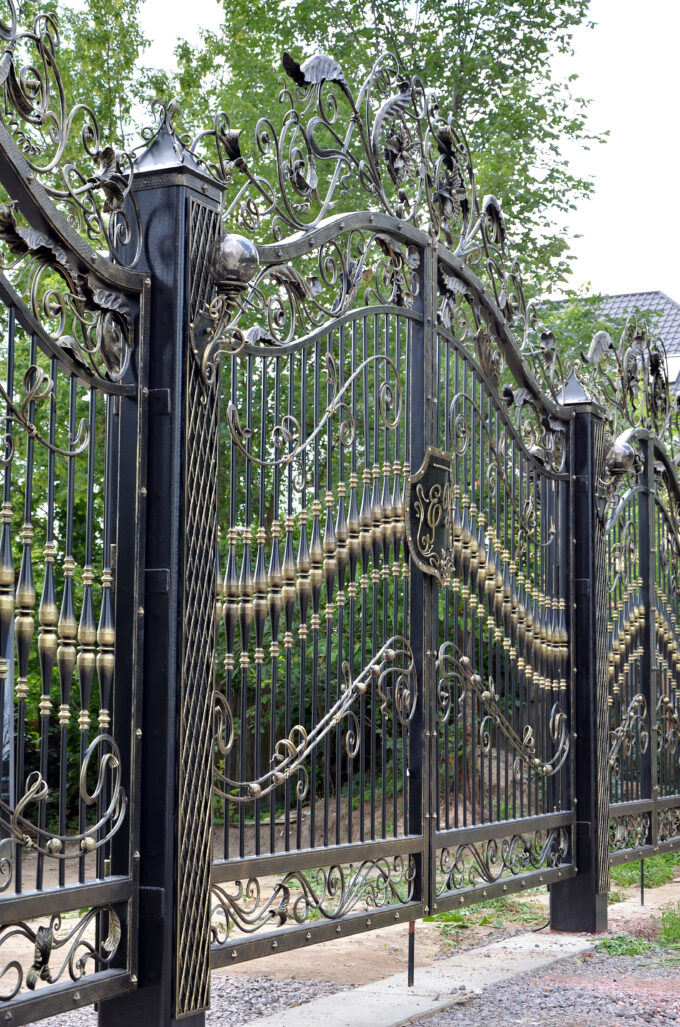 Depending on each gate model, you will be advised by the supplier on the right motor for your gate, according to your needs. A set of gates' automatic motors has all of the parameters: 
Electric 
Wattage 
Frequency
Opening/closing speed
Weight
Accessories included such as remote, sensor light, sensor, ... 
For Nguyen Phong Metal's villa projects in Vietnam, we only use motors of the FAAC brand—a brand from Italy (they have high-quality products and a good warranty). However, we highly recommend that you choose any automatic motor supplier in your place. The reason is that they help significantly in cases of unintended upgrades or repairs. Of course, we will help you provide some parameters about your iron driveway gate so that you can choose the most suitable automatic motor kit.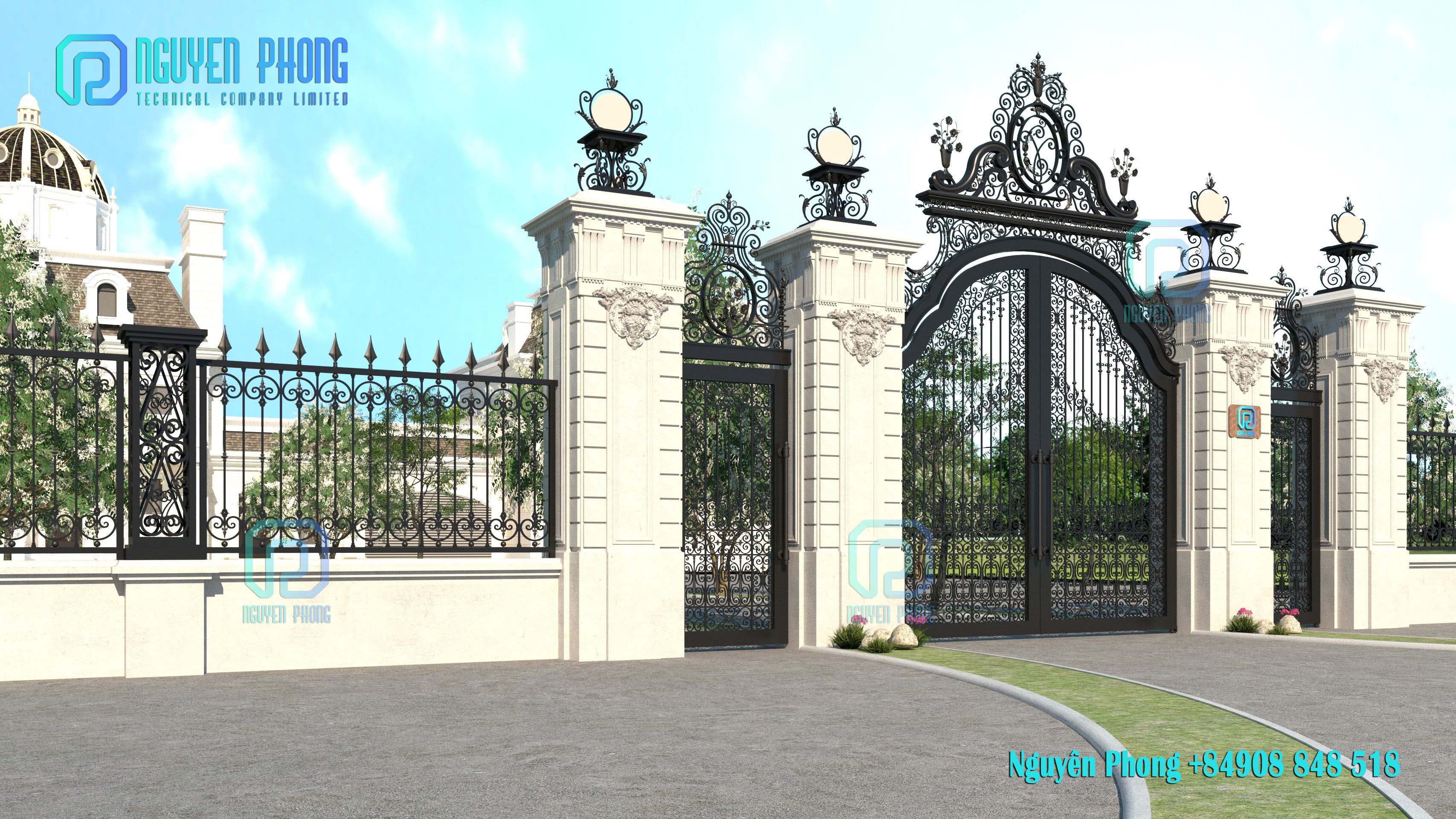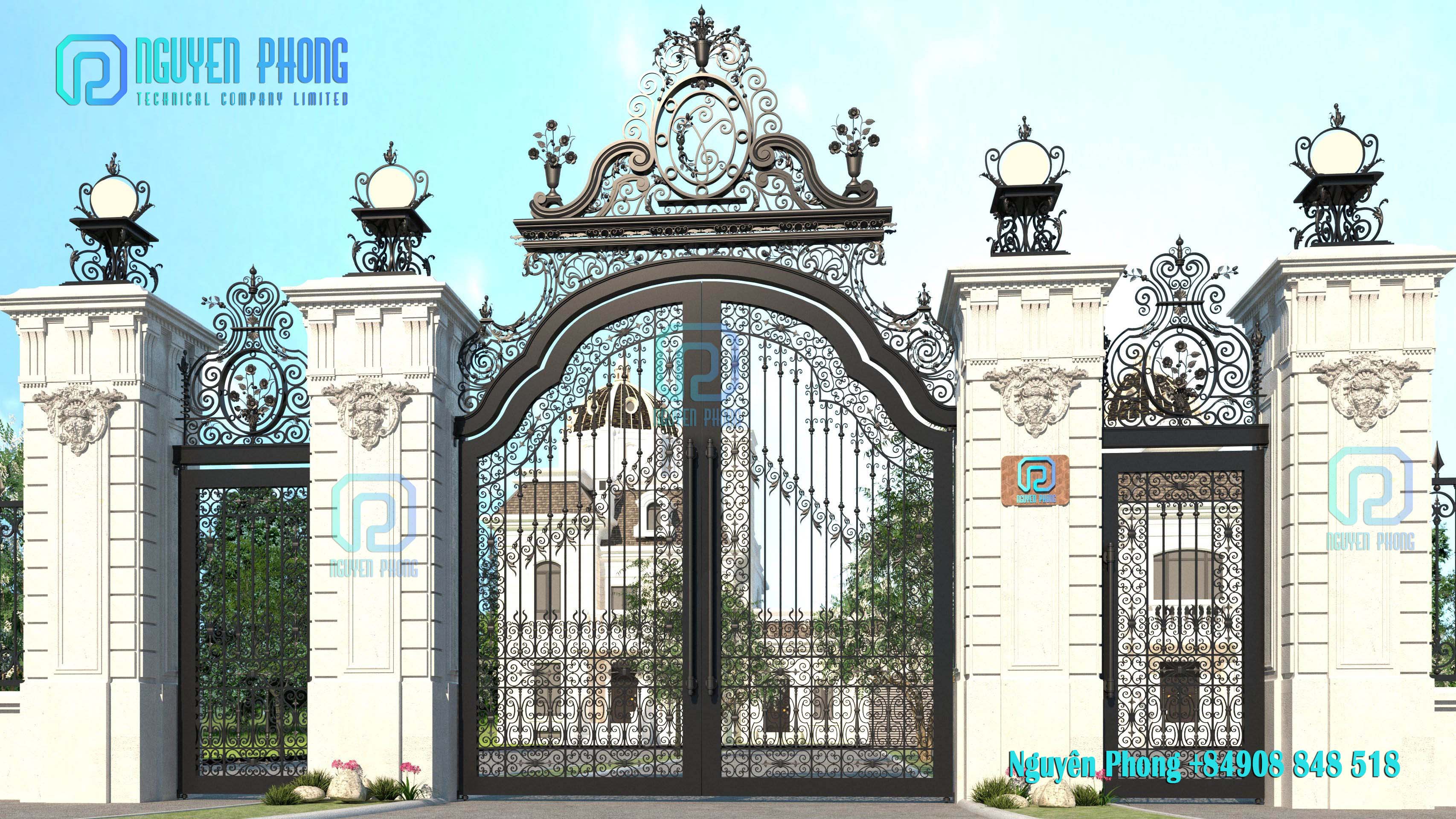 4. Production materials and paint colors
Ornamental wrought-iron driveway gates are highly stylized and have a beautiful hand-crafted look. Classic iron driveway gates typically have arched tops and ornamentations like detailed finials, curls, flourishes, and spirals. Depending on the style of your home and personal preferences, you may want to incorporate details that flow into the nature around your gate. You can review our image library of metal driveway gates for inspiration. 
We understand the demand for metal driveway gates and fence products from customers all over the world. In Vietnam, we have the advantage of human resources, so we can therefore bring you the best iron art products at the most competitive prices.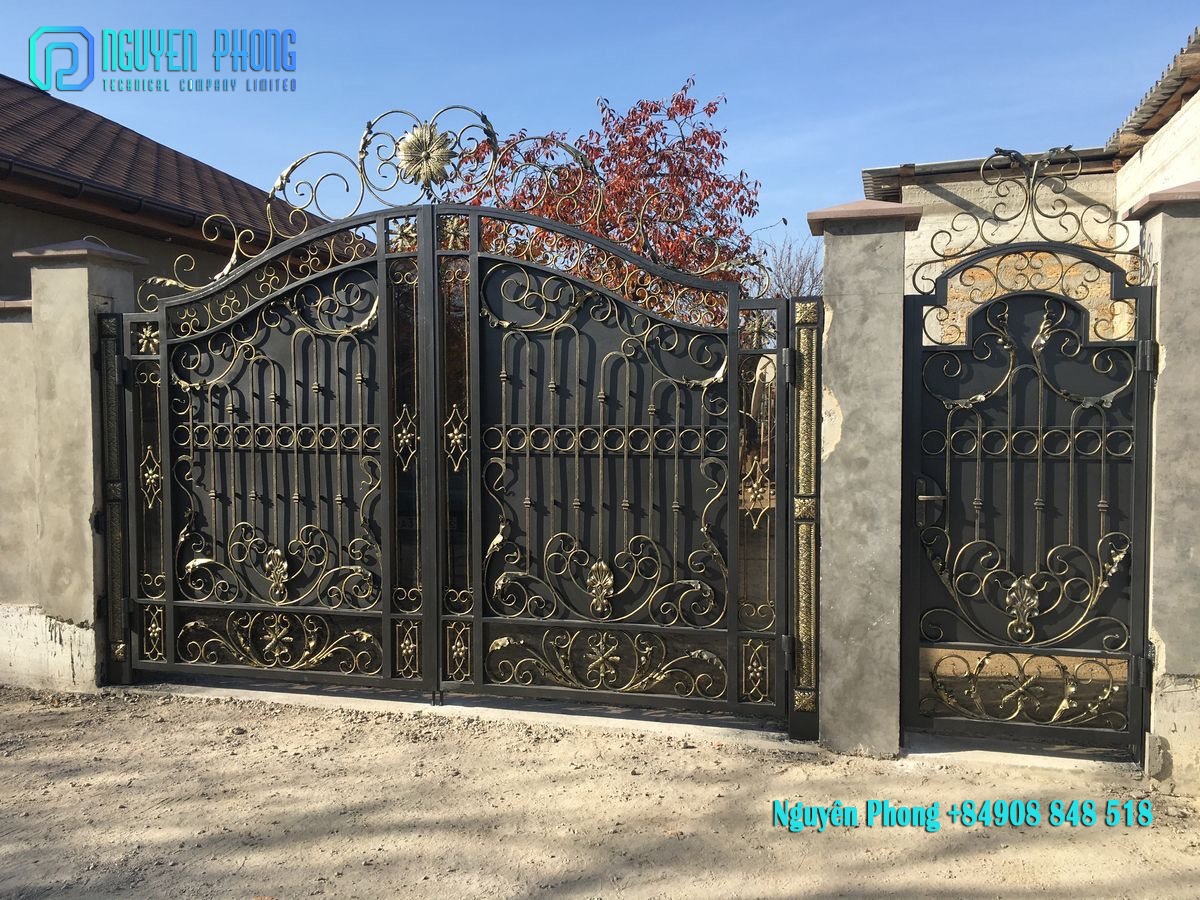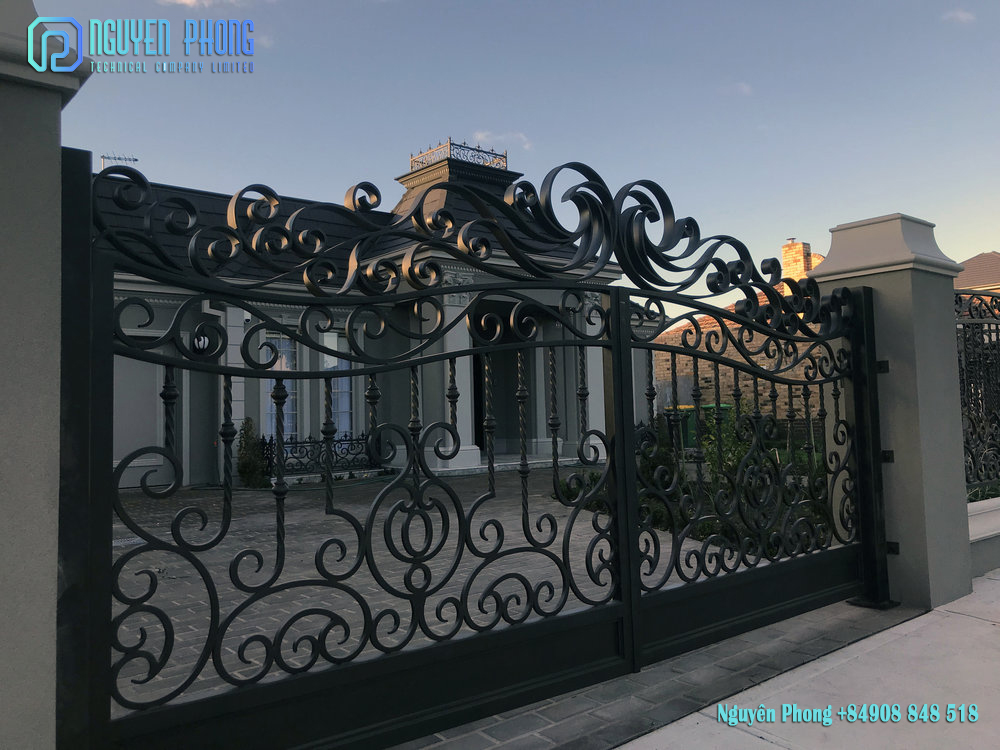 Nguyen Phong Metal's material warehouse is always full of iron samples, such as: 
- Iron sheet: 1.6 - 20mm thickness, 1200x2400mm and 1500x6000mm size.
- Flat bar, round bar, square solid iron, square iron tube, rectangular iron tube, and twisted square bar, etc with all sizes and specifications. 
- Other materials according to production requirements, 
Materials have a clear and complete origin. Material details are clearly described in the Quotation with specific images at Nguyen Phong Metal.
2-part Epoxy paint is used for all our products, and we always encourage our customers to choose paint from the Jotun and Asia brands. These are the best paints for fine art iron products. The average lifespan is up to 5 years (for products not applying the hot-dip galvanization method) and more than 15 years (for products applying the hot-dip galvanization method).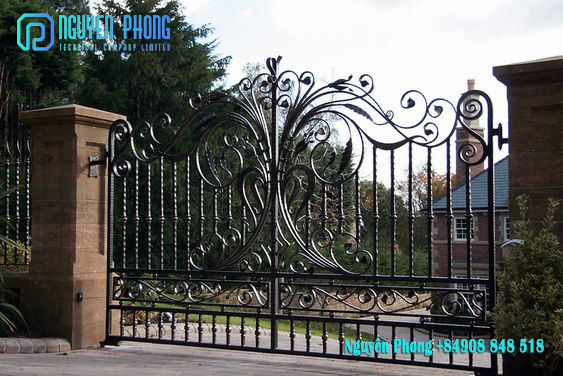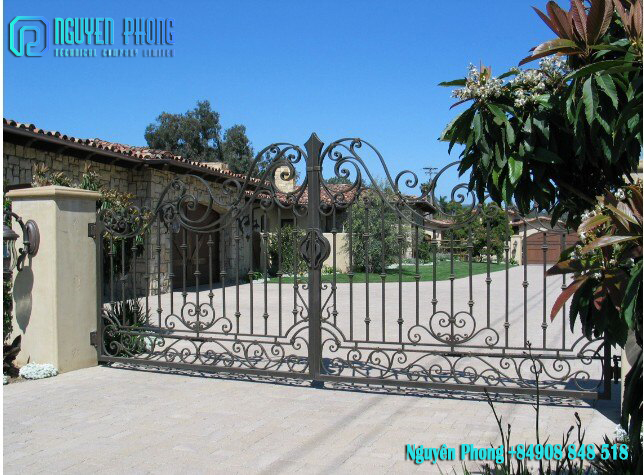 5. Production at the Nguyen Phong Metal Art Metal factory: 
Following the customer's approval of the design drawing, Nguyen Phong Metal proceeds with making frames, bending and forging solid iron patterns, and connecting them together using 1:1 scale drawings to guarantee the utmost precision. 
Wrought iron driveway gates are works of iron art with a strong focus on aesthetics. Workers with extensive production expertise and competence are required to complete the entire production process. Additionally, Nguyen Phong Metal's Quality Control (QC) personnel are always the strictest quality controllers. From drawings, standard dimensions, and paint colors to beautiful welds and smooth surfaces. All promise to bring customers a product of the highest caliber for clients.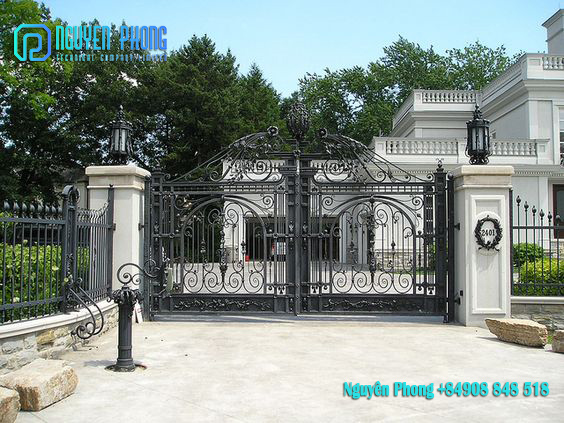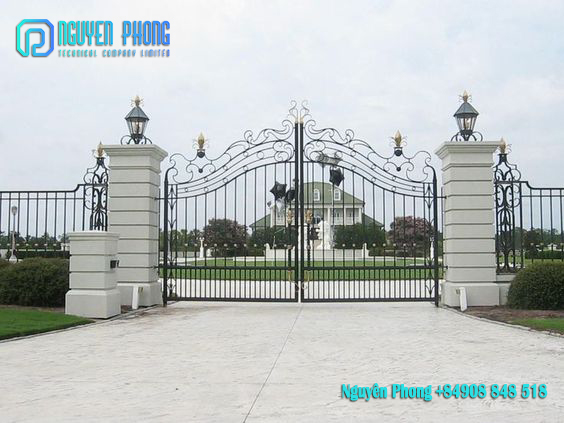 Before painting, items are hot-dipped galvanized to prevent rust (according to the customer's request). In fact, the cost of hot-dip galvanizing is higher than usual, and the workers responsible for surface treatment also have to spend more time and effort in the process. However, they help protect the product from rust and prolong the life of the wrought iron gate for our customers, so we highly recommend this process to our customers for artistic wrought iron driveway gate.
The painting stages will go through steps such as treating the surface to make sure it is smooth, 2-layer primer painting, 2-layer color-painting, and gloss-painting 1-2 times.
Products are thoroughly checked before being packed and shipped to customers.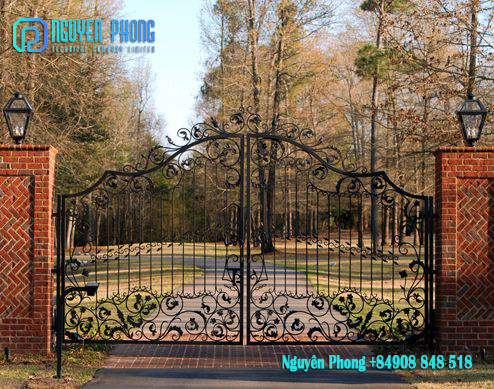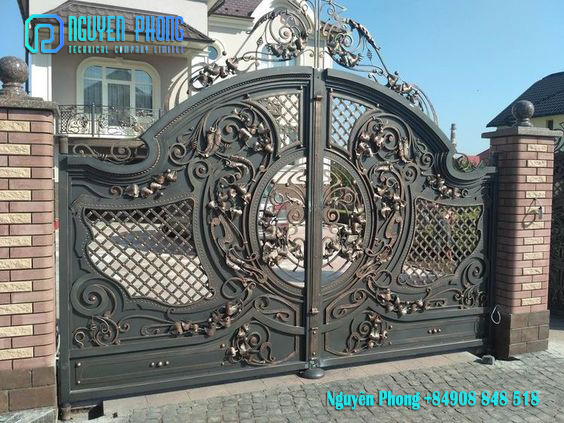 6. Driveway gate - Purchase Process 
Sending an inquiry/ proper design

Getting a quote

Making 2D & 3D drawings (2-5 days)

Contract & making a deposit

Producing at the factory (35–60 days)

Packing & Delivery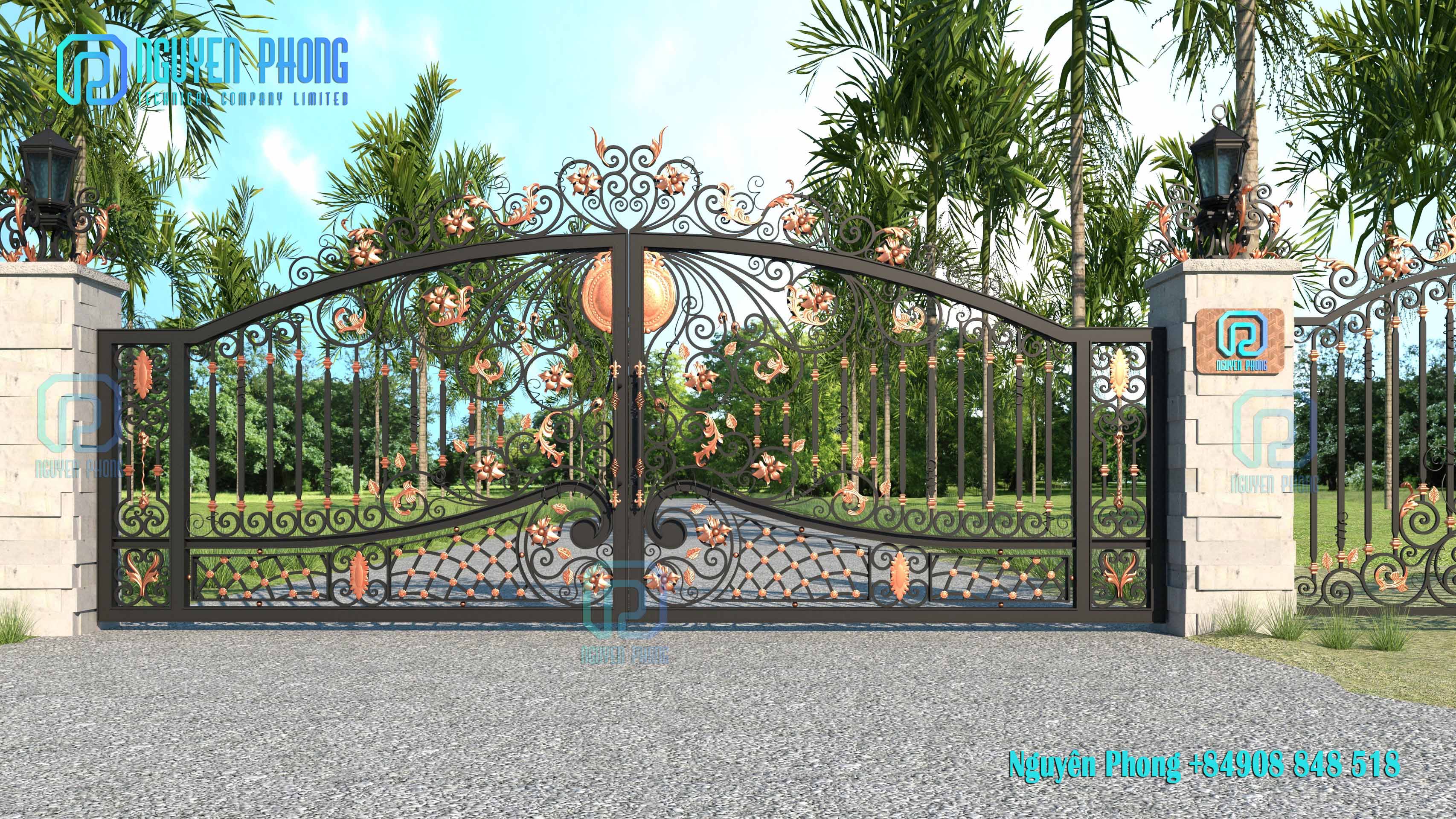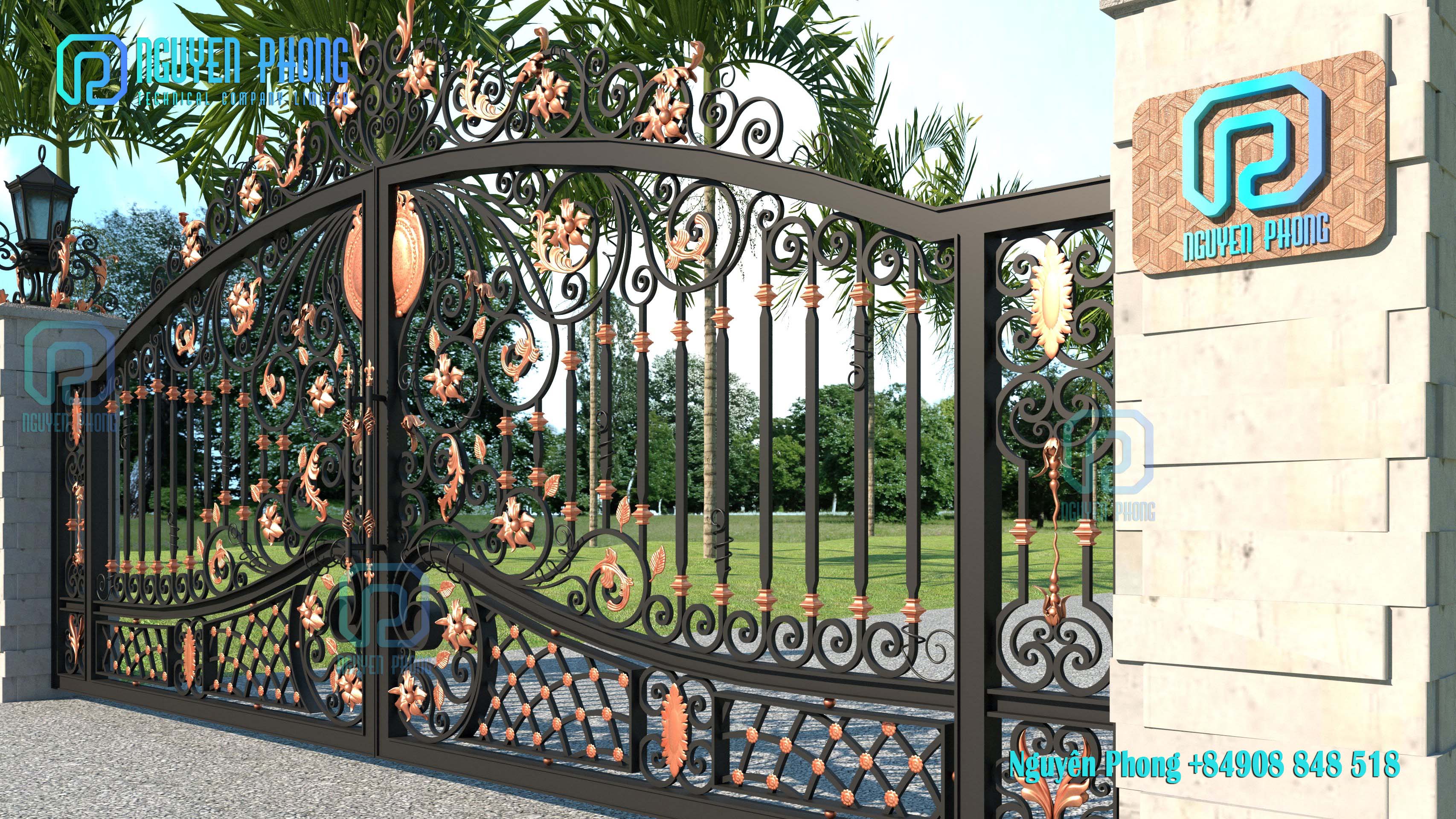 7. The most beautiful wrought iron driveway gate designs
Are you searching for some brilliant and classy ideas for wrought iron driveway gates? We're here to assist in making the choice. Undoubtedly, wrought iron driveway ideas are crucial. To get you inspired for your own, we've brought together some of the most popular driveway gate ideas. Whether you prefer a modern style or something more ornate, we always offer the best option for you. With designs that range from simple to sophisticated, all are carefully chosen to provide you with a wide range of possibilities and ideas for your project. Contact the sales team via Whatsapp or Viber at (+84) 908 848 518 for additional inspiration. In addition, to suit the working style of each homeowner, we always make projects with a focus on product quality and focus on individuality of customers.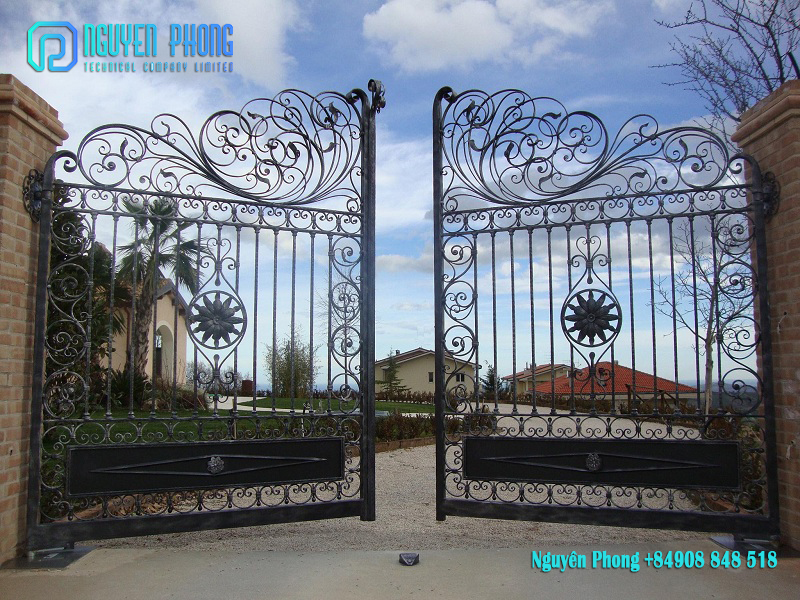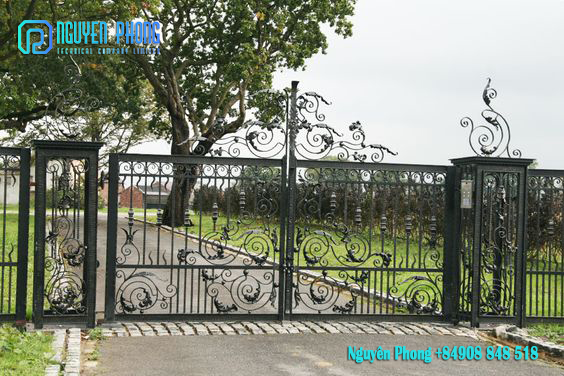 This one has plenty of subtle yet stylish details to make it a real feature of the villa. A symmetrical design on the bottom panels and a gently curved top add to the appeal, which offer a sense of luxury and elegance.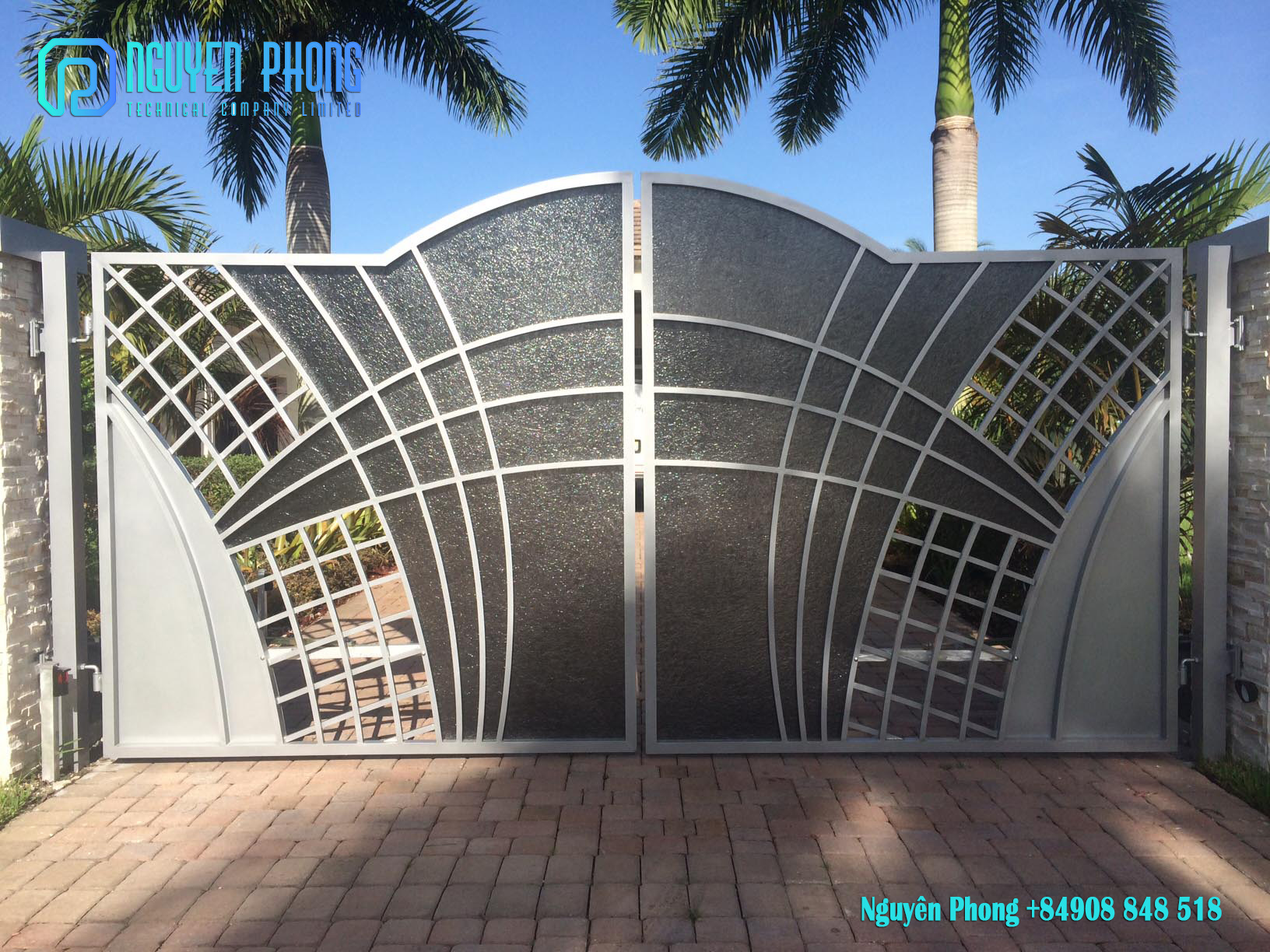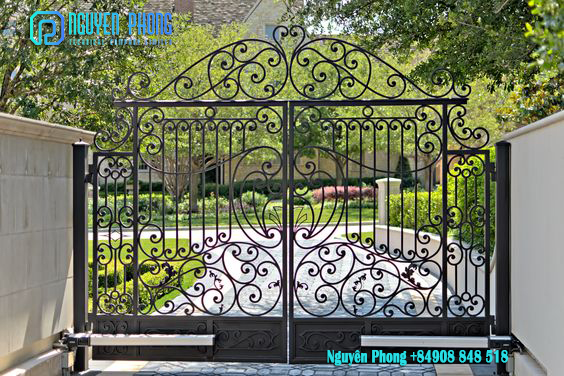 Fancy giving your front garden ideas and driveway a touch of classic? Then opt for ornate gates like these. They're perfect for giving a plot a sense of grandeur and will never go out of style. Moreover, the delicate pattern details from the professional and passionate artisans at Nguyen Phong Metal bring about a work of art rather than a gate.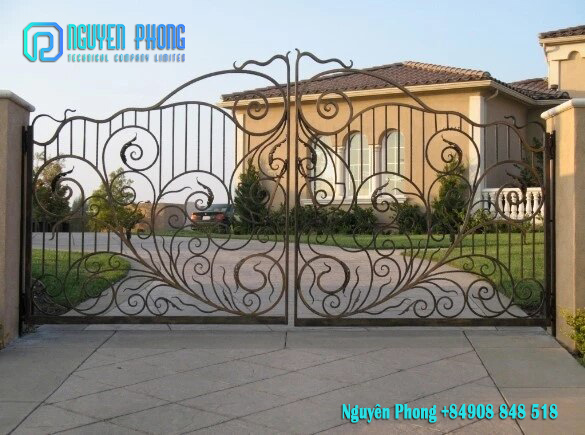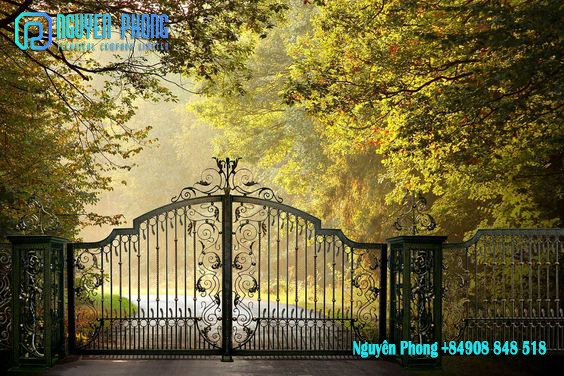 Speaking of driveway gate ideas complementing their surroundings, many of our customers are big fans of the harmonious look of this scene. Matching a white picket fence with a double gate creates a seamless finish that looks totally smart and inviting. It's a classic choice for a cottage garden but would suit more contemporary spaces too—particularly if you opt for a chic gray or matte black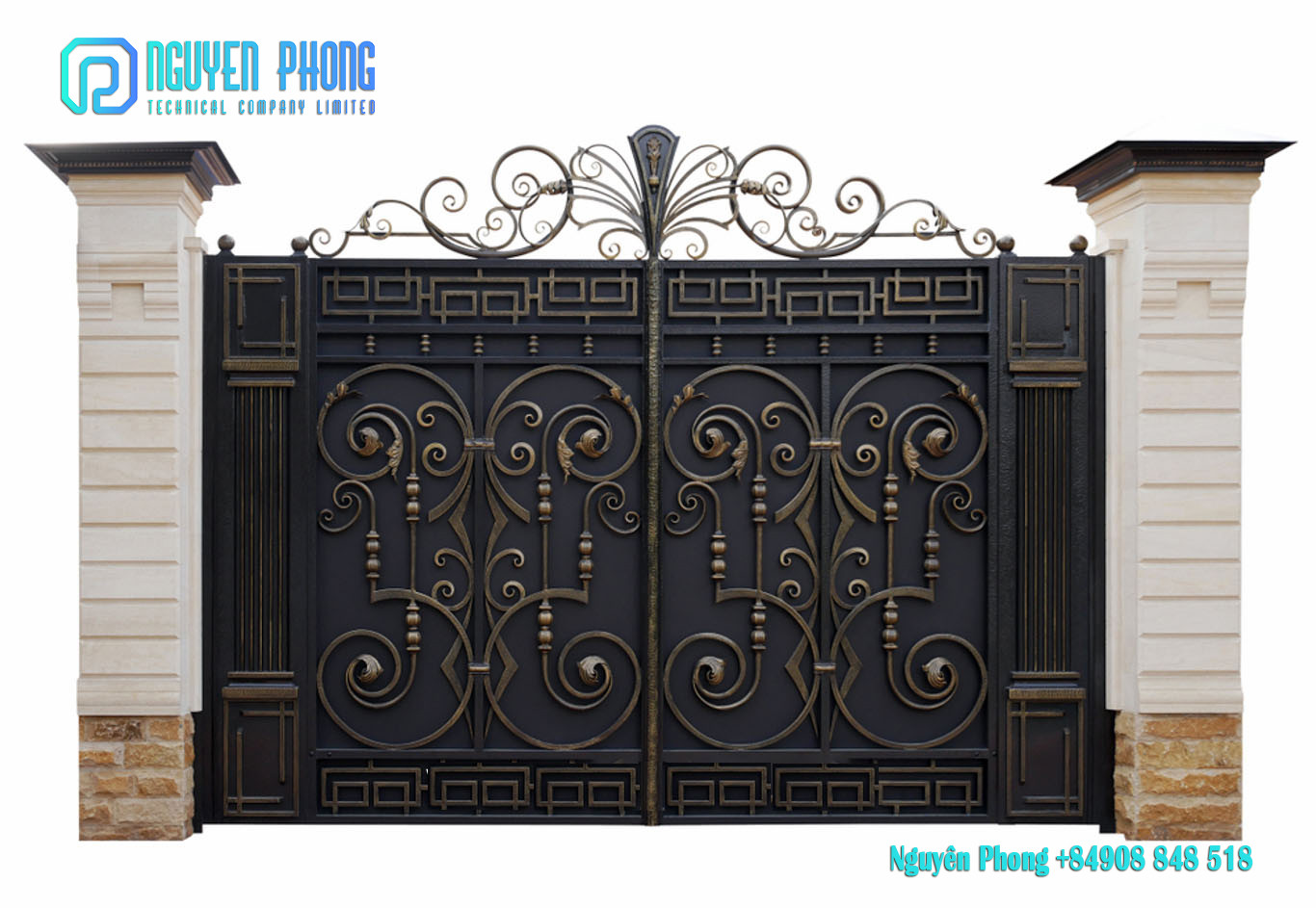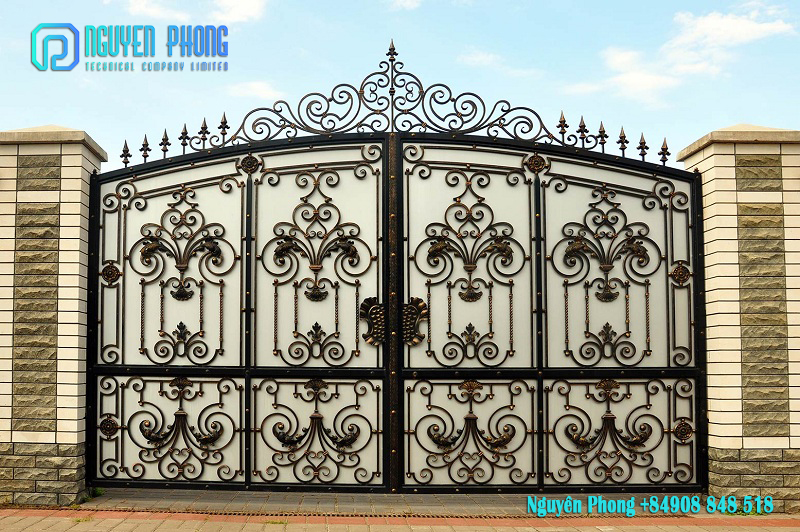 Make life easy with automatic wrought-iron driveway gates. You will be extremely grateful when it rains or if you are in a hurry. Most metal driveway gates come with an automatic opening and closing system, so you can rest assured that the iron driveway gates are never left open accidentally. This means pets and children can always be kept safe and secure inside your villa.
You can own a driveway gate that is both gorgeous, sophisticated and convenient for you and your family's daily life. Any ideas for driveway gates can be redesigned to best suit your Home. And we will help you do that.