WROUGHT IRON DOOR - ROUND IRON DOOR - BEAUTY IN TIME WITH CLASSIC EUROPEAN STYLE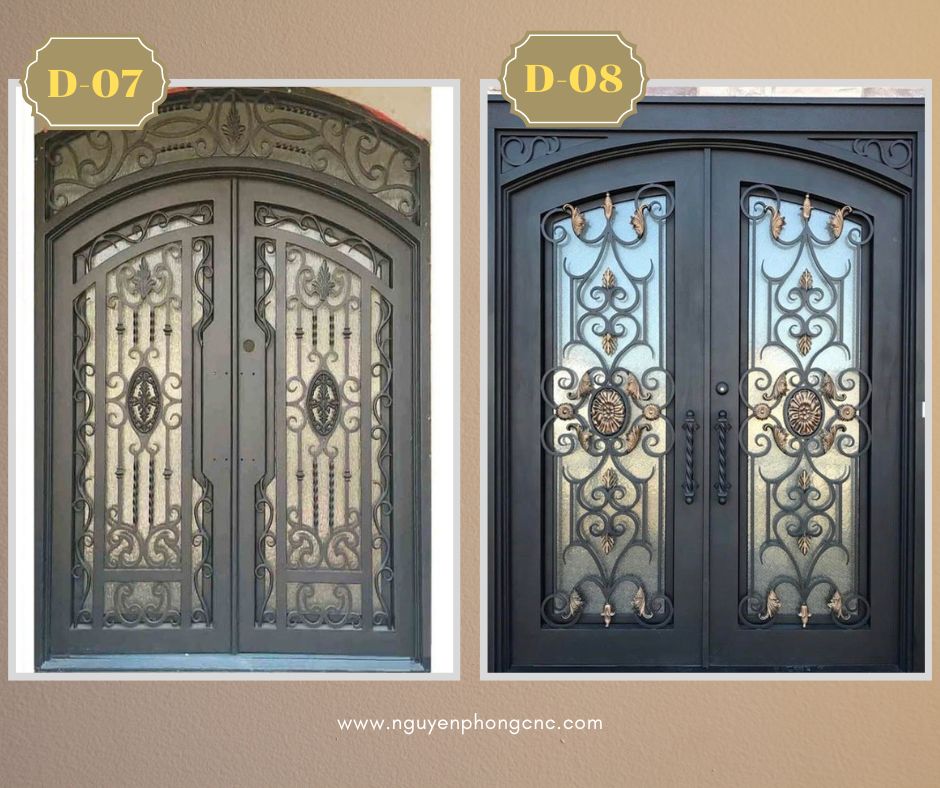 1.The wrought iron door 
For centuries, wrought iron has been used to create wrought iron doors to protect castles and villas. Despite the harsh test of time, artisans continue to use iron art to create elegant and powerful door models in modern times. 
Wrought iron doors at Nguyen Phong Metal are products designed and processed from solid iron combined with other iron accessories. They have increased longevity through the process of hot-dip galvanization and epoxy paint. In addition, the most important factor is the iron workers with the ability and experience to create diverse details and patterns for the product. Therefore, wrought iron doors carry their elegance, refined taste, and reliability.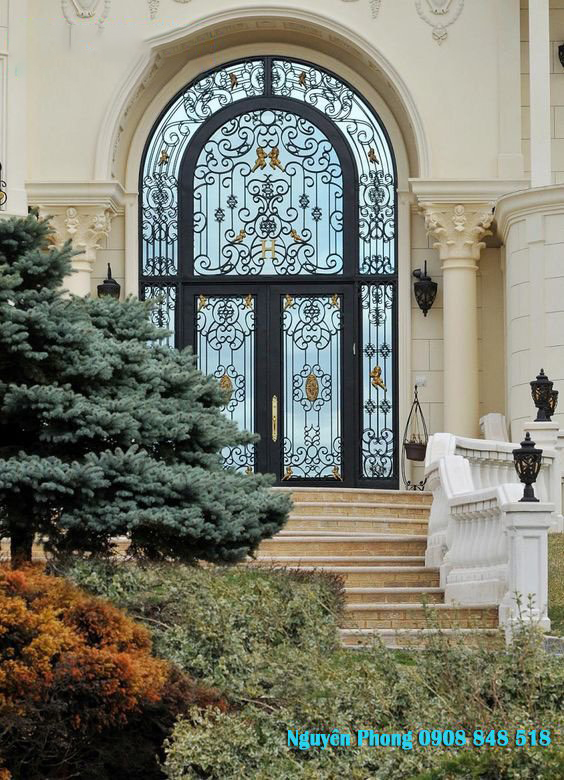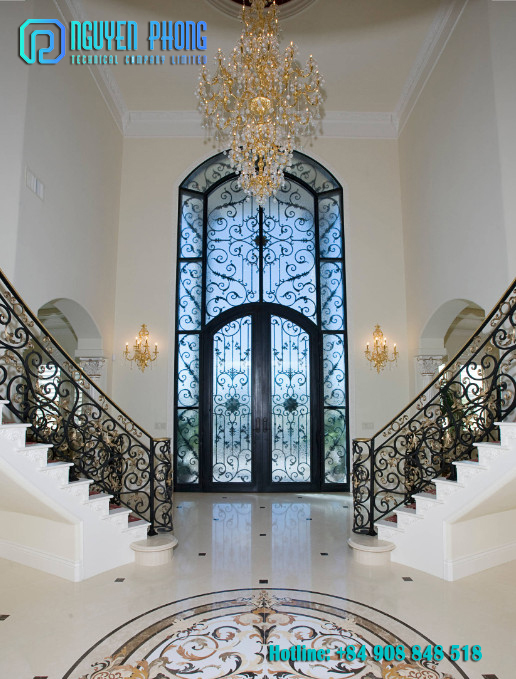 It can be said that wrought iron doors are indispensable items for Villa, castle projects. Thanks to their lavish and splendid appearance, wrought iron doors are considered one of the door models that make the strongest first impression when looking at the overall house/ villa.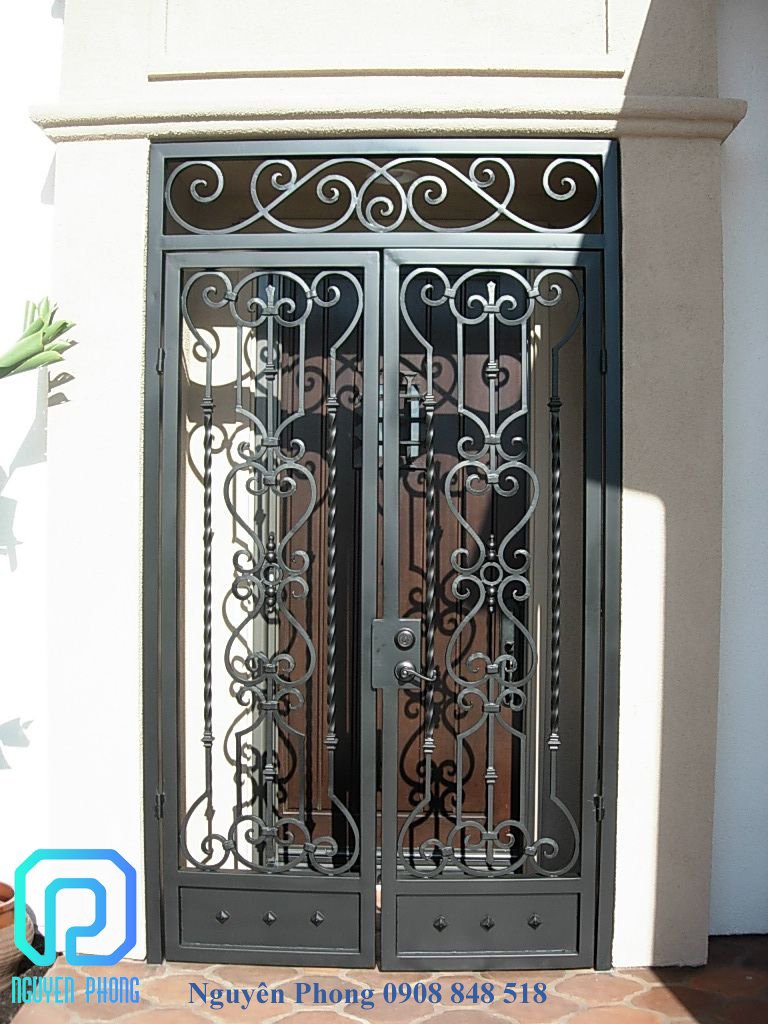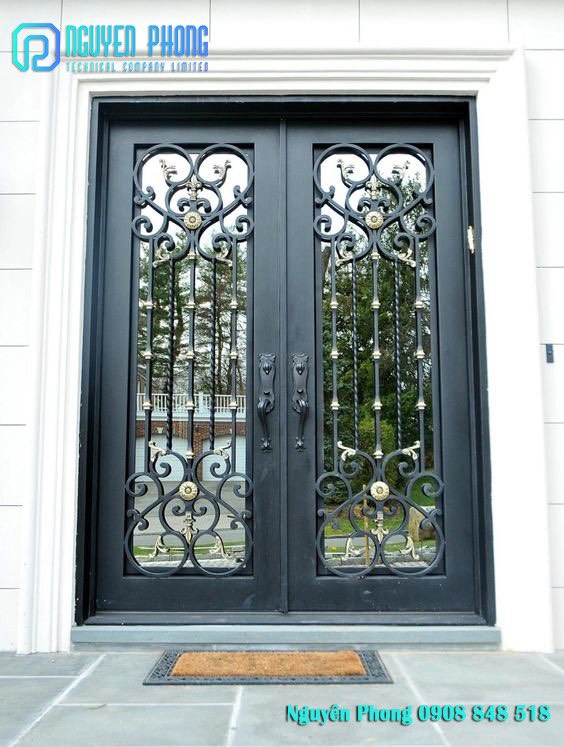 2. Structure of wrought iron doors 
Wrought iron doors are composed of 3 parts: 
- Outside frame & inside door frame: made from iron tubes of 40x80, 50x100, and 75x150mm, with a thickness from 2-3mm.
- The iron door pattern is designed according to the door size, made from square solid iron, flat bar iron, and decorative accessories are iron buttons, flowers, iron leaves, ... 
- Operating accessories: door lock, door handle, latch, hinge,...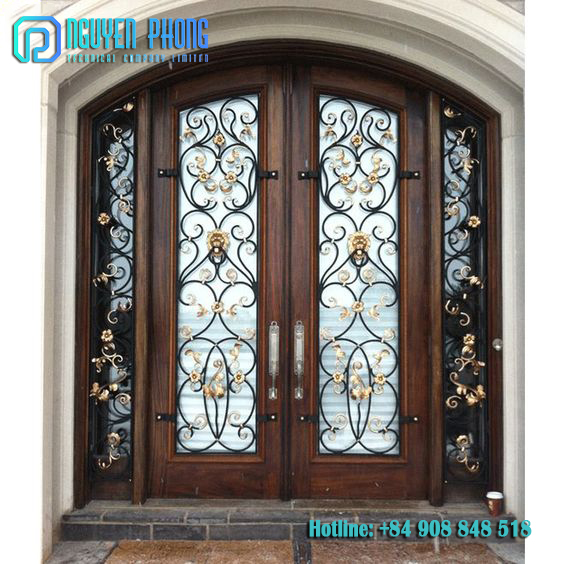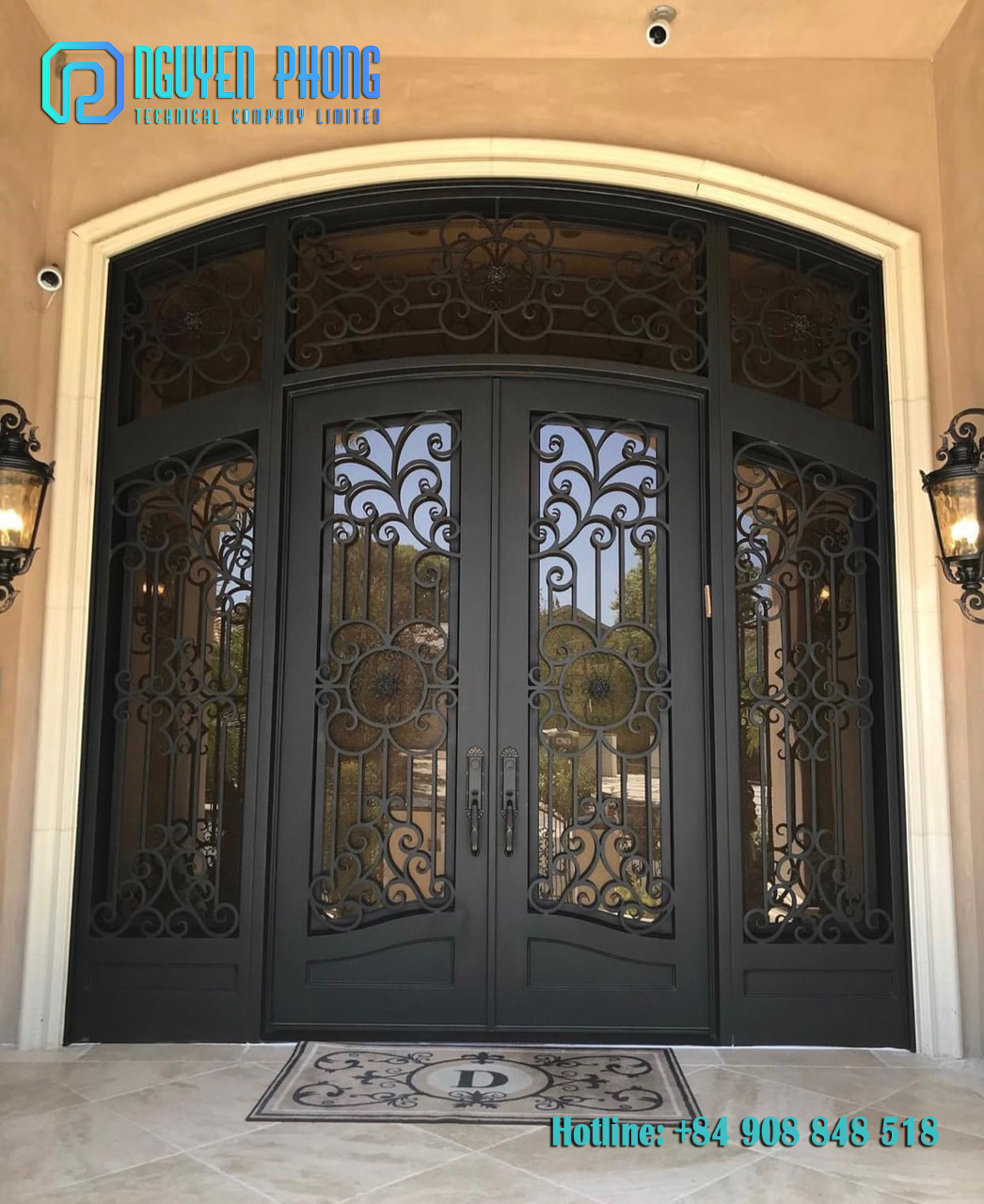 3. Classification of wrought iron doors
Depending on the characteristics and shapes, Nguyen Phong Metal divides wrought iron doors into the following categories:
- The number of leaf: 1-leaf, 2-leaf, 3-leaf, 4-leaf door, fixed pattern frame door, ..
- Shape: square door and arch door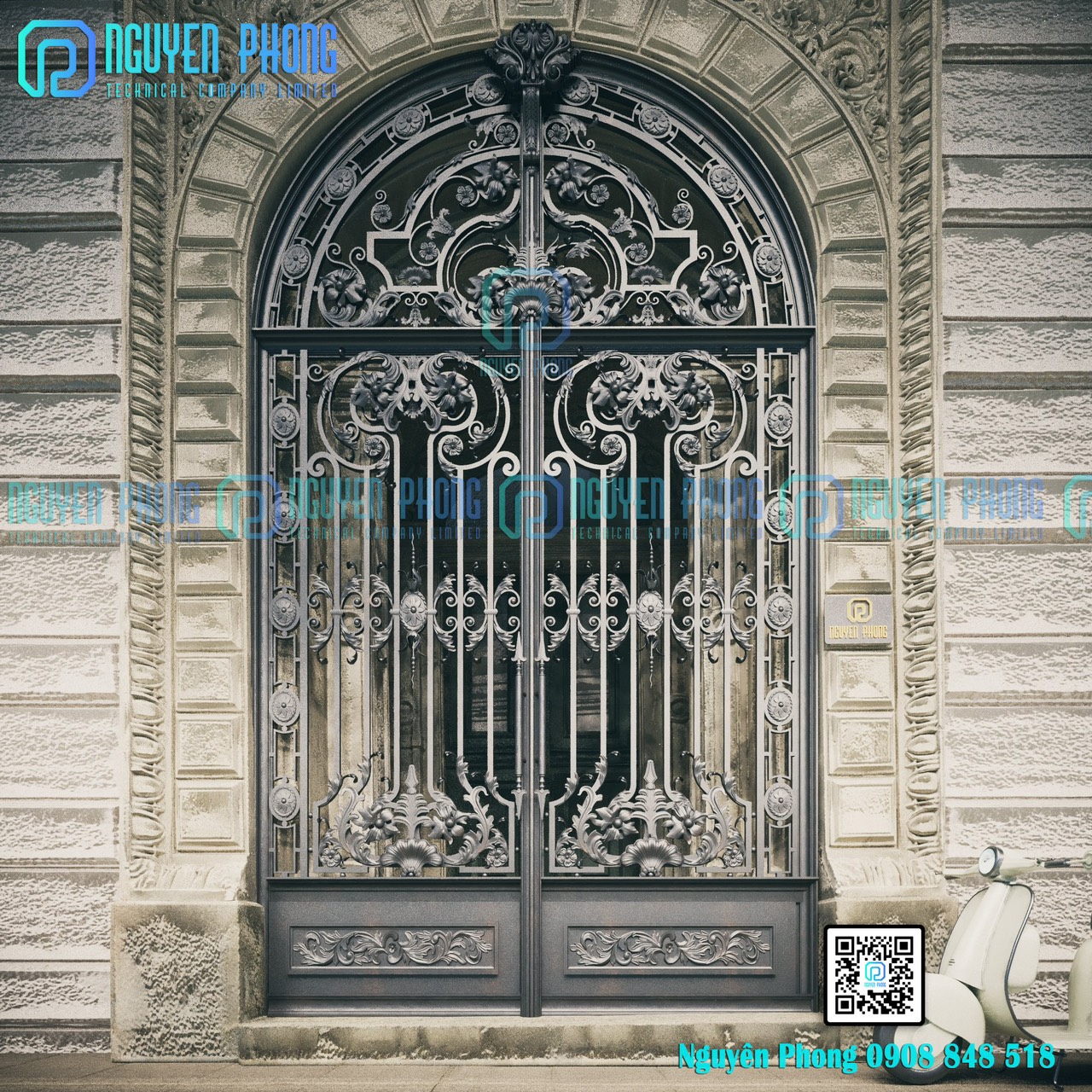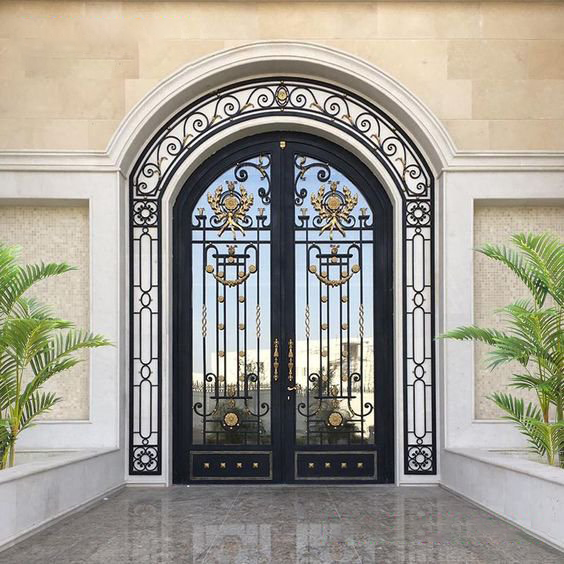 With arched door model - this is the type of door often used for large villas with splendid architecture like castles. The reason is that the arch is a symbol of wealth, power, and aspiration to achieve those values. In other words, the arched iron door model is the spirit of classical architectural work, carrying the breath of the palace and the royal family.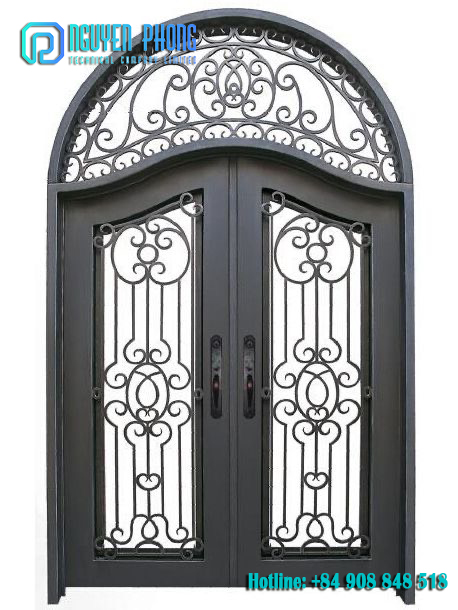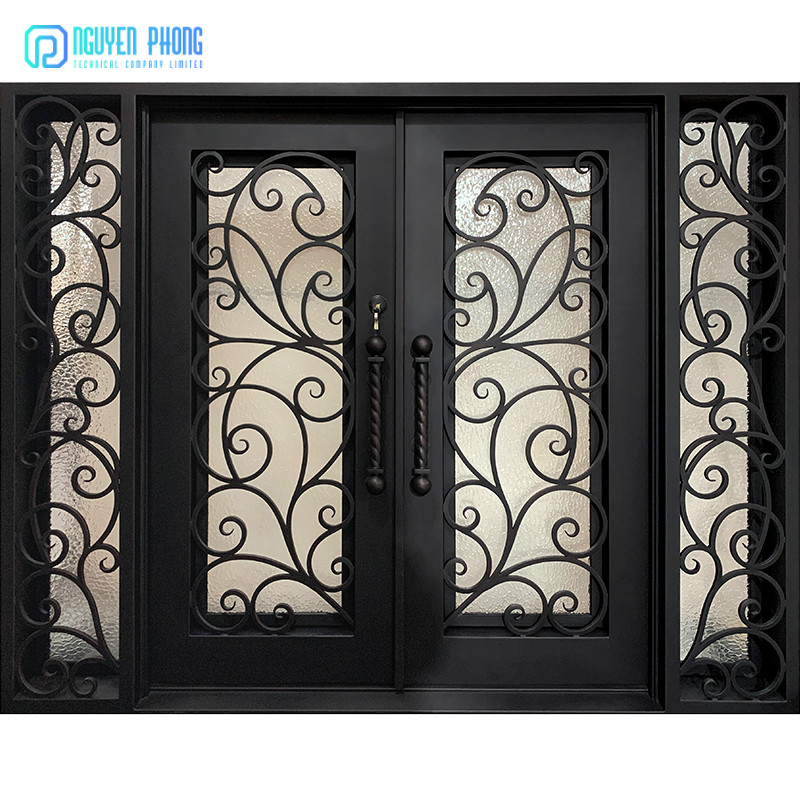 4. Wrought iron doors in Nguyen Phong Metal
Wrought iron doors are increasingly winning the hearts of customers thanks to their many advantages. Nguyen Phong Metal has created a list of the fundamental advantages of installing wrought iron doors that help you in order to assist you in making a decision, including: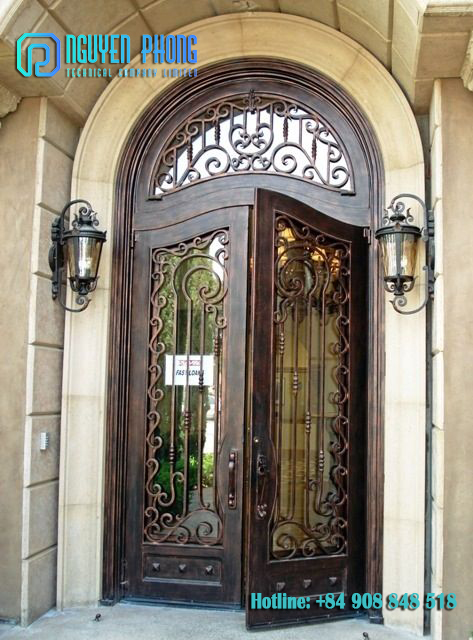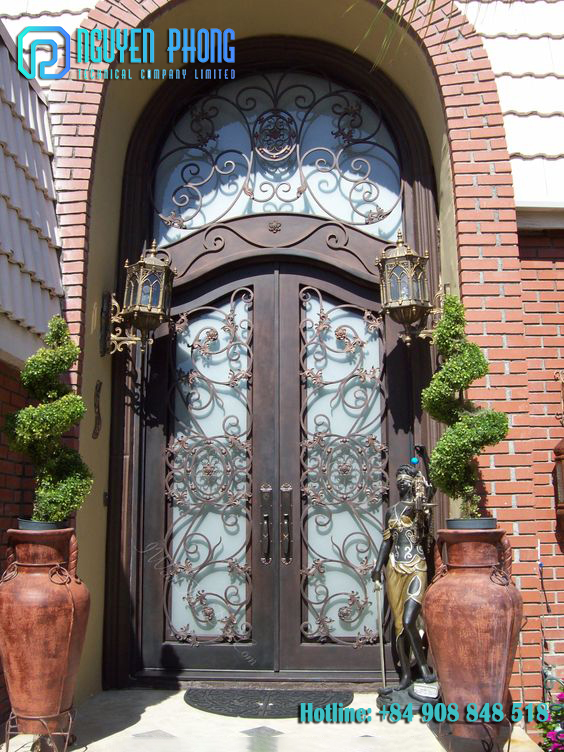 Luxury and art: Different from mass-produced products on the market with similar designs and difficult-to-control quality, each wrought iron door product at Nguyen Phong Metal is a carefully cared-for work of art, meticulously processed by our iron artisans - who are experienced and full of passion and creativity in their work. Therefore, wrought iron doors not only show the superiority and power of the owner but also bring a sense of personalization, reflecting the individual's aesthetic, personality of the villa.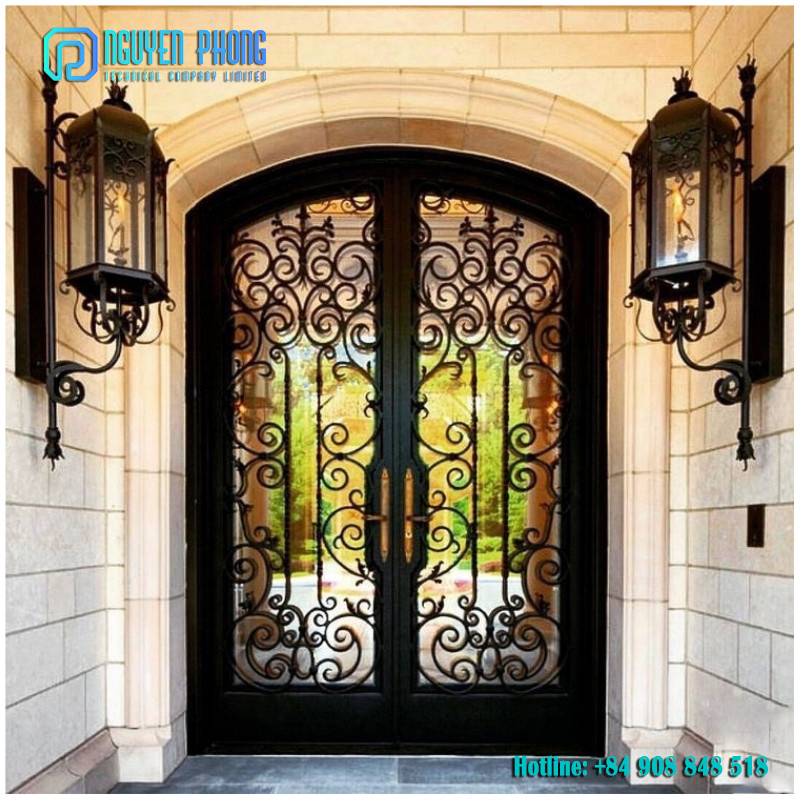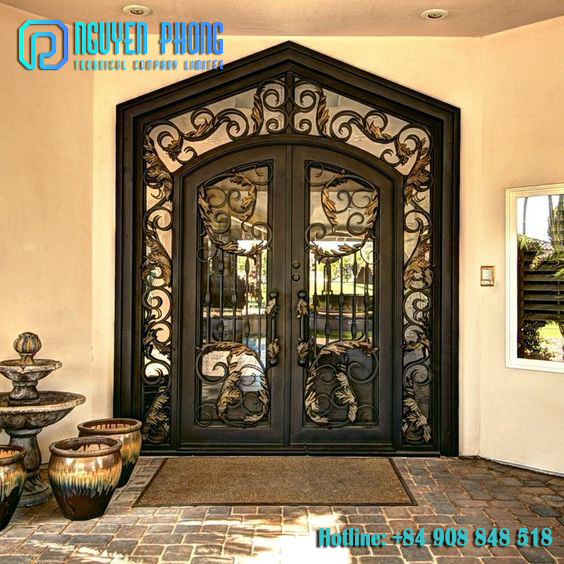 Safety: Iron is one of the most rigid, most durable, and most suitable materials for household interior and exterior processing. Therefore, it is not surprising that many architects prefer bending iron for doors. In addition, wrought iron doors can also entirely isolate the house from a hostile weather environment outside and safeguard it against outside physical impacts and unwanted intrusions. As a result, they give the family a feeling of security and comfort.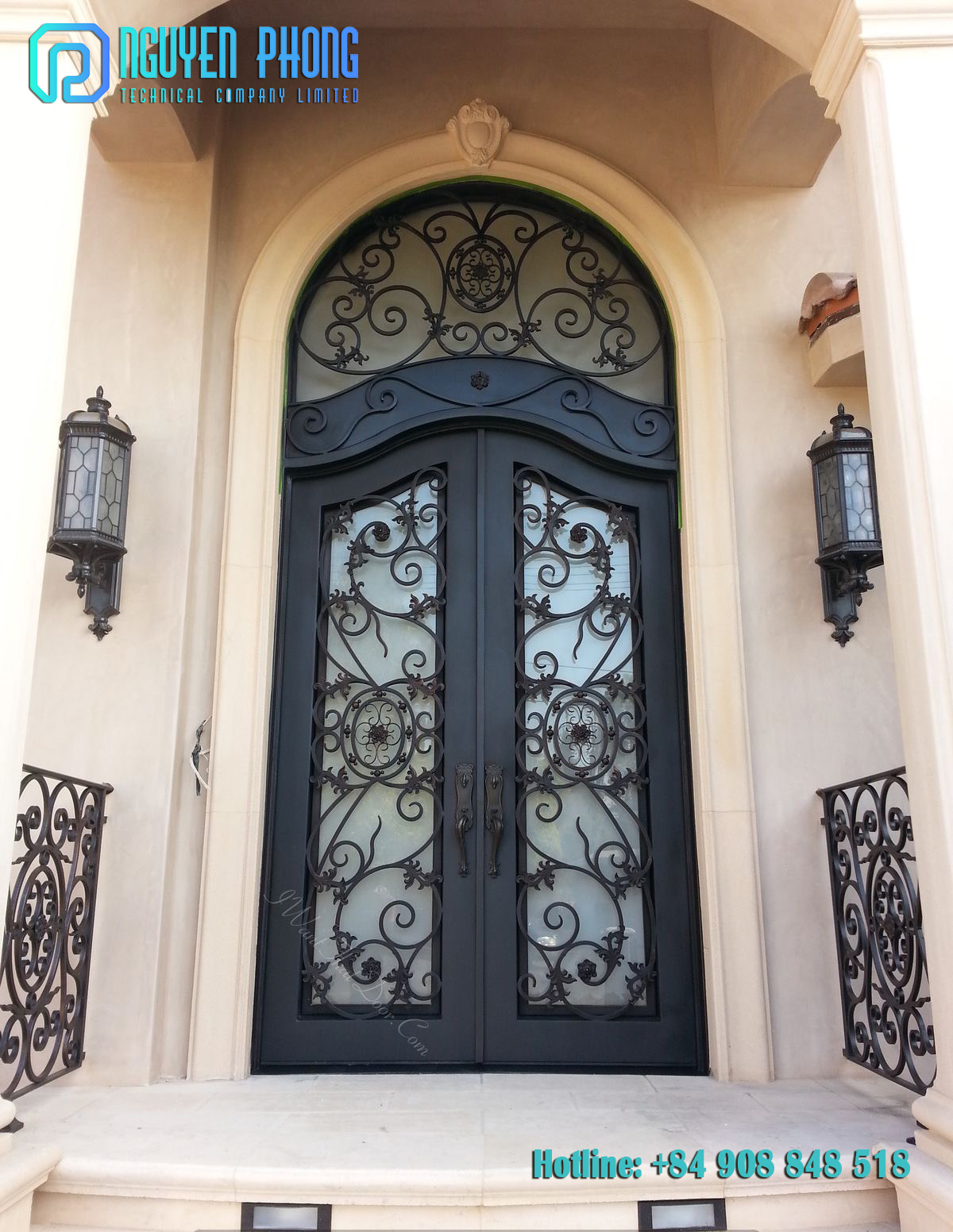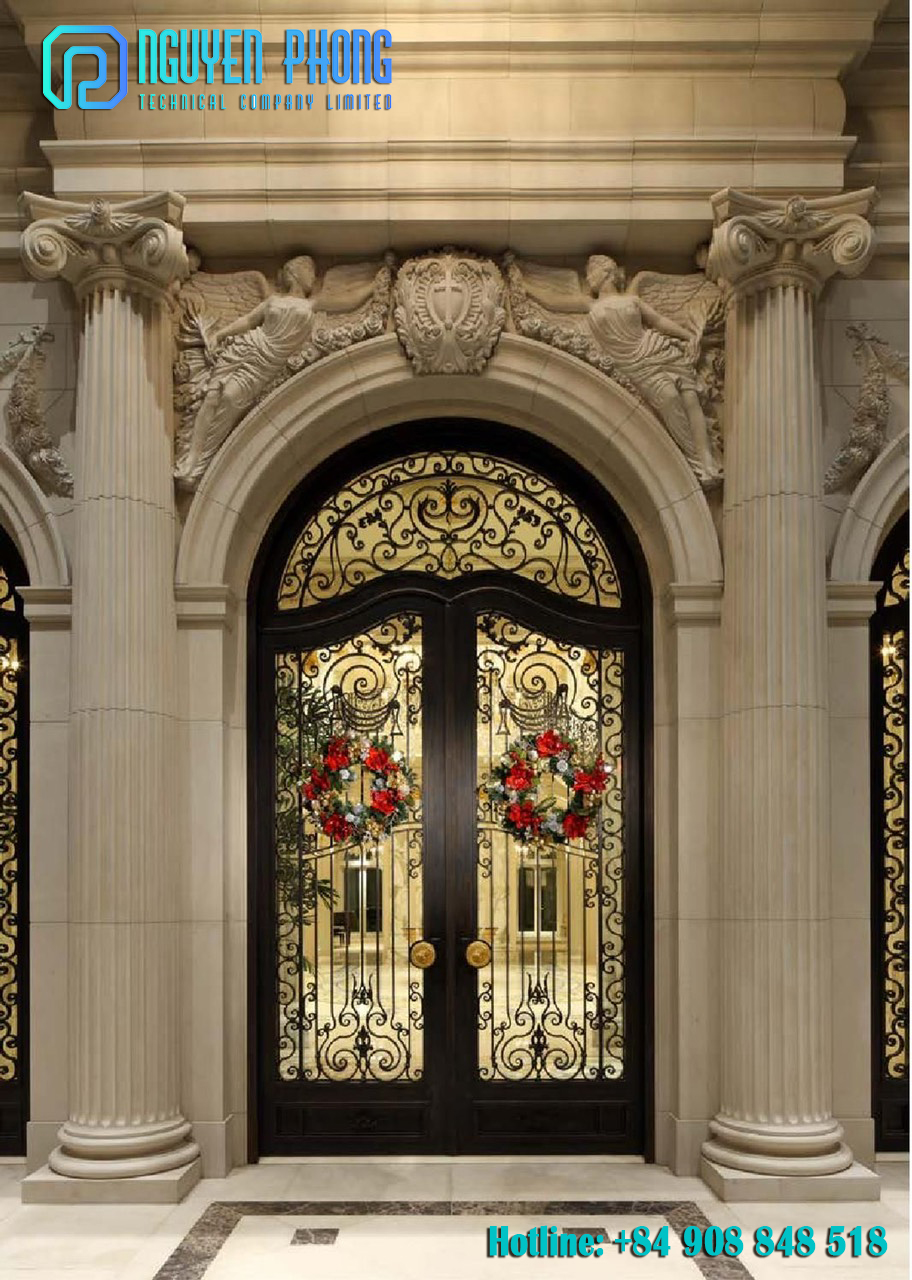 Elevating the level of living space: Obviously, with the use of wrought iron doors with meticulous processing by artisans in Nguyen Phong Metal, the final product has a high degree of sophistication and smoothness. This exudes elegance and sophistication. In other words, they help to show the wealth, status, and dignity of the owner skillfully.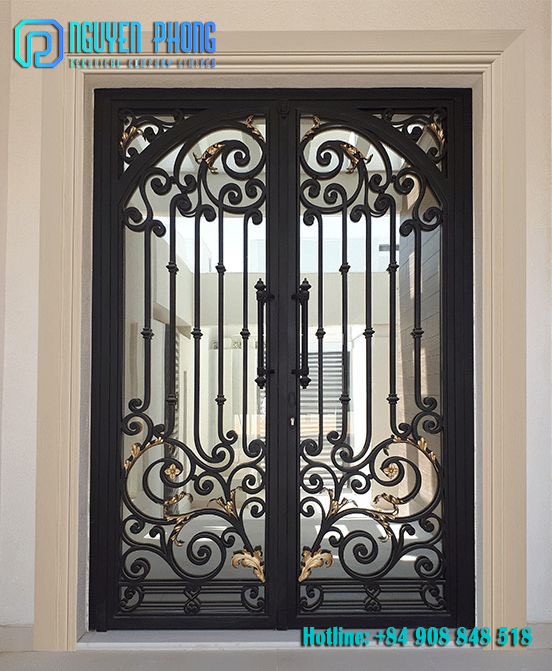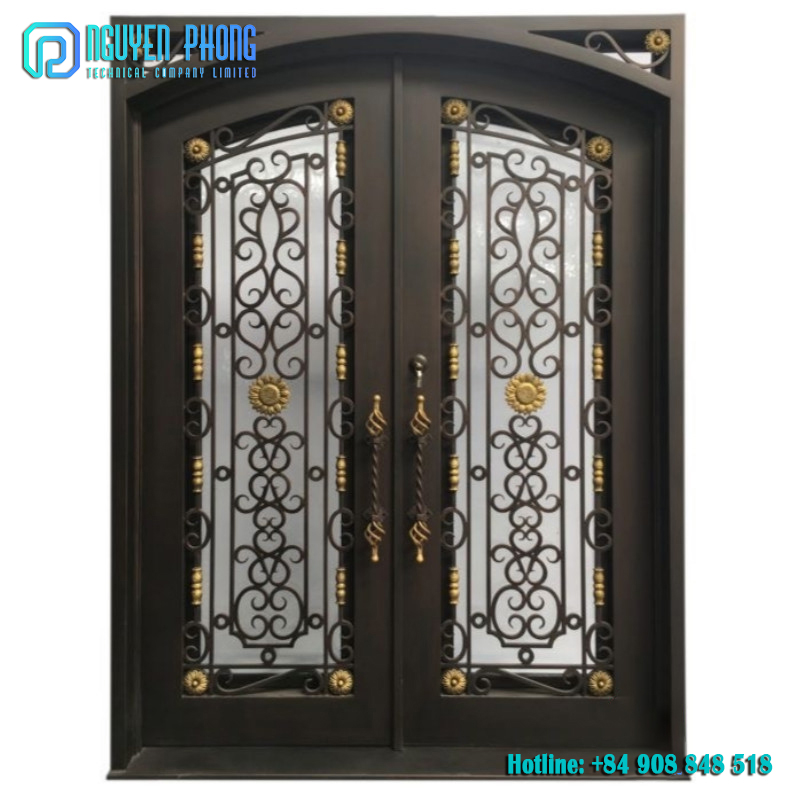 Original Manufacture: Nguyen Phong Metal has a factory in Vietnam, with the advantage of labor and materials, we are committed to providing quality wrought iron doors at competitive prices to customers.
Design-on-demand: Nguyen Phong Metal's products are created based on the specifications of each client, bringing distinct values in terms of individuality, spirit, and the owner's love. Customers can get direct advice and support from us for house styles ranging from simple to complicated, in any style, color, and form.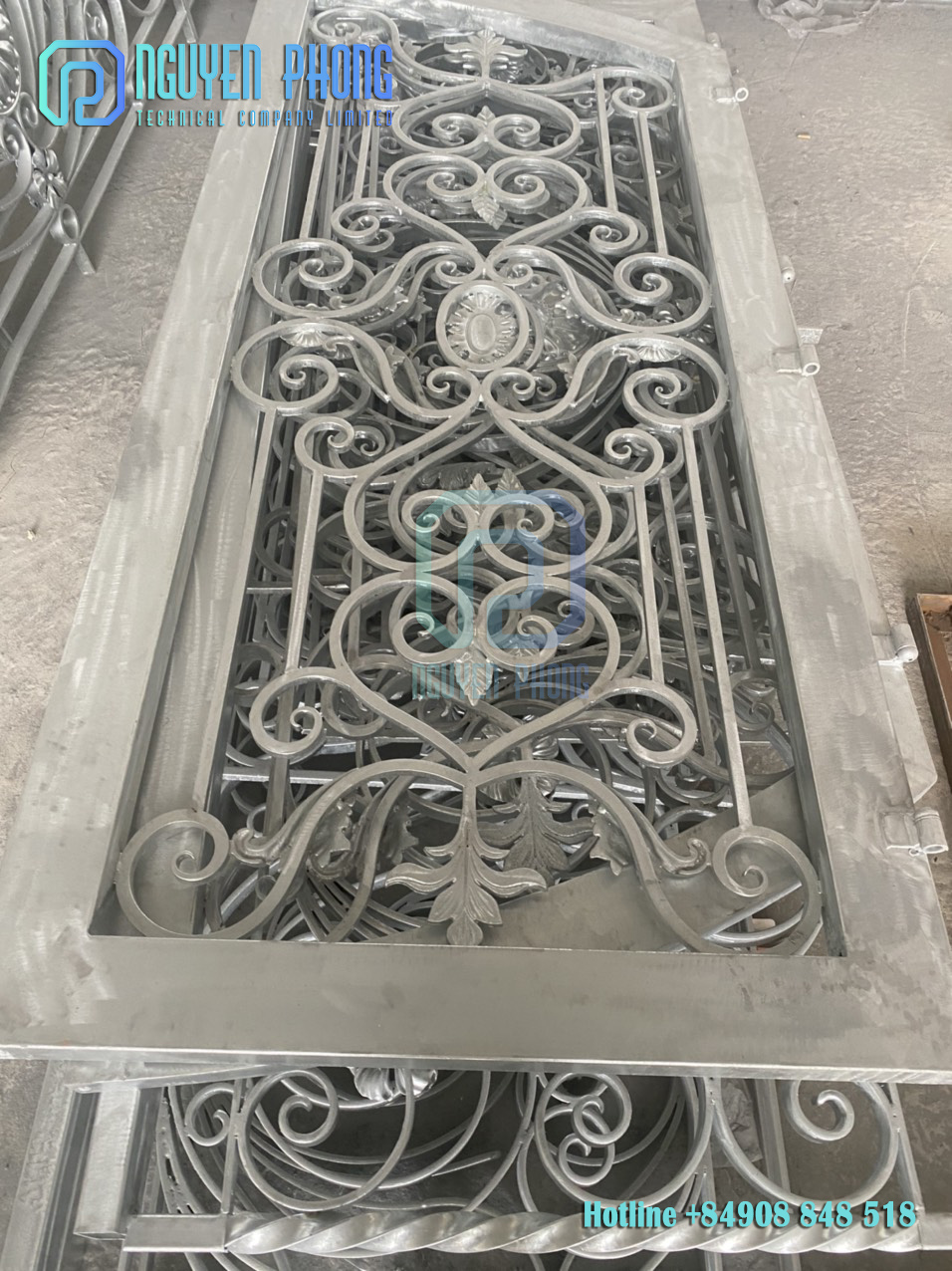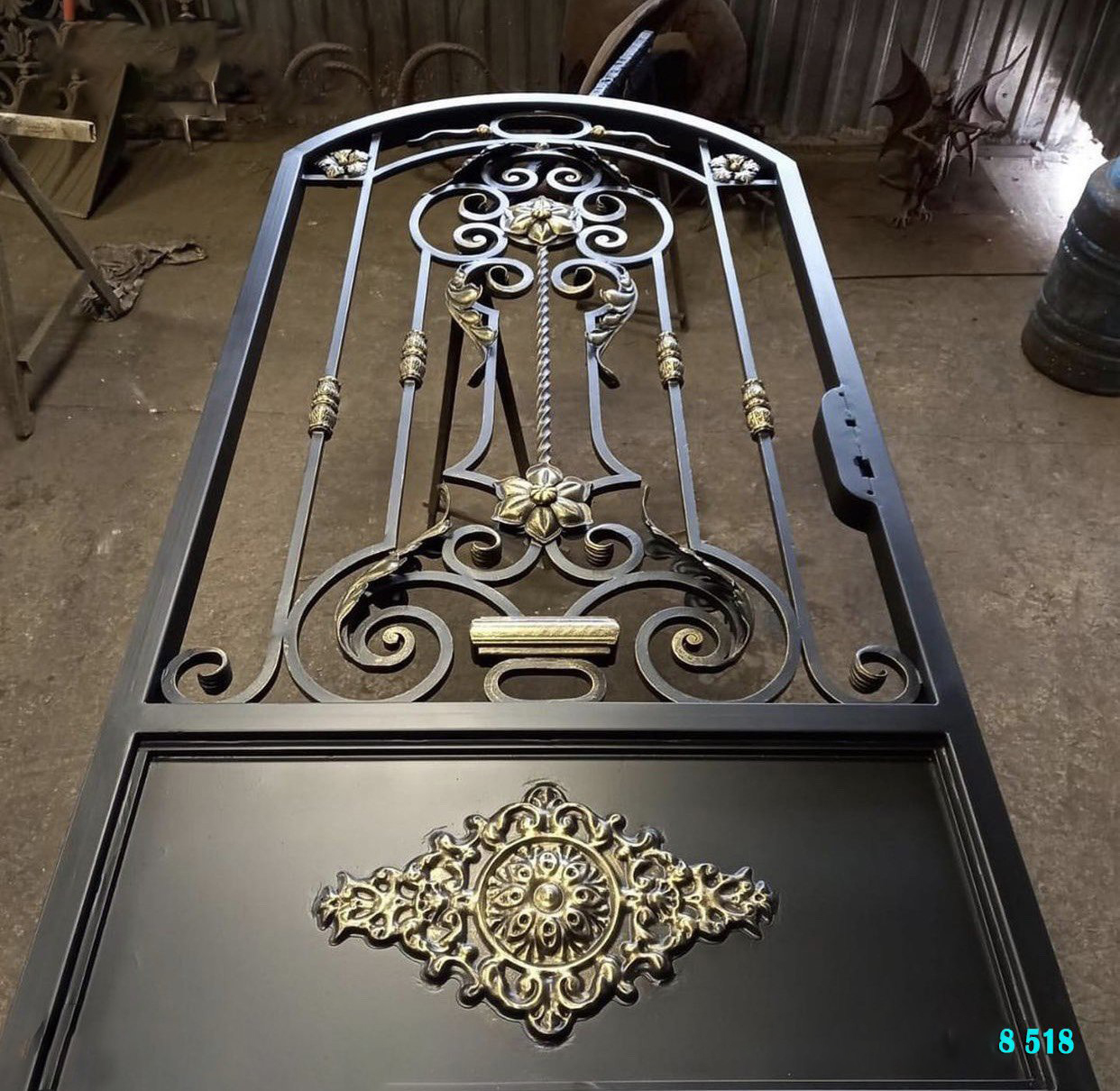 Professional: Nguyen Phong Metal works with a professional management process in parallel with caring for and understanding each customer. With more than 10 years of experience in domestic and export markets, we offer advice on suitable iron art models, the most economical production solutions, and safe transportation. Working with Nguyen Phong Metal, you can rest assured that your project will achieve the best value in terms of quality, aesthetics, and competitive prices.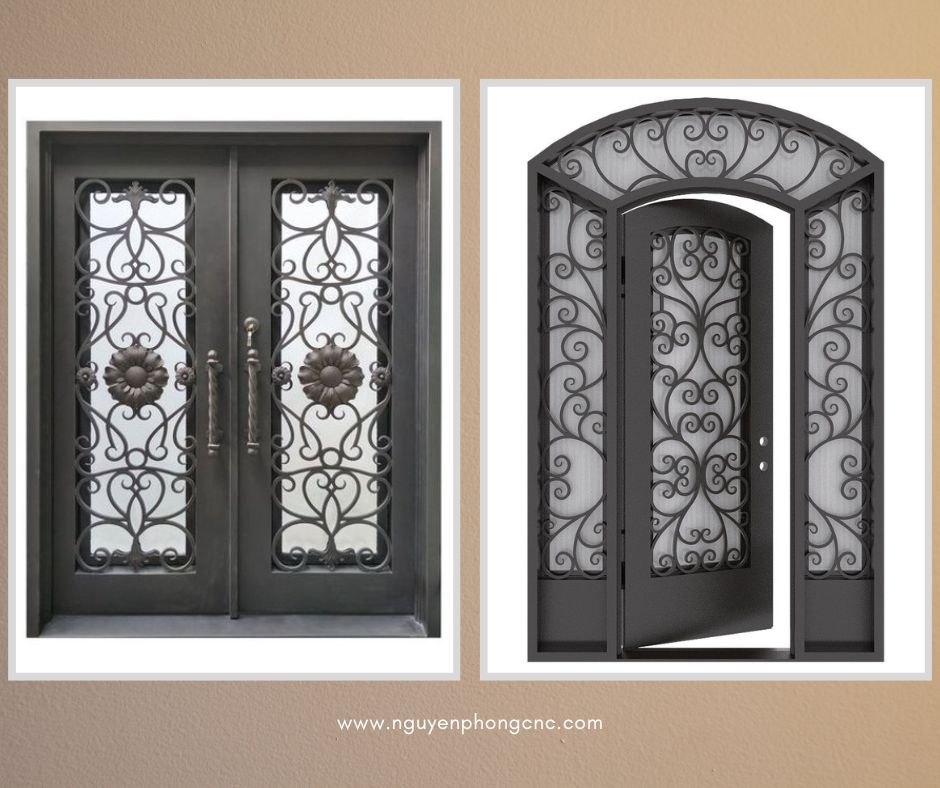 In addition, art iron used for home interior - exterior also has outstanding advantages, specifically as follows:
Products have been hot galvanized toExcellent tensile strength; less oxidation over time.
Easy to process and install at construction sites.
A reasonable and competitive price.
Less effort to maintain and upgrade.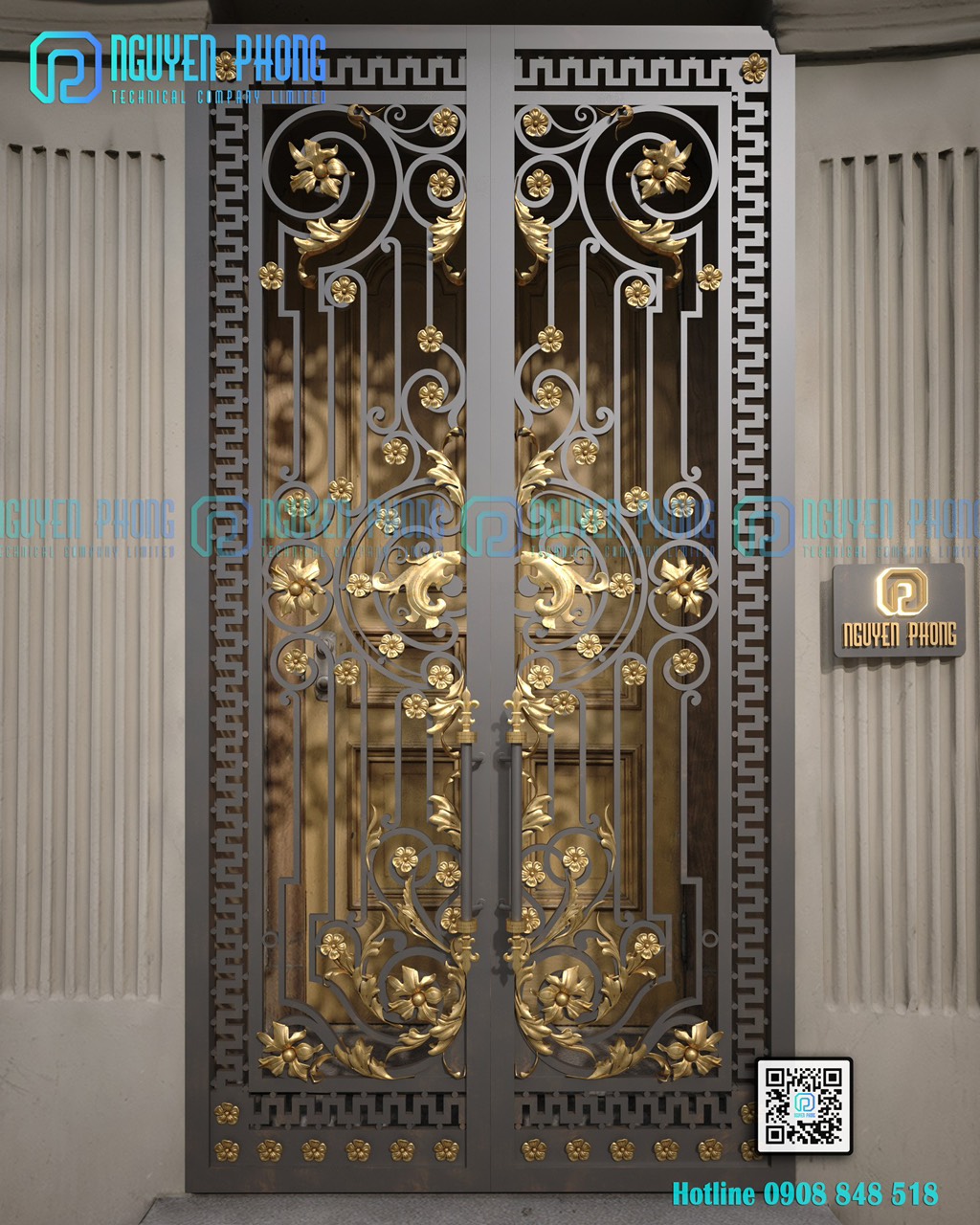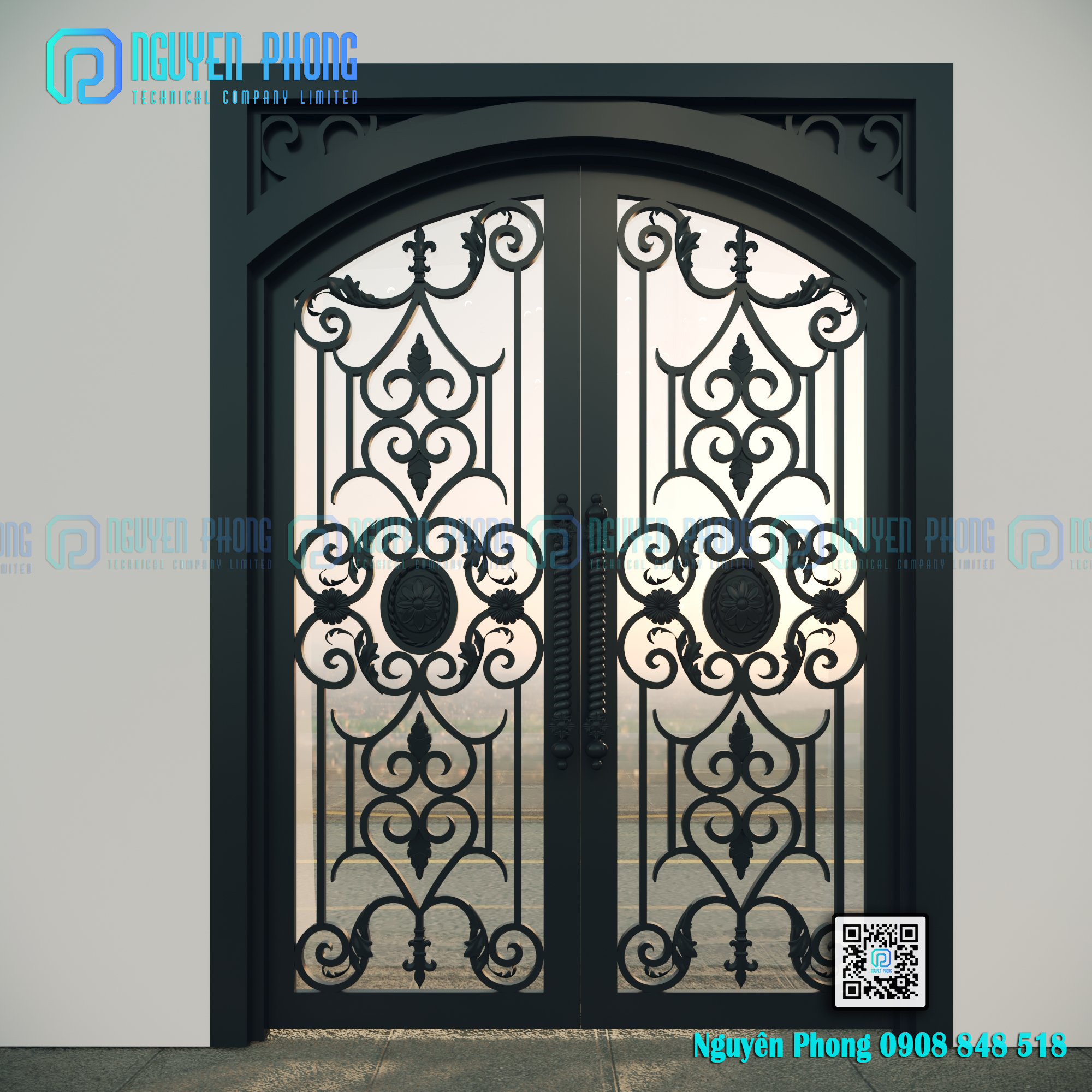 Currently, Nguyen Phong Metal is one of the most prestigious manufacturers specializing in producing and exporting wrought iron doors for customers and partners around the world. We have exported iron art products to many different countries all around the world, such as the USA, Australia, Canada, Spain, Cambodia,... 
Call the technical and consulting staff at Nguyen Phong Metal at the Hotline/ Whatsapp: (+84) 908 848 518 for support.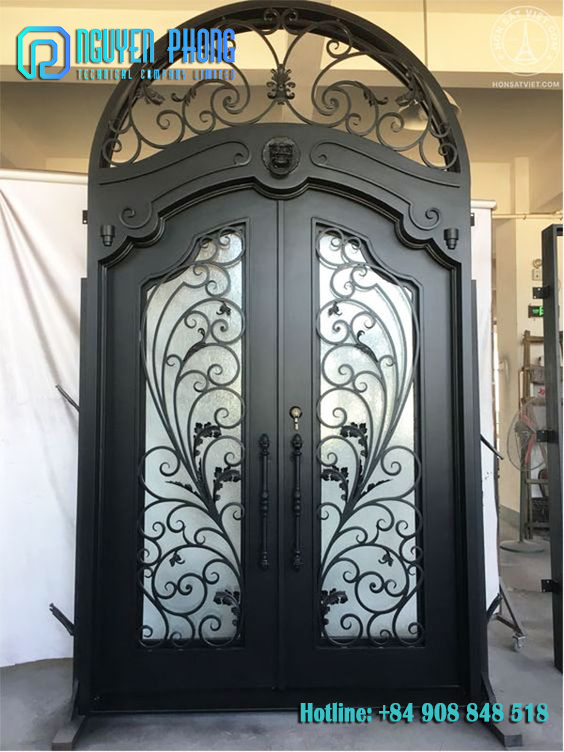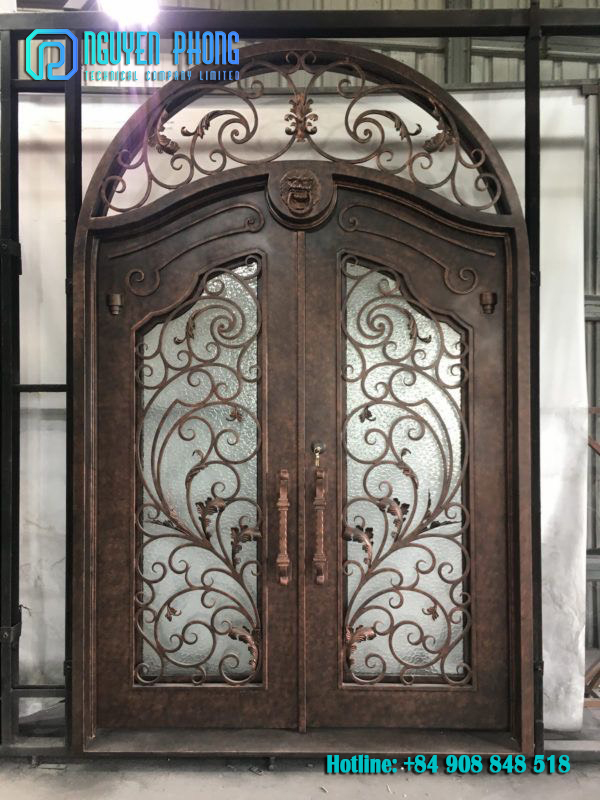 5. Purchase process at Nguyen Phong Metal 
Sending an inquiry/ proper design

Getting a quote

Making 2D & 3D drawings (2-5 days)

Contract & making a deposit

Producing at the factory (20–50 days)

 Packing & Delivery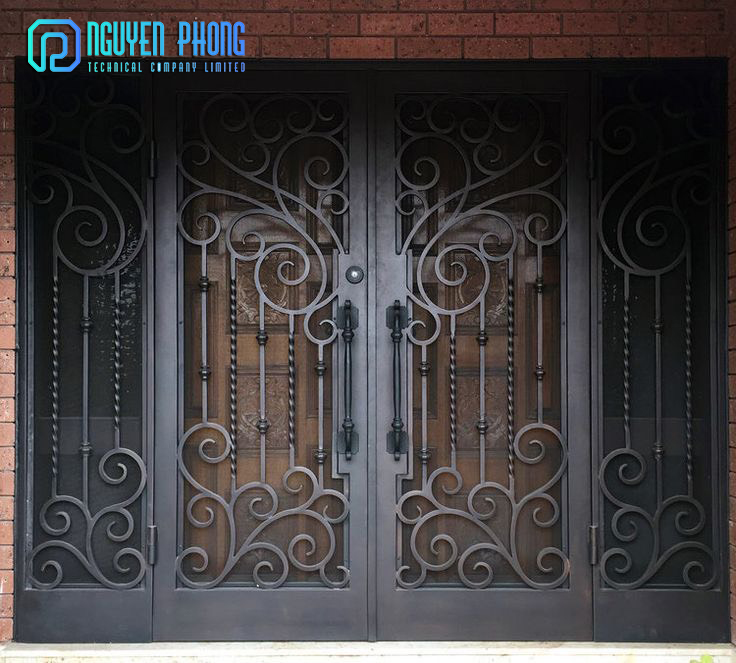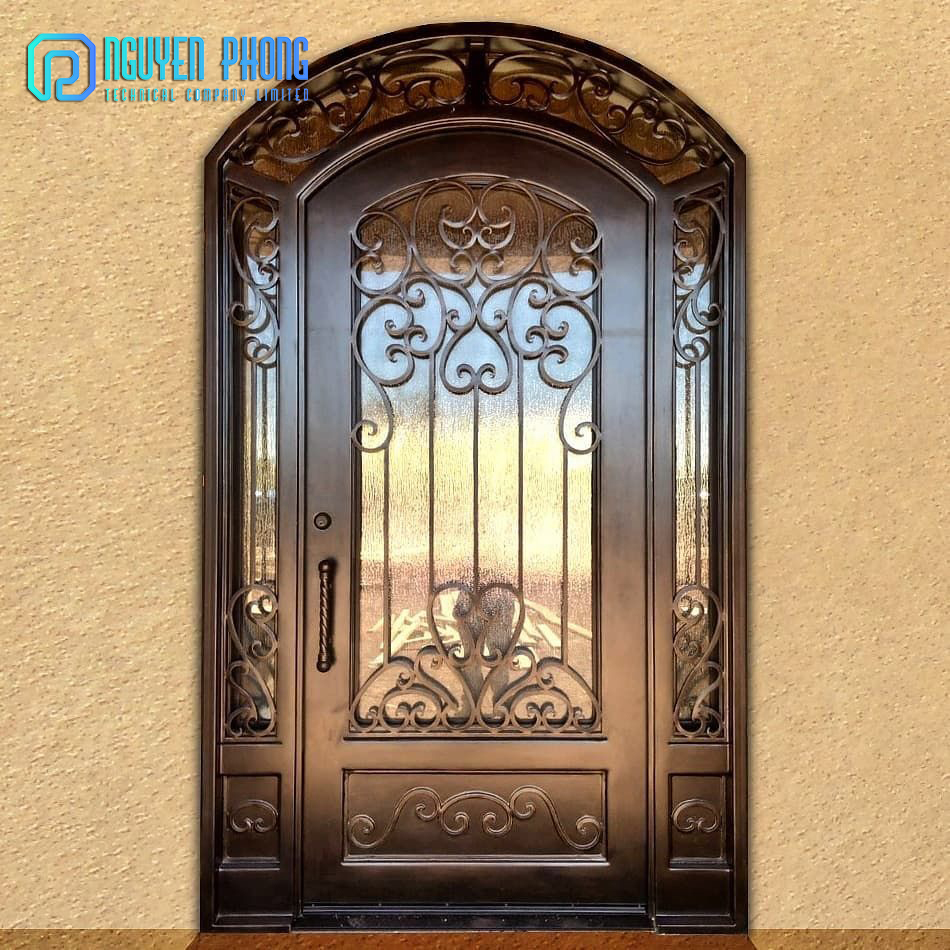 6. The most beautiful designs for wrought iron doors in 2022:
Below, NP offers some other stunning examples of wrought iron doors. With designs that range from simple to intricate, all carefully chosen to provide you with a wide range of possibilities and ideas for your project. Call the Whatsapp/ Viber: (+84) 908 848 518 - (+84) 914 34 7679 for more details... To suit the working style of each homeowner, we make projects with a focus on product quality and attention to detail. In addition, to provide consumers with more perspective, we offer 3D design options with wrought iron doors for villas, restaurants, hotels, and villas.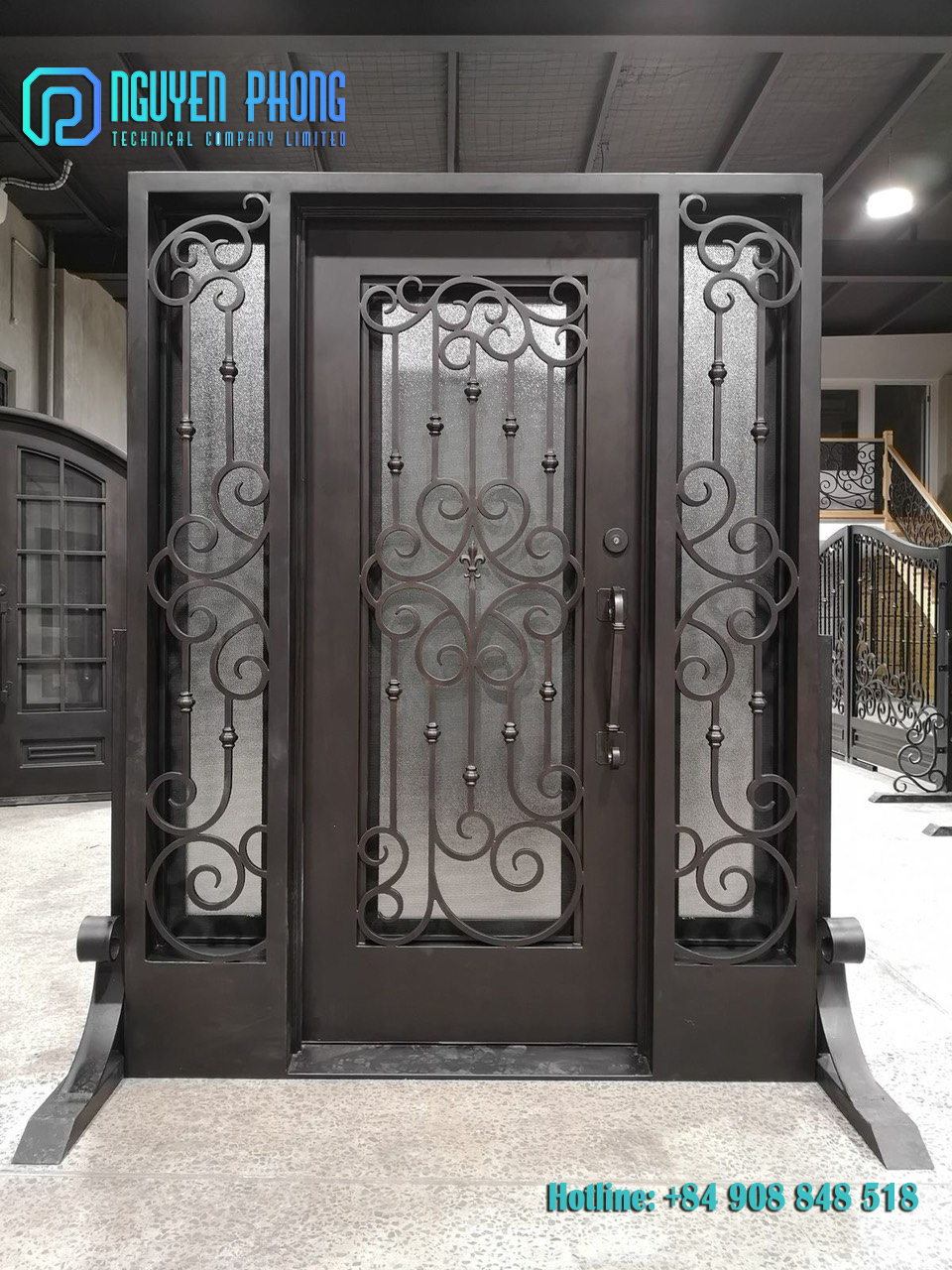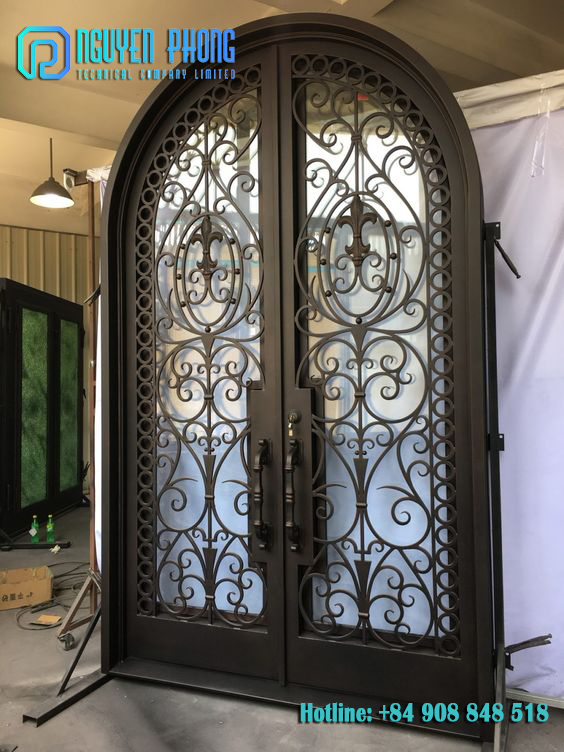 These wrought iron doors not only provide security but also add to the building's elegant and luxurious appearance. Meticulously crafted details on the door make it worthy of the finest designs. Besides that, different kinds of glasses can be added according to the requirements of the owner.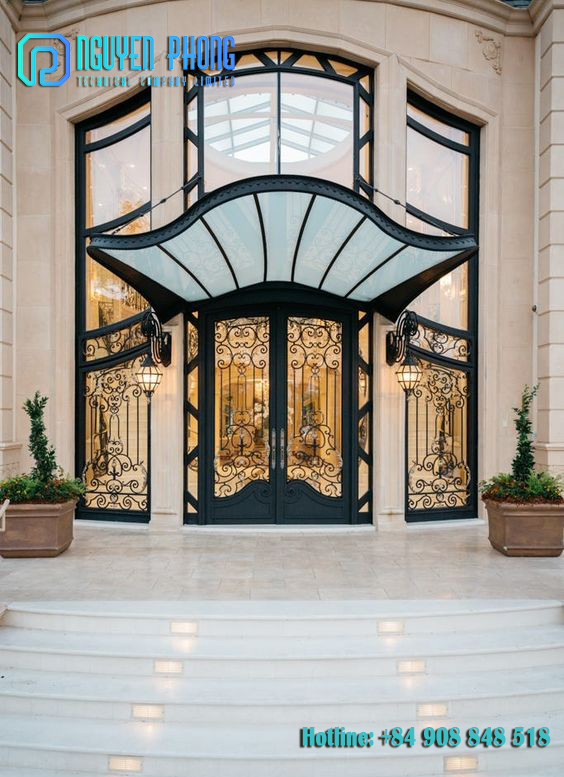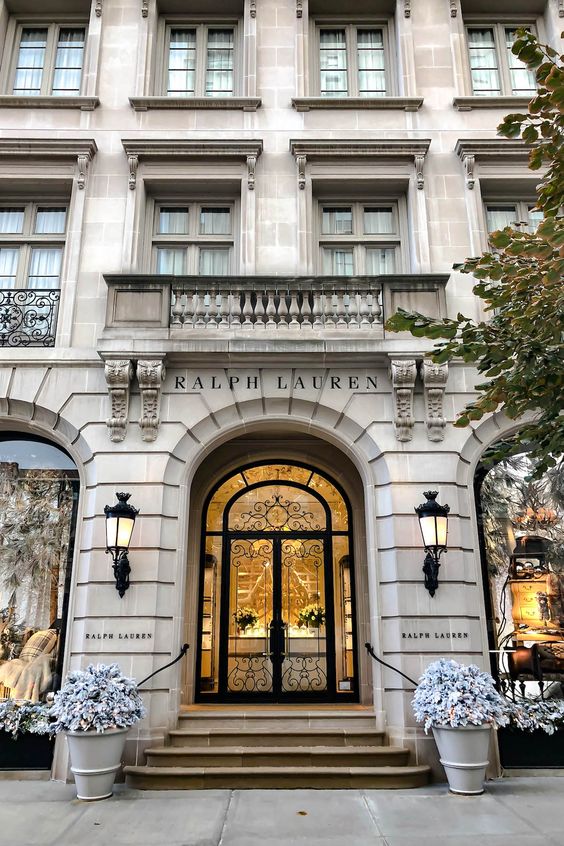 The wrought iron door effortlessly adds classic and luxurious European architecture to your home, your project,.... With the meticulousness in the process of crafting, the iron door really "catches the eyes" for the guests who visit the house.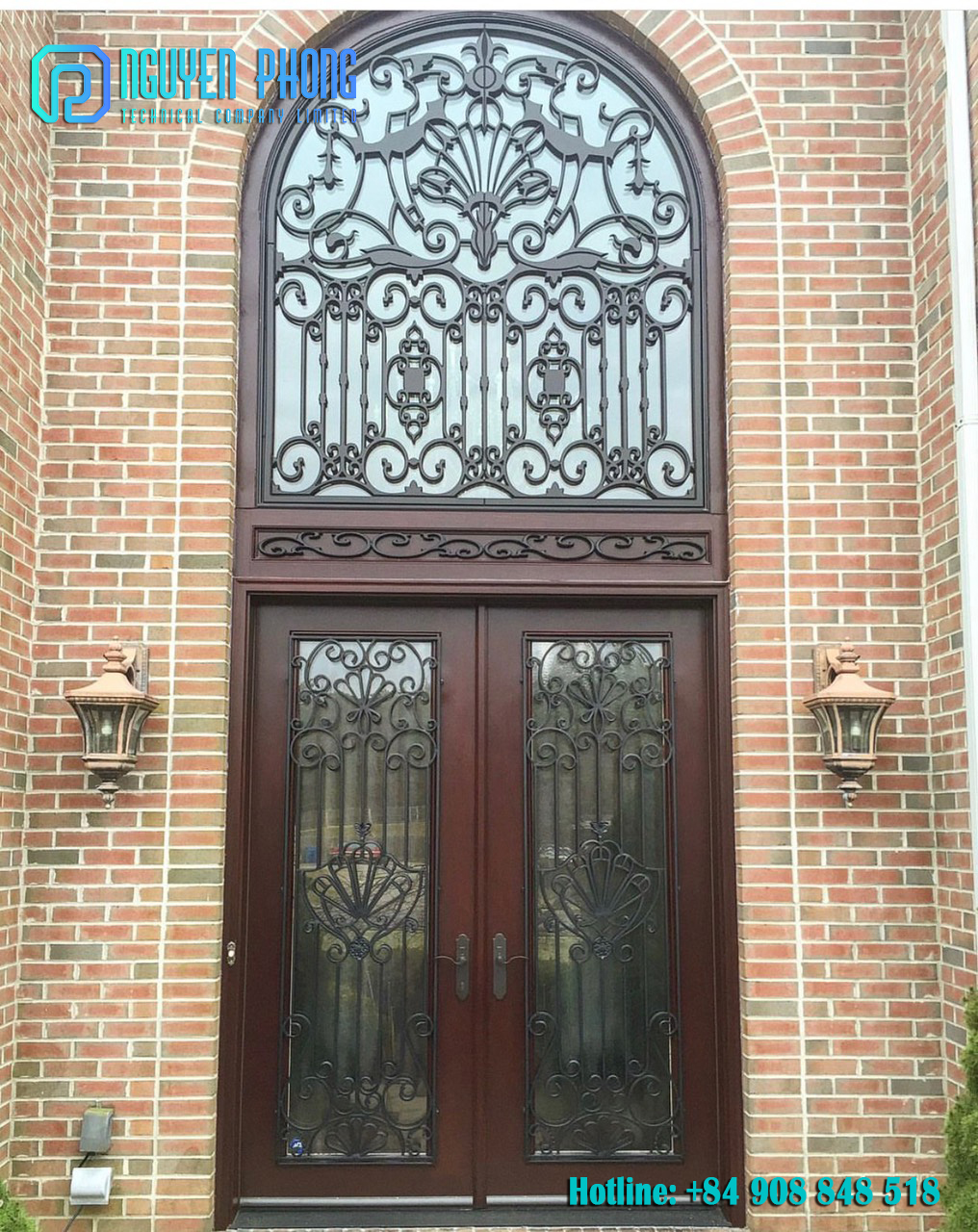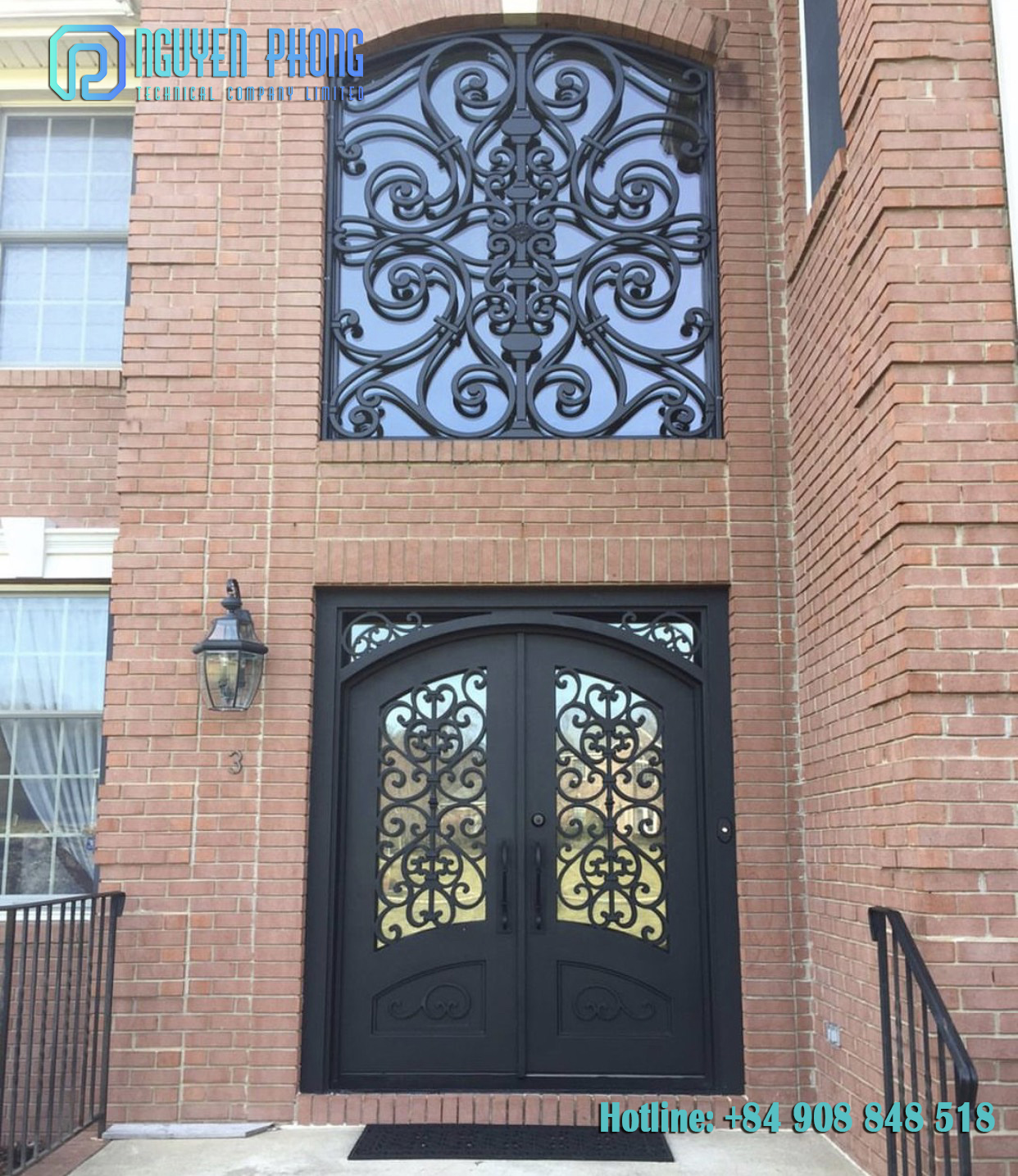 The harmonious combination of colors, textures, and materials has contributed to this unique wrought iron door. The entire iron frame is designed, processed, and used hot-dip galvanization to increase the life of the iron door, "catching" the entire look in terms of art and splendor in the product.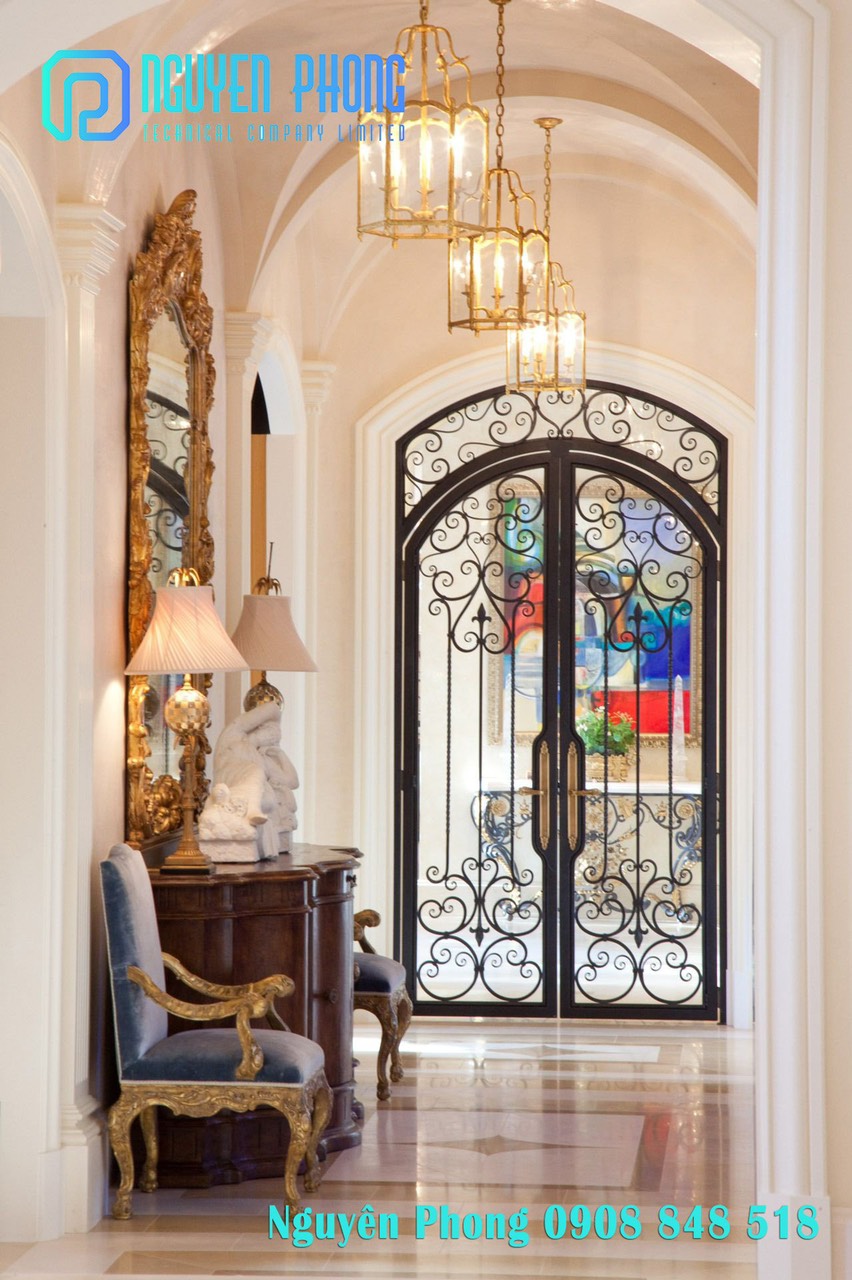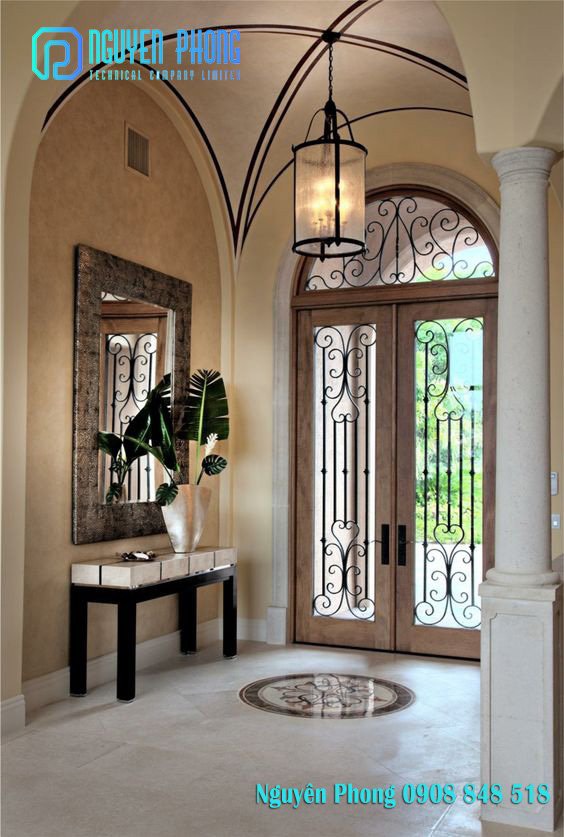 These wrought iron arch door models bring a perfect sense of security and majestic. The wavy details and artistic patterns create an overall tone for the villa. They contribute to creating an unforgettable impression of an artistic and classic space for the house.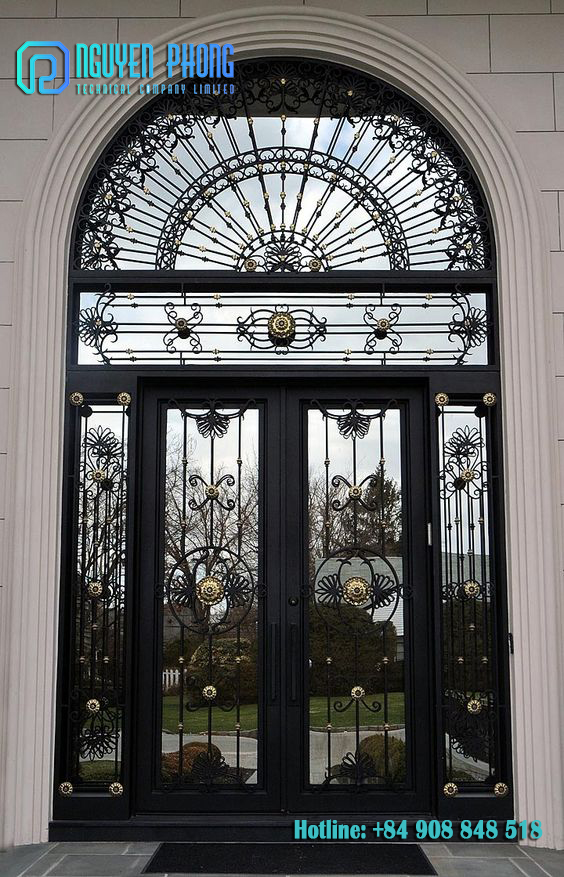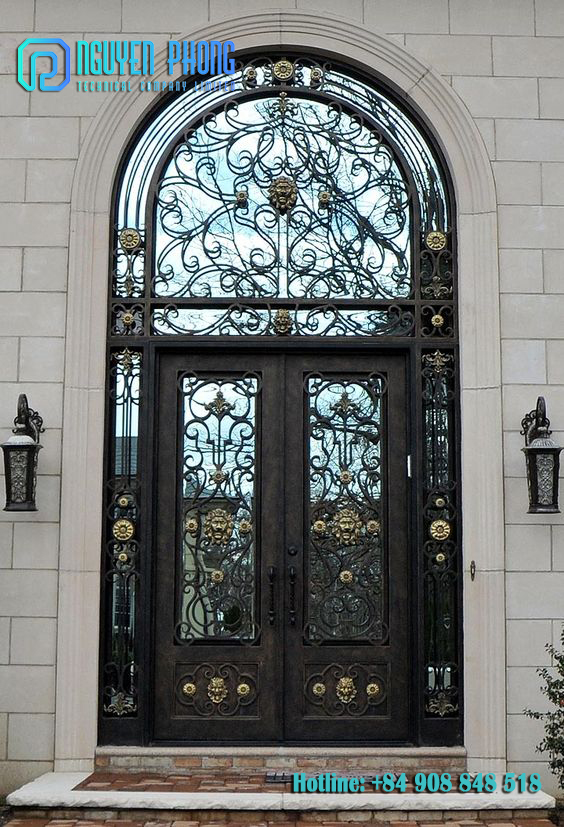 NGUYEN PHONG METAL JSC
Address: 323A Le Quang Dinh, Ward 5, Binh Thanh District, HCMC
Phone: 028 7777 3868
Hotline: 0908 848 518 (zalo, viber, whatsapp)
Email:Sales@nguyenphongcnc.com
phuongdangthy@gmail.com
Website: http://nguyenphongcnc.com/
Fanpage: https://www.facebook.com/CNCnguyenphong/
Alibaba site: https://npwroughtiron.trustpass.alibaba.com